A few months ago, I took my wife to a nearby indoor range to show off my shooting skills. I brought two of my handguns: a Taurus 689 with a 6-inch vented rib and full underlug, my EDC piece which is a gunsmith-customized Norc commander-size 1911, and an Armscor M206 I borrowed from a buddy, it has a full-length rib and half underlug.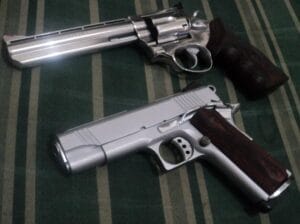 I've been at it for a while when she asked if she could try shooting my handguns. I happily obliged. So she did, and afterward she said she didn't like any of them.
I was like "Wait, what? Really?"
She told me that the magnum revolver is too heavy, too loud and has too much recoil for her small hands, while the smaller revolver is too heavy and bulky for her taste. She's okay with the 1911's recoil but she said she wouldn't carry let alone buy one.
Everything she said that day made me want to come up with a list of handguns she'd possibly like.
I've always wanted my wife to have her own CCW and plinking piece. I've always told her that if she had her own handgun, I'd have more peace of mind knowing that whenever I have to leave the house or whenever she has to leave, she can protect herself if she has to.
I came up with a list that is so good, we're now having a bit of difficulty choosing which one to buy (only because we want them all). Maybe by doing an analysis for this article, I'll be able to determine once and for all the 10 best handguns as CCW for women.
SAFEST NEWSLETTER - WE WILL NEVER SELL YOUR EMAIL
GET GREAT

GUNS AND AMMO

DEALS!
SENT ONCE A WEEK - NO SPAM - NO SELLING YOUR EMAIL
---
Considerations
In general, women have a weaker upper body because of less upper body mass. The best handgun for them has to be:
Small enough that concealed carrying won't be a problem;
Has enough weight so the recoil will be easier to control
Shouldn't be too heavy so they can carry it all day in a small shoulder bag, a gun purse, a Flashbang bra holster or whichever way they want, without feeling sore.
And since women in general also have weaker arms and significantly smaller hands, these handguns also have to be chambered in calibers that have enough power to stop a bad guy but not too much power that the recoil would be difficult to control.
Depending on its weight, and the caliber it is chambered for, a smaller pistol can have a heavier felt recoil. And for women, recoil control is of utmost importance. My wife can easily carry a 3-inch barrel .357 magnum small frame revolver (like a Ruger SP-101)  in her shoulder bag but I wouldn't want her to. I know she'd hate me for it.
So one of the things you'll probably notice when you look at this list is that all my top picks for the best handguns for women are either in 9mm or .380 ACP only. There's a reason for that.
Being a firearms enthusiast and collector, I've owned and shot handguns in several different handgun calibers: .357 magnum, .45 ACP, .38 special, .380 ACP, and .22 LR. Having medium-size hands with relatively slim wrists myself, the heaviest recoil I can manage is that of the .357 magnum.
But I would be lying if I don't say that after about 18 rounds of continuous firing, my hands start feeling sore.
The .45 ACP's recoil in comparison is gentler, but I've only ever shot it in all-steel 1911s and full-size polymer handguns. And we all know that the slide on a semi-automatic redirects some of the recoil so the gun can do its autoloader thing (if you didn't know, you can check out this article I wrote).
I had my wife shoot an ATI Titan in .45 acp, she was quite okay with it (even though she didn't like the loud bang resulting from the short barrel — and the fact that we were in an indoor range). But she didn't like Glock 36's recoil. I wasn't surprised.
From experience, I know that the .40 S&W has a snappy recoil more similar to its bigger brother the .45 ACP than any other handgun caliber. I thought to myself, no point in having her try shooting a .40 caliber pistol. She probably wouldn't like it too much.
So I decided to have my wife shoot smaller "subcompact" and "ultra-compact" pistols in 9mm and .380 ACP when we returned to the range weeks after. And she liked those. Again I wasn't surprised.
These two handgun calibers by virtue of their ballistic performance have softer recoil compared to the .40 S&W and .45 ACP, and modern bullet designs make these smaller rounds very effective at stopping any two-legged threats. This is why majority of the tiniest handguns on the market are chambered for these two rounds.
More things to note
Being a 1911 purist, I personally like mechanical safety features on any handgun, but I might be one of a very few. Whether or not safety features on a handgun is your thing, I'd recommend you spend some time with the woman in your life to help her get better acquainted with whatever pistol she has. Regardless of which camp you're on, we will not get into too much detail on safety features here.
I also think handgun aesthetics, while not really a big deal to a lot of men (even if it is to me), is something women look out for when shopping for a handgun. So besides handgun dimensions, weight, ease of maintenance and price, I also put aesthetics in consideration when I created this list.
On why I think the 9mm and .380 ACP are great handgun caliber options for women, you can find more info here and here.
To our female readers:
It'll be wise to try shooting any handgun you're looking to buy before making a decision. Everyone handles recoil differently. I'd recommend you go to the nearest range and rent the exact handgun model you're interested in, put it through its paces and see if you're comfortable with the way it recoils.
You don't have to limit yourself to the handguns on this list, in fact you can just use this as a guide when deciding to make a purchase, because 1, your local gun dealer might not have all the handguns we listed on stock, and 2, the range nearby might not have all the handguns we listed for rent.
The best safety feature in any firearm is the trigger. If you're not shooting at anything, keep your finger off the trigger.
"Subcompacts" are small handguns while "ultra-compacts" are even smaller. All the subcompacts listed here are chambered for 9mm, and all ultra-compacts are chambered for .380 ACP.
The 9mm will have relatively heavier felt recoil compared to the .380 ACP, but the bigger subcompact handguns' dimensions and weight will mitigate that issue. By the same token, the lighter recoil of the .380 ACP means you should be able to handle its recoil fine even when you're shooting the smallest and lightest ultra-compact handguns.
If after shooting the lighter handguns listed (or any other subcompact and ultra-compact handguns not on this list), you feel that you don't like how these two cartridges recoil, I recommend you try the listed Bersa handguns below or look into our list of some of the best all-steel handguns chambered for the 9mm.
With all those things out of the way, let's look at the list I created.
| | Product | Rating | Cost | Where To Buy |
| --- | --- | --- | --- | --- |
| | Taurus PT 709 SLIM, 9mm | 9.7 | $$ | |
| | Beretta Nano, 9mm | 9.6 | $$ | |
| | SIG P290, 9mm | 9.4 | $$ | |
| | Ruger LC9, 9mm | 9.3 | $$ | |
| | Beretta Pico, .380 ACP | 9.1 | $ | |
| | Remington R51, 9mm | 9.0 | $$ | |
| | Kahr PM9, 9mm | 8.8 | $$ | |
| | S&W Shield, 9mm | 8.6 | $$$ | |
| | Ruger LCP II, .380 ACP | 8.5 | $$ | |
| | Remington RM380, .380 ACP | 8.4 | $$ | |
---
The Contenders
Whenever I hear "Smith & Wesson", the first thing that comes to mind is the legendary Model 29 of Dirty Harry fame — the most powerful handgun in the world that could blow a human head clean off (yeah that does sound a little exaggerated).
While none of the two S&W pistols on this list are going to be as powerful or as iconic as the Model 29 magnum revolver, they won't have to be. The Shield chambered for 9mm still packs a punch and the Bodyguard chambered for the .380 ACP can be just as effective as its bigger brother when loaded with the right ammo.
The Shield's barrel measures 3.1 inches, just a tad longer than the Bodyguard's 2.75-inch barrel. The shield's grip width is a little under an inch, making it easy to conceal, but the Bodyguard's 0.77-inch width will make it even easier to conceal.
The longer height of the Shield means it will have a longer grip area for a more solid purchase which will result in better recoil control, better accuracy and faster follow-up shots. But the Bodyguard being chambered for a relatively weaker handgun caliber doesn't need a lot of grip area for controllability.
And since either handguns are designed for concealed carry, they're going to be used in short distances anyway, which means as long as you can shoot center of mass within 5 yards, pointability trumps accuracy.
My only complaint with these two Smiths is that to field-strip, a small screwdriver is required (any small screwdriver will work for the Shield, while the Bodyguard needs a small flat head). I grew up with 1911s and I'm used to field stripping a handgun without using any kind of takedown tool so I find this to be a bit of an issue.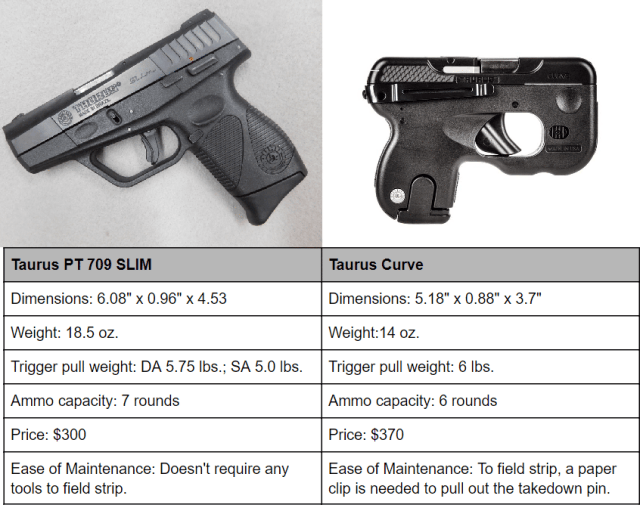 Firearms enthusiasts have a love-hate relationship with Taurus. As a firearms manufacturing company, Taurus is known for some of the worse and some of the better firearms deals on the market. Their most recent failure that I can remember was that of their Taurus Raging Bull chambered for the almighty handgun round, the .500 S&W Magnum.
But that's a big monster of a cartridge designed by Smith & Wesson for their biggest revolver (the X-frame S&W 500 revolver), and Taurus being an underdog, it's understandable that they would fail to manufacture a similar revolver. Heck, Ruger, a company known for their robustly built revolvers, didn't even attempt to build one for that cartridge.
The point of talking about the .500 S&W Magnum is, Taurus is a very ambitious company, and they sometimes fail. But when looking for pistols chambered for the 9mm and the .380 ACP, rounds that are anemic compared to the 50-caliber magnum, their offerings are real contenders that cannot be easily dismissed, especially at the price point.
The PT 709 SLIM is, just as its name suggests, a slim pistol that's easily concealable. It's a hair's width smaller than the S&W Shield in overall length, but its barrel length is a little longer, which means the 9mm bullet will be pushed slightly faster out of its muzzle. It's only a hundredth of an inch thicker in frame and grip width so concealability won't be an issue either.
It is also the cheapest pistol on this list. I'd choose it anytime over the Shield if I'm budget constrained.
But if the PT 709 sounds like a good deal, the Taurus Curve is even better. It's five-hundredths of an inch smaller than its Smith and Wesson counterpart and boasts a snag-free draw courtesy of its curves. It also has a 2.5-inch barrel length, so as far as dimensions, it'll be easier to conceal.
While the Taurus Curve is tad bit heavier than the S&W Bodyguard, I know my wife wouldn't mind the added weight because it has a laser integrated to its frame, the feature that sets it apart from its competitors.
At $370, anyone would be hard-pressed to find anything remotely similar to the Taurus Curve.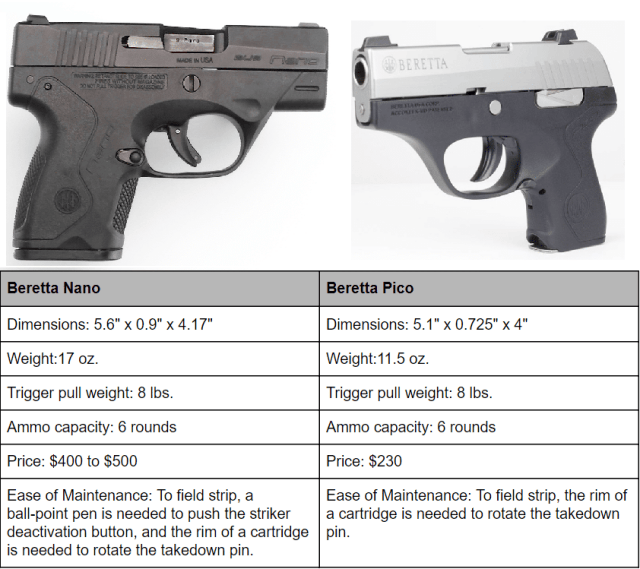 Everyone knows Beretta, the company that manufactured the legendary M9 which superseded the 1911 as the standard issue sidearm of the military for decades. The fact that they could design and manufacture pistols that can achieve such an amazing feat means these Italians know what they're doing.
The Beretta Nano's frame is made of polymer reinforced with fiberglass which the company calles "technopolymer". While that might sound like just another marketing gimmick to skeptics, it makes the Nano a ton lighter than the legendary M9, which it wouldn't be half as cumbersome as the M9's all-steel build.
Weighing in at just 17 oz., it's lighter than the first two subcompacts listed and anyone can carry it for days without feeling sore. It has a lower overall height, so it'll be very easy to conceal.
The Nano's barrel length is 3.07 inches, about as long as the standard 3-inch barrel for any subcompact 9mm handgun designed as a CCW and three hundredths of an inch shorter than the S&W Shield's barrel. But ease of maintenance takes a hit, because it requires a ball-point pen and a cartridge's rim to field strip this pistol.
The Beretta Pico is only an inch smaller than its bigger brother, but it's about five and a half ounces lighter and is currently going for about half the price.
It's also the lightest and least expensive .380 ACP handguns on this list. And unlike the Nano, it doesn't require a ball-point pen, it only needs a cartridge's rim to field-strip.
For $230, I'd purchase a Beretta Pico for my wife. It's just hard to beat for the price.
In some of the handgun articles I've written, I've been very vocal about how I don't like the way Glock pistols look. Hi-Points and Cobra pistols are the only handguns I'd consider to be uglier than Glocks. These are blocky plain-Jane looking pistols and for the price, I doubt either of the two Glock pistols on this list would be my wife's first choice.
But this is no beauty contest, and sometimes spending a couple of hundred bucks extra for more peace of mind counts a lot. At the very least, there have to be reasons why law enforcement agents and even some people in the military prefer Glocks.
In the last several weeks I've been writing a series of handgun comparison articles, most of them so far were on Glock pistols. And there's a reason for that. These pistols are very popular. We'll not get into too much detail. However, if you need more info on other Glock pistols not mentioned on this list, feel free to click on this link.
Suffice it to say that the Glock 43 in 9mm and the Glock 42 in .380 ACP are some of the smallest and most easily concealable Glock pistols on the market today.
The Glock 43's 3.39-inch barrel is one of the longer barrels on this list but this pistol is also one of the lightest, which shouldn't come as a surprise.
Glock is the oldest polymer pistol manufacturer here (H&K's VP70 is the first polymer pistol in the world, but it is a full-size handgun with a very heavy 20-lb. trigger pull weight, so it doesn't belong here). They've been masters of polymer pistol craft decades before everyone else even considered building their own.
The Glock 42's barrel measures 3.25 inches in length, just a tad shorter than its bigger brother, but it weighs over three ounces lighter. Both can be loaded with 6 rounds in the mag, and like the Taurus pistols listed here, both do not require any takedown tools to field strip.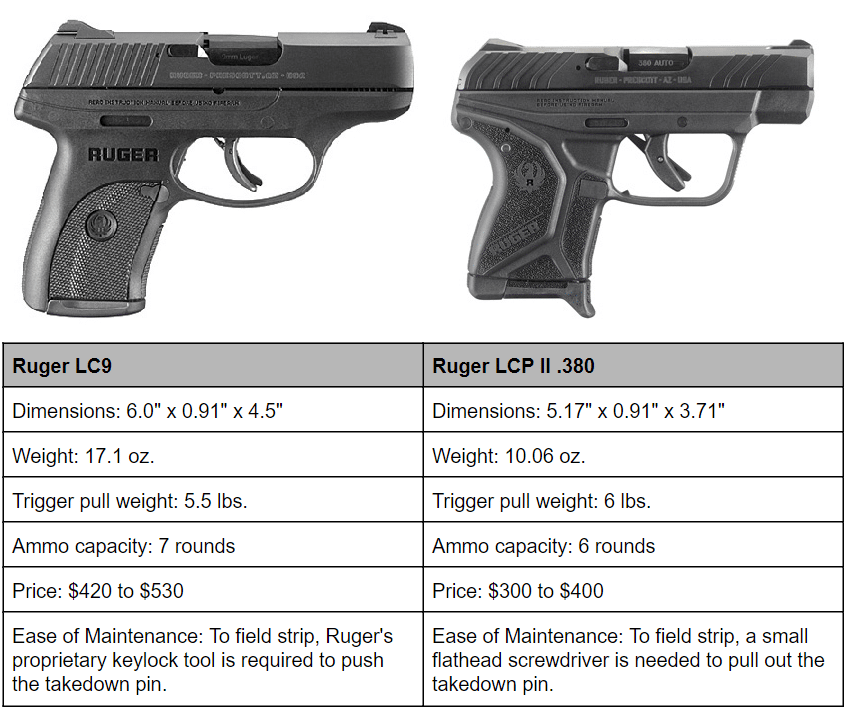 As briefly mentioned above, Ruger is one of the big three revolver manufacturers in the US. They're known for their robustly built big-bore hunting revolvers, the Redhawk in .44 magnum and the Super Redhawk chambered for the powerful .454 Casull and their own proprietary revolver cartridge design, the .480 Ruger.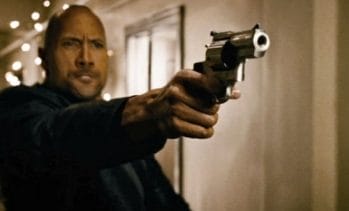 While neither of their pistols listed here are going to be as powerful as their Redhawks or Super Redhawks (even their smallest wheelgun, the SP-101 in .357 magnum, will pack more punch), both are solid contenders in the concealed carry and self defense arena.
The Ruger LC9 has a 3.12-inch barrel but it's about four hundredths of an inch thinner than its Smith & Wesson and Taurus counterparts, so concealability won't be an issue.
Like the Shield and the PT 709 SLIM, it also has 7 rounds of 9mm in the mag. It's priced a bit higher than the subcompact Taurus pistol on this list, but it's $50 cheaper than Smith & Wesson's Shield.
Ruger's ultra-compact entry on this list is the LCP II, which is an improvement over the first LCP. Unlike its predecessor, the LCP II has a more pronounced trigger safety that can be easily actuated when the user intends to shoot the handgun, kind of like how the trigger safety on a Glock pistol works.
And weighing in at just 10.06 oz., the LCP II is the lightest of all the handguns on this list, which is why a lot of women I personally know have a preference for it.
But like all the Smith and Wesson and Beretta products on this list, both of these Ruger pistols require a tool for field-stripping. And the price on the LCP II doesn't make it too appealing, at least for me. All things considered, I'd only really buy it because of its weight and aesthetics (I know my wife likes how these Rugers look).
The Kahr PM9 is the closest to its Glock counterpart in terms of aesthetics. In fact, the first time I saw one, I mistook it for a Glock that has a stainless slide. Make no mistake about it though, as Kahr pistols are known to be somewhat finicky with ammo while Glocks are, well, Glocks (synonymous with the word reliable).
But no two pistols, even of the same brand and model, are the same. The Kahr PM9 we tested in the range would spit anything we feed it with, so as far as reliability it's okay. But your mileage may vary.
What sets the PM9 apart from any of its 9mm subcompact rivals on this list is the fact that it is the lightest. Weighing in at just 15.9 oz., it's around 74 hundredths of an ounce lighter than the second lightest, the Glock 43.
It also has the shortest slide length even with its barrel still being 3 inches long. And it ties with the Beretta Nano in the width department. This has got to be one of the smallest and thinnest 9mm subcompact pistols on the market today.
With all its dimensions and weight advantage, I could easily say that for carrying concealed, the PM9 gets first place when comparing 9mm subcompacts. But it also happens to be the most expensive 9mm pistol on this list, so it might not appeal to everyone.
As for the Kahr CW380, the beveled slide edges makes it look like the classy version of any Glock. If Glocks had their slides' edges beveled like that of the CW380, I wouldn't have an issue with Glock aesthetics.
The Kahr CW380 also has the shortest slide length at 4.96 inches, but it still has room for a 2.58-inch barrel.
Granted, short barrels don't make for accurate shots but reiterating what was stated earlier, at five yards, no one would need a long barrel to get center mass hits for stopping a bad guy.
Like the Glock and Taurus pistols on this list, the Kahr PM9 and CW380 do not require any takedown tool to field strip. To me this is another major selling point for these pistols.
SIGs are some of the better pistols money can buy. They're typically more expensive than their Glock counterparts, but being the standard issue sidearm of the US Military and with over half a million units sold to civilians country-wide, you'd have to ask yourself why these pistols are so popular, even when the P320 is currently suffering from a bad reputation caused by accidental discharges when the pistol is dropped from a 30 degree angle.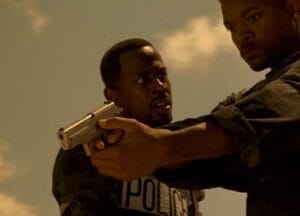 Fortunately for anyone who's considering either of the two SIG pistols included in this list, we are not aware of any reports of accidental discharges when either of these handguns are dropped.
And accidental discharges being the only reliability issue so far with SIG, and it's only with the P320, we can say without a doubt that the P290 and P238 will be as reliable as Glocks or any other pistol for that matter.
The SIG P290's barrel length is 2.90 inches, one of the shortest of any subcompact handgun on the market today. While 2.90 inches is only a tenth of an inch shorter than the average barrel length for all pistols in the subcompact category, I'd personally prefer a bit of a longer barrel like that of the Kahr PM9's for my wife.
Having only a 5.5-inch slide, this handgun will be easier to conceal than its Glock counterpart on this list. In fact, of all subcompact handguns on this list, only the Kahr PM9 beats it for having the shortest slide length, which makes the P290 the second most easily concealable 9mm handgun here.
But I don't care for the P290's trigger pull weight too much — 10 lbs. is a little on the heavy side for me, so logically, it would be too heavy for my wife. Then again come to think of it, a slightly heavier trigger pull means you can't "accidentally" shoot this handgun. It'll only spit lead when you pull the trigger hard.
As for the SIGP 238, its 2.7-inch barrel is also a bit short to my liking but it should work. The really bad thing about this pistol though is it's the most expensive of all the .380 ultra-compacts on this list.
A great feature these two SIG pistols share, for me at least, is they require no tools to field-strip.
And both handguns are reliable and don't look half as bad as their Glock counterparts. If only to support the US military's choice in their standard issue sidearm, I would buy a SIG pistol for my wife in a heartbeat if budget provides. For the purposes of this article though, I would have to give these two the lowest rank in their respective categories.
Just as a quick disclaimer, If you're a SIG fan, please be aware that I'm not a Glock fan and neither is my wife. Just because I think the P238 offers too little for its high price doesn't mean I'm taking part in the great SIG vs. Glock online fanboy wars. I tried shooting a P226 a few years ago and I loved it, so there's that.
A few things come to mind whenever I hear the word "Remington": That TV series where Pierce Brosnan starred before he replaced Timothy Dalton as James Bond (more on this below), shotguns that rival (if not best) some of Mossberg's, and classic 1911s from World War I.
Remington's first ever entry to the plastic handguns market, the R51, was released in the first half of 2014 as a modern take on an old but proven handgun design by John Pedersen, the Model 51 chambered for the .32 ACP and .380 ACP. Unlike its ancient predecessor, the R51 was planned to be chambered for the 9mm.
Due to problems surrounding mass production of these handguns, manufacturing was postponed. A "Gen 2" version would be released two years later.
It's ironic how the first production plastic firearm was from Remington, a rifle chambered for .22 LR called the Remington Nylon 66 — predating the first Glock pistol by 23 years (released in 1982) and even the first ever polymer handgun, the H&K VP70, by 11 years (released in 1970). Glock popularized polymer frame pistols and it was only a few decades later that Remington gets to play catch up.
All the historical tidbits aside, the new R51 Gen 2 released just last year are every bit as reliable as Glocks or any polymer pistols chambered for the 9mm on the market today. Remington has learned a lot of lessons from the first R51.
These new handguns have a 3.4-inch barrel  and are some of the longest and heaviest subcompacts on this list. While that might sound like a deal breaker, consider the price. These guns are made by a top-notch gun manufacturer in the U.S. and it only costs $50 more compared to Taurus' PT 709 SLIM, making it the second most affordable 9mm handgun on this list.
The RM380 has a 2.5-inch barrel and is every bit similar to its bigger brother except that being an ultra-compact handgun it is much smaller, and it's chambered for .380 ACP. It also weighs significantly less at 12.2 oz., making it one of the lighter .380 ultra-compact handguns on this list.
And as with the other handguns on this list that do not require any kind of tool to field-strip, I like how Remington has made it easy to take down these pistols for cleaning.
Introduced in 2014, the CCP is one of the smaller 9mm pistol options among Walther's offerings. It boasts of a gas-delayed blowback system which in theory makes for a softer recoil even when a lighter recoil spring is installed. The lighter recoil spring allows for an easier time racking the slide.
Measuring 3.54 inches, the CCP's barrel is the longest of all the handguns' barrels on this list. This will translate to slightly faster bullet velocities and slightly better terminal performance for the 9mm cartridge, but it comes at a cost — the slide being longer to accommodate the longer barrel will be slightly more challenging to conceal. This makes the CCP the second longest subcompact handgun on this list, with its closest rival the Remington R51 being the longest.
But the CCP is not as cheap as the R51, and with its slide measuring 6.5 inches long, I'll have to give it a low score on concealability. It also gets a deduction for requiring a takedown tool to field strip it.
Maybe if we consider that it has one additional 9mm round in the mag compared to its Remington rival, it wouldn't be such a bad buy.
So where was I on that James Bond bit? Oh yes, I was going to talk about the iconic Walther PPK. To my knowledge, so far there have only been four James Bond movies where 007 didn't carry his PPK, and considering how famous these movies are, the PPK needs no introduction.
Unlike most other ultra-compact polymer-framed pistols chambered for .380 ACP on this list, the PPK's frame is made of aluminum alloy, which makes it the heaviest in its category. It also has a 3.3-inch long barrel, making it one of the longest .380 ACP pistols on this list, second only to the last contender which also looks like a PPK because it's a high-capacity version of a PPK clone.
The PPK is also one of the more expensive .380 ACP handgun options on this list, only beaten by higher-end variants of the SIG P238.
With the PPK's dimensions, weight and price, it has to be one of the worst recommendations on this list. So what does it have going for it?
Well, if money isn't an issue, the PPK being on the heavier side of things will have the lightest felt recoil of all the handguns on this list ( larger subcompact 9mm pistols included). It also doesn't require any takedown tools to field-strip.
And no woman I know who has seen the British spy holding this piece wouldn't be pleased with having a Walther PPK as a CCW in her purse.
And at last, we come to our last recommendation: two of the heaviest pistols on the list from an Argentinian firearms manufacturing company, Bersa.
The Thunder 9 Ultra Compact Pro is the only double stack handgun chambered for 9mm on this list. In my opinion, the company should have labeled this pistol as a subcompact, but they probably didn't for marketing's sake.
It's the thickest heaviest pistol listed, another reason why it shouldn't be labeled as an ultra-compact.
But like some of the handguns on this list that doesn't require a takedown tool for field-stripping, I personally love this handgun. And perhaps what sets it apart from its competitors is the fact that it's a $400 pistol that comes with a 13-round mag.
At that price, this is the best bang-for-the-buck 9mm pistol on this list.
As for the Thunder 380 Plus, as mentioned previously, it's a double stack clone of the PPK. Be aware that there's a single stack version of this pistol that is around $100 cheaper and only holds seven or eight rounds of .380 ACP in the mag.
Like its Thunder 9 counterpart, the Thunder 380 Plus doesn't require any special tool to field-strip and shouldn't be on this list either because of its dimensions and weight. But again like the Thunder 9, what makes it a very compelling option is it can be had for as little as $350 and it comes with either a 13-round or a 15-round mag.
The closest competitor to the Thunder 380 Plus in the bang-for-buck department has to be the Taurus Curve. The choice between having a heavier handgun that has literally more firepower with 13 to 15 rounds of .380 ACP and another handgun that comes with an integrated laser attachment wouldn't be easy, at least from a guy's standpoint.
I asked my wife which one she'd pick between the two, and she didn't have to think about it for too long. She likes the Bersa Thunder 380 Plus more, because she said a laser attachment can be installed on it too (and it looks so much more aesthetically pleasing than the Curve when a laser sight is attached to it), while for the Taurus Curve, there won't be any high-capacity magazine options. Yeah, makes sense.
Although there have been a few reports of malfunctions on some of these guns, the ones we test-fired in the range worked without hiccups. Personally, just being the cheapskate that I am, I'd buy either of these two Bersa handguns for my wife before buying anything else on this list, but that's just me.
If money isn't going to be an issue for your and your lady though, any of the more expensive options on this list might be a better deal to you and that is totally understandable. I know I wouldn't include these two Bersa pistols in this list if money isn't something a lot of people are greatly concerned with these days.
---
Analysis
I created a graph that attempts to rank each of the 20 handguns listed on their relative strengths and weaknesses. If you're only wanting to know which ones are the best overall picks, just focus on the red bars.
After doing all the math, we now have our Top 10 picks for the best handguns for women in 2020:
1. Taurus PT 709 SLIM, 9mm
2. Beretta Nano, 9mm
3. SIG P290, 9mm
4. Ruger LC9, 9mm
5. Beretta Pico, .380 ACP
6. Remington R51, 9mm
7. Kahr PM9, 9mm
8. S&W Shield, 9mm
9. Ruger LCP II, .380 ACP
10. Remington RM380, .380 ACP
---
Special Mentions
Do note that the Bersa handguns shouldn't really be on this list, but these being two of the most affordable double-stack subcompact options on the market, your lady will have to decide whether double the round count would be worth the effort of carrying an all-steel handgun as a CCW all day (and the soreness that comes with it). I know my wife wouldn't mind.
Also, the Taurus Curve might not be on my Top 10 picks, but do note that it features a laser attachment integrated to its frame and it is the only pistol in this article that has that feature. Last I checked, the cheapest laser attachments cost around $100. If I were to deduct that amount from the $370 I specified earlier and remove the laser (which can't be done), the Taurus Curve could easily be one of my Top 10 picks.
Lastly, the PT 709 might be the best handgun on our list but that's only when price is considered. If you're the type who would spare no expense to get the highest quality CCW piece for the woman in your life, get the Kahr PM9. It's the smallest and lightest subcompact 9mm bar none. Attach a laser to it and your lady will be one happy camper.
---
Conclusion
With the plethora of handguns being marketed as concealed carry weapons today, picking the right piece for women is never going to be easy. But as long as we put certain things in perspective (like the dimensions and weight of the handgun you prefer and its price), it shouldn't be that hard of an ordeal.
If you need more handgun recommendations, Gun News Daily has you covered. Feel free to leave a comment below if a particular handgun you're eyeing is not on the list. We'll help you determine if it's a good fit.
Related Reads: