A semi-automatic pistol is only as reliable as its magazines, and the venerable 1911 is no exception.
In fact, the magazine is arguably the most important piece of any semi-automatic firearm. Without a good magazine, your weapon simply will not feed or function as properly as it should, and it's as simple as that.
Did you know that the number one cause of failures with semi-automatic firearms is not because of the gun itself but rather because of an issue with the magazine?
This is why having a quality magazine for your 1911 is so crucial. There are also a very wide variety of different magazines out there beyond the ones that the manufacturer will ship with the pistol they sale.
We'll discuss the different types of 1911 magazines that are out there, in addition to the primary factors to consider when buying a 1911 magazine and then the very best makes of 1911 magazines that money can buy.
SAFEST NEWSLETTER - WE WILL NEVER SELL YOUR EMAIL
GET GREAT

GUN AND AMMO

DEALS!
SENT ONCE A WEEK - NO SPAM - NO SELLING YOUR EMAIL
---
Types of 1911 Magazine
Regardless of the make or model of your 1911 magazine, 1911 magazines in general can be divided into three primary types.
These are:
G.I. Magazines
The G.I. Spec Magazine type, as the name suggests, is a 1911 magazine that is heavily based off of the original types of magazines that were issued to American G.I. soldiers back when the 1911 was the standard issue sidearm of the United States military.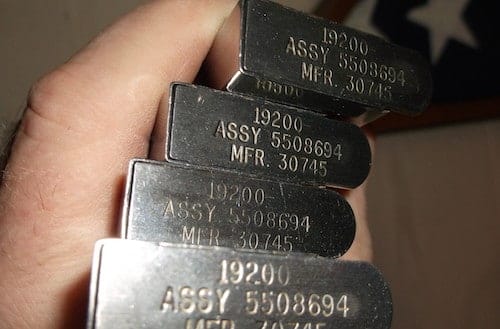 To this end, these magazines typically have a capacity of just seven instead of eight rounds, and furthermore are primarily designed to function with FMJ ammunition only. As a result, they are not the best overall option, at least not for a 1911 intended for defensive use.
Hybrid Magazines
Hybrid 1911 magazines are designed to function as reliably as possible by allowing the rounds to spring free from the control at a faster pace in the feeding cycle.
Subsequently, they are a better choice than the G.I. magazines if you want to use jacketed hollow point ammo.
Wadcutter Magazines
Finally, Wadcutter magazines are also designed to function properly with JHP ammo and to prevent double feeds.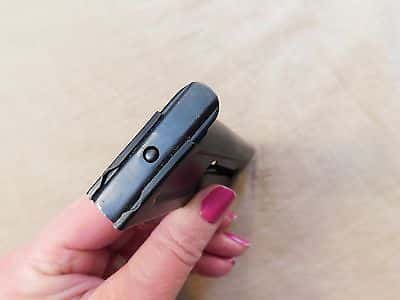 They accomplish this by allowing shorter rounds to be inserted into the magazine and to use the same kind of feeding angle as a rifle magazine uses.
---
Factors To Consider When Choosing A 1911 Magazine
Here are the top factors that you will want to consider when choosing a 1911 magazine:
Reputation of the Manufacturer
Perhaps the single most important factor of all is the reputation of the manufacturer. This is especially true if you are new to the 1911 world and just want your gun to feed reliably without having to spend a lot of money.
There are numerous high quality manufacturers of 1911 magazines, including each of the following:
Colt
Mec-Gar
Wilson
Power Mag
Tripp Industries
Metalform
Chop McCormick
The bestselling 1911 magazines in the world are currently being manufactured by those companies, so they should be your top choice.
Price
Obviously if you're on a budget, price is important. Most quality 1911 magazines are available for the $20 to $30 range. You shouldn't have to pay any more than that.
Pressure
Specifically, this refers to the pressure in the springs of the magazines. Different magazines for varying firearms have different pressures in them. Generally speaking, 1911 magazines have higher pressures in the springs for greater performance, and this will be preferable for you.
Craftsmanship
This refers to the overall quality of the magazine as well as its aesthetics. Many 1911 magazines will have a highly reflective finish, especially in the sunlight. While they may still function properly, the reflective finish can be undesirable for a host of reasons, especially if you're standing outside under bright sunlight.
Furthermore, an unusually shiny finish can equate to a poor grip, especially if your hands are slippery from water or perspiration.
For these reasons, it will be best to avoid a 1911 magazines with a naturally shiny finish. As far as craftsmanships is concerned, the magazine should be solid without a flimsy spring and no rattling of any kind.
Non-Stick
The best 1911 magazines will not stick in the grip of the 1911 and will eject smoothly when you hit the magazine release.
Aftermarket Magazines are Fine
Last but not least, aftermarket magazines for your 1911 from certain third party manufacturers should be fine.
In fact, oftentimes, a third party magazine such as a Wilson Combat or Chip McCormick will function even more reliably than the one sent with the gun from the manufacturer.
---
The Top 4 Best 1911 Magazines
With the above information in mind, here are the top four best 1911 magazines that money can buy:
The Chip McCormick Power Mag holds eight rounds and usually as a polymer base plate. It is installed with roll formed feed lips to make the magazine more durable over the long term, while the follower design ensures proper feeding of hollow point ammunition and semi-wadcutters alike.
The spring is heat treated to ensure it remains strong and reliable over the long term as well. Finally, the numbers on the side of the witness holes makes it super easy to quickly verify how many rounds you have left.
These are the magazines that Colt will ship with their 1911s, though they can be easily purchased from their website or several other online stores as well and will function just fine in all other 1911s.
Available in either a blued or stainless finish and with 7 or 8 rounds depending on the magazine you go with, the Colt 1911 magazines very closely resembles the G.I style of magazines in terms of their appearance for a more overall classic look.
The Ed Brown magazines hold eight rounds and as a result of a slightly longer body. They feature a wraparound polymer base bad to accommodate the eighth round, but without sacrificing the follower design that the company is known for.
Meanwhile, the spring is heavy duty to ensure that it be as reliable as possible. As an added touch, the interior of the magazine is coated with an internal contact surface to keep power residue to a minimum and ensure maximum reliability.
Wilson Combat is well known for making some of the finest 1911s in the industry…and some of the finest 1911 magazines as well. Their Elite Tactical 1911 magazines feature a polymer, non-tilt follower that supports each individual round being fed to prevent double feeds and nose dives.
The body of the magazine is built using a proprietary welding from Wilson, while the follower is snag free.
---
Conclusion
In conclusion, it is absolutely indisputable that the quality of your magazine is the most important element in ensuring that your 1911 functions properly.
Having a high quality magazine is your best bet for preventing reliability issues and to ensure that your pistol functions properly when you need it to the most.
The magazines the manufacturer of your 1911 provides for you when you buy from them may or may not be high quality. Just to be on the safe side, purchasing any of the four 1911 magazines we have covered here today will ensure that your weapon functions reliably.
Related Reads: