When it comes to choosing the right pellet gun, you'll want to consider what you are going to use the pellet gun for, what caliber of pellet gun you are going to buy, and how to get the most value for your money.
People use pellet guns for a variety of reasons; however, most people use them for sport shooting and hunting small game.
It's important to remember that not all pellet guns are created equal, and there is a big difference between a regular BB or pellet gun and an air rifle.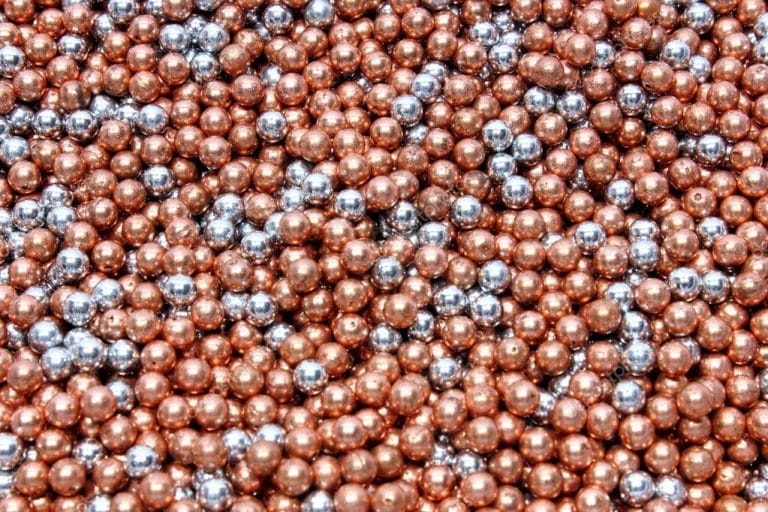 When shopping around for a pellet gun, you should be aware of the responsibility that comes with owning a firearm of any kind.
Always check your local laws about owning a pellet gun (some places don't allow them), and if you plan on buying one online, retailers will deny shipping if you aren't allowed to purchase them in your area.
You'll also want to know how to properly care and clean your pellet gun. Most guns come with a carrying case, and it's important to always store your pellet gun the same way you would a real rifle or handgun.
These guns are not toys and while they are often used for fun, they can kill an animal and seriously injure a person if handled incorrectly.
Okay, now that we got the warning out of the way, on to the fun stuff…
Pellet guns are great for dealing with pest control issues, especially if you live on a large piece of land, or if you are trying to keep critters out of your garden.
You don't need a powerful rifle to keep rabbits away from your lettuce patches, but you might need one if you want to keep the fox away from the cat.
If you're hunting bigger game, you'll want a more professional (and costly) pellet gun that can pack a punch in terms of velocity and loading time.
Remember to always read the user manual before using any of the pellet guns suggested here (or any gun for that matter). The best way to prevent injury or accident is to know how to handle your pellet gun properly.
In this roundup, we're looking at the best pellet guns and accessories for your money, small game hunting, hunting in general, and accessories. These range in price and power, but they are all useful for target practice overall.
SAFEST NEWSLETTER - WE WILL NEVER SELL YOUR EMAIL
GET GREAT

GUNS AND AMMO

DEALS!
SENT ONCE A WEEK - NO SPAM - NO SELLING YOUR EMAIL
---
Our Favorite Pellet Rifles 
Our pick for the best pellet gun overall is powerful, yet moderately priced, Tactical Crusader Break Barrel .177 Caliber Pellet Rifle with its fixed barrel and heavy weight metal design. Its ease of use and general handling makes it ideal for shooters of any skill.
It's front and rear adjustable sight makes it easy to see what you are shooting at and it has one of the fastest velocities of all the pellet guns we reviewed.
As a .177 caliber pellet gun, it is good for a variety of shooting uses. If you want to take this pellet gun to the next level, you could pair it with one of the recommended scopes, which would almost double your sight range and offer you even more flexibility with this useful and reliable pellet gun.
If it's a handgun style pellet gun you are after, we like the Beeman P17 pellet pistol for its affordable price – at less than $40USD – because it's lightweight and has a solid grip polymer frame. Reaching speeds of up to 410 feet per second, this handheld pellet gun can pack a punch.
---
What Are The Best Pellet Guns For The Money? 
When it comes to spending your hard-earned cash, you want to get the best your money can buy. While a pellet gun is a pretty simple device on its own, the more power and velocity you can get from it, the better.
Here are 3 pellet rifles that are a good buy for what they offer.

This pellet rifle offers heavy weight metal and wood construction, making it easy to grip and use. It has a front sight and an adjustable rear sight that offers optimal visuals for aiming.
Shooting 750 feet per second, the .177 caliber pellet is good for a variety of shooting uses. It has a fixed barrel with cocking lever and is a great buy.
This semi-automatic CO2 powered rifle offers .117 caliber shooting power with 625 feet per second velocity.
It has a center point scope with 4×32 range and offers a steel barreled body with all weather synthetic stock for use in any weather. This is a great buy for a general use pellet rifle.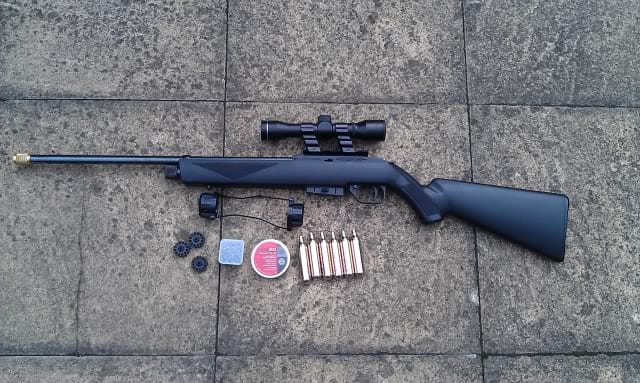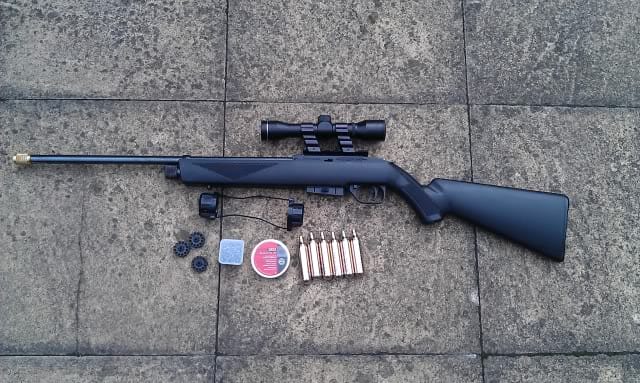 This sleek and modern pellet rifle-style gun offers ambidextrous thumb hole so that it can be used by either right or left-handed shooters.
It's great for all-weather hunting and target practice and has a carbon fiber look with adjustable cheek piece for comfort and control. The rifle has an adjustable scope and rifled steel barrel with an integrated shroud.
With adjustable, two-stage trigger action, this rifle offers up to 1200 feet per second of velocity!
That's an incredible amount of power and one of the fastest guns in this round-up. This rifle is easy to cock and offers accommodation for wind and elevation while shooting. At less than 10 pounds, this is a real powerhouse rifle.
---
Best Pellet Gun for Squirrels and Small Game
Small game can be tricky to hit unless you have the right kind of pellet gun. What's more, you need to make sure you have enough power in your pellet gun to actually deter small animals from coming back into your home, garden, or wherever you are having a problem with them.
If you are hunting squirrels or other small game or poultry, you'll want to make sure you choose one of these pellet guns with power.
Here are two styles of pellet guns that are good for hunting squirrels and small game.
Don't let the "junior" in the name of this pellet rifle fool you. Offering a tactical rail system and fiber optic sights, this .177 caliber pellet gun has a 20-inch steel rifled barrel and offers 800 feet per second of shooting velocity.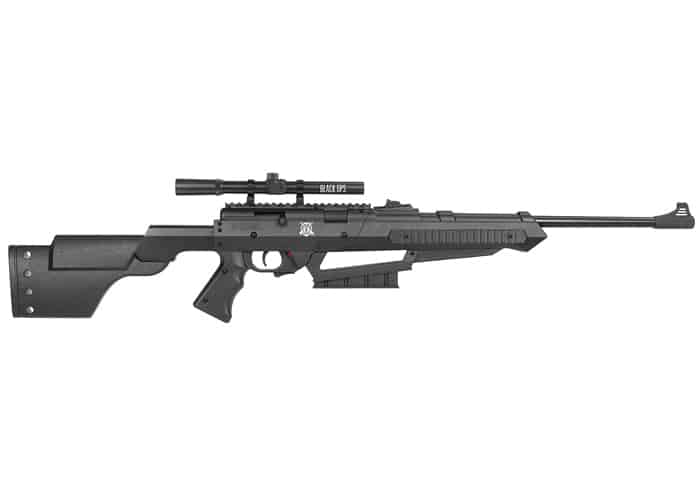 Offering multi-pump action, this is a powerful pellet gun for shooting squirrels and small game. For less than $50USD, this is a good deal for having some fun in the woods or shooting at targets.
This handheld pistol pellet gun model is good for shooting small game because of its portability and small size. It offers a blowback slide mechanism to reduce shock, has a 16 pellet double magazine for continued shooting, textured plastic grips and it looks like a real handgun.
It has a rifled steel barrel and fixed sights with reflective dots. Priced at under  $85USD, this is a good pellet pistol for hunting and target practice.
This is another handheld pistol style pellet fun that offers 410 feet per second of velocity in a lightweight and compact handheld design. With a drop-free metal magazine that can house 19 pellets, the easy to load and the gun has fixed front and rear sights for optimal targeting.
This double action handheld model is powered by a CO2 capsule that is housed in the grip of the gun. This is a great option for hunting squirrels and small game in the woods and on your property.
---
Best Pellet Gun for Hunting
Hunters need a powerful pellet rifle when they are trucking through the woods looking for game and other wildlife.
Consider the weight of the gun when you'll be carrying it around for long periods of time; consider the portability of the gun and whether you want a rifle style of a handheld style for big game hunting, and ensure you choose one that has enough power to actually take out your target, whatever that may be. Here are three powerful rifles for everyday hunting.
This multi-pump Monto Carlo stock rifle offers 800 feet per second shooting velocity and is a 1.77 caliber pellet rifle. Housing up to 50 pellets, this rifle also shoots BBs. The attractive wood grain style rifle has a blade and ramp front adjustment rear sights.
It's a classic style rifle with lots of power for hunting in the woods for larger game. Priced competitively, this is a good starter pellet rifle for hunting.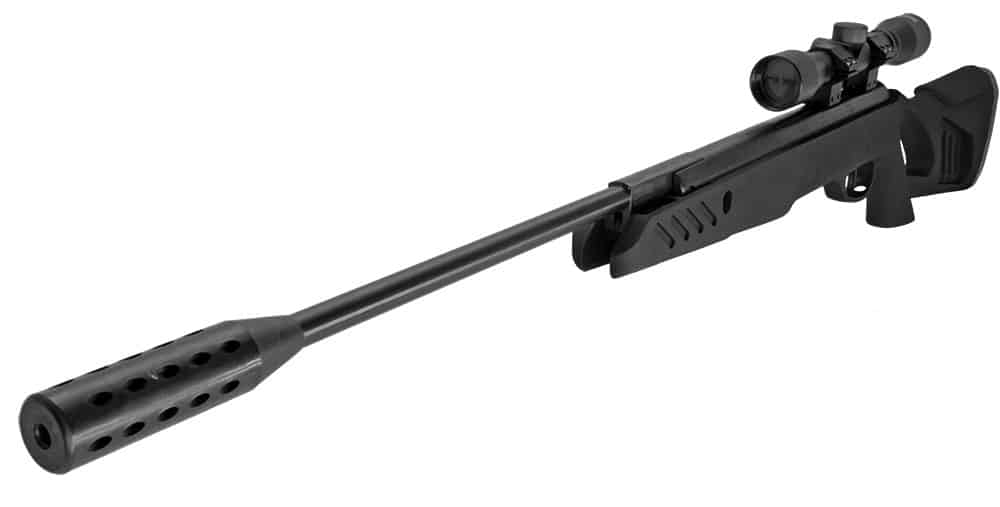 Offering a little more punch than the Daisy Outdoor Rifle, this .22 caliber pellet rifle can get up to 900 feet per second of velocity. It has a 4×32 scope and mount and an ambi-thumbhole stock. The attractive design of the rifle lends to the comfort of using it, and for price, hunters will enjoy the power and flexibility of this rifle.

This rifle style pellet fun offers .22 caliber pellets with a powerhouse velocity range that could keep up with real firearms. With a sleek and modern looking stock, this hardwood rifle is the most expensive one on our roundup list.
If you are a series pellet hunter or just want something more realistic to shoot at targets, this is the pellet gun for you. This high-end rifle offers lower cocking efforts and has a ventilated rubber recoil pad to reduce shock absorption to the user.
With rear and front sights, and an 11mm scope rail.
---
The Best Pellet Gun Scopes For Pin-Point Accuracy
A pellet gun is only as good as the scope that allows the shooter to see the target. Many scopes are replaceable on rifle style and handgun style pellet and BB guns.
Be sure to check your make and model before purchasing a scope to ensure it will fit with your gun's mounting fixtures.
A good scope makes all the difference in shooting so don't be afraid to upgrade the scope that came standard on your rifle or handgun style pellet fun.
Here are three scopes that are ideal for pellet guns. 🙂
With magnification abilities from 3 to 9 x the target, this high strength alloy aluminum tactical scope is great for night or day use. It offers fog proof technology and is water resistant.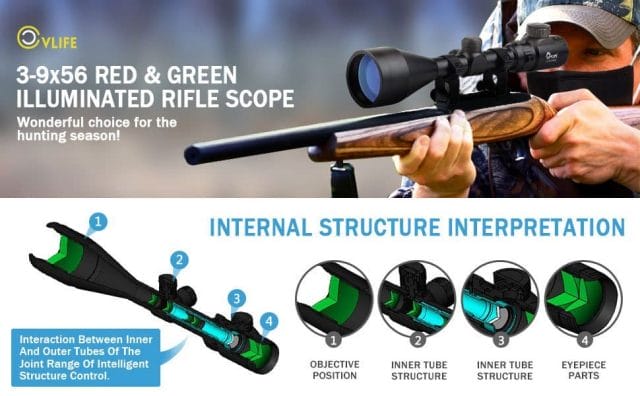 It is completed sealed to avoid water damage and is 100% filled with nitrogen. It has intensity levels of red and green and is ideal for a variety of conditions and lighting positions.
Ready to install with mounts, this rifle scope is a great deal for its price.
The Targetfinder scope offers four settings and the ability to focus eyepiece and precision coated optics.

The scope has turret adjustments to account for wind and height elevation, making it ideal in a variety of settings and terrains. The scope can be easily mounted on any Crosman rifle, but it is not designed to be used with pellet air rifles.
Improve your chances of hitting the target with this scope.
The Hatsan scope is ideal for improving accuracy with target practice or hunting small game. It offers 3x to 9x magnification abilities and offers a 40mm objective lens which makes your field of vision much clearer.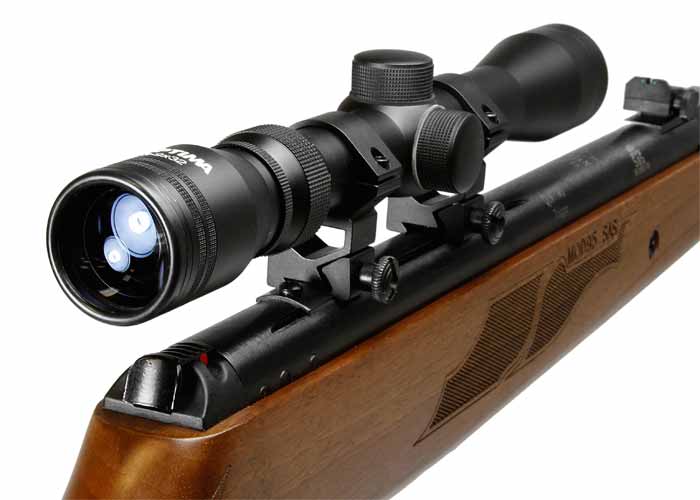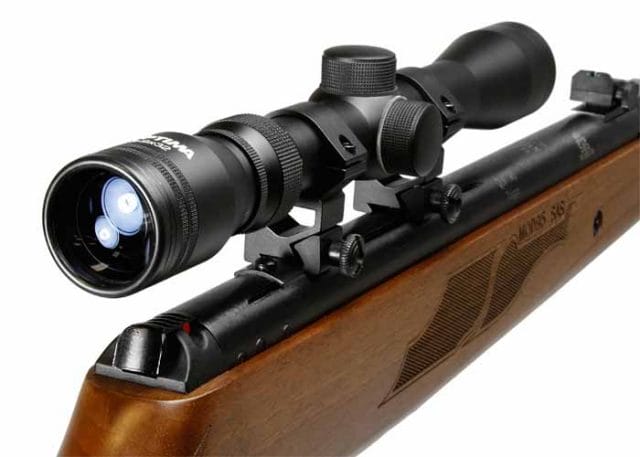 The scope is dry nitrogen filled and is water resistant, fog proof and shock resistant. With mounting rings for any pellet rifle this fully loaded pellet rifle scope is ideal to guaranteed to improve your shooting.
---
Looking for a 'Pump' Pellet Gun? 
Pump pellet guns offer more power than traditional pellet guns and can take your shooting to the next level. They usually have dual action shooting power and come with a variety of extras that you might not find on regular pellet guns.
Here are three popular pump pellet guns for increasing range and power.
The Crosman P1322 offers a classic looking fun with multi-pump action. Shooting .22 caliber pellets, this gun reaches up to 460 feet per second of velocity and has a single shot bolt-action with variable pump power.
There is an adjustable rear sight which offers peep or open access, this is a great pump pellet gun for your hunting and target needs.
This tactical style multi-pump rifle offers users the choice of either BBs or pellets for shooting their targets. Made by the trusted brand, Crosman, this rifle is made of the highest quality material and offers up to 660 feet per second of velocity and .177 caliber action.
This is a great pump pellet gun with a lot of power. The flexibility of being able to use with BBs or pellets means you can benefit from a variety of shooting options and can score a good deal when one or the other is on sale at your local retailer.
The Beeman offers single-stroke pistol action with fiber optic sights. There's no recoil with this 410 feet per second .177 caliber handheld pistol. The barrel length is less than 5 inches, and it weights less than 2 pounds.
The pistol offers rear adjustable sights that help account for wind speed and height elevation. Very portable and very powerful this handheld pistol is a great pump pellet gun.
---
The Best .177 Pellet Gun (My Personal Favorite) 
.177 caliber pellet guns are powerful and can offer a wide range of features. They are available in both rifle style and handgun style to meet a variety of shooting needs and preferences.
Here are three popular .177 pellet guns available today that are affordable and offer a variety of features to take your shooting to the next level.
The Daisy .177 caliber pellet rifle offers the use of either pellets or BBs for ammunition. It has a steel rifled barrel and offers up to 750 feet per second velocity with 50 shot BB or single shot pellet action.
This multi-pump rifle is versatile and is made of the highest quality materials that you would come to expect from a manufacturer like Daisy. The rifle is made from black composite and has a fiber optic front and adjustable rear sights. Retailing for about less than $100, this is a great .177 caliber pellet rifle for anyone.
The Winchester .177 caliber rifle offers multi-pump action for either BBs or pellets. The scope and sights are blade and ramp front with adjustable rear sights for maximum targeting.
Reaching velocity speeds of up to 800 feet per second, the Winchester is a great example of what a dual ammo .177 caliber rifle can do. Priced a little higher than the Daisy  the Winchester also offers crossbolt trigger blocking for safety purposes and is overall a useful pellet gun.
The Crosman revolver style pellet and BB gun prove you don't have to spend a lot of money to get a lot of power in a handgun style pellet gun. With a 10-shot pellet clip, and a 6 shot BB clip, the 6-inch rifled steel barrel can achieve speeds of up to 435 feet per second.
With single or double firing action, the full metal frame and tactical rail system are great for hunting in the woods or target practice. There is also an adjustable rear sight to account for wind and elevation. For the price, this is a lot of pellet gun for a little price.
---
Best Pellet Gun Under $100
Sometimes you don't want to spend a lot of money to get a lot of power. These rifle style and handgun style pellet guns offer a good amount of power, style, and flexibility in use for less than $100.
These are great starter pellet guns and are suitable for beginners at any age. Before you spend more money than you need to, try one of these reliable pellet guns in either the rifle style or handheld pistol style to determine what you would like long term for your shooting needs.
The classically designed Crosman pellet rifle is a great buy under $100 because it offers a .177 caliber rifle with speeds up to 755 feet per second of velocity. With a one year limited warranty, you can be sure you are getting a solid product for your money.
This multi-pump pellet rifle also accepts BBs for a variety of uses and applications. If you are looking for a general use pellet fun, look no further than the Crosman Classic. At less than $73USD, you won't find a better deal for what this fun is delivering.
Compared with most pellet guns in the market, the Beeman Air Rifle.177 Caliber is the choicest rifle for hunters considering its accuracy and power.
Longhorn is an alluring component in the Beeman Rifle that offers amazing performance. It has a max muzzle velocity of 1200 fps measured by HAM and equipped with fiber optic iron sights. They have a rear sight that can be altered for windage and elevation. But for the more pragmatic experience, most of us consider mounting a scope on it. 
Due to its harsh recoil and hard-to-cock property, it cannot be called a family gun, but it is a go-to option for adults or shooters for hunting pests and sports. The trigger is long and sharp, weighing up to 4 Lbs 6 Ozs. As preferring manual safety, the trigger is protected by automatic safety.
Analyzing the stock, it has a thumbhole style that makes a good grip while hunting or shooting. The metal Polish is a nice touch. Something that can be seen in the more expensive rifles. Overall, its affordable price, performance, and antique design make it an excellent pick.
Another handheld style pellet pistol from Beeman, this .177 caliber handgun and comes complete with a shooter's kit to get you going right out of the box. This is a good pellet gun for target practice as it is slightly less powerful and allows for good control on the target range.
With a 90 day limited warranty, you can try it out and see if it's the right fit for you. Reaching speeds of up to 200 feet per second, this handheld style pellet gun is a good entry level gun for shooting pellets.
---
Our Final Thoughts
In caring for your rifle or handgun style pellet gun, you'll want to clean out the chambers of the gun on a regular basis. You'll also want to make sure you clean out the magazines that come with your pellet gun to ensure you don't experience any snags or hang ups when you are trying to shoot.
Dust or debris can halt a rifle or handgun in the blink of an eye. Taking care of your pellet or BB gun means you get to enjoy it for longer. Do not leave it exposed to the elements; take it inside or store it in your garage in a safe place.
Never leave pellets or BBs in the gun when it is in storage and ensure you keep your pellets away from your gun's storage place – just like a real gun. It's best for everyone's safety to do so.
It is also recommended to wear protective eyewear when shooting a pellet or BB gun, whether it is a rifle style of handgun style.
Never point a pellet gun directly at another person and ensure there anyone using your pellet gun is shown how to use it properly and always make sure you're wearing shooting glasses.
Pellet guns are fun for shooting cans off fences, shooting at targets and trying to hit branches in a tree; but a pellet gun can really hurt another person so always practice safe shoot procedures, especially when you choose to go out hunting with your pellet gun.
But remember, a pellet gun is just one tool that you need to make your small game hunt successful. You'll also want to invest in things such has hunting clothing, good boots, a survival kit, trail cameras, and so on.
Whether you decide to invest in a rifle style pellet gun or a handheld pistol pellet gun, you'll want to get the most power possible for the money you are spending. The more velocity a pellet gun offers, the more likely hunters and small game hunters are to take out their targets.
You might need to invest in special pellets or BBs designed for hunting, but for everyday target practice, regular pellets as suggested by the manufacturer gets the job done right. Test out the kind of pellet gun you think you'll like before buying it and you won't be sorry.
Don't forget to ensure you have a good scope attached to your rifle so you can get maximum sightlines while shooting. Take care of your pellet gun and it will work for years to come.