The Remington Model 700 is a series of bolt-action rifles that have become nothing short of iconic in the world of hunting, and it continues to be one of the best-selling Remington rifles available on the market even after satisfying customers for the past 50 years. As a matter of fact, the Remington Model 700 is probably the bolt-action rifle that has been sold more than any other in the U.S.A.
It comes in a wide variety of designs and calibers to satisfy the needs of any hunter or sport shooter. All these designs are based around the same bolt-action system Remington used in the very first Model 700 released all the way back in 1962. To this day, the Remington Model 700 is a trustworthy firearm for anyone looking into buying a rifle that they won't ever outgrow.
Okay, let's dive in and take a look at this iconic piece of firearm history.
SAFEST NEWSLETTER - WE WILL NEVER SELL YOUR EMAIL
GET GREAT

GUNS AND AMMO

DEALS!
SENT ONCE A WEEK - NO SPAM - NO SELLING YOUR EMAIL
---
The Good, The Bad, And The Ugly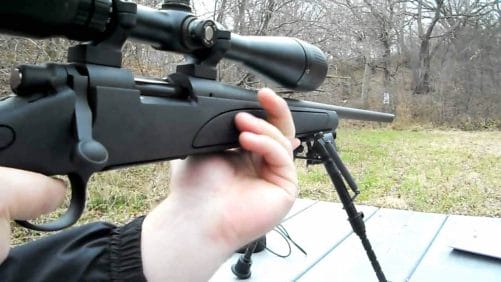 What better way to get to the core, you know, the real brass tacks of a firearm than to break it down into the good ole phrase: "The good, the bad, and the ugly."
That is exactly how we are going to break up this article. This way you can get a look at what makes the Remington Model 700 really shine as well as where it could do just a little bit better, in my opinion, to hopefully give you a better idea of what to look forward to if you are considering adding a Remington 700 to your gun safe anytime soon.
The Good
The Remington 700 is an iconic bolt-action, center-fire rifle that has been a staple of the hunting arena for the past 50 years and still going strong to this day. And it's really no wonder why or how it has been able to etch out a sport in the history books… and hold it.
For starters, Remington crafts all their firearms with the highest quality materials available, and the Remington Model 700 is not the outlier in that either. You will find triple-layered steel barrels in a variety of sizes, sealed solid wood shoulder stocks, and high-impact polymer frames on the lightweight versions.
Straight out of the box this rifle has the most on-point accuracy that I've seen in the same price range from large competitors. That's all thanks to its internal design which features 3 rings of steel that are locked into the bedding platform that gives you more reliable accuracy than a lot of other rifles on the market currently.
The barrel on every Remington Model 700 is hand-forged from steel and are made to very specific guidelines in an effort to make sure that they are precise and durable enough to hold a steady aim for many years to come.
Since its inception, the Remington 700 has worked hard and built quite the loyal following for itself. So much so that there is a truly massive aftermarket dedicated to just this one rifle. With all the accessories and upgrades developed for this rifle over the years, you will never have to worry about outgrowing your Remington 700 as you can upgrade it and switch it up a bit as your needs change over time. I know people who have owned their Model 700 for 30+ years and even some who have had one passed down to them from their grandparents or fathers.
Since it has such a massive following and is easy to work on, you will never have trouble finding someone who can work on your gun for you. This also means that there is an endless supply of information out there about how to work on the Remington Model 700, enough so that you can do basic work on it yourself with just a day or so of research.
Another major selling point for this rifle is the fact that the Remington Model 700 is trusted and actively used in the line of duty for the military of 6 countries. When you can gain the trust and loyalty of soldiers who must trust this rifle to save their life should the need arise, you know you are doing something right.
Overall, the Remington Model 700 is a very well-built, reliable rifle that comes with a legacy that really speaks for itself.
The Bad
First let's take a look at one major thing that happened not too long ago, something that has really tarnished the Remington brand as a whole in a lot of people's eyes…
The Remington Model 700 went through a massive recall back in February 2017. Now, I don't think I have to tell anyone who may be reading this blog that Remington is a HUGE firearms manufacturer, and an extremely popular one at that.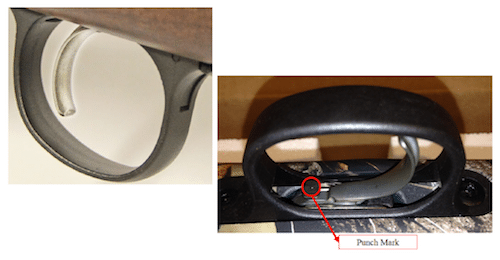 Beyond that, the Model 700 is by far the most popular rifle out there to this day. So, you can only imagine how many rifles were involved in this recall. The number is somewhere around 8 million.
The reason for the recall was due to some excess bonding agent used in the assembly process being left on the XMP trigger that the Remington 700 features. This excess bonding agent was thought to be responsible for allowing the firearm, under certain circumstances, to unintentionally discharge.
The rifles included in this recall would be any that were manufactured from May 1, 2006, to April 9, 2014.
However, Remington eventually did the most responsible thing they could do in this situation, they admitted they had found a common problem, and then issued the safety recall. If you happen to have a Model 700 made between those dates you can send your rifle into Remington and they will inspect it, clean it, test it, and return it to you for free.
The second thing that I have personally found out about my own Remington Model 700 that I really don't care much for has to do with a feed rail issue. Sometimes I can be out hunting large game and need to get ammo fed quickly to pull off that one shot. If I am too quick, or loading under stress, the cartridge seems to love getting stuck under the feed rail of the receiver and the magazine.
It's because of this issue that in the past year or so I have been carrying a couple different push feed hunting rifles around with me whenever I go out on a day trip.
The Ugly
You know how I said that there is a massive aftermarket for the Remington 700? Be glad it's there because the Remington Model 700 is a basic rifle when it comes to aesthetics.
Let me be clear before I talk myself into a hole here, I really like this rifle. It is well-built, has passed the test of time many times over, and my Remington 700 has never let me down in the 16 years I've owned it. But, I have never cared much for the look of most of the versions of this rifle.
There are indeed some versions of the model that are absolutely gorgeous. However, fresh out of the box, the basic models like the Model 700 CDL SF or the Model 700 American Wilderness Rifle just aren't that super-impressive. They are your standard plain-jane style rifle with maybe a few eye-catching designs here and there.
There are a few models like the ADL – 200th Anniversary Edition that are designed with a little more attention to detail on the woodwork and the like. It's those simple little things that can make a rifle truly stand out from the rest in terms of eye-catching design.
When it comes time to buy your Remington 700, don't let the aesthetics get in the way of making a good purchase. Visual appeal is a nice thing to have and gives you something else about your rifle to be proud about, but your rifles true merit does not lie in its eye-candy factor, it's all about how well it performs for you.
And to be quite honest, with all that open real estate on your gun, you have a lot of wiggle room to customize it the way you want. Just throw a decent rifle scope on that plain barrel and you will begin to see what I mean.
Overall, Remington has a nice selection of variations for the Model 700 but most of them are very plain and basic, so you may want to consider adding some aftermarket parts over time unless you enjoy a minimal, sleek look.
---
Final Thoughts
The Remington Model 700, simply put, is nothing short of an amazing gun manufactured by a company that is known worldwide for their dedication to quality craftsmanship. I absolutely love mine and take it with me on most of my hunting trips and it has never really let me down.
Just as with any firearm, there are a few things about this rifle that may be less than desirable. But in the grand scheme of things, I believe it is safe to say that the pros of the Remington Model 700 easily and far-outweigh its cons.
If you are considering throwing one in your range bag the next time you head out for some target practice, you are already headed in the right direction! Now you just need a high-quality shooting rest and you are good to go.
Is this your first rifle? Want to see a comparable option for beginners that is also affordable? Check out our review of the Remington 597.
Related Reads: