Gloves come in different shapes, sizes, and categories. They're an important accessory if you're employed in specific areas such as professional military operations. When you think about it, your hands are your tools. If you'll be using your hands for tactical activities like target shooting or even paintball shooting — you'll need a pair of tactical gloves.
SAFEST NEWSLETTER - WE WILL NEVER SELL YOUR EMAIL
GET GREAT

GUNS AND AMMO

DEALS!
SENT ONCE A WEEK - NO SPAM - NO SELLING YOUR EMAIL
---
Why Use Tactical Gloves?
Tactical gloves are also perfect to use when participating in extreme sports, such as cycling and camping. These specific gloves protect you from various weather conditions, not to mention high-risk situations.
It's true that tactical gloves are tough and resilient. The reason they're so reliable is that of their extremely durable construction materials. Additionally, tactical gloves are so lightweight, you won't even know they're packed in your tactical bag.
Have you ever been in a situation where you needed quick access to one of your tools or accessories while in the field? If so, you understand the need to be accessorized in a pair of quality tactical gloves. Check out our list of the best tactical gloves that won't bend your wallet …
---
1. Magpul Gloves
The Magpul Tactical Gloves are manufactured in a durable and comfortable synthetic suede. However, these gloves are tough enough to prevent moisture and water from seeping — and materials for a tight grip.
This suede is conveniently flexible for easy movement of your hands without problems. In addition to an elastic band for adjustment, three of the fingers have padding for an easy touch of your phone's screen. The Magpul Tactical Gloves are available in different sizes and color of your choice like black, coyote, and charcoal.
Features
Lightweight, durable glove without compromising dexterity
Narrow, minimalistic forefinger for easy access and better control of firearms triggers
Tough synthetic suede palm and inner finger construction for wet or dry grip on all firearms
Ambidextrous three-finger touchscreen capability
Elastic wrist closure keeps out debris
100% synthetic
Subdued branding for better camouflage and concealment
Check the best price on Amazon!
---
2. Mechanix Wear 
Mechanix Wear tactical gloves are designed to protect military, law enforcement, and shooting sports enthusiasts. They're ideally used in varying environments and conditions. To be more descriptive, the Mechanix Wear Tactical Gloves come at a budget-friendly price and are constructed of nice black leather.
The sleek leather is so flexible for the utmost in comfort. Additionally, these gloves offer a really cool Dry Tek element with sweat wicking properties that will keep you feeling fresh. Also featured is a unique closing element for adjustment to help keep the gloves secure on your hands.
There's also a small attachment for you to hang your gloves to handy areas. Lastly, the gloves can be thrown in the washing machine and come in sizes small to large. A great choice in tactical wear!
Features
Form-fitting TrekDry helps keep hands cool and comfortable
Thermoplastic Rubber (TPR) closure with hook and loop provides a secure fit
Seamless single layer palm improves fit and dexterity
Nylon web loop for convenient glove storage
Machine washable
Various sizes
Check the best price on Amazon!
---
3. Gamit Gloves
These tactical gloves are conveniently constructed of a nice material with ventilation. Designed for the utmost in comfort, they're also very durable to endure most heavy-duty activities.
A nylon wrist webbing features Velcro for easy adjustments. Also featured is a protective hard knuckle design for the most sensitive part of your hands. In addition, an anti-skid protection is secured on the palms of the gloves — to help you keep you steady while holding various objects.
Lastly, the finger area is nicely padded so you can use your phone or tablet. The Gamit Tactical Gloves are available in bigger sizes (L to XL) and come in a black or khaki color choice.
Features
Tough knuckle protection
Breathable (functional vent)
Phone and screen touch accessible
Anti-skid/wear resistant
Perfect choice for climbing, camping, hiking, cycling, motorcycle racing
Check the best price on Amazon!
---
4. Mechanix Wear MultiCam Gloves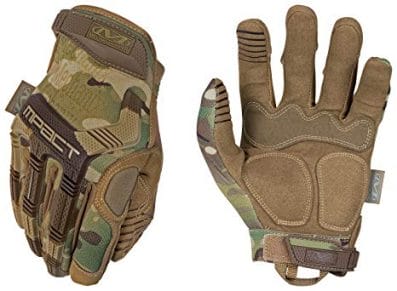 The Mechanix Wear MultiCam Tactical Gloves feature a versatile fabric that is washing machine friendly to help keep you safeguarded. For example, Trek Dry is used to help keep your hands fresh should the gloves be exposed to any type of moisture.
Trek-Dry can also prevent your hands from perspiration and the nasty odors that tag along. The top of the gloves also features a special mold for the knuckles to prevent harm from damaging this sensitive area.
These gloves offer you super easy adjustments and a comfy fit. The Mechanix Wear MultiCam Tactical Gloves are available in sizes S to XXL. A smart choice!
Features
Thermoplastic Rubber (TPR) knuckle guard and finger guards protect against impact
Form-fitting TrekDry with MultiCam camouflage helps keep your hands cool and comfortable
Dual-layer internal fingertip reinforcement provides added durability
D3O palm padding absorbs and dissipates high-impact energy through the palm
Machine washable
Check the best price on Amazon!
---
5. JIUSY Gloves
The JIUSY Touch Screen Military Tactical Gloves are so comfortable because they're constructed of genuine materials to guarantee durability for use after use. These quality materials feature ventilation so there's no chance of perspiration building up with an unfortunate odor.
The materials are formulated with a quick dry system — perfect all types of weather, or any type of moisture. Made with a tough and insulated knuckle protector, your hands will be protected against any bumps and abrasions that may occur.
These gloves also have a reinforced area to keep you in place when handling various objects. These gloves are also tech-friendly with unique fixes on them so you can contact devices while you're wearing them
Lastly, these gloves feature an adjustable wrist wrap for security and snug fit. The JIUSY Touch Screen Tactical Gloves are available in lots of colors and sizes S to XL.
Features
Anatomically shaped one-piece TPR knuckle guard provides impact resistance
Touch screen friendly
Breathable material and designed to provide snugness and support
Palm reinforced to protect hands from abrasion
Perfect for use as cycling gloves, motorcycle gloves, hunting gloves, or tactical gloves
Check the best price on Amazon!
---
6. Seibertron S.O.L.A.G. Tactical Gloves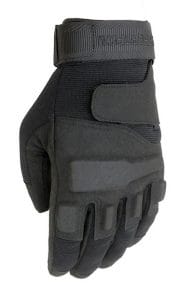 The Seibertron S.O.L.A.G. Tactical Gloves are made out of a black synthetic leather and are a fingerless option if you prefer to have your fingers free. These gloves are highly versatile and will keep your hands protected without limiting your hand movement. They can take a lot of punches and will protect your hands against impact.
They are low profile and will fit really well. When you are looking for highly durable gloves that are great value for the price, then these are the ones that you should look for. They are very durable and feature reinforced palm patches on the bottom to keep your grip secure when holding objects.
Velcro wrist straps keep the gloves tightly on you. These gloves are available in sizes from extra-extra-small to extra-extra-large. The perfect choice for tactical activities.
Features
Highly versatile gloves. Will protect your hands while maintaining mobility and dexterity
Low profile
Great fit and run true to size
Velcro for perfect adjustment
Great value
Available in sizes XXS- XXL
Check the best price on Amazon!
---
Final Thoughts
Choosing the right pair of tactical gloves can take time. Before you buy, understand that these types of gloves need to have enough protection to deal with various cuts and abrasions to full-on combat. Next, you must have sufficient flex to hold a gun's grip and pull the trigger while keeping enough tactile sensation to release another weapon without hesitation.
In summary, tactical gloves need to be warm, yet breathable and comfortable. They also need to be absolutely reliable and won't fail you when you need them the most. Lastly, make sure to buy high-quality tactical gloves that will protect your hands — without affecting your level of performance! Good luck!
Related Reads: