There are many ways that both military and civilian shooters benefit from mounting flashlights on the AR-15s or other firearms.
They help increase safety by improving visibility and preventing one from shooting a loved one accidentally.
A flashlight on your rifle allows you to see clearly in low light conditions, thus giving you an opportunity to identify potential hazards.
It is a must-have accessory when hunting in the dark or participating in one of those nighttime competitions that have gained popularity in the recent years.
To know more about rifles and their calibers, check out our rifle caliber guide.
In this article, we'll cover important features to look for in a tactical flashlight, as well as review our best choices for AR15s. It gets a bit technical at times, so if you just want the list, here are the top five:
4Sevens Maelstrom X10 Tactical Flashlight
JetBeam Jet 3M Pro Military Series
SureFire X300
Inforce WMLX Multifunction LED Light
Klarus XT30R Long Distance Illuminator
That said, let's take a closer look at some of the main pros and cons of each flashlight.
Get Great Guns and Ammo Deals!
---
Features to look for a tactical flashlight for your AR15
If you are going to use a flashlight for defense purposes, it's important that you buy one that you can depend on in the toughest situations.
That said, refrain from buying the first AR-15 flashlight you see at the firearm accessory store. Some of the things to look for in a tactical flashlight include:
Flashlight material
There are variety of materials used in the manufacture of tactical flashlights including aluminum, anodized aluminum and plastic. While plastic may work well, it's best to choose an aluminum or anodized aluminum flashlight.
Both are lighter and more durable, with the main difference between the two being that anodized aluminum has an extra layer of aluminum oxide. The coating allows for increased resistance to scrapes and tears.
Weight
Since an AR-15 rifle is designed to be lightweight, the last thing you need is a flashlight that adds excessive weight. Many flashlights weigh 5-10 ounces, but there are a few good ones that weigh 4 ounces.
Dependability
Ensure that your flashlight has an on/off button that works well and that it is easy to operate.
Lumens (brightness)
This is the measure of how bright a beam is. For close range tactical situations, consider a flashlight that emits 300-600 lumens. Keep in mind that the high number of lumens, the brighter a flashlight is.
---
Best AR-15 flashlights: Our Top Picks
The PL-Pro Valkyrie is considered the souped-up version of PL-2 Valkyrie. This is a rechargeable version. This little powerhouse is upgraded with a lockout mode and a magnetic port for charging. It is an excellent accessory for guns like CZ p-09, Sig Saucer P226, and Glock 17, also works great on AR platforms.
This flashlight has a max lumen of 1500 and a throw rate of 280 meters.
It has two mode light modes, low and high, and three output options; constant, momentary, and strobe.
Low mode emits a 300-lumen beam while conserving battery life. High mode emits a 1500-lumen beam.
It comes along with the rail adapters to make it compatible with almost every weird rails available. With the help of a quick detach mount, you can easily attach and remove it at your will.
It is IPX6 rated with an impact resistance of 1 meter.
Overall, it is a compact and excellent flashlight for guns.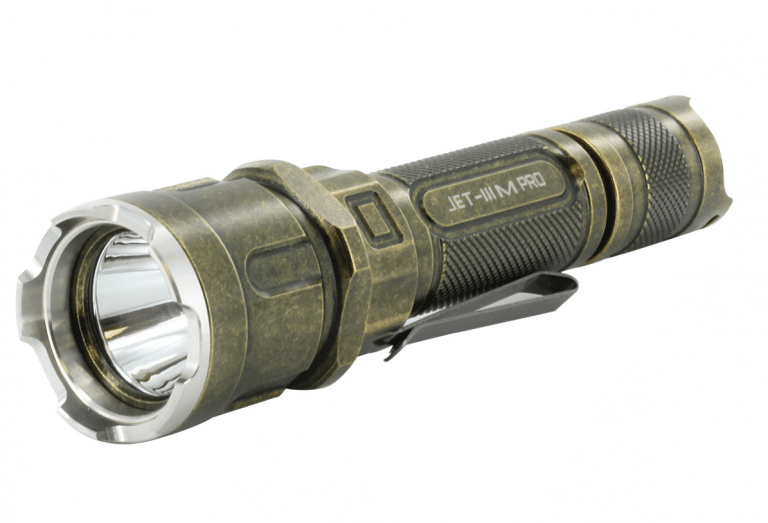 The JET 3M Pro is a military-grade flashlight designed for rugged use and weapons mounting. Its programmable mode is one of the main highlights of this flashlight. The light cycles from slow to rapid probe or high to low beam when you active this mode.
You can use the button at the back to choose your preferred strobe or intensity setting. Like the Maelstrom X10, this one offers two light settings i.e. 1100 lumens and 1 lumen low-beam. The battery can last for 0.6 hours to 280 hours depending on the light settings used.
We love the sleek body as it fits in a 1" ring, has a stainless steel bezel and is waterproof for up to two meters. It only weighs 5.5 ounces so you don't have to worry about it throwing your gun off balance.
The X300 is a light yet powerful flashlight designed for weapon mounting. It is less than four inches long and has an LED that emits up to 600 lumens of light.
The light is focused by high a Total Internal Reflection lens that offers significant surround light needed for peripheral vision in close combat situations.
This flashlight is powered by two 123A batteries with a tactical runtime of 1.5 hours. It fastens easily to the firearm and the controls are easily accessible at the back, which is convenient in high stress situations.
You have the option of choosing between a Rail Lock or T-Slot mounting system when ordering the X30. This makes it virtually any type of rail system that your firearm has.
The Inforce WMLX Multi-function is a powerful tactical flashlight with a brightness rating of 500 lumens. It only weighs 4 ounces, which is as good as you can get. The flashlight is powered by two lithium ion batteries with a tactical lifetime of two hours.
We love that it offers three light settings, which is an improvement from the two light settings provided by other models. These include full beam, strobe light and momentary flash light.
It has a heavy-duty shell that is built to survive rigorous use. The pressure sensitive switch at the back of the light makes it easy to turn on and off without having to fumble in the dark.
The XT30R from Klarus will prove a worthy investment if you are in the market for a flashlight that provides intense light. This flashlight offers five light settings i.e. full power, 400 lumens, 20 lumens, strobe light and 100 lumens.
The battery can last for 2.5 hours to 75 hours depending on the preferred light setting. We love the aircraft-grade aluminum body as it is a guarantee that the flashlight will last through the toughest situations.
Our only concern is that it weighs slightly less than ten ounces, making it the heaviest flashlight on this list.
---
Conclusion
Having learned a little about tactical flashlights, you can embark on your search for a weapon-mounting flashlight for use with your AR-15 rifle. Trying a few models makes it easier to find something that works best for you.
If you need some additional equipment for your AR-15 rifle, check out our guides for buying lower receivers and scopes for AR15s.
Whatever you purchase, ensure that it is easy to use and durable. For the rifle enthusiast who already has a tactical flashlight, which one have you been using? Is it something we should have mentioned in our guide?
We would love to hear about it in the comment section below.
Related Reads: