All Talk and No Plan?
Texan presidential candidate Beto O'Rourke is taking heat for his "mandatory buyback" program, except this time, it's coming from the left too.
"Hell yes, we're going to take your AR-15, your AK-47."
People along both party lines are starting to question if the 2% nationally polling candidate is reaching for relevancy. 
Knock, knock. To no surprise, O'Rourke's "mandatory assault weapons buyback" is a door-to-door confiscation policy — a wolf in sheep's skin. When asked on an MSNBC last week during an interview, what his plan for handling defiant Americans was, his response was to send law enforcement to recover their firearms physically.
Who's there? Not Beto. A day later, O'Rourke showed up on another interview, and he was questioned again on the issue, this time with CNN's Alisyn Camerota.
CNN's Alisyn Camerota pressed O'Rourke, "You expect mass shooters to follow the law?" 
O'Rourke replied a little more nervously, "Our fellow Americans will follow the law, yes." 
*Facepalm* Maybe this was Beto O'Rourke's first time hearing that criminals don't follow the law.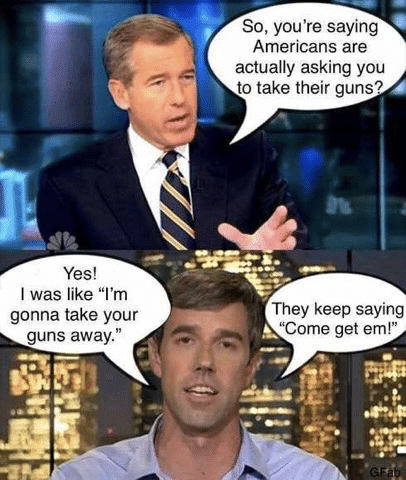 Here are some other things O'Rourke should think about:
It's impossible to track all of the guns.

America doesn't have a central gun registry for authorities to trace guns back to their owners. Good luck finding those estimated 15-20 million "assault rifles," Beto.

He's going to make a lot of people angry.

Gun owners make up a huge demographic in the United States (

about 43% of households have at least one gun

). Santa Clause is the only person who'd have time to visit all of those houses.
How Does it Affect Our Rights?
Every election, it seems that Democrats are willing to go further and further left to polarize voters.