The largest demographic of new gun owners over the last few years are… wait for it…. WOMEN!  As a female who has taught firearms over the last 10 years, I can tell you that when we get into it, it becomes obsession!  This holiday season, I wanted to make a list of unique gifts that any lady shooter would appreciate (and actually use!).  Some are for fun, some are for safety… but all of them should be under your tree this year!
Runners World just published an article with the stat that 84% of female runners have reported being harassed or assaulted while getting out for their daily jog.  Running, especially in dark hours, can be a risk a best and a danger at worst. In their article, they do mention self defense training, but God FORBID anyone suggest that a woman actually carry and train with the ultimate gender equalizer… a firearm. *insert eye roll here*
Amy Robbins, CEO of Alexo Athletica, takes the stigma out of encouraging women to carry on the daily and wears it like a badge of honor on her new conceal carry active wear line.  As a female firearms trainer and someone who carries daily, I can personally attest to the quality, function and fit of this line and highly recommend it.  You want pockets galore?  Check.  You want a waist band that will hold you in?  Check, check.  You want different colors?  ALL THE CHECKS!
You can fit your firearm (I recommend a smaller EDC such as a SIG Sauer 238/938, Glock 43, SIG Sauer P365, etc.) an extra mag and even your cell phone and car keys in these stylish leggings without feeling weighed down.  I tested mine while carrying thru burpees, jumping jacks, full sprint and jog.  My gun didn't move or need adjusting.  If you're into a more non-lethal weapon approach or aren't ready to carry a concealed firearm on your body yet, the leggings hold other force multipliers such as knives, tazers or the Kimber Pepper Blaster snugly as well!
P.S. Alexo also has a line of cupro tanks, sweaters and jackets that can be paired with the signature pants to keep it casual, or kick it up a notch.  I've been known to couple mine with an over the knee boot and cute tunic for when I need to look luxe, but also need to stay lethal.
Get them here: www.alexoathletica.com– Gun News Daily Users get a 10% discount by using the code GND10 at checkout!
Kimber Pepper Blaster II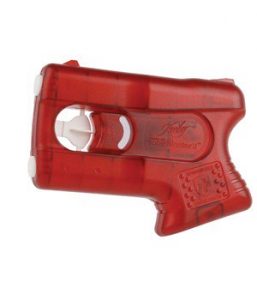 This is probably my favorite non-lethal weapon option on the market.  This is a great gift for wives and/or daughters (especially young ladies who aren't old enough to carry a firearm yet) and fits perfectly into a pair of Alexo Athletica leggings!  You can also get an IWB holster (link below) for it or simply use a small Sticky Holster for quick errands.
The Kimber Pepper Blaster II has pepper gel in it instead of pepper spray which helps shield you from blow back but also gives density.  This allows the gel to travel about 12-13 feet at about 90 MPH with a decent pattern.  It even has sights and a safety on it.
For maximum accuracy, 8 feet is the ideal distance for deployment.
*be sure to check the laws of your state for pepper spray/gel products before you give this to a minor* This product has been tested many times over YouTube.  Click below to see it in action.
Get it here.
For the holster, click here.
The REACH Holster Safe by Vera Safety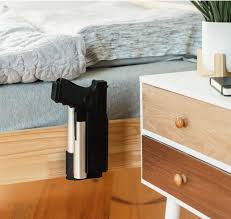 Ok, this thing is kind of blowing my mind… The safe itself can mount onto multiple surfaces such as your bedside for easy retrieval but I've been using mine for the vehicle.  I mounted mine into the console of my SUV and really like the extra security it gives me when I'm NOT in the car, but have to leave my gun in the car.  I do a workshop on time management for gun owners and have normally been very against people leaving firearms in vehicles, but as we all know, sometimes that simply can't be helped.
This device gives you added peace of mind and makes it that much harder for a thief to steal your firearm from your (hopefully) locked car.  Busy mom's that carry know what it's like to be able to spend half your day being able to have your gun on you, and the other half having to leave it in the vehicle.
The safe itself has different insert "holsters" that you can buy for different size handguns and switch them out depending on what you're carrying that day.  I've found the biometrics to be reliable on top of the fact that it comes with a charging station and an internal battery that lasts 8-10 hours in case there's a power outage.
See the video and get the product here.
Gun Training from a Female Instructor 
Introducing women into the world of firearms and self defense the right way is more important than you could imagine.  The truth is guys, you can be crappy teachers to your wife, mom, daughters, etc. Let a really good female instructor get them started and confident so that safety and #2A become a family dynamic.  A quick google search or Facebook recommendation request can put you in touch with quality women in your area who understand other women's fears when it comes to firearm and can help them jump that obstacle.  It's a good idea to check references and look for established reviews.
If you're in the Dallas/Fort Worth area, I would love to personally help you!  You can find me teaching at the Texas Gun Experience facility in Grapevine, Texas. I also offer personal shopping experiences for new shooters who need gear recommendations as well as tailored events for your birthday, girls night out, baby shower or gender reveal party!
WineOvation Electric Gun Wine Opener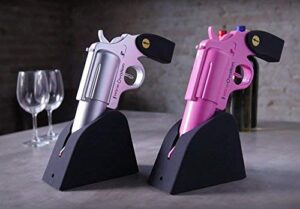 Let's face it, ladies… if we love guns, we probably love wine and there isn't a more stylish way to pop your favorite bottle than with the WineOvation Revolver.  It comes in several colors to fit in your "feng shui" and this thing is SO easy to use!  Simply place the end of the barrel over the cork and pull the trigger.  The corkscrew will spin into the cork and when it pops out, just push the trigger the opposite way and it will release the cork.
Set it up next to your chartreuse board and glassware for some fun decor at your next holiday party!
This is the perfect gift for the gun gal in your life!
Get it here.
A Starter Range Bag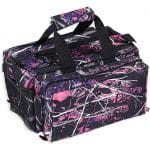 All too often I see women who are ready to learn to shoot, but have no idea what to bring to the range.  That in and of itself can be intimidating but this is a super easy fix and an even better GIFT!  The essentials for first time and/or new shooters should include the following:
* Range bag with utility pockets for ammo, mags, etc. Here are a few I'd recommend from Amazon: the ProCase Pistol Bag and the Bulldog.
* Eye/Ear Protection – this is mandatory at any range you will ever visit and the great thing about this is they can be customized to fit your style! I always love amplified ear protection for new shooters so they can listen better on the range and not strain to hear instruction, but ear and eye pro comes in lots of different colors and can be customized in many ways including bejeweled. Eventually, many women move to custom inner ear pro so their good hair day doesn't become a bad hair day.
*Speed loader – ladies love their manicures and if they want to keep it fresh, make sure their range bag has a good speed loader in it.  I like the RAEIND Magazine Speedloaders
*IFAK (Individual First Aid Kit) – if you're going to shoot, you should also be able to treat just in case the worst happens.  I love mymedic.com for my medical supply needs.  They have a really great selection on their site where you can find a kit to suit your needs, just make sure it has a tourniquet, chest seals, shears, gauze and a hemostatic agent.
*Portable cleaning kit and multi tool (Gerber has a kick ass selection of multi tools):
*…and I love this portable cleaning kit from Avid.
Bullet Jewelry 
JECTZ is my go to place for fun gun bracelets, necklaces, rings, etc.  Ladies love to be stylish and lethal and that combo is all over this website!
Psssst…. there's even stuff for guys, too 🙂
A Firearm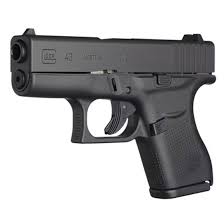 *gasp*… Did she say get someone an actual GUN for CHRISTMAS?!  Yes, yes she did. But make sure it's what SHE wants and that you're going thru the proper (and legal) channels.
The way I'd suggest is to go to your local gun store and purchase a gift card in the amount of the firearm you think she may want (if you go over, no big deal, she can use the rest for gear or ammo) and make a good connection with a sales associate you think will treat her well.
Once you give the gift (maybe put it in that cool range bag I suggested?), make an appointment for her to go see that sales associate for a personal shopping experience.  If the retail store has a range connected to it, that is ideal so she can actually try the firearm from their rental fleet before its purchased.
I've seen many instances where women will buy firearms that other people tell them they want, then it sits there and collects dust because it too large or uncomfortable and they never want to practice with it. You might as well flush your Benjamin's down the toilet.  The sales associate doesn't have to be female, but they do need to know how to treat and educate women on this sensitive subject. To get educated before you head to the store, check out our article 10 Best Handguns for Women.
Making something that women can feel apprehensive about into a romantic, personal and intimate experience is the best way to get them to begin being ambassadors for their own safety.
Jerah Hutchins is a NRA certified firearms instructor with a decade of experience and passion in bringing women into the shooting sports.  Have questions?  Comments?  Email her at [email protected]