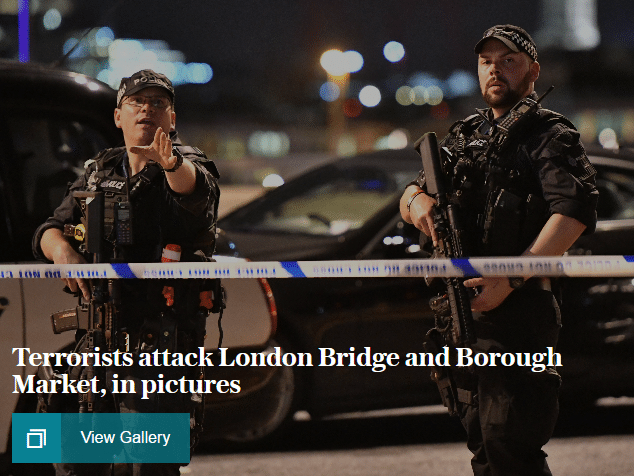 Police have confirmed at least 4 fatalities and over 20 injuries in Central London. This situation is still unfolding. 
Ambulances and multiple police vehicles responded to reports of a white van hitting pedestrians on London Bridge around 22:00 BST.
Armed police and multiple tactical units including a counter terrorism unit have been dispatched to the area which is home to popular bars and restaurants.
As of now London Ambulance Services reports at least 25 people have been taken to the hospital with multiple confirmed fatalities.
Reports indicated that a white van was used to "smash" into people on the sidewalk and the armed perpetrators exited the vehicle armed with knives. Witnesses mentioned gunfire in the area but preliminary reports are unsure of whether or not police were involved.
A witness identified only as Ben told the BBC: "We saw people running away and then I saw a man in red with a large blade, at a guess 10 inches long, stabbing a man, about three times. He added, "It looked like the man had been trying to intervene, but there wasn't much he could do. He was being stabbed quite coldly and he slumped to the ground."
These attacks come just less than two weeks after the Ariana Grande concert bombing which left 22 victims, mostly children. Britain has recently lowered their official terror status from "critical" after the bombing.
The Metropolitan Police tweeted: "At 0025hrs 4/6/17 the incidents at #LondonBridge & #BoroughMarket were declared as terrorist incidents."
London Mayor Sadiq Khan said it was an "horrific terrorist attack".
He added: "The situation is still unfolding and I would ask all Londoners and visitors to our city to remain calm and vigilant."
Our Perspective
As gun advocates we stand by our rights for an armed citizenry.
We want to know, do you think incidents of this magnitude could be avoid if British citizens were allowed to bear arms?
Add your comment below and let us know.