Being known for being a reliable company, you've chosen the Browning Buckmark. It is a great choice for any .22 long rifle lover, and has overall great ratings.
What's the best holster for this gun, though? Like any other firearm, there are many options of holsters and accessories meant to suit everyone's needs. Needless to say, we're more than happy to tell you our favorite choice.
Of course, what better fit than the holster made specifically for the Browning Buckmark, by Browning?
The Browning Buckmark Holster w/Mag Pouch is made directly for this gun from the same company. It's a tough, long-lasting holster that will fit the needs of your gun.
Now, though before we discuss this holster further–as well as the other options available–I'd like to talk to you a bit about Browning's reputation.
Get Great Guns and Ammo Deals!
---
Who is Browning?
I'd mentioned before that Browning is known for being a reliable company. You can judge this for yourself simply by seeing how popular of a company they've become. You don't get that way by not having something good to offer.
About the Company
John Moses Browning was the founder of the company, back in the 1800's. The love of firearms and the outdoors flowed in the bloodstream of his family, and he turned that passion into an innovative business.
At just 14 years old, Browning built his first gun out of spare parts to give to his brother for a birthday present. From there, it only grew into something far more than I'm sure he could have imagined.
His father played an important role in who he became, having encouraged him toward his love for creating firearms. They worked together for some time, before the young Browning set out on his own endeavors and created a legacy for the family name.
Somewhere around 1880, John and his brothers founded his firearm manufacturing business. While he'd been working with many distributors already, it was time to turn it into something much more official.
Today, now a business over a century old, it is located in Morgan County, Utah. The company rests only a short distance away from John's home of Ogden.
Browning is always coming up with new products, improving the old ones, and coming up with innovative technology that enhances the lives of outdoorsmen from all walks of life.
Types of Products
Browning is, of course, made for the avid outdoorsmen and women. While their products are always expanding and evolving, their brand remains consistent in the market. They are certainly one of my personal favorites for just about anything.
Generally, the common items they sell are firearms, gun accessories, clothing, Safes and vaults, cases, knives, hiking and survival equipment (i.e. flashlights, water bottles, bags, etc.) and ammunition.
Of course, they also sell miscellaneous items, and a wide range of hunting gear and equipment. Chances are, if you need something for your hunting trip or shooting range visit, they have something available.
Of course, besides their firearms, they are especially known for their safety equipment. You can buy range gear and other necessities for relatively low prices when you consider the quality you're receiving.
Action Target Safety Award
In January of 2016, Browning won the Action Target Safety Award, the SHOT Show Industry Day at the Range announced the news that, based on their observations of individual attendees, Browning deserved the honor.
Action Target presented the award to them due to the fact that their standards for safety were considered to be the safest based on gun handling and ammunition, as well as how they handled their environment and remained aware of their surroundings and environment.
Browning for Women
The Browning company is a huge supporter of firearm-toting women. In recent years, women have risen the charts of those who own guns.
Being a natural right of all citizens in America, it's only right that such companies support every form of the American Constitution.
Personal Experience
For me, the first time I was awakened to the world of the outdoor lifestyle and firearms, Browning was one of the first names to stick with me. I can remember seeing the Buckmark logo before I knew what it was, and when the dots connected, it made the symbol that much more memorable.
Noe, I've come to depend on them for all the basic needs, and for the most part, I trust them and their products.
You can always learn more about Browning by visiting their website. Based on your choice of gun, I'm guessing you agree with me too that they are a fantastic company.
---
Top Choice Holsters for the Browning Buckmark
There's nothing like a little inspiration to get you in the mood to look at holsters. Having talked a little about the history of who makes your gun, I hope you're encouraged to pick the perfect holster.
Let's look at a few options that may be right for you. Like I mentioned before, everyone has their own preference so you make the ultimate judgement call.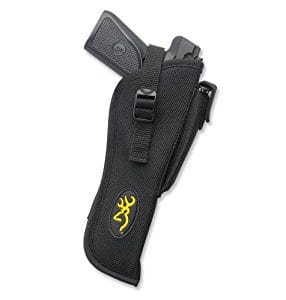 This holster is made specifically for the Buckmark models. It is sturdy, made with a tough material to make it last. Equipped with a magazine pouch and a belt loop, this holster sits comfortably at your side.
Features
High tensile and durability
Nylon construction and rubberized logo
Mag pouch
Belt loop
Oversized option available (fits scope or reflex sight)
Pros
Fits accurate models perfectly
Durable
Comfortable fit
Fast draw
Cons
Snap may come loose
Too long for some models
This holster is great for many occasions, and is a wonderful fit for the common 5.5" size the Buckmark comes in. Being one of the few holsters made specifically to fit this type of gun, it's definitely another good option.
Features
Front strap closure
Custom fit
Coptex inner lining
Belt loop
Pros
Great fit for Buckmark
Reliable
Good retention
Cons
Not a fast draw
Belt loop doesn't fit thicker belts
No angle adjustment
Snug fit before broken in
While this holster is limited on where it can be sent, due to certain state laws, it is still an excellent choice for the Browning Buckmark. An ambidextrous holster that is a comfortable low rider.
Features
Adjustment screws
Low ride position
Kydex
Heavy gauge
Pros
Fits Buckmark
Adjustable tension
Sturdy material
Fast draw
Cons
Adjustment can be finicky
Screws may be loose when adjusted all the way out
No inner lining makes for noisy draw and put-away
4. 

Classic Old West Styles Ruger MK I II or III Holster
While this one might not have been made with the Buckmark in mind, it is still a great option and can fit a barrel of up to 6". If you love the classic cowboy look, this is just for you.
Features
Quality leather
Magazine pouch
Snaps
Pros
Cons
Stiff material
May be discolored
Dry
A recommendation for this product is to use a leather oil or conditioner to give it some moisture, protection, and also to darken the color if desired.
---
Our Top Pick
The Browning Buckmark Holster w/Mag Pouch is what I would say is the top choice for the Browning Buckmark. Made by Browning, for the Buckmark, you can't get much better of a fit than that.
Our Pick
For low price, you're still getting a great holster that will fit your needs. It is made to fit even the longer barrels so you won't have to worry about it being too short.
I hope this has been helpful in your process of choosing the right holster for your Browning Buckmark. There are multiple options for you to choose from, and only you can say what will be just right for you.
Our word is not final, but we do what we can to help others who are looking into what's best for their valuable sidearm. In the process, I also hope you were inspired by the bit of history and knowledge of the company who created your firearm.
Now that you've read through the article, let us know your experience with the Browning Buckmark! Leave a comment when you pick your holster and let us know what you think of it, or feel free to leave us any additional information or suggestions. We always appreciate hearing from our readers!
Related Reads: