Our Glock 20 packs quite a punch, but now you're looking for the right holster for it.
I've done some research comparing the different glock 20 holsters on the market and the overall winner is the Concealment Express IWB KYDEX Holster for its all round durability, good fit and comfort.
Its high grade materials, effective concealment and audible retention lock are also much favored point among its fans.
SAFEST NEWSLETTER - WE WILL NEVER SELL YOUR EMAIL
GET GREAT

GUNS AND AMMO

DEALS!
SENT ONCE A WEEK - NO SPAM - NO SELLING YOUR EMAIL
---
Types of Holsters To Consider
Belt Holsters
This is by far the most common way of carrying a gun with you. This type of holster is attached to your belt using either loops or slots.
It can also use a paddle so that you can remove it more easily.
If you're looking for a belt holster for concealed carrying purposes, you may want to get one that is attached with loops rather than a paddle as it will be less visible and stay on better during a physical struggle.
Belt holsters are often made of one of three materials: leather, kydex, or nylon. While all work well for a holster, the cheaper ones (nylon and kydex) are a bit more bulky than their leather counterparts.
Leather holsters will need to be 'broken in' as they may need to stretch to be able to accommodate your Glock 20.
Inside The Waistband (IWB) Holsters
For better concealment, you may want to use an IWB holster. It's available in the same materials as a belt holster
This type has better retention as it keeps the gun lower and closer to your body, which makes it harder for your assailant to take the gun away from you.
Make sure that you can re-holster your gun with one hand when you're using an IWB holster. This is important because you may need one of your hands to be free for combat or safety purposes, or even to get someone else to safety.
Get an IWB that sits high enough for you to reach it comfortably. Some tend to sit too low and that extra moment you take when drawing may mean the difference between life and serious harm or death.
Don't be tempted to attach your Glock with just a grip or clip with no holster because the trigger movement is short for Glocks and can cause unwanted incidences.
Pocket Carry
A safer alternative to just shoving your Glock 20 in your pocket is getting a holster for pocket carrying to keep it secure, properly oriented, clean and concealed.
The only concern you have to make sure of when choosing a holster of this type is that the holster does not come along with the gun during the crucial moment of drawing.
Ankle Holsters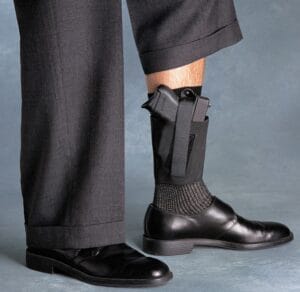 While it's not very ideal to have your primary gun in an ankle holster because of the problems it poses during the draw, it can be a good place to hide a second gun.
It also works well for people who spend a lot of time sitting, as their guns are more accessible in an ankle holster that way.
Remember that comfort is an important factor when choosing a holster for your Glock 20, so if you're not comfortable with an ankle holster then you probably shouldn't get one.
If you still decide to go with one though, you can always strap your holster on the inside of your leg opposite your shooting hand in order to be able to reach it faster.
When wearing boots or tall shoes, you can strap your holster to the upper part of your shoe to reduce any discomfort from the holster hitting your ankle bone. This makes it a bit more visible though.
Also bear in mind that ankle holsters worn with regular shoes with the bottom covered by the sock are generally better concealed.
Shoulder Holsters
Not very many firearm carriers use a shoulder holster for their guns due to the fact that they can be uncomfortable to wear for long durations of time.
If you're a woman, anatomy may also come into play, rendering shoulder holsters extremely uncomfortable.
Its high position allows you to conceal them under a jacket and makes them far more comfortable for seated use than an inside-the-waistband or paddle holster.
After going through these types of holster, you may want to have a look at this Youtube video to see some choices for Glock 20 holsters.
---
Best Holsters for Glock 20
This is an IWB holster that has an adjustable retention and cant made from kydex.
It can fit a Glock G20-G21 and has an audible retention lock. It has a full sweat shield to protect your Glock 20 from any moisture.
Pros:
This holster is lightweight yet durable for comfortable wear
Works well for concealed carrying of a Glock 20 or 21, despite the fact that these Glocks are of a high caliber
The belt clip used to secure this holster to your belt is canted and will also ensure that you do not get the holster stuck along with your Glock 20 when you draw
It is made of high grade materials to ensure durability
Cons:
The belt clip is made of plastic so it may not be as durable, but you can easily find a replacement for it
Can be a little uncomfortable due to the pointed tip, especially if worn inside the waistband
This belt holster is to be worn outside the waist band and has versions for both left and right handed people. It makes drawing and re-holstering convenient for its users and is made from laminated Cordura nylon. It has an adjustable thumb break and retention strap.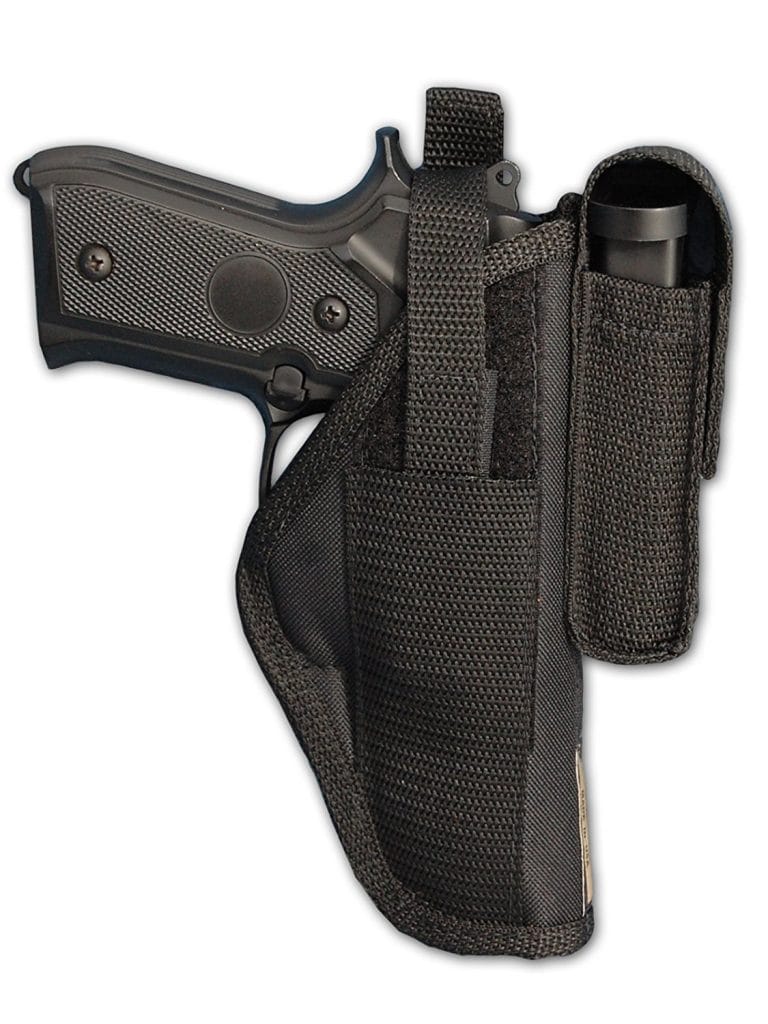 Pros:
It has waterproof closed cell foam padding for comfort, and also has a smooth nylon lining
It is made from high quality materials and with quality stitching
It has a steel belt clip that is strong and durable and has a leather backing for a belt clip carry
It can be worn in three different ways: strongside, crossdraw, or small of back
Fits the Glock 20 extremely well
Cons:
The belt clip can be a little unstable and may possibly result in Glock 20 wobbling back and forth
The double stitching does not make this holster good for concealed carrying
This holster fits a Glock 20 and other different kinds of firearms. You can adjust its retention with a screw and its immediate retention will give you an audible click when you re-holster.
It has features of a patented SERPA design despite the fact that it's designed for civilian carry and range use.
Pros:
It comes with a paddle mount and is made of polymer material
Drawing is convenient as the index finger will be in position until you are ready to fire
It is available for both hand dominances
Paddle mount is so secure, it's hard to remove from your belt
Cons:
It is a little bulkier than other models so it may be a bit uncomfortable at times
Its bulky nature may also cause it to be not very well concealed
Before you break it in, pressure may sometimes cause the gun to pop out so make sure you break it in sufficiently first
This CQC Carbon-Fiber holster has Level II retention and a SERPA Auto Lock release. It's made for concealed carrying and weapon security.
The design of this holster will ensure that you draw and re-holstering convenient and quick. It gives you an audible click when you re-holster to make sure that your Glock 20 is secure.
Pros:
You can choose between a belt loop and a paddle platform attachment as this holster includes both of them
It has versions for whatever hand dominance you have, so you don't have to worry about the holster not being made for your primary firearm hand
Your Glock 20 will stay secure until you push the release button
Your trigger finger will be in the right position when drawing your weapon
Cons:
The instructions can be better improved and clearer. It doesn't really lay out the parts in the packaging and how to set them all up correctly.
Not as easy to take off when not needed
The paddle base is a little hard to set up
This holster is touted as one of the finest field proven carry systems. It is made from a tough polymer that makes it impact resistant and stable in extreme temperatures.
It offers a Level I retention while remaining fully adjustable. You can use this holster in the range or for everyday concealed carrying.
Pros:
You can adjust the retention to better fit your Glock 20 and make it more secure and comfortably fit
It is made for right handed people
It has both belt loops and a paddle to attach it to your belt with
Easy to figure out and works well for both pro and novice firearms handlers
Cons:
Your Glock can flop around a bit, but you can adjust it to retain your firearm better
The paddle can be sturdier and less filmsy
---
Conclusion
Upon looking at the different holsters for your Glock 20, I can say that the Concealment Express IWB KYDEX Holster would be my ultimate top pick.
Our Pick
This holster trumps the rest I compared because of its top notch quality and its efficiency as a concealed carrying holster. It's also very comfortable which is an essential consideration and its craftsmanship is admired by many.
On last note – if you're a Glock lover than please let us know your best choice for either – Glock 17 or Glock 19. Thanks!
Related Reads: