The Kel-Tec P-32 is a gun that, while some have argued whether it's "enough gun," fits the bill for being a great pocket carry. It's also ideal for women, especially for carrying in a purse, but whoever you are I'm sure you know the benefits of such a compact pistol.
When it comes to Kel Tec P-32 holster, you'll find a variety of IWB, pocket holsters, and ankle holsters. Since it's so small, it's one of the easiest firearms to conceal, even in the tight jeans.
Of course, because I'm an IWB fan, my favorite holster for the P-32 is the DTOM Combination POCKET/IWB Holster. The feature of being able to convert between IWB and pocket holster is excellent, and it's made to fit the Kel-Tec P-32 just right.
Before we go over some other great options, however, let's talk about a few reasons you need a holster.
Get Great Guns and Ammo Deals!
---
Why You Need a Holster
If you are like some people, you don't really like holsters. It does what it is supposed to if you have a good one, but sometimes it feels like just another thing you have to get after you've already spent a few hundred or so on the gun itself.
There are some very valid reasons to have one, though, both for safety and functionality. Ultimately, if you find the right holster, it will feel like an extension of your firearm and prevent a lot of unnecessary issues.
Comfort
First of all, having a holster will make toting your sidearm around a lot more comfortable. Depending on the size, shape, and weight of your gun, the holster helps in multiple ways. It can smooth edges, distribute and absorb some weight, and keep the gun from resting against your bare skin.
If you've ever carried a gun without a holster, you may be familiar with the burden of weight and the discomfort of metal rubbing your skin raw after hours of carry.
Stability
It's not a great experience to have your gun come loose when you sit down or run a little too fast. While this can happen with a holster, you're guaranteed a lot more stability if you have one. A good one, that is.
Depending on the level of retention, your gun is going to be secure and not move around so much. Molded holsters are great for preventing wiggling, loose firearms.
Also, if your retention is good, you will prevent hostile hands from getting to it so easily. If it's loose in your pockets or waistband, outside forces will have an easier time getting to it. However, a holster is much like a shield to your sidearm and will keep it safely on your person.
Gun Protection
Your holster not only works for your own comfort, but also the protection of your gun. Depending on the holster, you'll protect your firearm from wear and corrosion. Without one, too many hot and sweaty days will damage the finish, and no one wants that.
As you can see, there's a developing pattern. Each of these is all dependent on a good holster. If you get one that isn't the greatest quality, you may actually damage your weapon. Scratches, wear, and malfunctions can occur with the wrong one, and some people have experienced different parts breaking due to a dysfunctional holster.
Trigger Guard
Negligent and accidental discharge are not a fun occurrence. One of the most important functions of a holster is the fact that it protects the trigger from being pulled unintentionally.
Without the holster, there are numerous ways the trigger can accidentally be set off. Whether the gun gets caught on your pants, shirt, a button, or any other factor, chances are you will avoid these with a holster.
Loading Time
Another reason a holster can help is in the time you spend loading or unloading your firearm. While it would be nice to not have to worry about a loaded gun, it is not a great idea to leave one lying around unprotected.
Now, if you have a holster, you can take it off with the gun still in it and not have to unload any ammunition. Simply put it away in your safe or lock box, and you are able to keep it loaded with the extra layer of protection.
Why waste time having to load and unload it all the time when you can save some?
Concealment
If you are a concealed carrier, a holster can be the perfect camouflage. Yes, it does add some bulkiness sometimes, but the shape of your gun is obscured. Sometimes you can get away with it looking like a phone or wallet.
IWB holsters help to conceal as well, along with the rest of these great benefits. Depending on your clothing, you might not even be able to detect the gun at all.
If you choose to use a pocket holster for your more compact firearm, it can end up looking like a wallet or billfold.
OWB will still be harder to discern underneath clothing. Also, if you're wearing it on your hip, these can tend to sit a little higher. Thus, if your shirt rides up at all, the gun itself won't be exposed.
Ultimately, there are many reasons you should have a holster. These are some of the top reasons in my opinion, though there are others out there. Rather than leaving your gun loose in your pocket or waistband, for the safety of yourself, others, and your gun you should have a holster.
---
Top Picks for Kel-Tec P-32
Moving on now, let's look at a few holster options. I've found some great ones that I hope you'll like as much as I do. In the end, it's entirely up to personal preference, which is why I do try to provide a variety of styles.
Since it is a pocket gun, many options you'll find will be pocket holsters. I dug a little deeper to find a few other options as well just in case you are looking for something else.
I love this holster for its ability to switch between pocket and IWB. This way you have some good options, depending on your garments for the day or your carrying preference.
Features
Pocket holster/IWB conversion
Sturdy nylon material
Foam core
Fast draw
Comes with two clips
Pros
Good concealment
Fits gun well
Comfortable
Good retention
Cons
Slide may catch on stitching
Clip may not be as long as preferred
Clip does not fit all belt sizes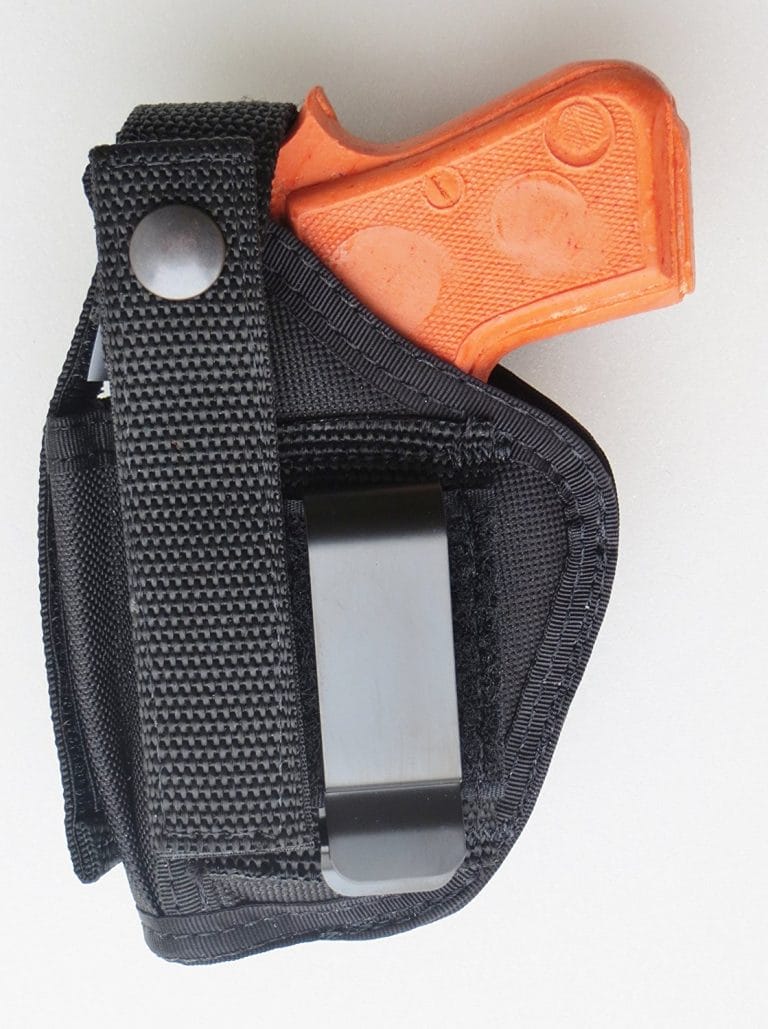 Here is another great option that clips right onto your belt with ease. It is snug, comfortable, and suites the needs of such a compact gun as the Kel-Tec P-32.
Features
Nylon material
Mag pouch
clip on/belt loop
thumbreak strap
Pros
Snug fit
Sturdy
Good protection
Cons
A great pocket holster option for when you want to wear looser pants or for those who prefer this method of carry. It stays in place and is very comfortable.
Features
Stick material
Foam core
Ambidextrous
Pack cloth interior lining
Pros
Snug fit
Obscures outline
Protects the whole gun
Cons
Tacky exterior might not be as strong as other models
Stretches over time
May slip out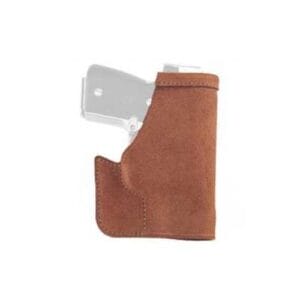 This steerhide holster is a good variety option if you're interested in a different material other than the standard nylon for many pocket holsters. It is an ambidextrous option meant for front pocket.
Features
Steerhide leather material
Ambidextrous
Smooth draw
Pros
Fits well
Quality material
Cons
May slide out of pocket
Prints a little
Some guns may be awkward fit
---
Our Top Pick
Having looked at each of these options I stick with my preference. While these are all fantastic options, the DTOM Combination POCKET/IWB Holster is my favorite. The idea of having the option to switch between IWB and pocket carry is a plus.
Not to mention it has all the features I would be looking for when it comes to the Kel Tec P-32, such as retention, concealment, and comfort.
Our Pick
What about you? Did you have a favorite in the list above? Let us know what your top pick is by leaving a comment below.
Or, if you find another holster that works well for you, go ahead and share that with us as well. We enjoy hearing from our readers and want to know your thoughts.
Related Reads: