You might be wondering what is the best holster for your new Sig P229. There are so many holsters on the market today that it would take days to wade through them all.
Well, look no further, because we're going to break it down for you and help you choose the right holster for you.
Our pick for the best holster for Sig P229 is the Defender Leather IWB Holster by Relentless Tactical. This is a leather inside the waistband (IWB) holster designed for easy concealment.
The holster is somewhat molded to specific firearms, but can accommodate other pistols of similar size. It's made of high-quality leather and is backed by Relentless Tactical's lifetime warranty.
Get Great Guns and Ammo Deals!
---
What to Consider Before Buying
There are many things you should keep in mind when buying a holster, whether it be concealed or open carry.
Firearm Regulations
Make sure you check your state, county, and city regulations before you decide to carry a firearm. And you'll need to check those of neighboring areas, as well.
If you cross county or state lines, you must adhere to the laws regarding carrying a firearm in those locations. It falls to you to be a responsible gun carrier, and you must follow all regulations when carrying.
Your Dominant Side
Many holsters are not ambidextrous, which means you'll have make sure to order the right one for you. Often, online listings are set by default to the right-hand model, and some holsters aren't available in left-hand at all.
If you want to carry cross draw or use a shoulder holster, the right- or left-hand model is still necessary.
Pistol Retention
Whether you're carrying concealed or open, you'll want to make sure your holster has good retention for security. Many holsters offer passive retention, like a polymer holster.
You'll get an audible 'click' when your firearm is secure in the holster. Others offer active retention, such as a thumb strap or button release.
Wardrobe
This is important if you plan to carry concealed. It's your responsibility to make sure your firearm remains concealed.
This might mean adding long t-shirts or sport jacket to your usual wardrobe. If you spend a lot of time in a car or behind a desk, you might consider an ankle holster for comfort.
Also, consider the size of the belt you wear frequently. Double check the product listing to make sure your belt will fit the holster you're looking at. Even paddle holsters should have a belt size on their listing, as they usually have built-in hooks to prevent the holster from slipping.
Material
Holsters are made of nylon, leather, or different types of polymer. Leather is more expensive than nylon, but more durable. Polymer is extremely durable, but Kydex, a specific type of polymer, is slightly abrasive and has been known to mar the finish on pistols.
---
Holster 101
When searching for a holster, there are a few unfamiliar terms you might come across. Let's take a look as some of these terms and define them.
Inside the Waistband (IWB) refers to a holster designed to wear inside your pants for concealment.
Outside the Waistband (OWB) is a holster that clips to a belt or the outside of your pants, or that has slots to slide onto a belt.
Cant means the angle of carry of the holster and is usually spoken of in degrees. 15 degrees is considered the "FBI cant". Often, this is adjustable.
Ride height talks about how high or low the holster sits when worn. Some holsters offer customizable ride height.
Thumb Break is usually a strap over the back of the grip to secure it in the holster. These are usually snaps that are easy to release with a swipe of the thumb.
EDC refers to Every Day Carry, and the term is often used in reviews or forum discussions talking about what pistols someone carries every day.
---
Specific Holster Options For Sig P229
Now that we've discussed holsters in general, we can get down to specifics. We'll give you the pros and cons of several different holsters, so you can get an idea as to what is the best for you.
This is an outside the waistband (OWB) polymer holster molded to the pistol. It's available in different sizes for the P229, so make sure you choose the right style and caliber of your pistol. It comes with both a polymer paddle for slipping inside the pants and a belt mount.
Along with the two interchangeable mounts, the International offers adjustable cant (carry angle) to put your firearm at the best draw position for you. It has passive retention, and you should be able to hear an audible 'click' when the pistol is safely holstered. There are no active retention features. It's also adjustable for ride height.
The International is approved, in certain configurations, for use in competition shooting, both with the International Defensive Pistol Association (IDPA) and the United States Practical Shooting Association (USPSA). This holster is not ambidextrous.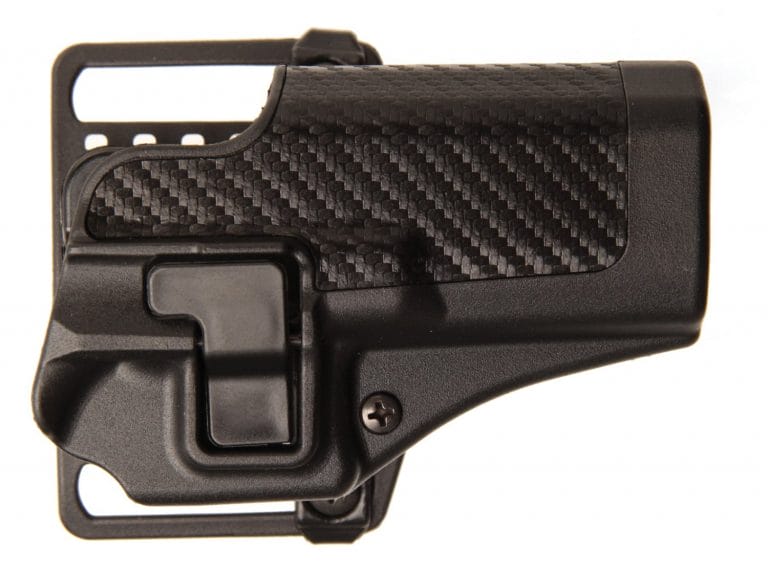 This is a molded outside the waistband (OWB) polymer holster designed to fit the P229 both with or without the additional rail. It uses passive retention, but this is adjustable for the perfect draw. It has a contoured paddle that slips into the waistband for carry.
The Sportster is not ambidextrous and it doesn't have a belt slot assembly. There are no active retention features, but you'll hear an audible 'click' when the firearm is holstered properly. It's not adjustable for cant (carry angle) and it sits at 0 degrees.
This is a leather outside the waistband (OWB) holster with belt slots. It slides over belts up to 1 ½ inches and is only for right-hand carry. It rides high and the height is not adjustable. The holster is molded for specific firearms, so make sure to order the right one.
The Double Slot holster has a retention strap that goes over the back of the slide. A simple swipe of the thumb is enough to release the strap and draw the firearm. The back of the holster is contoured to fit the body. It's not adjustable for cant (carry angle).
The Tactical Hard Shell Pistol Holster by Cytac is a molded polymer holster with a paddle attachment. It's meant to be worn outside the waistband (OWB), and the polymer is tough and durable. This holster is right-hand only.
The holster offers active retention for additional security. You'll hear an audible click when the pistol is holstered. To draw, you must press a button on the side of the holster with your finger. You might want to practice a bit with the holster to guarantee a quick, smooth draw.
It's adjustable for cant (carry angle) to 360 degrees, and can be used on other mounts as well. But, it's not customizable for ride height.
This is a soft leather, molded inside the waistband (IWB) holster. It's available in both right- and left-hand models, so make sure you order the correct one. It has a sturdy metal clip to secure it to your waistband.
There are no retention features on this holster. It relies on the pressure of the waistband and the holster molding to keep the firearm in place in the holster. It's excellent for concealed carry, and offers a smooth, easy draw.
The molding allows you to carry other similar type pistols in the same holster. It's perfect if you have more than one pistol that you like to switch out from time to time.
Relentless Tactical offers a lifetime guarantee on their holsters.
---
Our Final Thoughts
So, now you probably have a good idea of what type of holster will work best for you. Make sure to do your research and choose the correct holster size and side when ordering.
You should check your local city, county, and state regulations on carrying a firearm, whether you want to carry concealed or open.
Our Pick
The Defender Leather IWB Holster by Relentless Tactical is an excellent choice. This soft, molded leather holster fits inside the pants for excellent concealment, and can hold other pistols similar in size to the P229.
Relentless Tactical offers a lifetime warranty on the holster and it's in the middle of the price range for P229 holsters.
Related Reads: