You're browsing the internet, looking for a holster for your Sig P239. You might be asking, what's the best holster for this pistol? Well, read on, because we're going to break it down for you and give you some information on some of the more popular brands.
Our pick for the best holster for a Sig P239 is the Defender Leather IWB Holster by Relentless Tactical. It's a leather holster designed to be worn inside the waistband (IWB) for concealment. It's not molded, so fits a variety of pistols other than the P239, and is soft and comfortable to wear. The holster is also backed by a lifetime warranty.
Get Great Guns and Ammo Deals!
---
What to Consider
There are a number of things you need to consider before buying a holster for your Sig P239. Let's go over a few of them.
Your Dominant Hand
Most holsters are not ambidextrous, meaning you'll need to order the correct right- or left-handed holster for your dominant hand. If you're left-handed, use extra caution when ordering online; generally, the listings have the right-hand model selected by default.
Gun Carry Regulations
Make sure the law in your state, county, and city allow you to carry a firearm, whether concealed or open, before you carry. And keep in mind that neighboring states, counties, and even cities may have different regulations, so if you plan to cross boundaries, make sure you will be carrying according to those laws as well.
Your Wardrobe
You'll want to make sure you have clothing that will help hide your weapon should you choose to carry concealed. This might include long-tailed t-shirts, a jacket or sport coat, or pants loose at the waist.
Holster Material
Holsters come in a wide variety of materials, such as polymer, Kydex, leather, or nylon. There are pros and cons to each. Leather is more durable than nylon, but more expensive. Kydex has been known to mar the finish on a handgun, as it's more abrasive than most other polymers. Suede leather is more comfortable to wear inside the waistband (IWB) than nylon.
Handgun Retention
It's your responsibility as a gun carrier to guarantee your holster offers good handgun retention. Many polymer holsters offer passive or active retention, sometimes both. Nylon and leather holsters may come with additional retention straps or thumb breaks to secure your pistol.
If you're an active person who moves around a lot during a normal day, you'll want a holster to keep your firearm secure.
---
Holster Basics
There are a few things to know about holsters in general.
Unfamiliar Terms
There are a few terms you might not be familiar with until you go looking for a gun holster.
Cant — this refers to the carry angle of the pistol, whether it's straight up, barrel forward, or barrel backward. An FBI cant is 15 degrees, or barrel backward.
Retention — this is how secure the firearm is inside the holster. Some holsters offer retention features, and many of them are adjustable for the perfect fit. Many holsters offer passive retention (the firearm 'clicks' into place), but some also offer active retention (straps or release buttons).
IWB — stands for Inside the Waistband.
OWB — stands for Outside the Waistband
Ride or Ride Height — this refers to how high or low the holster sits on your hip. Some holsters offer adjustments for ride height.
'Printing' — this refers to the outline of a firearm under your clothes. Holsters that are said to reduce 'printing' have features that break up the outline to further conceal the pistol.
---
Down to the point – Best Sig P239 Holsters
Okay, so you've seen some of the basic features of holsters and learned a little bit about holster terminology. Now, you're ready to take a look at some specific models.
This is a Kydex polymer outside the waistband (OWB) holster that comes with both a paddle and a belt mounting option. The paddle slips inside your pants, and the slide allows you to carry the holster on belts up to 2 inches wide.
This holster offers adjustable cant (carry angle) and ride height. You'll get passive retention with the International; the holster should make an audible 'click' when the firearm is properly holstered. It is available in both right- and left-hand models.
In some configurations, this holster is legal for use in IDPA (International Defensive Pistol Association) events, and in all configurations, it's legal for USPSA (United States Practical Shooting Association) contests.
The International comes in different configurations for the P239 .9mm or .40/.357, so make sure to select the right caliber when ordering.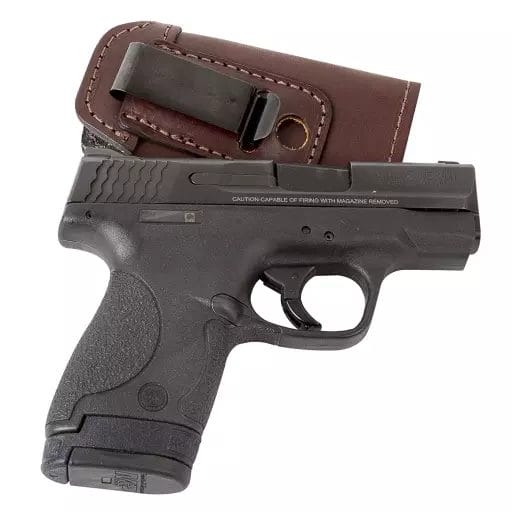 This is a soft leather holster designed for use inside the waistband (IWB). It's somewhat form-fitted, but can also fit other pistols of similar size, so you can potentially use it for more than one firearm.
The Defender is made of genuine bullhide, and is more durable than a similar nylon holster. There are no additional retention features such as straps to keep your firearm secure. When wearing concealed, make sure your clothing will fully cover the holster.
Relentless Tactical offers a lifetime warranty on the Defender holster. It's not an ambidextrous holster, so make sure you order the right side for you. It's available in both black and brown.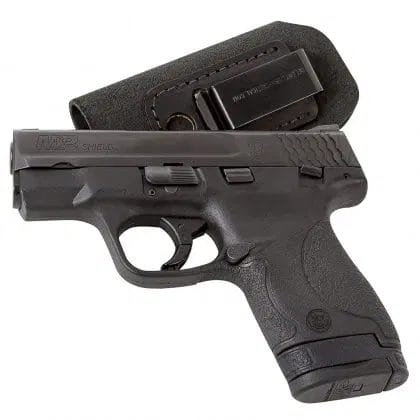 Unlike the previous holster, the Ultimate is made of soft suede leather. It's not fitted to specific firearms, and can be used for guns of similar size.
This holster is worn inside the waistband (IWB) and is comfortable to wear. It doesn't offer a high rise on the skin side, so you might want to wear a t-shirt to protect the firearm from the sweat and oils on your skin.
This is a smooth leather holster with belt slots, intended to slide over a belt up to 1 ½ inches wide. It's worn outside the waistband (OWB) and features a retention strap with a thumb break snap. The front of the holster is molded to break up 'printing'.
The Double Slot Belt Holster is for right-handed shooters only, and it does not offer adjustable cant (carry angle) or retention. It's no suitable for your P239 if you have the Crimson Trace laser sight.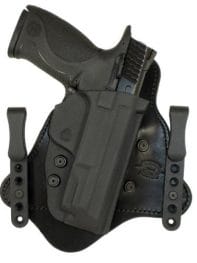 This is a hybrid holster made of a leather backing and a Kydex polymer shell. It's molded to fit the P239 in .9mm and .40 caliber. The shells can be purchased separately, so you can use this holster for more than one firearm.
The MTAC is fully adjustable for both cant (carry angle) and ride height, and also features tuckable clips that you can tuck a shirt into for added concealment. The clips are available in different colors and sizes for different belt widths. But, the clips are made of plastic instead of metal.
This is not an ambidextrous holster, so you'll have to make certain to select the correct side as well as your firearm when ordering.
---
Final Thoughts
When you've done your research, checking out all your gun carry regulations, and made a decision to carry your Sig P239, you'll want a good quality holster that's tough enough to handle every day carry (EDC). Not only that, but you're probably looking for a holster that won't break the bank.
The Defender Holster by Relentless Tactical gives you comfortable concealment in an easy-to-wear holster. It's made of quality materials and features a sturdy metal clip. It fits inside your waistband and has a flat profile, adding to its concealment. For the price, it's an excellent holster for carrying your P239.
Related Reads: