The Sig Sauer P938 is a smaller pistol that still manages to pack a punch. Whether you're new to the P938 or you just want a new holster, there a number of choices for you to pick and choose from.
Due to its smaller stature, the Sig P938 is a great gun for pocket carry. This review will give you a rundown of some of the best holsters that can be worn in a pocket. For other holster options click here (link to best holster for P938).
Before we get into that, let me say that the Remora IWB is my preferred holster for pocket carrying the P238.
However, tastes vary. Let's take a look at what there is to offer, then I'll let you decide for yourself.
Get Great Guns and Ammo Deals!
---
Choosing a pocket holster
One of the first thing you'll notice with pocket holsters is the overwhelming number on sale. With the rise in popularity of compact handguns, pocket holsters have become widely used. Often people who carry with another kind of holster will have a backup pistol in a pocket.
It might seem like there are too many to choose from. So to make things easier, we'll start by detailing what you should look out for in a decent pocket holster.
Pocket holsters are generally available in nylon, kydex, or leather. Most people prefer to wear them in the front pocket of a pair of pants, but they could also go in a rear pocket, a jacket pocket, side pockets on cargo pants, or even in a purse.
Advantages
There are several advantages to carrying with a pocket holster:
One of the most obvious benefits to using a pocket holster is the level of concealment you are able to achieve with them – provided you're wearing clothes with deep enough pockets, they can make your gun disappear! Most pocket holsters have some kind of design feature to soften the shape of your gun and reduce "printing".
Pocket holsters don't require looping through a belt, or attaching via clips. You can pick them up, stuff them into your preferred pocket, and go about your business. Removing a pocket holster is equally effortless.
Carrying with a pocket holster can allow you to wear a lot of clothes you might not get away with when wearing another type of holster. A lot of holsters require a sturdy belt or extra layers to cover the firearm.
If you live somewhere hot where the standard clothing is shorts and t-shirts, you might look out of place in a heavy jacket. Pocket carry opens up a lot of different wardrobe options
Another benefit to using a pocket holster is that a lot of them are a little less pricey than other holster styles. Of course, there is still the option of getting a high-end custom pocket holster made for you.
Disadvantages
However, there are also some disadvantages with this method of carry:
It's hard to get a really quick draw with a pocket holster. You have to be careful not to pull the gun out of your pocket with it still in its holster. It's also difficult to draw a gun from your pocket in a seated position, especially when driving. Pocket holsters require some getting used to, but can become relatively efficient with enough practice.
The size of the P938 makes it practical for carrying in a pocket. However, the same doesn't apply for every gun, and some are simply too large for a pocket holster.
Special tips for pocket carry
Finally, there are a few things you ought to pay close attention to if you choose to pocket carry:
Make sure you have a dedicated carry pocket. Remember to keep keys, loose change, or anything else away from the pocket you put your pistol in!
Another advantage to pocket carry is that you can get a good grip on your weapon with your hand placed casually in your pocket. However, you should avoid handling your holstered gun too much. This is a habit you want to get away from as early as possible, as it can be a giveaway to careful eyes.
Pockets are a breeding ground for lint and other debris. A good holster should shield your gun from debris as much as possible. However, if you choose this form of carry, it's a good idea to clean your gun and your holster regularly.
Any decent pocket holster should cover the trigger of your firearm to prevent misfiring. Despite the Sig P938 having a thumb safety, it's still a good idea not to leave the trigger exposed in your pocket.
---
Best Pocket Holsters for Sig Sauer P938
This is a fairly versatile holster that can be worn inside the waistband, as well as in a pocket.
The exterior of the holster is a rubbery fabric that keeps the holster in your pocket, whilst the interior is smooth and allows for an easy draw.
Pros
This holster is water-resistant and fire-retardant – it should last you for years of quality service.
It's made with a good amount of padding, which provides comfort and adds to the retention.
It's ambidextrous. It can be worn in a variety of positions and placed in a front or rear pocket.
It's also available with a variety of modifications depending on whether you have a laser, or if you want a magazine compartment, and so on.
Cons
I honestly don't have many gripes with this holster. If I were to be very critical, I would mention that it's made from stiffer material than other pocket designs, which could take some wearing in and getting used to.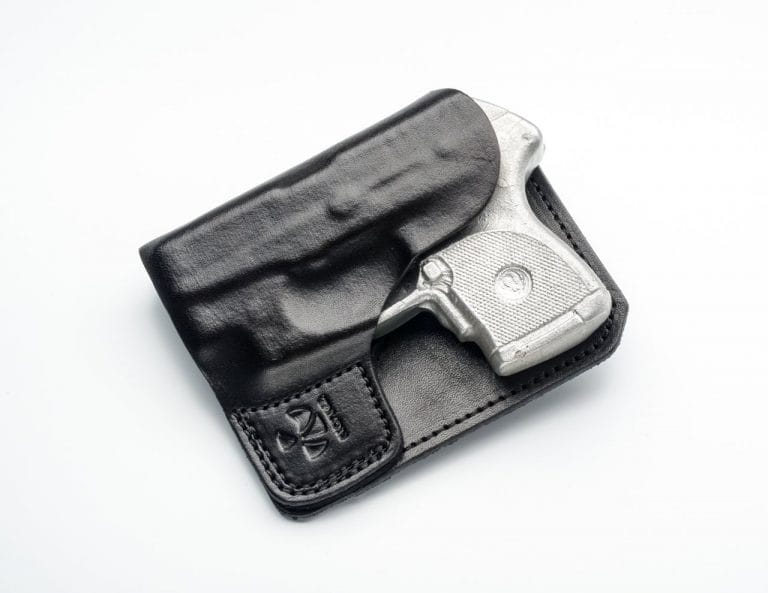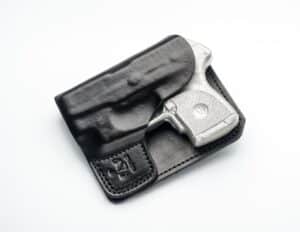 This holster has a thick leather panel that is designed to break up the "print" of your gun and make it look like a regular, old wallet.
It can be worn in a back pocket or cargo pant pockets.
Pros
It's made in the US from quality steer hide, and is designed by law enforcement officers.
The holster is molded specifically for each model of gun, so it has a good degree of retention.
Talon have what they call a "No Bull Guarantee" – if you don't like the product, you get your money back.
It's available for both left and right-handed users – make sure you don't order the wrong one!
Cons
Depending on how deep your rear pockets are, there is a danger of your weapon being exposed when bending over. So, make sure to be careful with what you wear!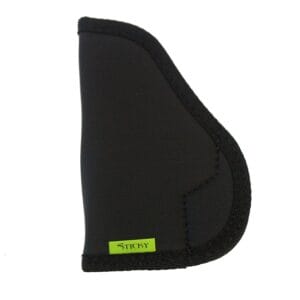 The Sticky holster is designed to be worn either in the waistband or in a pocket. It sticks to your body and stays in place in your pocket by means of a decent amount of padding and sticky material on the exterior of the holster.
Pros
It's a lightweight holster at just under 3 oz.
It's ambidextrous. This holster can be worn at a variety of positions on the waist, or in whichever pocket is nearest your strong hand.
Smooth lining on the inside of the holster allows for a quick and easy draw.
Cons
As with any pocket holster, you need to wear pants with deep enough pockets to fully pull off concealed carry with the Sticky.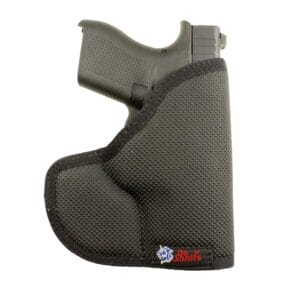 This holster from Desantis comes with the quality guarantee of a much-loved company. It's popular for a reason!
Similar in design to the other leading pocket holsters, the Nemesis is made from a bumpy outer material that clings to the lining of your pocket, and the inside is a smooth cloth that allows for a fast draw.
Pros
The holster is packed with just enough foam to break up the shape of the pistol, which stops the gun showing through your pocket – also making it comfortable to wear.
It's lightweight. You don't have to wear a heavy belt with this kind of holster.
It's ambidextrous, and works well either as a left hand or right hand draw.
Cons
It can have some tendency to come out of your pocket with the gun. You may need to spend some time practicing drawing with it.
---
Final word
So, we've had a look at some of the best pocket holsters available for the Sig P938. Hopefully, you should now be closer to making a decision on what pocket holster suits you.
It's important to remember that what works for some won't do it for others. Often you'll have to cycle through a number of different holster before you hit on the one that you're most comfortable with.
Our Pick
Best Pocket
Holster For Sig
Sauer P938
Remora IWB Holster
This is a fairly versatile holster that can be worn inside the waistband, as well as in a pocket. The exterior of the holster is a rubbery fabric that keeps the holster in your pocket, whilst the interior is smooth and allows for an easy draw.
Check Price
My personal favorite is the Remora IWB. It strikes a good balance between quality and affordability, and it's also very comfortable to wear.
Another great thing about this holster is its versatility – if you don't feel like pocket carrying, you can tuck it in your waistband.
The choice is yours, but if you're stuck trying to find a top quality pocket holster don't hesitate to try out the Remora IWB.
Related Reads: