The Sig Sauer SP2022 is compact enough for concealed carry but still has a high-capacity magazine. Used as a duty weapon for police around the world, in 2002, the French chose the SP2022 to be their duty firearm for 20 years (that's where the 2022 came from). The french have good taste in food, wine, art and guns.
You may use your SP2022 on a job that requires a gun, as a concealed carry firearm or while you're having fun at a range. No matter how you use it, you are here because you are looking for the best holster to carry it in.
I did some research and found a few options for you. My personal favorite holster for the Sig Sauer SP2022 is the SigTac Itac Defense Roto Retention Paddle Holster.
This holster is made of durable polymer and uses a unique, patented retention system. A simple press of a lever releases the gun for instant access.
[thrive_leads id='19948′]
---
Shooting Range Tips
No matter how you carry your Sig Sauer 2022, you will want to practice handling it. Practicing your draw helps you become quick and proficient for if and when you may need it in a real life situation.
A gun range is a great place to practice. Every range has their own set of rules but I thought I'd give you some general tips for visiting a gun range.
The four rules of gun safety always should be practiced, on the range or anywhere.
Treat any gun as always loaded
Watch where the muzzle is pointed
Keep your finger off the trigger until ready to shoot
Be sure of your target and what is beyond it
Protective Gear
Protecting your eyes and hearing are important. Your sight and hearing are irreplaceable. Always bring eye and ear protectors. Prescription eyewear is usually good enough. If you do not have your own eye and ear protective wear, most ranges will have rentals. If they don't be prepared to purchase some because you will not be allowed to shoot without them.
Ammo
You can bring your own ammo for your own gun. If you are renting a gun at the range you will have to buy their ammo. Look for additional rules restricting certain ammo at each range. Some don't allow steel-core, tracer or armor piercing ammo.
Where To Stand
If you are not the shooter, stand 1-2 yards behind them. Most rangers will allow children who are old enough to handle a firearm. You are responsible for your children at all times. Help them follow the rules of standing 1-2 yards behind the shooter.
Inside ranges usually have a retractable target hanger. The button will be in your bay so you can change out targets.
Outside ranges may have a red or yellow line painted in front of the shooting table. Do not cross this line to change out targets or for any other reason. There will be times when the range officer will call a cease fire and then let you know if it's ok to go across the line.
Other Restrictions
Be aware of any restrictions on firing rate, such as no rapid fire. Some ranges collect and sell the spent casings so you may not be able to collect them.
Be familiar with the rules at the range you are visiting. The staff want to feel comfortable that you are aware of their rules. If they feel you are not prepared they will run through the safety rules and regulations they have in place.
Bringing Your Own Gun
If you plan on bringing your own gun to shoot with, bring it unloaded and in a case. Most gun ranges have strict policy about open carry onto their property. If your gun is loaded they will ask you to unload it so they can inspect the ammunition and make sure it falls within their guidelines. Bringing a loaded gun without a case into a gun range will probably get you arrested.
Gun Rentals
Some ranges rent guns. This is a great way to try out different guns. It is a nice way to try different styles and calibers, before you buy. There may be age or other restrictions, so check with your local range.
Commands
Most ranges have a range safety officer. While you are on the range these people are in charge. If you disobey or argue with them you may find yourself kicked off the range.
Their job is to ensure that everyone is safe. It's a difficult job with a lot of responsibility and they don't take it lightly.
Again, each range will have their own commands but in general the range safety officer will tell you if and when it is safe to shoot.
Outdoor Range
As with an indoor range, safety is always paramount. The basics are the same as indoor. Make sure to follow all range rules, any commands given by the range safety officer and the four rules of gun safety.
The biggest difference with an outdoor range is that there will be a time when people can walk down range to change or mess with targets. The range safety officer will call the cease fire and you are to unload your guns and lay them down on the shooting table for the RSO to see. You and your group of friends should back away from your shooting table.
After everyone is back in their spots and the all clear is called you will be able to start shooting again.
---
Top Picks for Sig Sauer SP2022 Holster
This holster is actually made by Sig Sauer. It fits the 2022 perfectly and is designed for it. The rotatable feature lets you get the gun is just the right position for you.
Features
Fully adjustable cant
Protective sight channel
Rotates 360 degrees
Adjusts with simple allen key
Pros
Stays in place
Easy to put on/take off
Fully adjustable
Cons
Right handed only
Sits away from body
May print if trying to conceal
Practice to use release button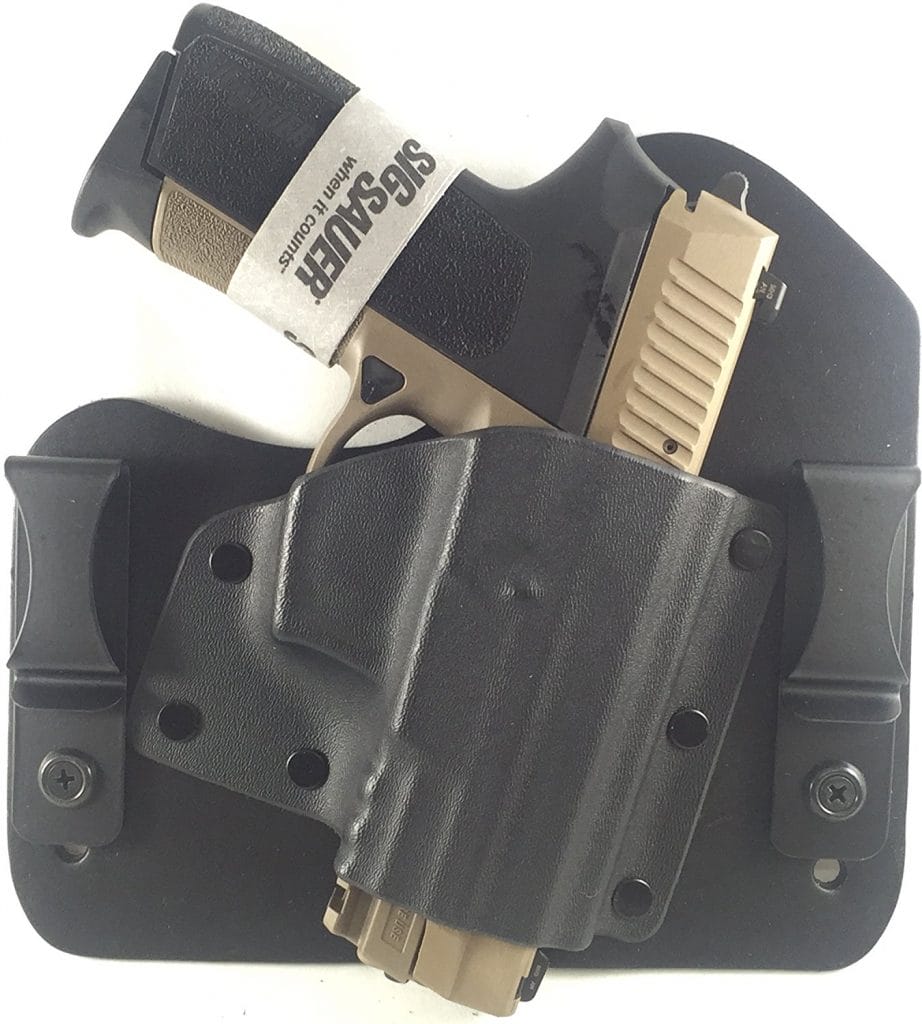 This  holster is made from high quality materials, right here in the USA. It has adjustable ride height and cant. It was designed with comfort and concealability in mind.
Features
Lifetime warranty
Hybrid leather and kydex
Fully adjustable
Made in the USA
Pros
Two week trial period
Very comfortable
Distributes weight of gun nicely
Stays in place
Cons
Right hand only
Break in period needed
Takes a while to get comfortable
Leather is stiff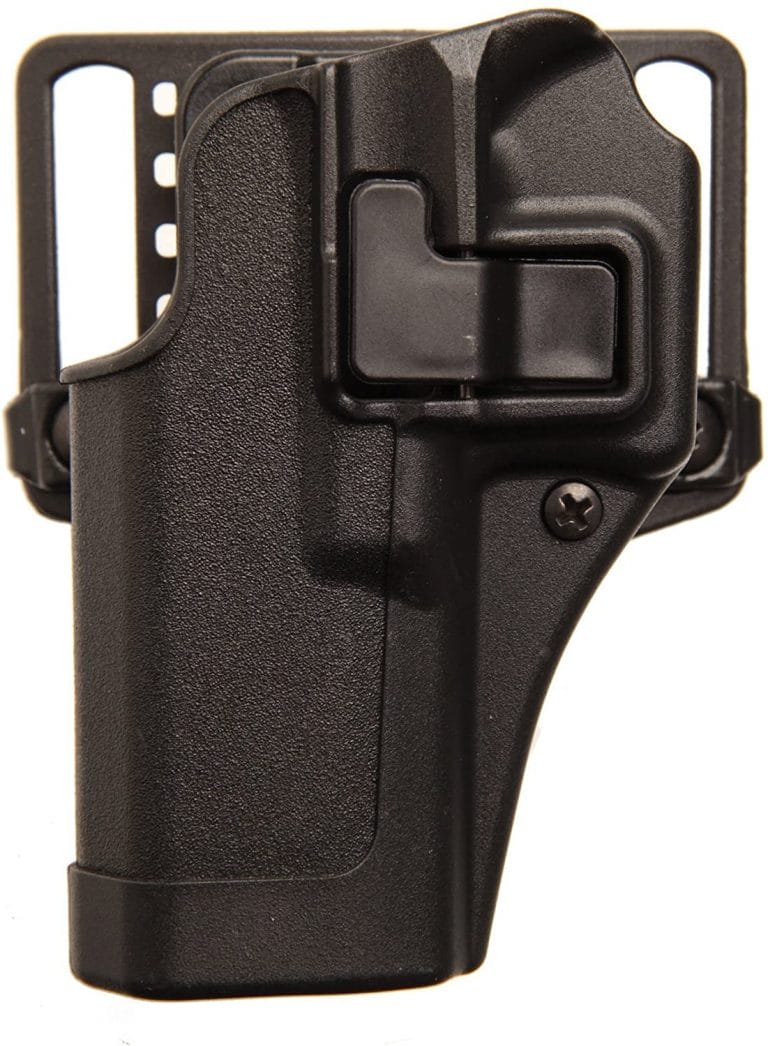 This holster allows you to get a full firing grip while drawing and immediate retention with re-holstering. There isn't any thumb break or finger release to slow down your draw time.
Features
Belt loop and paddle platform
Speed cut design for fast draw and re-holster
SERPA auto lock system
Fully adjustable
Pros
Good retention
Smooth draw
Adjustable cant
Easy to operate
Cons
Right hand only
Bulky
May print
May mark up Sig Sauer 2022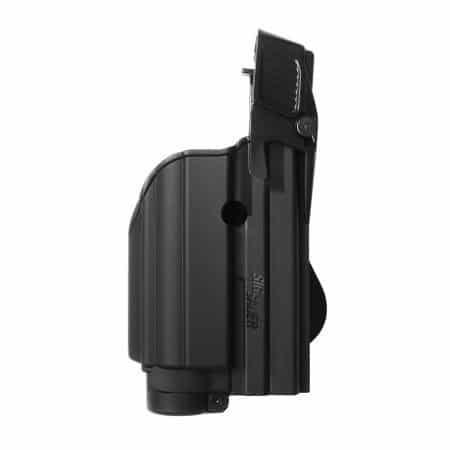 This holster was designed in Israel and has met the demands of both the Israeli Defense Forces and Israeli Police Forces. It's a level 3 retention holster that works great for military, officers and civilians.
Features
Dual safety retention system
Zero time to disengage
Retention screw adjusts with enclosed allen key
Rotates 360 degrees for every application
Pros
Great retention
Durable
Fits Sig perfectly
Great for duty carry
Cons
May damage sights
Thumb break is weak
Not for concealed carry
Paddle only
---
Conclusion
There are a lot of holsters for your Sig Sauer 2022. After doing the research, I found the best one to be the Itac Defense Roto Retention Holster by SigTac. It performs like it says it will. You can easily adjust this holster with an allen key. It is fully adjustable. You can adjust cant, retention, ride height and it rotates 360 degrees for every application, including small of back. They designed it with comfort in mind.
Our Pick
I hope you have some ideas of holsters to look through because of this review. Whatever holster you purchase you will want to practice drawing. You can dry draw around your house, with an unloaded gun. Try different positions and activities to check comfort and printing if you conceal.
While you are practicing your dry draw, you might decide to take a firearm safety class and then head out for a day at the range. At the range, you can get some real shooting time under your belt.
Related Reads: