As you would expect from Smith & Wesson, the Governor is well made and reliable. It chambers the .410 shotgun shells, .45 Colt and .45 ACP.
At first look, you may think the Governor is too big to carry. It actually has a moderate weight of 29.6 ounces, a standard six shot cylinder, and a 2.75 inch barrel that keeps this revolver close to duty size revolvers and semi-automatic pistols.
If you're in the market for a holster, you may be wondering which holster is the best for the Smith & Wesson Governor. I did some research for you and I found the DeSantis Speed Scabbard to be a great holster for this revolver.
This holster is for those who prefer one without a thumb break, yet still has good retention. The DeSantis is precision molded to fit the Smith & Wesson Governor.
Get Great Guns and Ammo Deals!
---
Choosing A Holster
Choosing a holster is a always a personal choice based on personal preferences. As you look for a holster, keep in mind things like your dominant hand, your body type, how you want to carry, and what material you prefer the holster to be made from. While these considerations, that I listed, are based on personal preference, there are a handful of features every quality holster should have.
Retention
All holsters should retain the firearm during your normal activities. Some people have more physical demands placed on a holster. For example, a police officer will need to have his or her gun to be kept safely in its holster while running, sitting, and wrestling around with someone.
A truck driver may not need that same level of retention because the majority of his or her time is spent sitting behind the wheel and the gun and holster is there for any emergency situation.
Accessability
While retention keeps the gun in the holster, you also want the gun to be easily accessible. You should be able to get a full grip on the pistol while it is completely seated in the holster. This makes drawing easier.
Trigger Safety
A good holster needs to completely cover the trigger guard. A covered trigger guard keeps objects, including fingers, out of the way of the trigger. This is extremely important to keep accidental discharges from happening.
---
Material Maintenance
Most holsters are made from nylon, leather, kydex or a hybrid of leather and kydex. Since most of the holsters we found for the Governor were leather and nylon we will mostly focus on those.
Leather
Leather is a nice choice for a holster. It is comfortable and, after a break in period,  will fit your gun and body like a glove.
Do's
You can clean your leather holster with leather cleaner or glycerin soap. Work soap and a small amount of water into a lather and apply to the leather. Rub in and wipe off with a cloth.
Air dry leather. Do not use any type of heat like a hair dryer.
Leather that comes in contact with sweat may need to be cleaned more often to protect the holster from break down.
Don'ts
Do not submerge your leather in water.
Do not use oils as they will soften the leather too much.
Do not use direct heat to dry
Do not leave your leather exposed to the elements, including direct sunlight
Nylon
Nylon is a synthetic material. It can be used to make a nice holster and care is minimal.
Do's
Clean as needed by hand with mild soap and water
Use a soft brush to get dirt
Apply a light coat of WD40 to the hardware, after washing
Don'ts
Do not put your holster in the washing machine
Do not use heat to dry
---
Safety
Always practice the four rules of gun safety. If you're carrying out in public, if you're on the range, or if you are in your kitchen, gun safety should be at the top of your mind.
All guns are always loaded.
Never point a gun at anything you are not willing to destroy.
Keep your finger off the trigger until your sights are on the target and you are ready to shoot.
Be sure of your target and what is behind it.
These rules apply every time you pick up or put down a firearm. Some questions arise with rule number two and a holstered firearm. Some wonder about muzzle direction when your gun is sitting in a holster.
As long as your holster covers the trigger, your gun will be safe in the holster. Accidents don't usually happen until people are involved. Once your hand is on the gun, in the process of drawing it out of the holster, is when you need to be thinking about the rules.
The risk of pointing the gun in an unsafe direction while taking the gun out or putting it into the holster, can be minimized so that it is almost nearly avoided. These safety measures are a deliberate action and should never be taken lightly.
Here is a great little video, from Galco, that shows you how to safely draw and holster using a strong side belt holster.
---
Top Picks for S&W Governor Holster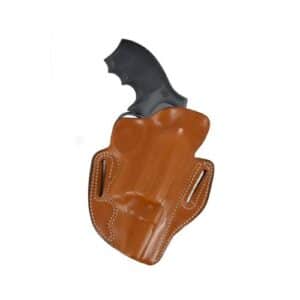 DeSantis makes a high quality product. This one will not disappoint. It has good retention without the use of a thumb break. It fits the Governor great.
Features
Belt holster
Leather
Right handed
Fits S&W Governor
Pros
Fits Governor well
Good retention
Can conceal with good belt and clothing
Holds the weight of the gun
Holds gun close to body
Cons
Right handed only
Re-holstering is slow
Break in period required
This holster is a high ride, belt slide, OWB holster for open carry or concealed carry. It is designed to carry the weapon close to your body to prevent the holster from leaning out with the weight of the gun.
Features
Made of leather
Molded for the Governor
Waterproof
Holds up to 6 bullets
Pros
Perfect fit
Will conceal with a sweatshirt or jacket
Close to body
comfortable
Cons
Belt loop is a little narrow
Not very durable
Slow draw
Bulky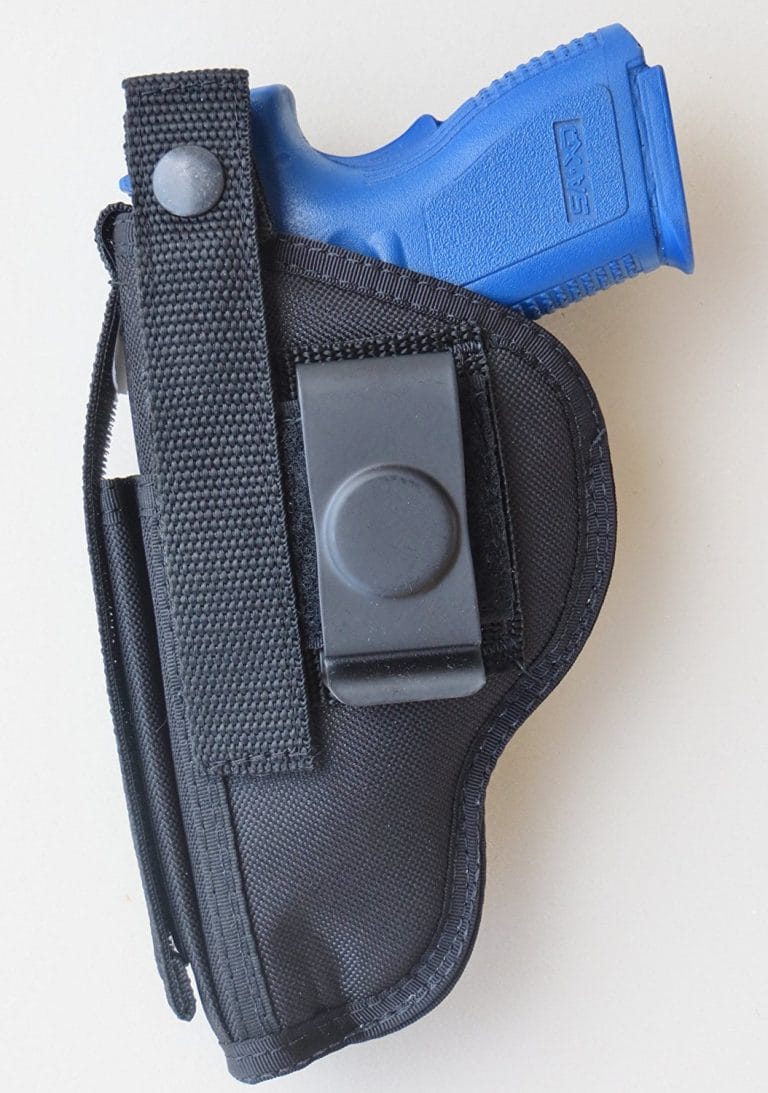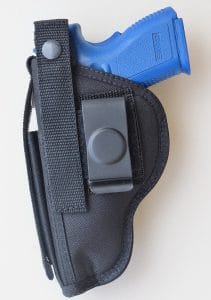 This holster combines the ruggedness and durability of a belt holster with the ease of a clip on. Made of nylon, this holster molds itself to the shape of your gun. Includes a thum break positioned across the hammer.
Features
Ambidextrous
Nylon
Adjustable thumb snap retention strap
Dual belt loops
Pros
Lightweight
Affordable
Comfortable
Adjustable thumb strap
Cons
Metal clip is flimsy
Is not a perfect fit for Governor
Bulky
This holster has separate belt slots for conventional hip carry or cross draw. It is made from premium leather and molded for your gun. It will fit a belt up to 1 ¾ inches wide.
Features
Made in the USA
Belt holster
Fits belts up to 1 ¾ inches wide
Molded for the Governor
Pros
Affordable
Adjustable configuration
Good retention
Cons
May scratch gun
Right handed only
Break in period needed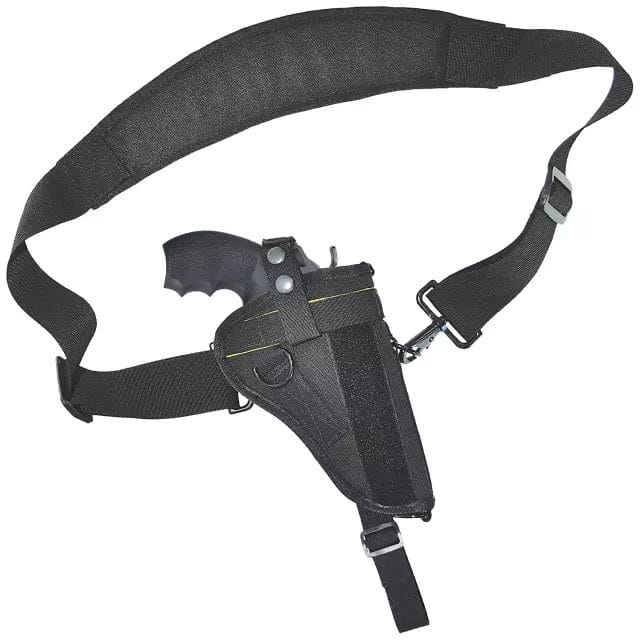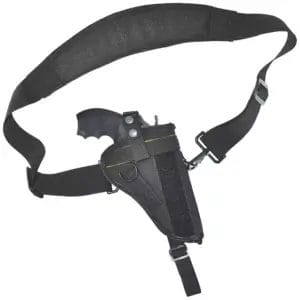 The Lawmaker was designed specifically for the Smith & Wesson Governor. It's a low profile versa holster that converts from a hip holster to a shoulder holster.
Features
Ambidextrous
Converts from hip to shoulder holster
Adjustable retention system
Holds extra ammo
Pros
Made well
Good fit
Comfortable
Balances weight
affordable
Cons
Bulky
Hard to fit shoulder strap
Moves a bit
---
Conclusion
With all the holsters to choose from, I chose the DeSantis Speed Scabbard. It's a high quality, leather holster made for the Governor, that will last for years.
You can't go wrong with a DeSantis holster. Gene DeSantis started making holsters, at his kitchen table, in 1972. At that time, he did not realize it would become his life's work. DeSantis is synonymous with innovation, high standards, craftsmanship, and dependability.  According to their website, quality control has been, and always will be, their number one priority.
Our Pick
Forty five years later, and they've become a leader in their industry. They've created a line specifically for women and the widely popular "gunny sack" style. The DeSantis slogan says it well, "We didn't invent concealment, we just perfected it."
I hope you found a good selection of holsters, to choose from, in our top picks. Choosing a holster is a decision based on many needs and preferences and at the end of the day you are the one who has to feel comfortable with your decision.
Related Reads: