When it comes to personal defense, a few seconds can mean the difference between life and death.
Your concealed carry pistol is often the last line of defense for yourself and others. One such pistol, the Taurus 738 TCP, is a handgun designed to be used quickly and without hassle. It even has its fixed signed reduced to minimize the potential for snagging.
With such great quick draw capabilities, it follows that you should use a quality holster that complements the Taurus. So, which is the best Taurus 738 TCP holster?
After testing 14 different holsters for the Taurus 738 TCP, our top pick is the Holster World front pocket gun holster. it has a strong steer hide leather design, and has a great shaping for concealed pocket carry.
Today, we are going to look at what makes the Holster World holster great, and also check out a few alternative options for the Taurus 738 TCP. Each has some excellent features that will make carrying this concealed carry handgun more efficient and easy.
Get Great Guns and Ammo Deals!
---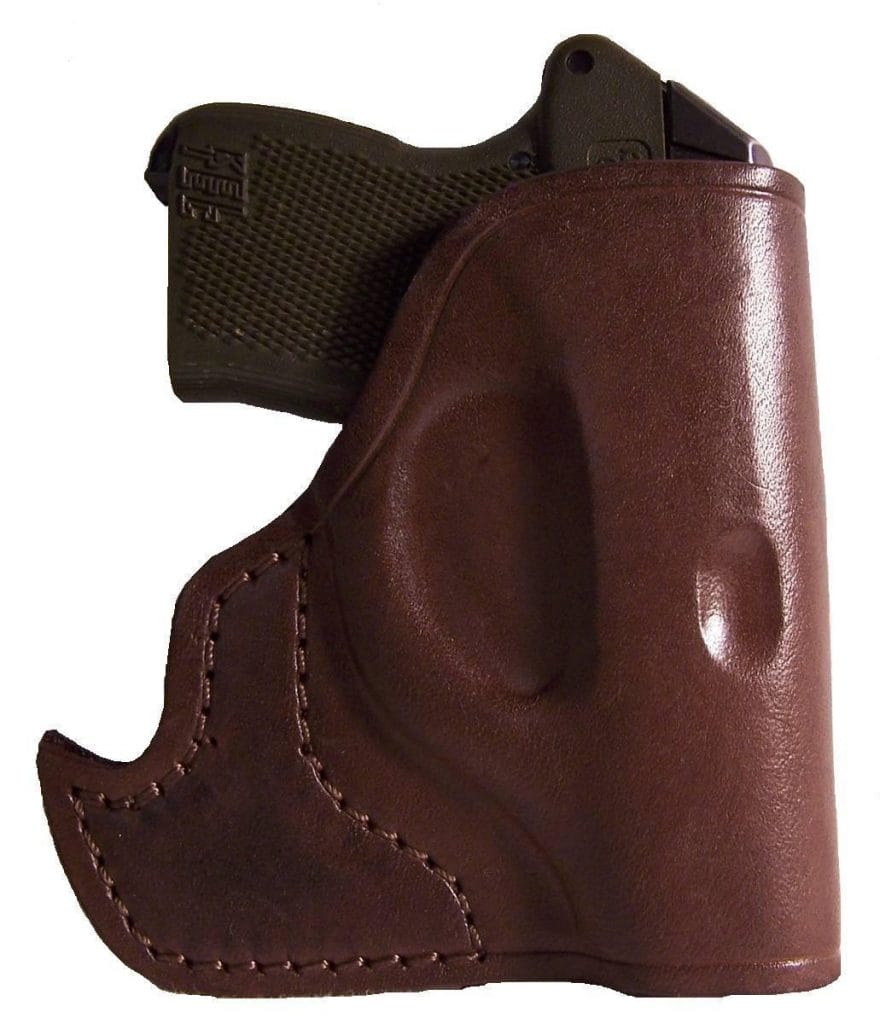 When someone thinks of a holster, they think leather. This holster from Holster World has a steer hide construction and is bonded with nylon thread for a very durable build.
Pros
This is a visually attractive holster that is colored a rich brown.
The leather is very tough and the thread is strong enough to never fray or rip over time.
It's molded to hold onto your Taurus 738 and also appear inconspicuous; this doesn't look like a holster inside your pocket.
Since it's leather, this is a very comfortable holster to have inside of your pocket.
It conforms to your thigh while it's concealed.
Cons
Like many leather products, you'll have to break this in over time. It starts out a bit stiff.
Over the use of the holster, you may find that it will pick up scratches, especially since this goes in your pocket.
This is really a right-hand only holster; it's curved so that you can never really use it if you're a lefty.
You might want to draw your gun several times so that your gun won't catch on the draw.
Would you like to know more? There's a lot that goes into shopping for a Taurus 738 TCP holster. Here are some things you should pay attention to when holster shopping.
---
How to Choose the Best Taurus 738 TCP Holster
The Taurus has a few great conceal carry options. This is because it is such a versatile weapon. Let's take a look at some pre-purchase considerations for your holster.
Concealment Location
When it comes to concealed carry, where you have your holster stored is very important. Let's take a look at some concealment types:
IWB: Some people prefer IWB or in the waist band carrying. You'll find that these are typically worn in the one o'clock position, which ensures that they are most comfortable when you are sitting down. When you are selecting an IWB-style holster, you should select a pair of pants or trousers that are a bit wider at the waist.
OWB: Others prefer the OWB style of carrying, which goes over the waistband of your pants or jeans. These can be worn anywhere from the three o'clock to six o'clock position, though some like to wear this type in a cross draw-style. Many OWB holsters are designed to tilt somewhat forward in order to aid in concealment.
Pocket Carry: Additionally, some prefer a holster that can be concealed inside a pocket similarly to a wallet or cell phone. The main drawback of this type of concealment is that you lose your ability to hold your smartphone, wallet, or keys in the selected pocket. On the other hand, with a smallish gun like the Taurus 738 TCP, there are many great holsters that are designed to diminish the shape of the gun and holster combo.
Ankle Holsters: Additionally, there are holsters for the Taurus 738 that affix to your ankle. The chief gripe of these is that if your pants ride up, your gun is exposed. Also, this is a very slow means of drawing your weapon, but some prefer the fact that they virtually leave no visible imprint.
Whichever you prefer, it's important that you select the holster that provides unimpeded access to your Taurus concealed carry so that you can protect yourself should the need arise.
Gun Retention
The last thing you need is for your gun to go flinging out of your holster, which is why a good gun retention system is very important.
While most open top systems seem to work fairly well when securing your weapon, a thumb-break snap is a great way to keep your weapon secured. You simply snap open the button with your thumb and draw naturally.
Additionally, some holsters have a Velcro strap, which is also fairly easy to disengage, but you may need a second hand to remove it quickly.
Moisture Protection
When you are wearing your holster close to your skin, there is the chance that bodily oils like sweat can get into the holster.
The best holsters will have protections that will prevent this moisture from getting into your Taurus.
As any gun owner knows, moisture exposure is bad for guns, so selecting a product with a vinyl barrier will protect your gun from rust and corrosion.
Durability
Concealed carry holsters come in a wide variety of materials from leather to nylon. One thing that you don't need is for a holster to wear out over time due to your everyday carry.
With this in mind, your holster should be made of a strong material that can last for years without cracking, tearing, or wearing thin. Leather is typically regarded as the best material, but synthetic materials are also becoming popular.
These types of synthetic holsters are typically strong against scratches, can prevent moisture buildup, and will maintain its shaping over time.
Additionally, some Taurus 738 TCP holsters are made of nylon. Nylon has a bad rap with some gun enthusiasts, but on the whole the material can be very durable and easy to draw from.
It's just very important to select a nylon holster that has a stitch that is strong and supportive.
Accessibility
Your pistol needs to always be at the ready.
While we covered features like having an open top and a thumb-snap, it's important that whichever system you select has a high degree of accessibility.
When you're in a life or death situation, you need to be able to draw quickly, so if you are a left-hander, it makes no sense for you to purchase a holster designed for righties.
Additionally, if you are in a situation where you may have to physically engage with someone, having a gun secured in a position where you'll never be able to reach it is a sub-optimal situation.
Always select the holster that will provide the highest degree of accessibility; it'll save your skin.
Comfort
Comfort is something that many gun owners will overlook, but no one wants to carry a holster that digs into a body part or doesn't have enough padding to be comfortable.
Remember, you'll be carrying these for more than ten hours a day in some situations, so select a holster type that has padding, ergonomics for your body, and fits well with your entire wardrobe.
---
Other Holster Options For the Taurus 738 TCP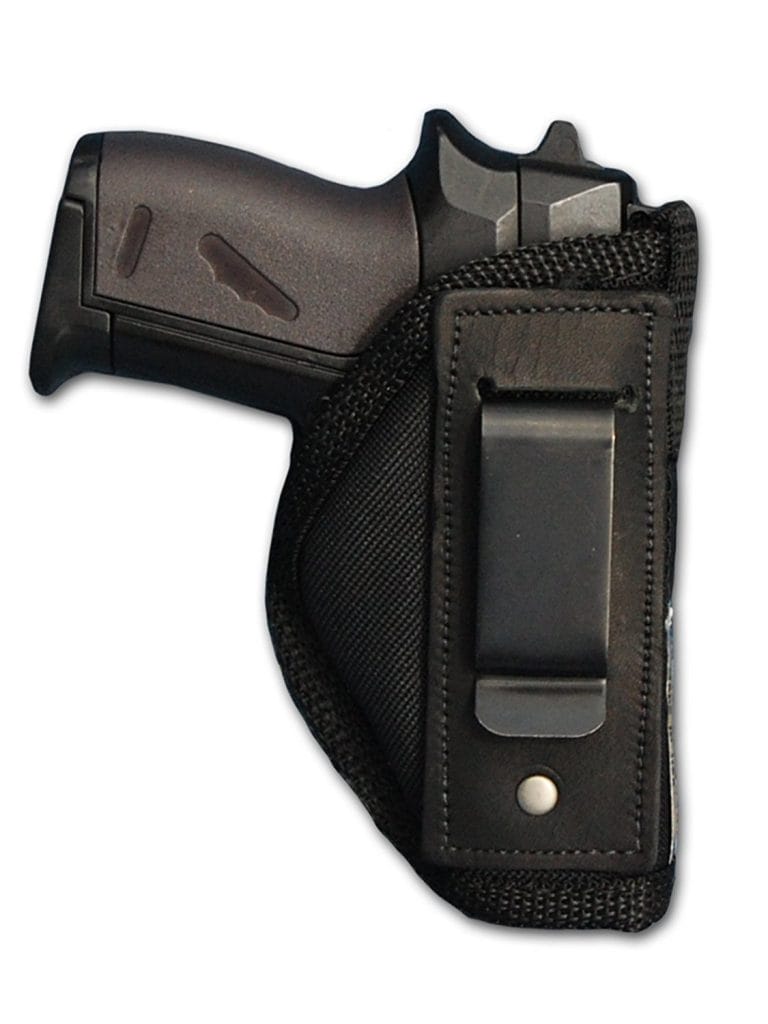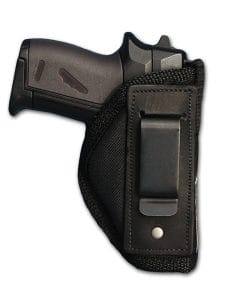 This gun concealment clip holster has a great material construction. It uses Cordura nylon, which is exceedingly durable and is waterproof so that bodily oils and sweat won't damage your Taurus.
Pros
When it comes to fit, this particular Taurus 738 conceal carry holster really grips the firearm.
The closed-cell padding makes for a very comfortable daily wear holster.
This particular holster comes in both right and left-hand draw variations.
This isn't an entirely nylon holster; it has a premium leather backing for when you are carrying it via the belt clip.
The thumb-break snap is on a Cordura strap that is adjustable, which means that you can use this holster for other firearms.
The belt clip itself is made of steel so that you know that it's durable and won't bend when you are putting it on your belt.
Cons
The thumb-break snap isn't in the best position; you may find it hard to unsnap.
Since this is an outside of the pants holster, it isn't as concealed as some might like.
This isn't the easiest holster to adjust.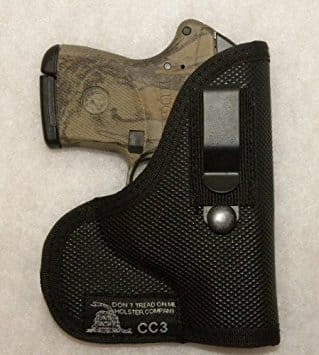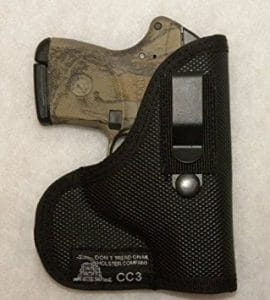 It's important that you have good trigger coverage for your concealed carry, which is why this DTOM product is effective as a holster. Additionally, the extra foam in its construction makes the gun outline more obscured.
Pros
This is made of durable high-grade nylon.
It has a construction that allows it to be used inside the waistband or inside the pocket.
This comes in right and left-hand models.
The clip is very tight to the holster and shouldn't deform over time.
This is a very lightweight holster; it weighs less than a full pound in totality despite strong components.
Cons
The clip can seem a bit too tight; you might have a hard time getting it attached to thicker belts and pants.
The holster doesn't cant forward like the holsters designed with the "FBI cant," which means that it loses some points in concealment.
The gun can pop out; this may be a better pocket clip than an IWB.
One of the best features of this holster is its included magazine pouch. It also has a double-stitched nylon construction for enhanced durability.
Pros
The materials for this holster are incredibly durable; it is comprised of a layer of soft nylon on top for comfort, a layer of inner padding, a vinyl vapor barrier to reduce moisture, and a thick layer of Cordura ballistic nylon for toughness.
The belt loop on this holster is exceedingly strong.
This is light enough that you'll barely notice the weight on your hip.
The thumb-break is spring-action because of a plastic construction on the outer edge. This makes it very easy to unclip.
Like all Pro-tech holsters, you can use this either right or left-handed.
Cons
This is an outside of waistband holster, which means that it doesn't conceal as well as some other holsters.
The plastic part of the thumb-break can crack over time.
---
Conclusion
Finding a good holster for your Taurus 738 TCP is essential to using the gun properly and enjoyably.
Our Pick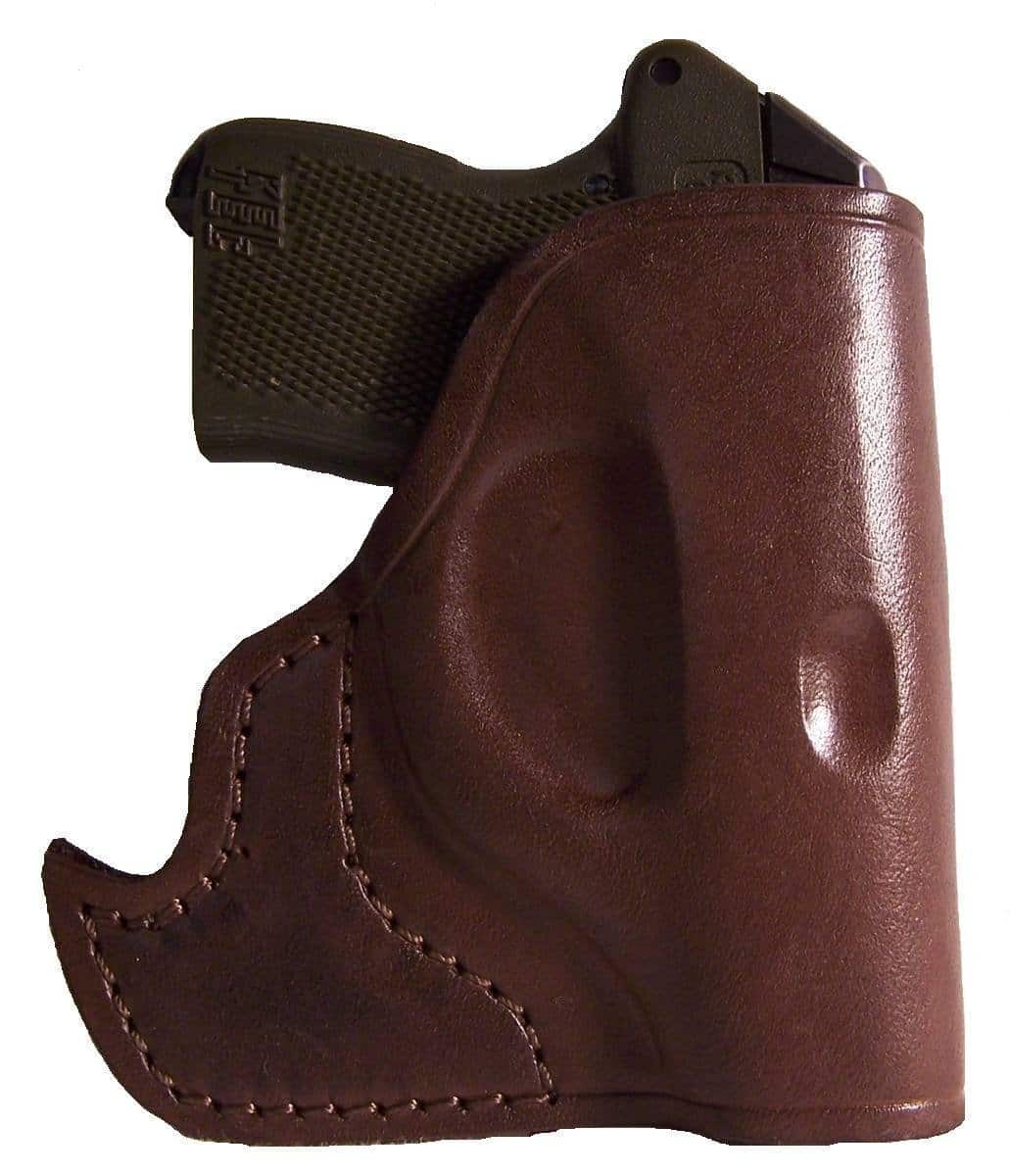 Each of the products that we reviewed here are excellent holsters for this conceal carry handgun. All are comfortable, have good build qualities, and conceal very well. If we had to pick a clear winner, it would be the Holster World Front Pocket Gun Holster.
Its construction is just very durable, especially if you can get past the wear in stages. While it may get a scratch or two, nothing beats leather for conforming to your needs and remaining strong for years to come.
Related Reads: