By now we should have all heard of the shooting that took place at the Borderline Bar and Grill in Thousand Oaks, California on November 7th.
Thirteen people were killed in the shooting, including the gunman and a police officer who responded to the shooting. Up to a dozen other people were wounded in the attack as well.
At the time of the shooting, over two hundred people were inside. The gunman (who shall be left unnamed throughout this article) walked up to the Borderline Bar and Grill armed with a Glock 21 pistol in .45 ACP, which holds a thirteen shot magazine.  After gunning down the security guard outside of the building, he proceeds to walk into the building and shoot at more security guards and patrons while simultaneously throwing smoke bombs.
Police officers responded to the shooting approximately three minutes after the gunfire first started.  The first officer to run inside the building was shot by the gunman and was then dragged outside by the second officer only to die of his injuries several hours later.
More police officers and a SWAT team then arrived on the scene, and when they entered the building, it was discovered that the gunman was dead from a self-inflicted gunshot wound.
The shooting was "nothing short of tragedy" in the words of California Lieutenant Governor Gavin Newsom.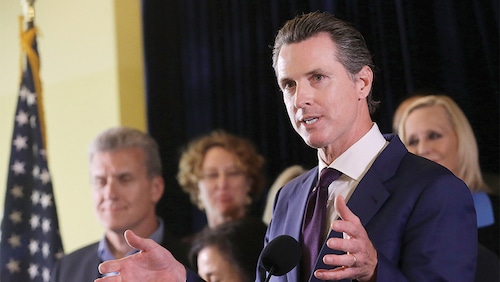 In the midterm elections, Newsom was elected as the new governor of California over Republican businessman John Cox. He will take office in January of 2019.
Even though California already has some of the strictest gun laws in the nation (only Massachusetts perhaps has laws that are stricter), several of the state's top Democratic lawmakers called to make those laws even stricter.
"This is America," said Newsom following the shooting in his first public event since being elected governor. "It's gotta change. It doesn't happen anywhere else on planet Earth, and we can't let folks forget that.  We can't lose sight of that. We can't allow this to be normalized."
Newsom is well-known for believing strongly and passionately in gun control, calling it one of this 'top issues' and referring to the National Rifle Association as 'morally bankrupt.' In 2016, he helped pushed through Proposition 63, which imposed background checks on all ammunition sales in California and also prohibited the use of magazines that hold more than ten rounds of ammunition (the latter of which is currently being challenged in court).
Despite this, Newsom also indicated that he was not yet ready to roll out a new gun control agenda, leading several people to wonder if yet more gun laws were not yet on the horizon in California, at least not in the near future.
Does this mean that Newsom would be abandoning any new gun laws in California? Not necessarily. It could be that Newsom wants to wait to act on guns until after the new bills recently signed by Governor Jerry Brown become law. It could also be that Newsom hasn't yet determined which specific measures he would support in response to the shooting, but will at a later date.
What is certain, however, is that California already has some of the strictest laws in the nation and the shooting at Thousand Oaks happened nonetheless. Therefore, the debate about which new laws would be needed to stop future such shootings in California, if any, is likely to rage on in the upcoming months.