By now, we should have all at least heard of the shooting that occurred in Pittsburgh, Pennsylvania.
In case you didn't hear about it, a gunman walked into Pittsburgh's Tree of Life Congregation Synagogue and opened fire with an AR-15 and three semi-automatic pistols, gunning down eleven people before being taken into custody after an exchange of gunfire with a SWAT team, of whom two members were reportedly wounded.
The gunman, who will be left unnamed throughout this article, was later charged with twenty-nine federal counts, and Attorney General Jeff Sessions noted that the charges could lead to the death penalty.
It has also been confirmed that the gunman legally owned all four of the firearms used in the mass shooting and was also licensed to carry the handguns.  Numerous anti-Semitic posts were also discovered on his social media pages.
President Donald Trump expressed sympathy to the victims and called for armed security in places of worship.
"If they had protection inside, the result would have been far better," said the President. "This is a dispute that will always exist, I suspect, but if they had protection inside the synagogue maybe it could have been a very different situation."
President Trump further elaborated that the lack of armed personnel in the synagogue allowed the gunman to "do things, unfortunately, that he shouldn't have been able to do."
The President's comments on the shooting resulted in swift rebuttal from a number of Democratic politicians and figures.
For example, the Mayor of Pittsburgh and member of the Mayors Against Illegal Guns group, Bill Peduto, called for gun control and spoke out against President Trump's call for armed security in places of worship.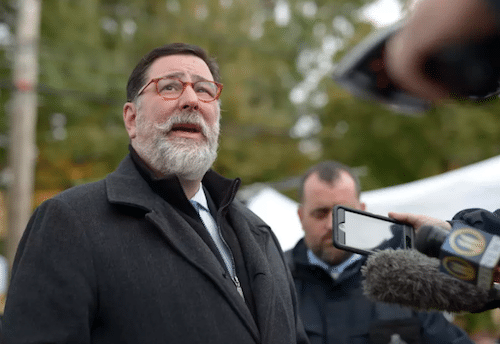 Senator Chris Murphy (D-CT), one of the most vocal voices in the Senate in favor of gun control, went as far as to say that the armed security measures like President Trump suggested would only work in the movies.
Murphy's colleague in the Senate and fellow Connecticut Senator Richard Blumenthal stated that Congress was complicit "by its inaction in this loathsome epidemic of gun violence."
The Pittsburgh shooting is hardly the first time that numerous calls for further gun control measures have been made by politicians and public figures alike.
Republicans and pro-gun rights organizations have presented the counterargument that the shooter owned and obtained each of his firearms legally while also passing background checks for each one and that furthermore, the Tree of Life Congregation Synagogue was a 'gun free zone,' meaning that people were not carrying firearms with which to defend themselves.
It currently remains heavily unlikely that major gun control legislation will pass at the Federal level due to Republican control over the Legislative and Executive branches of government.  Even if Democrats manage to win control over the House next week, which they are currently favored to, Republicans are still projected to hold onto the Senate and President Trump will remain in office until at least January 2021.
That being said, the same cannot necessarily be said for the state of Pennsylvania.  The state currently has a Democratic governor in the form of Tom Wolf (who is strongly favored to win his re-election race as well), and despite having a Republican-dominated legislature the state is very purple at both the Federal and state levels.
Considering the fact that other purple states such as Florida have passed gun control measures in the wake of major mass shootings this year, it can be considered highly possible if not certain that Pennsylvania will do the same.
Get Deals on Guns and Tactical Gear
Join 70,000 Readers For Our Weekly Discounts