You've gone through the process of choosing your handgun. You know it's not just a simple decision to make without any information. Making the decision to buy a holster can be just about as difficult. You want something that is comfortable, secure yet accessible, made with quality craftsmanship yet affordable.
You have heard good things about Galco and you have decided you want a leather holster. You may be asking, What is the best Galco leather holster?" There are different holsters that fit different handguns, so you have to make sure the holster you choose works for your gun.
My top pick Galco leather holster is the Galco Combat Master Belt Holster.
This is a great OWB holster. It is built to last a lifetime, even under harsh conditions. Galco has good quality craftsmanship so this is double stitched and made with the finest materials.
Get Great Guns and Ammo Deals!
---
Galco
Galco International started in 1969. The founder, Richard N. Gallagher, started "The Famous Jackass Leather Company," as a family business in Chicago.
The 1980's were a good decade for Galco. They changed their name, from The Famous Jackass Leather Company to Galco International, in 1980. In 1983 they moved their headquarters to Phoenix, Arizona, and they became internationally known because of the 1980's hit TV series, Miami Vice.
Galco still continues to be Hollywood's choice for television and movie holsters. Their popularity is not only in Hollywood. Even more importantly, law enforcement agencies, around the world use Galco. From local police departments to federal agencies, will issue their personnel Galco holsters.
Leather
Many people like the look and feel of leather for their holster. They do have some advantages over holster made from different materials. They are often times more comfortable and quieter than other holsters. These can be real advantages, especially if carrying concealed.
Even though they have these advantages, leather holsters are harder to take care of. They will break down if not taken care of properly. There are a few guidelines you can follow to prolong the life of your leather holster.
Keep You Leather Holster Clean
Sweat, dust, dirt, weather, or blood can cause your holster to break down after long term exposure. Keep your holster dry and clean. Usually a wipedown with a soft, dry rag will be good enough, but sometimes you need a good leather cleaner.
You can use a bar of glycerin soap or a product like Galco's Holster Care Kit.
Stretch The Leather
Most leather holsters will be made to fit your particular gun, but they will be very tight and requires some break in time for your gun to have a smooth draw.
There are different ways to break in your leather. One way is to place your gun in a ziplock bag and place it in the holster for 24 hours. This allows the leather to stretch and provides a smooth draw when done.
This is a good video showing how to break in your holster. This guy has discovered using wax paper works great.
Don't Soften The Stiff Leather
Some people love soft leather. Soft leather is good for jackets, wallets, or purses, but things like cowboy boots, sheaths, and gun holsters need to be stiff.
As we stated above, leather holsters are molded to fit a particular models of guns. This requires the leather to remain stiff in order to keep that molded fit. You will compromise the integrity of your holster if you use large amounts of oils or lotions to soften the leather. The holster may get so soft that it no longer fits your handgun.
Protect Your Leather From Sweat
We all sweat, even if we don't realize it. Sweat is a mixture of salt, oil, and water and it will eventually have a negative effect on your leather. Maybe you can't stop sweating but you can stop it from harming your holster.
It is best to keep a barrier (like your shirt) between your skin and your leather holster. If sweat does get to your holster and it's moist, wipe it down with a soft, dry rag. If it seems the sweat has soaked into the fibers of your holster dry it properly.
Dry Your Holster Properly
It's critical to keep your leather holster dry. Moisture can lead to mold and other issues that can damage it.
To dry your holster properly, place it in a dry area and allow it to air dry on it's own. Don't use artificial heat, like hair dryers, microwave, clothes dryer, or heating vents to dry your holster.
Do Not Expose Leather To The Elements
If you carry with a leather holster you can not avoid it being exposed to the elements. Direct exposure is what we are talking about here. You don't want to leave your holster on your dashboard, in direct sunlight and heat.
Alternatives To Leather
If you're not completely sold on the idea of a leather holster, there are a few more options you can choose from.
Kydex
Kydex is a synthetic plastic, usually injection molded to the shape of your gun. They are rigid and won't lose their shape like leather holsters may.  They can be exposed to elements and are usually pretty low maintenance.
Nylon
Nylon is another choice you have in holsters. Nylon is not as strong or as secure an either kydex or leather. It is usually an option for carrying around the house or in situations where security is not a big concern.
Hybrid
Hybrid holsters are a good option if you are looking for the security of kydex and the comfort of leather. There is usually a leather padding the forms to your body with a Kydex holster that your handgun sits in.
Top Galco Leather Holsters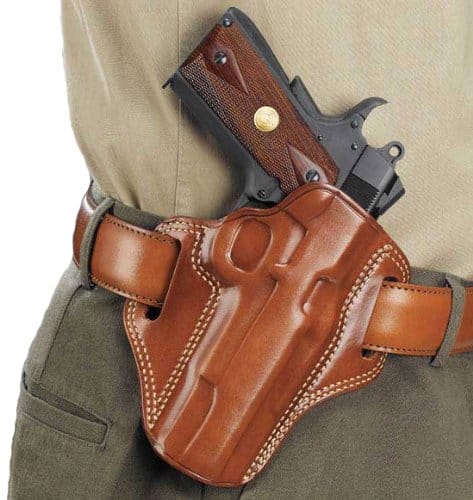 This holster combines premium saddle leather, double stitched seams, and a hand molded fit to create a holster of premium quality.
Features
Right or left hand options
100% leather
Duable
Tested for quality
Fits belts up to 1.75 inches
Pros
Works good, even for a smaller person
Double stitched
Comfortable
Easy to draw
Keeps gun close to body
Good ride height
Cons
Gun has direct contact to body and rubs
Break in time needed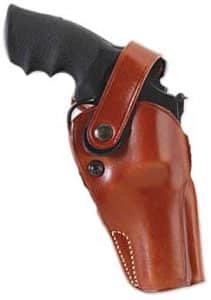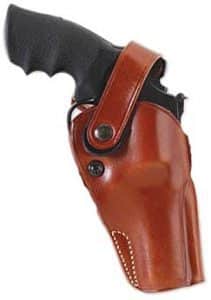 This holster is made from premium saddle leather. It has screws for an adjustable retention, can be worn strong side or crossdraw and fits belts up to 1.75 inches.
Features
Right or left hand option
Used by law enforcement and private citizens
Durable
Tested for quality
Made using the finest materials
Pros
Fits gun perfectly
Well made
Comfortable
Smooth draw
Cons
Break in time needed
Tension screw can pop out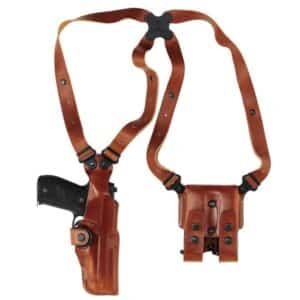 Galco combined feature from their Miami Classic and a traditional vertical shoulder holster to create a shoulder holster that is perfect for first responders and military personnel.
Features
Ambidextrous
Tested for quality
Doesn't print
Pros
Doesn't push forward while seated, like horizontal rigs might
Doesn't print
Comfortable
Great craftsmanship
Fits great
Extra mag pouches
Cons
A little awkward to draw
A little awkward to re-holster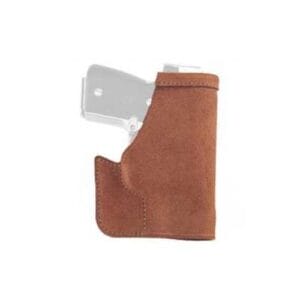 This pocket holster is made from premium horsehide and fits into your pants or jacket pocket. Even in pocket carry holsters, Galco makes a premium leather product.
Features
Ambidextrous
Conceals the shape of the gun
Made from premium horsehide
Two hooks keep the holster in your pocket as you draw
Pros
Well made
Quality materials
Fits like a glove
Works great with shorts
Holds gun upright
Comfortable
Cons
Has some printing
Thicker than pocket holsters made with material
Only works for smaller guns
---
Final Thoughts
Keep in mind a lot holsters are made for specific gun models. Especially if you order online, be aware of what guns the holster can be used for.
Our Pick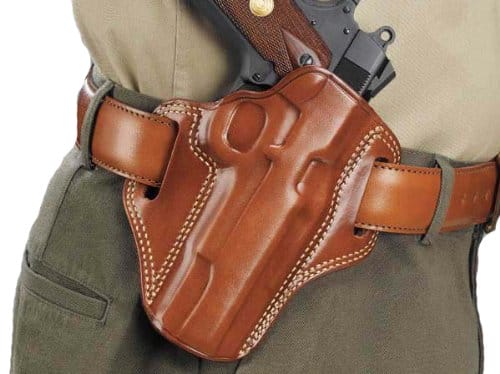 Galco is a great company and they have so many great holster you can choose from. After my research, I found I really like the Galco Combat Master Holster the best. It was a hard decision since there are a lot of great leather Galco holsters. This one outshines the others.
For a big 1911, it doesn't get much better than this holster. After break in, the draw is super smooth and the retention is great. I think anyone will feel secure and comfortable with this holster.