Recreational shooting has become a popular activity in recent years, particularly in the United States, and there are more gun options at your fingertips now than ever before.
Whether you're in the market for an air gun or a starter pistol, there are plenty of selections to choose from. But if you're looking for something that's appropriate for small game hunting, you should look no further than the air rifle.
Tailored to small game hunting and target shooting alike, the air rifle will provide you with precision accuracy and a darn good time.
Perhaps you're wondering what kind of air rifle to get or if there's any significant difference between a pellet gun and an air rifle. All of these answers and more will be revealed as we break down the best air rifles available, how to properly maintain them and where to get your hands on my top picks.
Let's start with the basics. What's the difference between an air rifle and a pellet gun?
Well, the key difference is this: Traditional pellet guns or BB guns are rifles which discharge small, mostly innocuous BB's or pellets. These guns are the ideal toy to tinker with when plinking in the backyard, but they don't hold a candle to the far superior air rifle.
Where air rifles differ from pellet guns is in their fundamental operating system. Many air rifles are powered by CO2 cartridges which give each shot some serious force.
Others options are spring-powered rifles or PCP-powered (Pre-Charged Pneumatic) rifles, all of which beat the pellet gun for power and performance.
In fact, there are even ways to supercharge certain air rifles to increase the velocity of each pellet that you fire. Spring air rifles, for instance, work by propelling a spring into a locked position. Once released, the spring pushes a piston forward which forces the pellet out of your barrel with air pressure.
This immediate compression of air causes intense heat. These non-CO2-powered air rifles can be jerry rigged to enhance muzzle velocity by using common household items such as vegetable oil and paper towels.
Regardless of whether you decide to hack your air rifle, you should be able to see how they differ from standard pellet guns now. No pellet gun can make impact the way an air rifle can.
This is just the most obvious way in which the two differ. As you'll see below, air rifles are disparate in several ways.
Here we'll explore my top choices for break barrel air guns, economy air guns, PCP air rifle and more. Let's get into it to find the best air rifle.
Get Deals on Guns and Tactical Gear
Join 70,000 Readers For Our Weekly Discounts
---
Air Rifles vs. Pellet Rifles
Most often than not, air and pellet rifles are lumped together, but the major difference is within the ammunition each carries. Air rifles can utilize BBs or Ball Bearing ammo.
It is a small steel sphere measuring 0.18 inches in diameter. For air rifles, this type of ammunition is more for recreational use.
It is suited for backyard fun and targeting small items. Due to the shape and material, the BB can ricochet easily and is not as accurate as the pellet gun.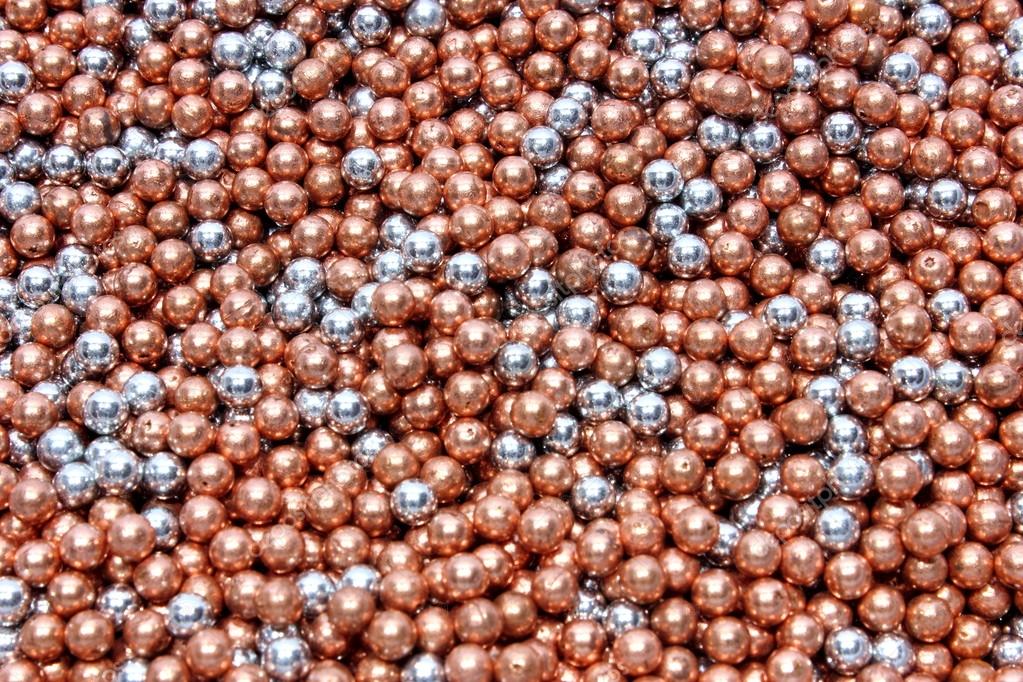 Pellet guns are essentially air rifles that utilize pellets as ammunition. The Pellet evolved from the BB and contains a flat or round head followed by a taper to a skirt.
Due to its construction, the pellet's lead head will drill in sturdily upon impact. The pellet's aerodynamic shape makes it a far more accurate round compared to the BB. For that reason, the pellet gun is more suited for hunting vermin like rabbits, rats, raccoons, squirrels and hedgehogs. It also makes it more accurate for target practice.
Although the air rifle is far from rifles that shoot live ammunition, one must take into consideration how to maintain it, as they operate similarly. For more info on bullets and ammo in general check out our guide.
---
Spring Air Rifles
There are various types of air rifles to consider when purchasing one. We uncover three major types of rifles and the best in those categories.
Air rifles are divided into three major categories consisting of spring, PCP, and nitrogen powered ones. We will first cover the most basic version which is the spring piston powered rifle.
Best Air Rifle Reviews – 3 Categories to Understand
Spring
PCP
Nitrogen Powered
Spring powered rifles have been making a comeback in recent years and are the perfect air rifle to start one's journey with. This type of rifle is a single shot and popular for hunting as they can shoot at high speeds.
We will be examining examples of break barrel rifles that are very easy to utilize. What makes this spring action rifle unique is the way the spring is cocked, as the user just needs to push the barrel downwards.
This primes the spring while the pellet is loaded, before flipping the barrel back up in a fixed position.
Like this…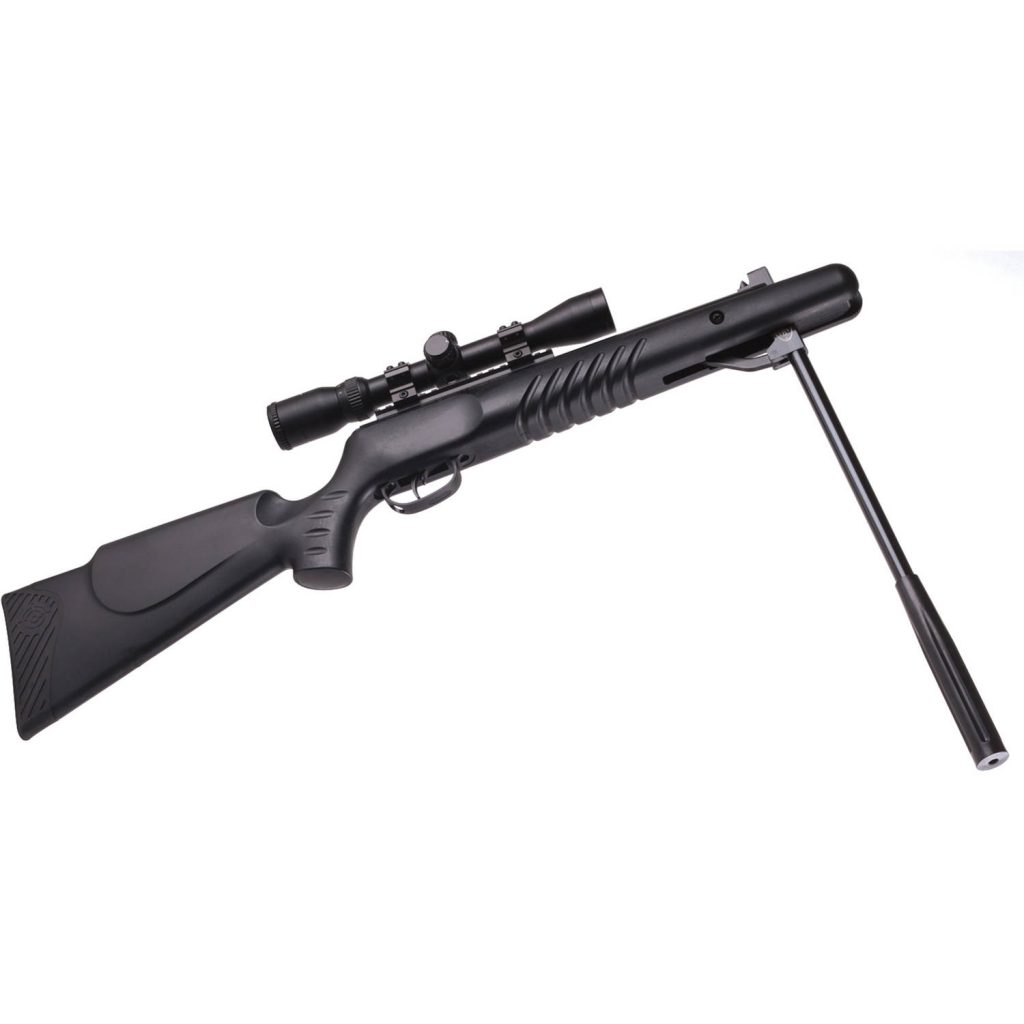 Once fired, the heavy spring pushes piston forward as the pellet is released through compressed air. Below, we have two examples of great spring piston guns to consider.

The Ruger Blackhawk Combo is a 0.177 caliber air rifle that shoots at 1,000 feet per second. That is a great deal of firepower which is perfect for small game hunting like rabbits and squirrels, pest control like rats and 'coons, and target practice.
It includes a mount and 4×32 scope for targets over 200 feet. The all-weather stock is nice as it is more durable in numerous outdoor scenarios. The Ruger is a solid 7-pound weapon with great balance and cracks like a 0.22 weapon when fired.
The butt of the rifle contains great absorption when firing as it is a very well-balanced rifle. Also, it incorporates an automatic safety system when cocking the gun to load or reload. The safety is automatically turned on when one is cocking the barrel and loading in a new pellet.
This is a great feature for avoiding accidents or disasters. Other features include a parallax setting which can engage targets at 100 feet with ease. Some factors to watch out for is that the rifle needs initial cleaning as it can be over oiled.
After time, the scope mount may also loosen from extensive use. Overall, this is a great starter weapon to go hunting for small game or pests that is durable in outdoor conditions.
As a starter weapon priced well, the Ruger Blackhawk Combo air rifle is an excellent choice for a simplified air rifle.


The Varmint Air Rifle is another great alternative in the spring powered break barrel category. It is made in Spain and is a 0.177 caliber rifle firing at 1,250 feet per second.
Weighing in at just 6 pounds, the Varmint contains serious firepower as it is known for the loud sounds that blast out when fired. Gamo's version also includes a built-in rail and 4×32 scope.
It's got a nice design that considers the shooter when put into action. The stock is an all-weather material with a raised cheek piece at the end of the rifle.


This is to ensure maximum comfort when firing and is suitable for both left and right-handed individuals. Additional features such as the ventilated rubber butt, to take out recoil, and the grip having a checker anti-slip design making it a shooter's rifle that is incredibly comfortable to use.
It also contains an automatic safety when cocking the gun to avoid accidents. The popularity of the Varmint Air Rifle comes from its accuracy and incredible stopping power. This is definitely a gun used for small game or pests in your surrounding area.
A few cons to consider include the scope as users have to zero in the optic from time to time. There is also a heavier cocking system which is rated at 30 pounds.
Otherwise, The Gamo Varmint Air Rifle is a great air rifle that is lightweight, contains incredible stopping power, and is comfortable to use at a low price. We personally love this rifle, hence why we included it on our air rifle review.

The Whisper Silent Cat is another model which utilizes the break barrel system. It is a 0.177 caliber rifle that is powered by a spring, providing a whopping 1200 feet per second.
The rifle is just a bit over 5 pounds and contains a comfortable modern skeleton with some great features. The stock is made of an all-weather material that includes a cheek pad and rubber butt padding for comfortability.
The most lethal feature on the Silent Cat is the suppressor attached to the end of the barrel. It makes this rifle extremely quiet and is said to reduce 52% of the noise it creates compared to its competitors. This is a huge feature and makes it one of the best air rifles out there.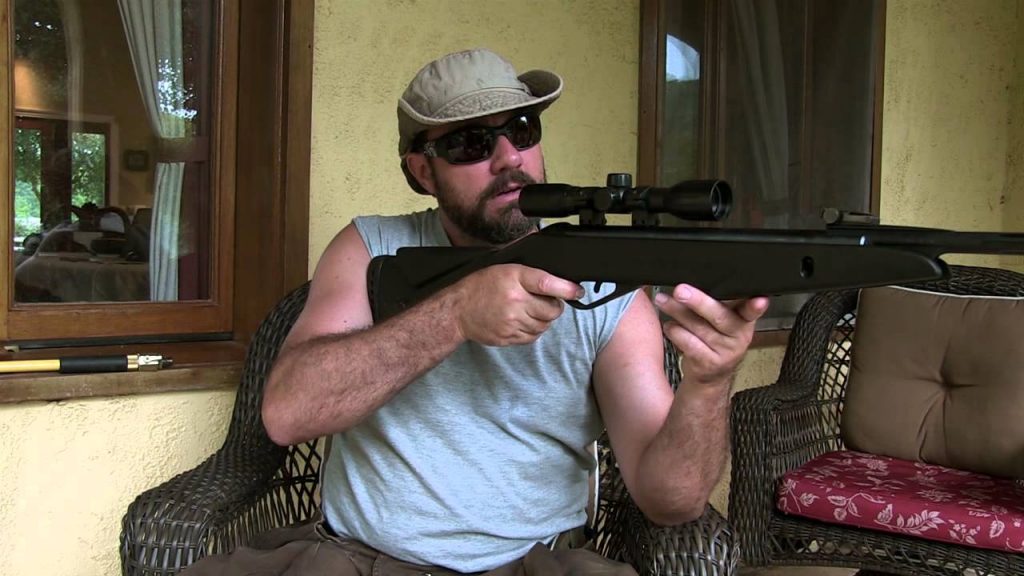 The noise reduction provides a tremendous difference when hunting as animals will not be easily rattled or scared off from the shots. The Whisper Silent Cat also includes a 4×32 scope and rail to fit custom attachments.
Due to the comfortability of the stock, it is easy to line up fast moving targets when on the hunt. The only noticeable inconvenience lies within the weighted trigger of the rifle.
It is heavier and harder to pull so one may have a more difficult time when taking extremely precise shots. In conclusion, the Gamo Whisper Silent Cat is a great rifle that is probably one of the best spring rifles for hunting with its monster velocity and suppression system.
---
PCP Air Rifles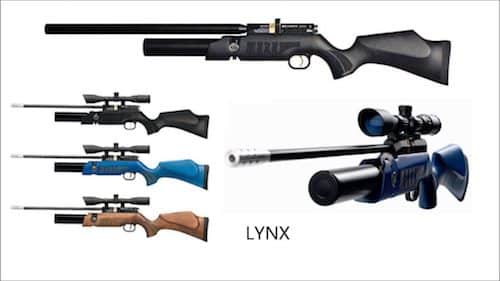 A more popular air rifle system, for the serious hunter, is the PCP or Pre-Charged Pneumatic. This system utilizes a basic idea in which the rifle has space to pump air in and only to be partially released when a shot is taken.
These air rifles can store up to 30 shots when the reservoir is filled at a pressure of 2,000-3,000 psi. Advantages of these systems are that the user can fire off multiple rounds and reloading is quick and silent.
There is also no piston in the construction so the receiver does not have to be long and can provide more compact variations. Accuracy is also increased, compared to the break barrel, as the PCP system allows for a fixed barrel design.
The only disadvantage is that one will be forced to bring their pumping system to refill the reservoir once the air is depleted. PCP air rifles are a bit more advanced and mainly utilized for hunting as it can fire off multiple shots accurately and silently.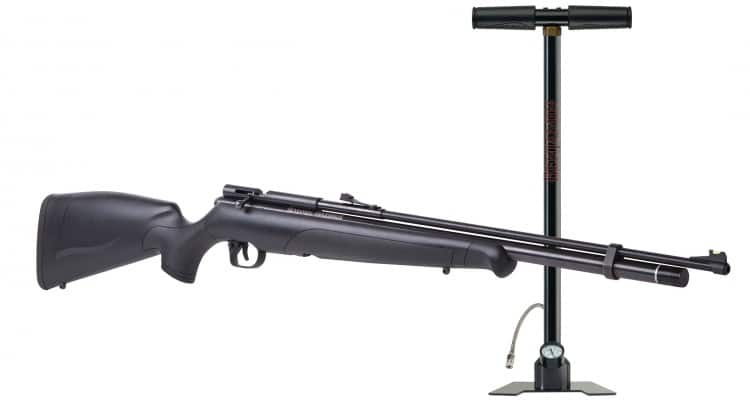 The Benjamin Maximus is the most affordable and reliable PCP air rifle up to date. It is created by Crossman to deliver a cost-effective version of PCP rifles that can be picked up by any user. One of the unique features of the Maximus is the dualities it brings to the table.
It can be interchangeable with different pellets and "fuels". This rifle can interchange between 0.177 and 0.22 pellets while being able to pump O2 or CO2 within its reservoir. The bolt action rifle just sits at over 5 pounds and uses up to 2,000 psi shooting at 1000 feet per second.
The Maximus provides 3 major features which marks it as the next step up for hunters. The rifle has a lot of stopping power, accuracy, shot capacity, and consists of lightweight construction. Since the Maximus uses compressed air or CO2, the power jumps while retaining its accuracy.
One thing you never worry about is a pellet straying far off as the groupings are centimeters away at 50 yards. The large shot capacity enables multiple shots in one session, and the light weight wooden stock gives Crossman's rifle a nice touch.
The Benjamin Maximus Air Rifle is recommended for hunters of small game and predators one size up (eg, small hedgehogs and raccoons). One may want to watch out for pressure fluctuations on hotter days, but essentially, this is the ultimate affordable PCP hunting rifle.
---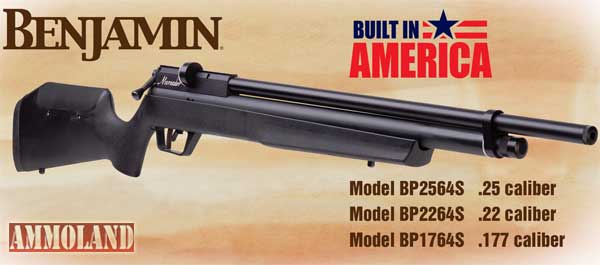 The Marauder is a great middle of the road PCP rifle that is semi-automatic. Like the Maximus, the Marauder is interchangeable between air and CO2. The rifle can also take in 3 different pellet sizes consisting of 0.177, 0.22 and 0.25.
This particular model shoots up to 1,100 feet per second at 2,000psi. It has always been known for its accuracy, power, and silent pull. With the Marauder, hunting is made easy with its insane accuracy and range. It will be able to hit targets at 150 feet with 0.25 pellets at ease.
The additional power on this model is to be recognized as this air rifle contains a 10-slot magazine. Users have predicted the air rifle to contain 20 powerful shots when the air reservoir is filled.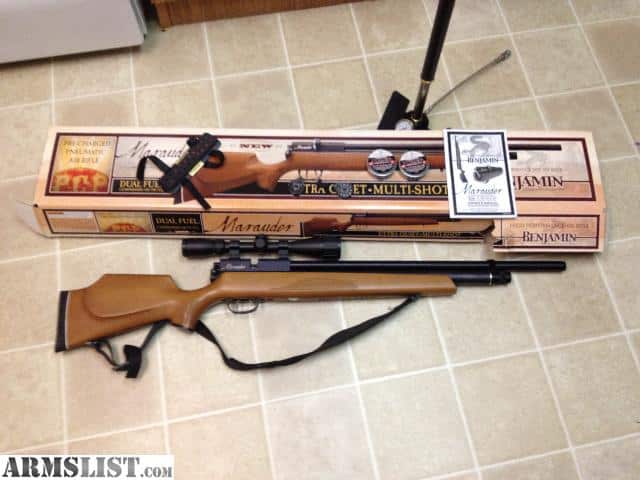 Lastly, the Marauder is a silent rifle, perfect for hunting small game like rabbits, and even some smaller predators like coyotes.  Rated the best-selling PCP rifle for 6 years running, the Marauder does have some weaknesses owners have to consider when using this rifle. First, it is a very heavy weapon around 8 pounds.
Once you install optics and a shoulder sling, that should increase to over 10 pounds. Lastly, the pumping procedure is quite a workout and may tire owners out during the middle of their session.
Besides those two elements, the Benjamin Marauder Air Rifle is one of the most reliable and power PCP air rifles. It can take down predators and take hunting to the next level.
---
Best Nitro Piston Air Rifles
A more recent development in air rifle technology uses nitrogen as a power source and is commonly known as Nitro Piston. This type of rifle was first announced by Crosman and resembles the concept of a compressed spring rifle as a power source.
Instead, Nitro Piston rifles compress nitrogen in a cylinder to push the piston while propelling the pellet. This type of rifle is more suited for extensive use in the field for hunters.
Its advantage is in its lightweight construction as nitrogen guns are lighter than spring powered rifles.
There are many benefits to Nitro Piston rifles in terms of weight, recoil, stealth, accuracy, and speed. It helps when one is out roaming all day, hunting for small game or predators, and the gun does not wear out the user when carried.
The technology also allows less recoil and noise when firing compared to spring weapons. Nitrogen helps extend the piston slowly when firing, so there is less of a toll on the barrel which, in turn, provides less recoil.
Owners of Nitro Piston rifles also experience a great amount of noise reduction. It is around 70% quieter than a spring rifle and is perfect for hunters when stealth is required.
Nitrogen gas also aids the gun firing faster than any spring or gas piston weapon. The quick lock time calls for better accuracy, and the pellet may also be left cocked in a chamber for an extended period of time without damaging the rifle.
We examine a few options below to see the difference between each rifle in our air rifle review.
Our Top Air Rifle Reviews for 2018
---

The Fire Nitro Piston rifle is a very cost-effective rifle firing at whopping 1,200 feet per second using 0.177 pellet rounds. The rifle contains a 4×32 scope along with a sleek modern style stock with thumb holes for comfort.
Weighing in at 6 pounds, it is a single shot rifle utilizing the break barrel system as the steel barrel is cocked down when inserting pellets. Only differences are having nitrogen propelling the piston out of the rifle.
This does have many advantages such as less noise and recoil, so the Crossman Fire is great for hunting small game in your local area. What's also neat is that the air rifle is built to be ambidextrous with its two-stage trigger.
Safety figures also apply to both right and left-handed shooters as it uses and the old system of a safety trigger in front of the actual firing trigger.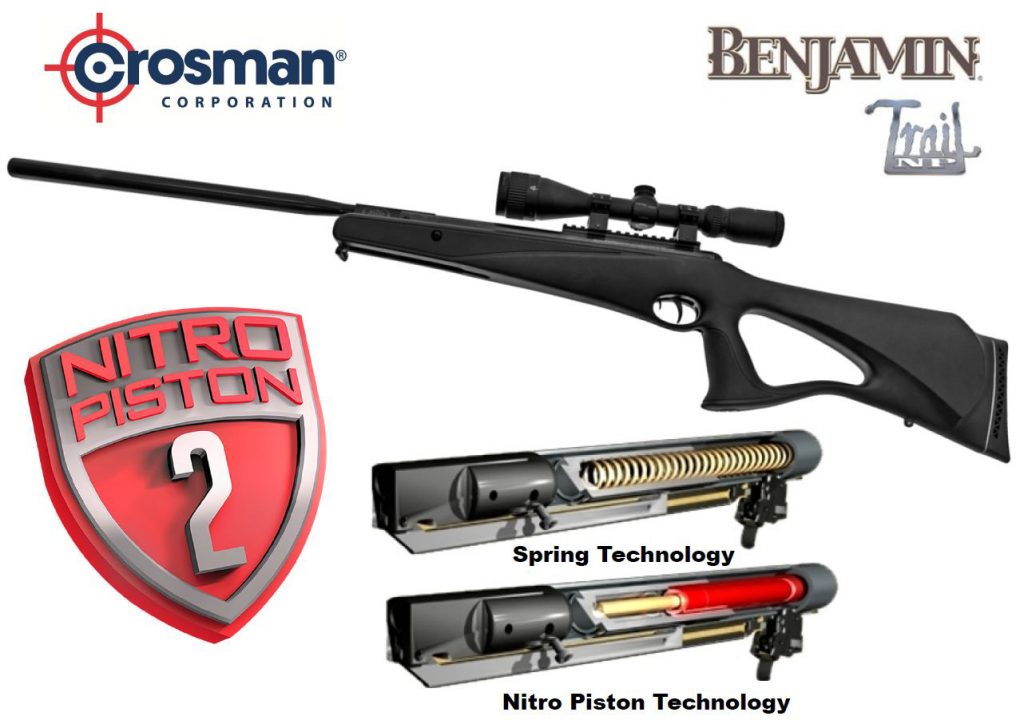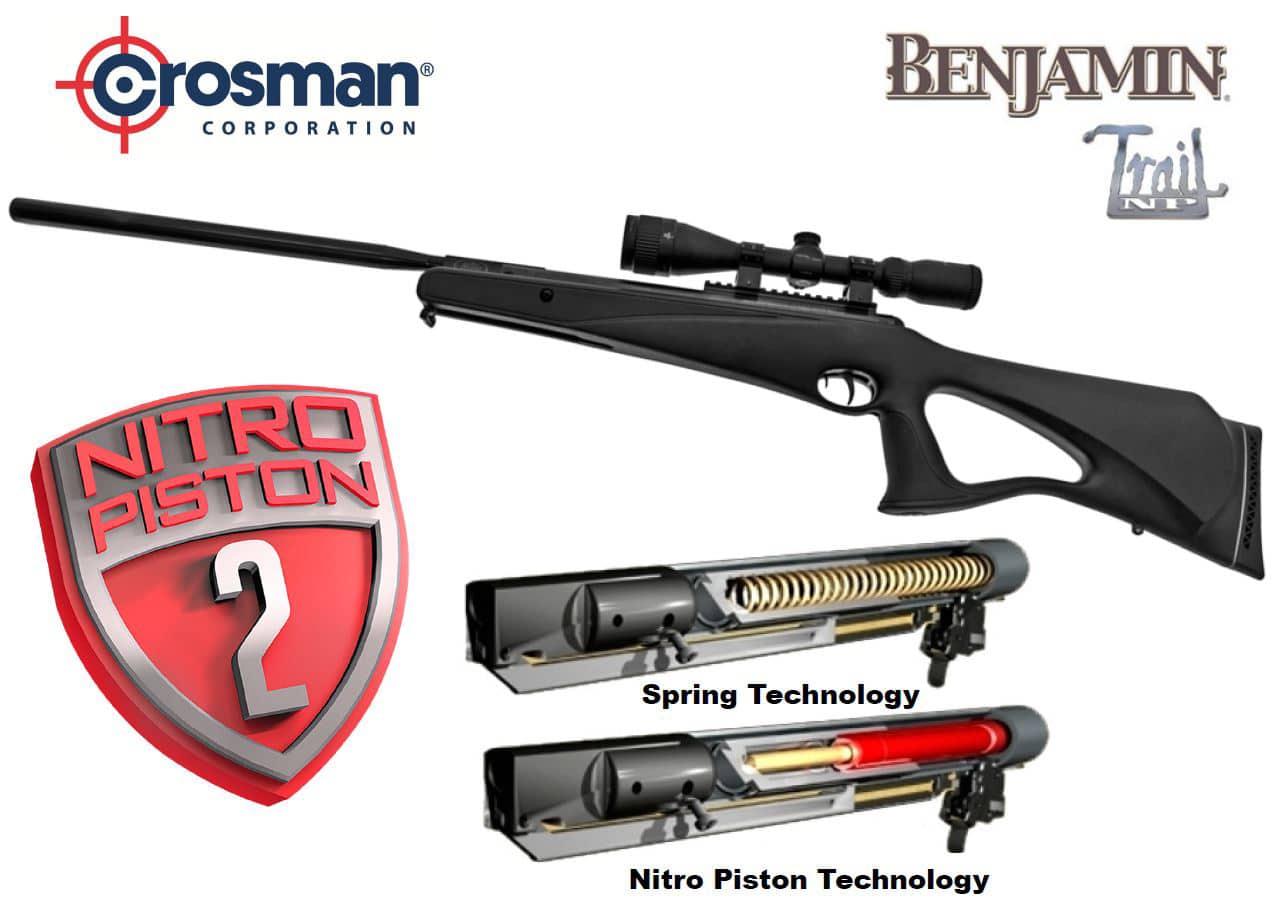 One important factor to consider is that the trigger pull is heavy which can take a while to get used to. It can be adjusted but, in conclusion, does not affect the weight of the pull much which can take time to get used to.
Aside from that factor, the Crosman Fire Nitro Piston rifle is a deadly accurate and powerful air rifle. It's one of the best air rifles for pest control and hunting small game due to its lightweight construction and silent operation when fired.


The WildCat is made by Gamo, in Spain, and it is by far the most powerful rifle in the lineup. It delivers pellets at a massive 1,300 feet per second. Being a nitrogen rifle, there a is a reduction in noise and vibration when taking out pests or small game.
It is also very much suited for larger animals as it has great stopping power. Gamo's Intert Gas Technology and Whisper Drive factors into the rifle's power, accuracy, and noise reduction. Pellets can be launched much faster due to the compressed nitrogen, and the spiral bore gives it the consistent groupings one looks for.
The Wildcat is a single shot break barrel system which has a smooth cocking system when loading. It comes with a standard 4×32 scope with a steel barrel and standard trigger with an adjustable second stage.
Similar to the Crosman, the WildCat has a heavy standard trigger which may take a few sessions to adjust to personal preferences. What's nice about this weapon is the gas piston which will provide durability on a rifle for decades to come.
The rifle weighs in around 5.5 pounds, so one takes on little fatigue in carrying this air rifle around for hours. Its power source also allows the Wildcat to operate in colder climates while maintaining its accuracy and power. This is one of the more powerful and lightweight weapons for pest control or small-time hunting.
---

If you're looking to the power to complement the aesthetics of an air rifle, this Tactical Sniper may be the rifle of choice when doing some target practice, shooting rodents, and smaller animals.
The Black Ops air rifle looks exactly as it sounds as it resembles the appearance of a modern-day sniper rifle. It includes an adjustable bi-pod and scope. The cheek pad adjustment, stock, fake magazine, fake cocking bolt, and fake suppressor also give it a very military-esque feel.
Don't let the looks make it seem less than what it can provide, as the rifle can fire up to 1,250 feet per second. It is a single shot break barrel system that can alternate between 0.177 and 0.22 pellets.
A few factors to consider when purchasing this air rifle is that it looks just as heavy as its construction. The Black Ops rifle weighs in at just over 9.5 pounds, and the cocking effort is rated at 44 pounds which is the heaviest by far. One thing about this air rifle is that it delivers what is asked of it in power and accuracy.
Due to the construction, it is definitely best for target practice or shooting smaller rodents in the backyard. It is not the most ideal weapon to bring along for mass pet control or small game hunting.
The adjustable bipod and cheek pad give it a comfortable edge to be in a prone of sitting position when shooting. The Black Ops Tactical Sniper is a great air rifle for recreational purposes that packs a punch.
---
Air Rifle Maintenance – How to Clean Your Airgun
Maintenance of air rifles is simple and less tedious. Major procedures involve cleaning the barrel and oiling the value and CO2 containers. We highly recommend going over your gun manual to see the suggested method in maintaining your air rifle.
Each rifle is different, and experts that created its manual will know the proper amount of oil to use and the best way to clean it. Once you get acquainted with an air rifle, there are many personal methods to clean a bore, but below we go over the major rules when doing so.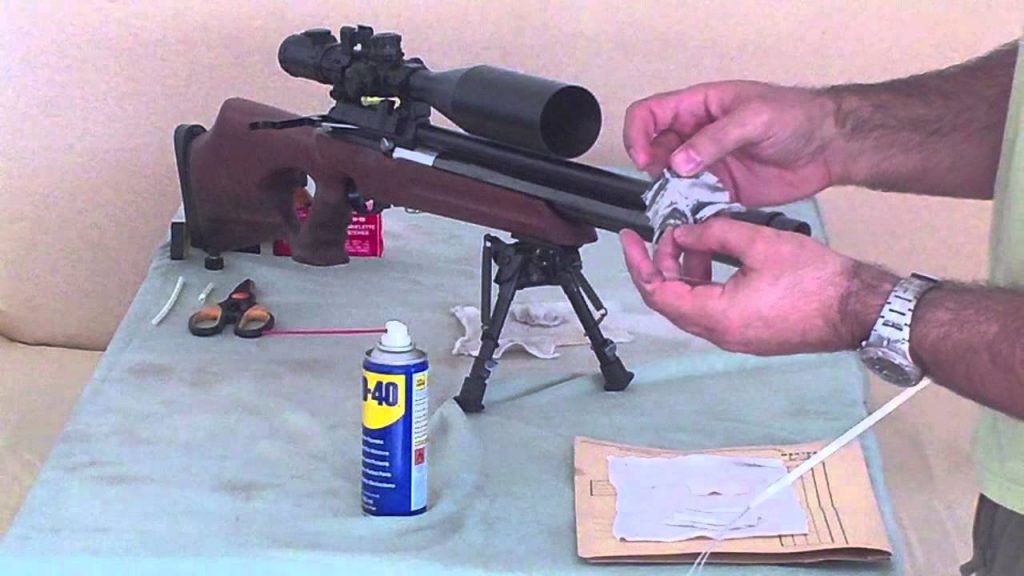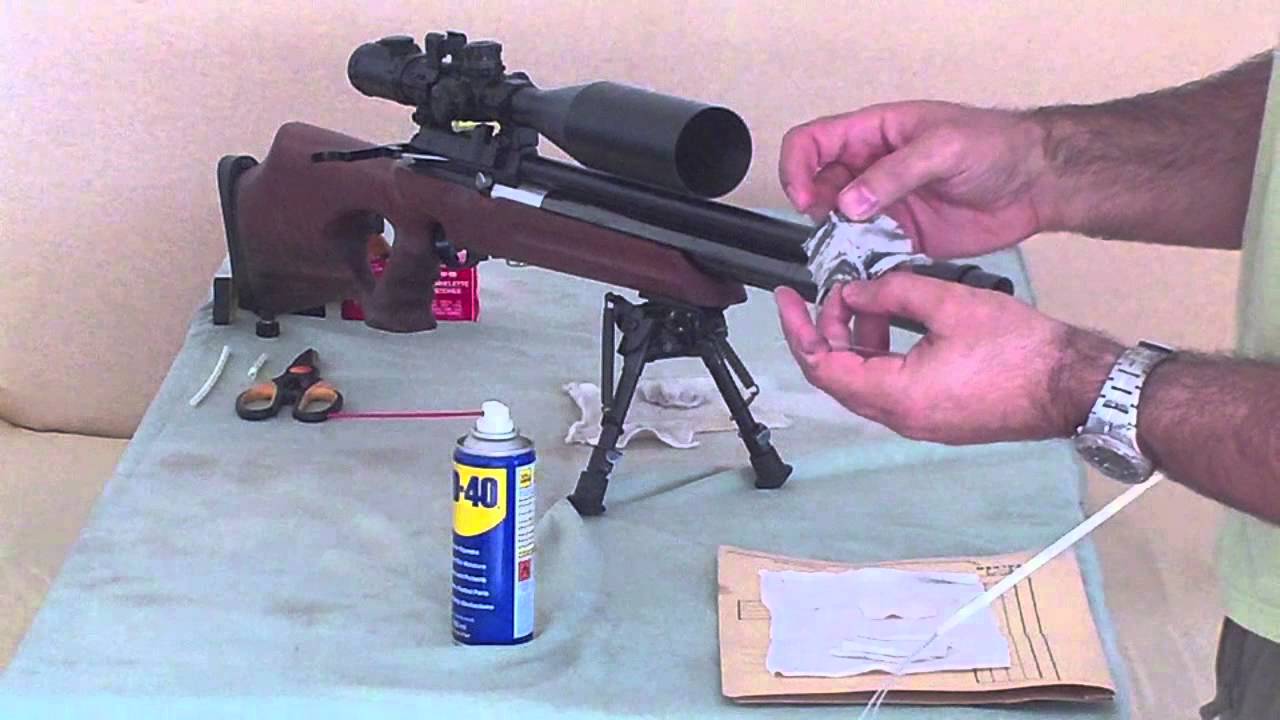 When cleaning the barrel, some basic procedures are recommended for all types whether if you are using a regular, PCP, or nitrogen gun. All barrels share the same rules.
The main rule, to keep in mind, is to always clean your bore from the breech. This is done to protect the muzzle as it will ruin your gun's accuracy if damaged. Always run clean patches through the bore when cleaning. This will help remove dirt and grease.
Lastly, do not use any solvents when cleaning an air rifle. Valves are normally made from a plastic or rubber material that is damaged when touching solvents. Oiling parts such as the valve is also an important step in maintenance.
If you get one of the best air rifles recommended in this guide, you won't have to worry about maintenance too much. Some areas to consider oiling are the valve, barrel, CO2 containers, and the stock. Oiling the valve does not require a lot, most of the time it requires a few drops to get the task done.
We always recommend reading your manual for the proper amount of oil to use. In humid environments owners may want to consider oiling the outside of the rifle barrel to prevent rust. This applies to guns with wooden stocks to preserve the grains and prevent cracking.
Lastly, the CO2 containers need a bit of oil at the end the help the transfer when connecting and disconnecting the cartridge. With these basics, your rifle will be kept in great condition.
If you're still having a hard time deciding which rifle to get check out this video. It's got a ton of info for those looking for the top air rifle for their money.
---
Thanks for Reading Our Air Rifle Reviews
There are many types of air rifles out on the market ranging from different power sources, velocity, and purpose. It is also best to start with the purpose of why you are purchasing the air rifle to break down and figure out the best one for you.
The ideal weapon for beginners would be a spring action system which is easy to operate and is the foundation for most types of rifles on the market.
The nitrogen and PCP powered rifles are more advanced and require more effort to load and use in the field. Depending on the fire rate, most air rifles are used for target practice or pest control.
There are semi-automatic versions which are better suited for pests or small-time predators, but that is only necessary if you plan to shoot a large number of small animals.
One factor to consider is that the more complicated the operation, the easier it is to use out in the field. The spring guns are heavier and have more recoil, but can be used almost indefinitely when roaming about.
Compared to spring action rifles, nitrogen or PCP rifles must be refilled of their power source which can be draining after a few dozen shots. In the end, there is always an option that will meet your specifications and the shooter you are.
Whether if you are a beginner or hobbyist in the sport of air rifling, these air rifles are the best in value on the market today.
All air rifles include a scope and most contain pellets to get you started once the rifle is shipped over.
We hope this article helps in narrowing down some of the prospects out on the market to get you started on your next air rifle.
Happy shooting!