Getting the perfect shot is the ultimate goal of any big game hunter and his hunting rifle. But when you are dealing with having to shoot a large, sometimes moving target, so getting that perfect shot can be difficult. A good shooting rest can help you with that, though.
A lot of factors are going to come into play that may affect your ability to hit that 10 point buck from 80 yards away.
For starters, you have to have a fairly steady hand. One small twitch of your wrist can easily put you off your mark by just enough to miss the shot and run off your prey.
And this is where having a high-quality shooting rest comes into play.
These are devices that are similar to a vise. Put your rifle on it, tighten it up and start shooting with the comfort of knowing that your gun isn't going to be jolting around too much as you take your shots.
To help you find the best shooting rest for your rifle, we have narrowed down the choices and reviewed the top 3 shooting rests available today.
---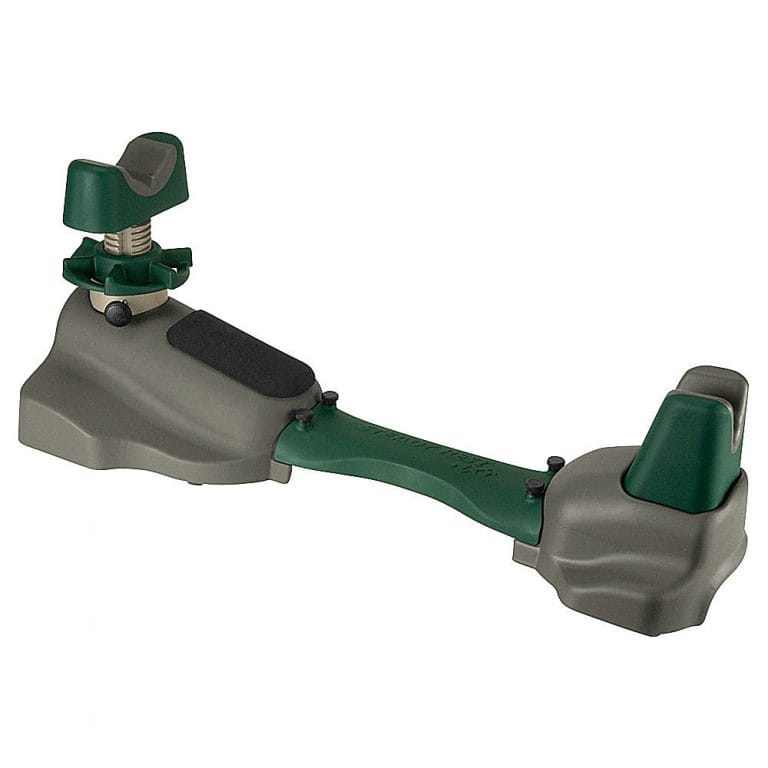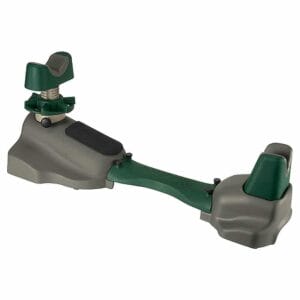 First up on our list of shooting rests is the Caldwell Steady Rest NXT. This gun rest is not only an inexpensive choice for those on a budget, but it is also multi-functional as it can be used with pistols, shotguns, and lever-action rifles. And if multi-functionality isn't a major seller for you, it is also extremely ergonomic and is just a pleasure to use.
It is made of a durable, plastic material that is just firm enough to give you a solid, stable shooting surface. The front and rear supports feature a non-marring material and neoprene pads that are gentle and your firearms and geared to protect your firearms finish even under heavy recoil.
In total, it is constructed out of 3 pieces but can be used in a two-piece or one-piece configuration. Being able to quickly remove or add pieces from the rest gives you the versatility to easily and quickly adjust to any length firearm.
Want to use a pistol with your gun rest? No problem, simply remove the center bridge and the rear rest, and you are good to go. The overall length of the rest when fully assembled is 26″ with 3″ of vertical cradle adjustment.

Zeroing your rifle with this gun rest is extremely simple and takes a lot of the usual guesswork out of your shooting session when you find yourself needing to re-adjust for accuracy.
Overall, if you are looking to save a few bucks, don't mind possibly needing to weigh down the rest a bit, and can deal with a little bit of recoil, you can't go wrong with the Caldwell Steady Rest NXT. For all your larger (20lb and up) bench rifles, we suggest taking a peek at the next shooting rest in our review.
Pros:
Versatile
Non-marring material and neoprene pads
3-piece construction
Elevation adjustments
Portable
Cons:
Plastic construction
Not well at handling much recoil
Too lightweight
Small build
---
If you need a shooting rest that is more capable of supporting larger, heavier firearms, we recommend the CTK P3 Ultimate Gun Vise.
This shooting rest is constructed from heavy-duty steel tubing that is heavy enough to stay in place and handle some heavy recoil, while still being lightweight enough (8.69 lbs.) to be moved around with ease when it's time to head to the range or back home for the day. It features a three-point leveling system that allows for a variety of configurations.
With the leveling system, you can easily adjust the elevation, length, and overall height to fit just about any firearm you want to place on it. Just turn the oversized knobs to get your adjustments perfect, tighten down the locking rings below the knobs and you are ready to take aim.
The Y-rest on the front and rear support pad are both layered with a closed cell foam that is also covered by Marine carpet to protect your firearm from scratches or dings.
Sighting in a rifle with this rest, simply put, is quite fun and easy. All in all, it only takes about 5 minutes to get the rest assembled and adjusted for your day at the range.
To complete this gun rest and add an extra layer of stability, we highly recommend picking up the additional CTK P3 Gun Vise.
Pros:
Both front and rear rests are padded
Marine carpet on pads to prevent any kind of marring to your rifle
Easy and quick to get set up
Optional gun vise attachment
Can be used to work on your firearm or to shoot
Cons:
Pricey
Locking rings are hard to tighten down completely by hand
---
The Vanguard Porta Aim Gun Rest is a little bit different than the other shooting rests on this list. What makes it different is that it is a tripod based gun rest versus the traditional rectangle base design so commonly found.
The Porta-Aim features a removable 360-degree swiveling bag as the main rest for your gun barrel. The bag can also be used as an elbow rest if you were so inclined. It is secured to an aluminum tripod base.
Speaking of the tripod…
It is constructed of aluminum, so it may not be best suited to large rifles that put out a lot of recoil. Having said that though, it is perfect for your smaller air rifles.
The thing we like most about this gun rest is the fact that it is extremely compact and portable. Just detach the padded base, fold up the tripod's legs and toss it in your range bag.
This is the perfect stand for any shooters out there who prefer the stick style or tripod shooting rests.
Pros:
Compact
Lightweight
Sturdy tripod base
Removable padding
Cons:
Does not tilt, but it does pan 360 degrees
Cannot handle a lot of recoil
---
A Few Tips For Finding The Right Shooting Rest
Picking out the best shooting rest isn't super complicated, so long as you keep just a few things in mind.
To help you along in your search we have narrowed down the main things to consider before dropping down any money on your new gear.
Let's talk about a few of these.
Quality Of Materials
No matter what piece of gear you are adding to your collection, one thing is for certain, and that is that it needs to be constructed from high-quality materials.
This is even truer when you are dealing with firearm or hunting equipment. The last thing anyone wants is for their shooting rest to fall apart in the middle of a shot as this can spell trouble for you and those around you.
Make sure that your shooting rest is not only constructed of high-quality materials but that you have also assembled it correctly. Just because something is made of steel doesn't mean that it can't fall apart if you didn't assemble it properly.

Recoil
Your rifle rest must be able to handle recoil.
Guns can often pack a bit of recoil. If you are firing your .308 or Mossberg 500, you are going to need a pretty heavy-duty shooting rest obviously. But if you are just practicing at the range with your air rifle it is fine to scoop up and use a more inexpensive option.
Most shooting rests are made of steel, plastic, aluminum, or a combination of all 3 of these materials. Some are weighted, whereas others are extremely light.
Only you can determine what shooting rest is going to take all the recoil you will be throwing at it. Before you rush out and buy a shooting rest, think about what gun you will be using most often with it. Doing this will help give you a better idea of what kind of durability you truly need.
Adjustments
Most shooting rests will have some kind of adjustments that can be made. These adjustments help you to position and sight your firearm accurately. Of course, a good scope also plays a pretty big part in this as well.
We recommend picking up a shooting rest that allows you to both tilt and pan your firearm to give you a spot-on shot. If it has front and rear pads, they should both be able to be adjusted.
Elevation adjustments on your gun rest also play a role in stability. Not all shooting rests will have this adjustment option, but if you can afford the extra money for this feature, we highly recommend it.
Look for larger, ergonomic, easy to turn knobs and locking rings as well. If you can't easily adjust your firearm, you may as well just go back to using sand backs or shooting sticks.
---
Final Thoughts
Finding the perfect shooting rest can be tough, but if you follow our insight and tips in this review, you should be better prepared when it comes time to buy your own.
Keep in mind that it should be able to handle some moderate to high recoil, be constructed from high-quality materials, and can be fairly easily transported to and from the range.
If you currently use a shooting rest that you never head to the range without, let us know about it in the comment section. We are always looking for new shooting gear to review here on Gun News Daily.
Happy shooting!
Related Reads: