When it comes to rifles, there's no rifle that says America quite like the lever-action rifle.
After all, it was the lever-action rifle that won the West.
When we look back at the great cinematic icons of the Western genre, from John Wayne to Clint Eastwood, it's the lever-action rifle that they all brandished.
Today, the lever-action rifle is still around and it's better than ever.
Here are my top ten picks for the best lever-action rifles of 2017.
Browning BLR
Henry .45-70 Lever Action
Marlin 39A
Marlin 336
Ruger 96/44
Savage 99
Varmint Express .17 HMR Rifle
Winchester Model 88
Winchester 1873
Winchester 1886
Get Great Guns and Ammo Deals!
---
Our 10 Favorite Lever Action Rifles
This is one of the absolute best lever-action rifles for sale. It's number one on my list because it's the first modern lever-action rifle I ever fired and I was more than a little impressed by its performance.
This versatile weapon is good for both short action or long action. It's a highly adaptable firearm with a receiver that is forged from an aircraft-grade alloy.
The multi-lug rotating bolt can handle virtually any magnum cartridge including the ultra-fast WSMs. It features low-profile sights, a smooth glass rack, and a grooved trigger for avoiding that notorious pinch you get with other rifles.
It also comes standard with a deluxe recoil pad and a handsome American walnut, straight '81-style stock.
Cabela's offers white gold Browning BLR rifles on sale for $780.

It was Mr. Henry who made the first lever-action rifle. It was patented way back in 1820, providing each gun owner the firepower of twelve marksmen armed with muzzle-loading muskets.
Since then, advancements have been made and innovative design has come to bear on the lever-action rifle. And no single manufacturer has been at the forefront of that advancement more than Henry USA.
Before the introduction of this suppressor-ready model, using a suppressor on a lever-action rifle meant locating a gunsmith who could thread your barrel. Each time you had to reload your rifle, you had to remove the suppressor.
Thanks to the Frontier model's industry-standard threads at the muzzle end of the rifle, it is easy to add on the rimfire silencer of your choice. With this baby, you also get to choose between calibers, whether it's the .22 LR or the .22 Magnum or the .17 HMR.
It features easily adjustable tall beaded sights and a grooved receiver cover for mounting a glass scope.
It's also an ambidextrous rifle for all your left-handed dudes out there.
Cabela's has the Henry .45-70 LR starting at $729.99.
This custom rimfire rifle is the oldest continuously produced rifle of its kind. It was the first lever-action rifle to ever be chambered in .22LR.
Today, the Marlin Model Golden 39A is designed to hold .22 short, .22 long, or .22 long rifle cartridges. It has a 19 round capacity and breaks at 3 lbs, 9 oz with no take-up, suiting any shooting environment or scenario.
When loaded with CCI Velocitor ammo, the 39A can shoot within an inch at 100 yards.
What's more, you'll never have a problem with this model as feeding, extraction, and ejection are always flawless. It's got a classy walnut stock and machined parts, making it a gun to behold both in look and accuracy.
The Marlin 39A sells for around $700 online.

We can't talk about Marlin LRs without mentioning the 336. When it comes to rapid follow-ups and quick handling, the 336 is the beast you wanna bag.
Chambered in 30-30 Win or .35 Rem, the 336 features Micro-Groove rifling which enables greater precision at a greater distance.
A no-frills, smooth as silk walnut stock is paired with a blued finish for an impressive look that runs counter to the vicious power this rifle possesses.
Despite the very mild recoil, the 336's muzzle has quite the jump. The only drawback with this one is the barely acceptable results when loading it with 170 grain Winchester rounds. The bullets are all over the place.
On the other hand, when you feed it some 150-grain loads, you'll have a different experience altogether. When used with stock sights, this load in this lever-action rifle will knock your socks off.
With a six-round capacity, it's not the greatest lever-action rifle of 2017, but at a price point of $500-600, you can't really go wrong. It's fairly lightweight and quick to the shoulder. It's also readily customizable and offers decent accuracy.
Cabela's offers the Marlin 336 starting from $549.99.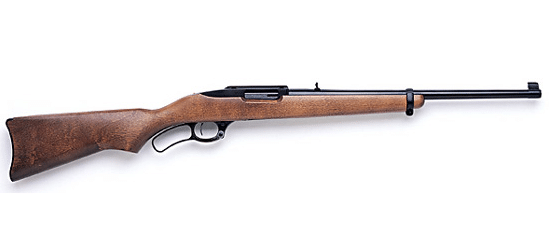 The Ruger 96/44 value cannot be underestimated. From the expertly designed rotary magazine, the sleek, lightweight design, and the short overall rifle length, it's a formidable firearm.
Although Ruger ceased production on the 96/44 in 2007, it has remained in demand among serious gun aficionados.
Bearing an uncanny resemblance to the Savage 99, the Ruger 96/44 is rather savage in its own right. Its 18.5-inch barrel made the .44 Mag cartridge a whole 'nother animal with insane muzzle velocities and energy levels worthy of the world's strongest hand cannon.
For those interested in getting their hands on one, I highly recommend paying attention to online gun forums or joining Gun Broker to hunt for a hot deal on one.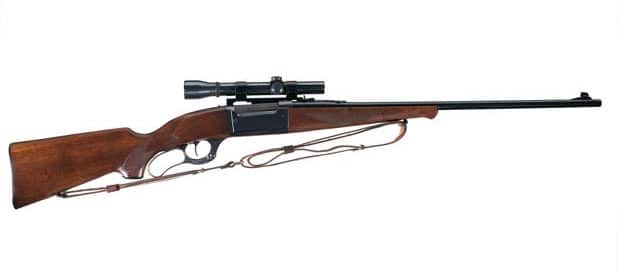 Speaking of the Savage, no list would be complete without this bad mamma jamma. It's one of the most popular lever-action rifles of all time and with very good reason.
A venerable collector's piece, the Savage 99 was discontinued in 1997 after almost a century of near-continuous use, but gun enthusiasts can usually find one online between $750 and $1,550.00.
It remains one of the greatest lever-action rifles in American history with an excellent bore and a 24" barrel.

The Henry Varmint Express has a number of unique features that make it stand out among other lever-action rifles. Chief among these are the William Fire Sights, a pair of fiber optic sights (green rear sight, red front post).
With a higher comb than traditional Henry rifles, the Varmint Express is something else. It comes with a thick rubber butt pad that makes for comfortable rapid-fire shooting and aggressive checkering on the fore-end and grip.
The 1000 fps velocity will give you the edge over even the greatest .22LR and .172 inch bullets it fires will do some real damage, whether you're at the range or out game hunting.
The Varmint Express generally sells for around $400-500.00.
This one was first introduced in the mid-Fifties and was more advanced than any previous lever-action rifle. It featured a solid frame, a front-locking 3-lug rotating bolt, a one-piece walnut pistol grip stock, and a hooded, gold bead front.
Beautiful.
In terms of functionality, it performed like a bolt action rifle, only operated by a lever. It was also easier to carry in a saddlebag and performed well with 80 grain and 100-grain loads.
The Model 88 was specifically designed to handle high-intensity cartridges. And, although production on the Model 88 ceased in 1973, it continues to be the subject of much discussion among die-hard shooters.
Today, online gun traders continue to sell their Model 88s with the average price hovering somewhere around $500.00.
We talked earlier about how the lever-action rifle won the west. Well, it was the Winchester 1873 that is known as the official "Gun that Won the West."
Chambered in several different calibers, the 1873 model has a case-colored receiver and fore-end cap as well as a steel loading gate for smoother feeding.
The rear tang is drilled and tapped, enabling the gun owner to mount their own preferred rear sight.
This centerfire rifle is still in production and you can pick one up at Cabela's for $1,399.99.

Considered by many to be the most revolutionary lever-action rifle in the Winchester family, 1886 offers chamberings in the most powerful cartridges and is widely considered to be the strongest lever action rifle available.
This one is designed to take out the big game, feeling full-size bison and bears as easily as a fawn. They come with a gorgeous finish and crescent buttplate as well as sturdy stainless steel parts.
The color case hardening protects against corrosion so you won't have to worry about picking up a gun-safe dehumidifier and the timeless walnut pistol grip stock is a pleasure to handle.
Cabela's offers a deluxe case-hardened Model 1886 for $1,699.99.
---
Conclusion
There you have it, my comprehensive list of the very best lever action rifles available. If you think I missed one, drop me a line and let me know.
I hope that my list has helped you decide on one of the more worthy lever-action rifles for all your shooting needs. Happy hunting and remember to stay safe with the right ear protection for shooting.
Related Reads: