Have you seen how hunters can start talking, nonstop, about their gear, their favorite hunt, and anything else related to the subject?
We love our rifles. We can read about them, talk about them, and purchase more and more of them.
Sometimes, there's a newcomer to the group and they are looking for a great hunting rifle for a beginner. The main question that comes up is, what rifle should I buy and what caliber?
Realistically, the difference between most good, modern rifles are small. Any of our recommendations will last for years to come.
The thing you want to consider is what you are going to be hunting. We have broken the recommendations up into four categories:
Small game
Medium game
Large game
Dangerous game
In this article, I lay out the best hunting rifles for beginner hunters (including my top pick). It doesn't matter whether you're hunting squirrel or bear or elk, this article is for you.
So saddle up, sit tight and let's get started!
---
Scopes and Optics
Since you need a good scope or optic in order to make a humane kill on the first shot, let's start there.
If you are looking for a scope for a beginner rifle, a couple hundred bucks will get you a great set up. As a beginner, you are years away from needing the features on a scope that will cost a few thousand dollars.
Let's look at some great scope options for beginners.
SAFEST NEWSLETTER - WE WILL NEVER SELL YOUR EMAIL
GET GREAT

GUNS AND AMMO

DEALS!
SENT ONCE A WEEK - NO SPAM - NO SELLING YOUR EMAIL
Bushnell TRS 25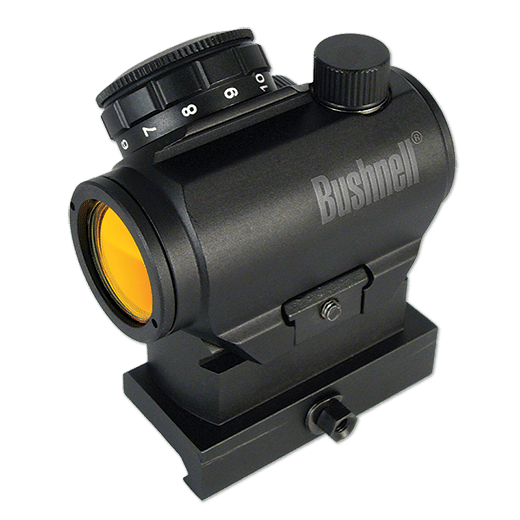 You won't find a better deal than the TRS 25, if you want a non magnified red dot sight. This works good with a .22 LR, small game rifle, since long range hunting requires magnification.
Vortex Crossfire II 2-7×32
The Crossfire II is a good option if you need magnification for your .22 LR. This scope is affordable, yet has high quality glass, for the price. The 2-7 magnification is a good range for shooting with a .22 LR.
If you're interested in bigger game hunting, the scopes listed below are good options.
Vortex Diamondback 3-9×40
The Vortex Diamondback is a step up from the Crossfire, in the Vortex line. This scopes strikes a good balance between features and affordability.
It will work for medium to big game, on just about any rifle. 3-9x magnification works great for the kind of shots you will be taking for this type of hunting. The 40mm lens will transmit a lot of light for low light conditions, like dawn and dusk.
If you know all your hunting will be long range, the Diamondback has a 4-12x magnification that may work better for you.
Leupold VX-1
The Leupold VX-1 is also a great choice for an all around great scope. Ask any hunter and they will tell you what a great scope a Leupold is.
Not only does this company stand for great optics, their scopes are designed and manufactured in the US. Something we can all appreciate.
For more info about rifle scopes check out our guide to choosing the best rifle scope.
---
Small Game Hunting Rifles
Every hunter likes to take to the woods and hunt small game. It's a good way to introduce newcomers to the sport of hunting. They can work on accuracy and shooting skills while having a good time.
Small game, like rabbit and squirrels are abundant. They are not hard to outsmart yet they are quick. You need a reliable and accurate small caliber rifle to take one down.
There are the best beginner .22 rifles to consider.
Ruger 10/22
If you only own one small game rifle in your lifetime, it should be the Ruger 10/22. I'm probably not the only one who would say that either.
This rifle is good for beginners of any age, since it's small and lightweight. There are different versions of the 10/22 so you are bound to find one perfect for your style.
The Ruger 10/22 is affordable and popular. As a matter of fact, the aftermarket accessories are awesome, because of it's popularity.
You can find aftermarket smooth and light triggers to improve your shooting skills. Upgraded sights, like Tech Sight's Aperture Sight are my recommendation. You can also check out slings, like the classic GI Sling.
Smith & Wesson M&P 15-22 Sport
AR pattern rifles have become the best selling rifles in the country. Because of that, they are now affordable and everybody wants one.
The Smith & Wesson M&P 15-22 Sport is a great small game rifle. It is lightweight, easy to handle, and has minimal recoil. It also holds enough ammo in the magazine for a full day of hunting. Those are all perfect features for a beginner rifle.
Since this rifle would mostly be used for inside 100 yards, I'd recommend the high quality entry level optics mentioned above. Either the Bushnell TRS-25 or the Vortex Crossfire II 2-7×32 would work great for this rifle.
Henry Golden Boy
Then you first take a look at the Henry Golden Boy, you'll think it looks like a display piece. When you shoot the Henry Golden Boy, you'll see it's a serious rifle.
As a matter of fact, the Golden Boy is arguably one of the highest quality, lever action, small game rifle on the market.
This rifle is fun to shoot and is reliable and accurate. It's affordable too.
---
Big Game Hunting Rifles
This is, as the heading suggests, your all around rifle. This rifle is the one most hunters use for many different things. It works for deer, elk, wild boar, and up to black bears.
Caliber is a common question and the answer is a personal choice. There are lots of choices out there but I'd stick with the 7mm-08 Remington, .270 Winchester, or the .308 Winchester.
Any of these will work great. The important thing is to get out there and practice your shooting skills.
Savage Axis II XP
The Axis II is one of the best values in bolt action rifles. For an affordable price you get an accurate, lightweight, quality rifle. This rifle should be considered if you are on a tight budget.
Tikka T3 Lite
The Tikka T3 Lite is a little more money than the Axis II. Not too much though. Tikka has a guarantee that, as long as you use good ammo, your shots will be inside a 1 inch circle at 100 yards.
The features on the Tikka are the best you will find in this price range. Once you get into a price range over $1k you will find titles better than this one. You just can't find a better rifle in it's price range.
Remember, having a humane kill is important.
A well placed shot in the heart or lungs is the most humane kill zone. Caliber matters too because a lighter round will not have enough power to take down a larger animal.
For accuracy, and power with as little recoil as possible, I would go with the .300 Winchester.
Kimber Montana
The Kimber Montana has a few features that are really nice to have. It is actually lighter in weight than the Tikka T3 Lite.
The Tikka with high caliber cartridges would work for large game hunting, but like I mentioned, the Kimber has some really nice features for a few hundred more.
If you want to save a little money. Stick with the Tikka T3 Lite. If the extra features of the Kimber Montana are worth it to you, then by all means, get the Montana. You won't be dissapointed.
---
Dangerous Game Rifles
If you're brave enough, as a beginner, to head out to the African safari, or if you're not a beginner but are looking for some dangerous game rifles, here are some options for the true adventurous soul.
Kimber Caprivi
The Kimber Caprivi has that classic safari hunting rifle look, yet boasts modern features you'll love. It is relatively lightweight for a rifle of this caliber, weighing in at 8 lbs 10oz.
It has built in iron sights, a 1 inch recoil pad, and a three position safety. This beauty will cost some denaro, but is well worth it.
Montana Rifle Company Dangerous Game Rifle

The DGR is a less expensive than the Caprivi. It has a more modern look and it's iron sights are removable so you can replace them with a scope. The DGR has a muzzle brake, which reduces recoil by 30-50% (and makes the gun louder).
This rifle is available in six different calibers. If you are shooting inside of 200 yards, I recommend the .416 Rigby. If you shoot beyond that I recommend the .338 Lapua Magnum.
Custom Rifle by James Purdey and Sons

If money is absolutely no object, consider a custom made rifle by James Purdey and sons. There double rifles will set you back quite a bit.
The entire rifle is hand made, to your specifications. James Purdey and sons has been making fine firearms since 1814.
---
Conclusion
Like I said at the beginning of this article, I could talk about gear all day long. I could give you links to the best accessories, help you find deals, and show you a world class rifle (that most of us can not afford), until the cows come home.
Realistically, we could have made this article pretty short by recommending any beginner hunter go out and get a Ruger 10/22 for small game, and a Tikka T3 Lite for big game (in the calibers listed above),  put some good optics on them and get out there and shoot.
Head to the range or the woods. Any beginner will have the time of their life and be well equipped with these simple recommendations.
To find out which ammo calibers you should use with your hunting rifle, check out our bullets guide and our list of the best ammo stores online.
Related Reads: