If there's anything you need to know about hunting rifles, it's that there is no such thing as a 'universal hunting rifle.'
In other words, there's no one hunting rifle that can be used for all of your hunting purposes. After all, would you really go squirrel shooting with the same rifle that you would use for deer or elk or game bigger than that?
Obviously not. You need to have different hunting rifles in your possession to fulfill different hunting uses, and one of those types of hunting rifles that you are going to need will be a big game hunting rifle, and specifically one that can be used for the biggest game of all, such as moose, brown bear, or even African plains game such as eland or cape buffalo.
Such a rifle would undoubtedly be a good choice to have in your collection, one that bring down the largest of game and at long distances.
Sure, you may already have numerous hunting rifles in your collection already. Popular options include the .270 Winchester, .308 Winchester, and the .30-06 Springfield. And while those are certainly very versatile and potent calibers, they are a bit underpowered for the biggest of game.
That's why this article is going to focus extensively on using true big game hunting rifles for the largest and most ferocious animals on the planet. If you've ever heard the old saying 'bring enough gun,' well, the guns that we're about to cover will fit that bill.
Get Great Guns and Ammo Deals!
---
Something To Know About Big Game Hunting Rifles
If there's anything that you really need to know about big game hunting rifles, it's this: they kick hard and they are going to bruise your shoulder, most likely.
These are not guns that you will necessarily enjoy shooting and that you're going to want to take to the range every week. Higher caliber rifles pack a punch, and that's the trade off you're going to get for their extra power.
But at the same time, big game hunting is hardly a laughing matter, so bringing added firepower will always be very critically important. Whether you're going to be tracking a moose across Montana, a Grizzly Bear in Alaska, or Cape buffalo in Zimbabwe, you need a rifle that will drop them on a single shot, and that means getting a rifle in a big caliber.
What are some examples of such big game calibers? We'll go over that in the next section.
---
Calibers To Consider
Next, we'll go over some common calibers for big game hunting rifles. Something worth of note is that while you don't want a caliber that is too light, you also don't want one that is too overwhelmingly heavy.
For example, the .308 Winchester is a good caliber for most game up to the size of elk, but it's pretty light for anything more than that. It won't be a good choice for bear, moose, eland, or cape buffalo.
But at the same time, there's really no need to go overkill with a massive caliber such as .600 or the .577 Nitro Express, which is going to really bruise your shoulder with only a single shot.
The sweet spot is to get a caliber that is capable of bringing down the biggest and most dangerous game while also not going overboard with something that you're simply not going to really enjoy shooting.
Here are some calibers that meet that sweet spot:
.45-70 GOVERNMENT
The .45-70 kicks hard, and effective range is limited in contrast to other calibers in this list while preserving accuracy. This is why the .45-70 is often used as a guide gun or as a defensive weapon.
For example, it's very common to get a .45-70 in a lever action configuration that will allow the hunter to get several shots off at a charging animal.
.338 WINCHESTER MAGNUM
The .338 Win Mag was a caliber originally designed to bring down anything in Alaska, including moose and brown bear, and it is even used in the African continent as well.

.375 H&H
The .375 H&H is quite arguably the most versatile hunting caliber on the planet, because it can be used for everything from elk to moose to bear to eland to buffalo and even to elephant.
In fact, the caliber can even be used on deer if used in a lighter load that won't make as much of a mess of the meat. In Africa, the .375 is the minimum caliber allowed for hunting the Big 5 such as lion and buffalo.
.416 MAGNUM
A gun with even more power to it is the .416 Magnum. This gun is designed specifically to bring down thick skinned big game in Africa, and it produces even more recoil and kick than the .375 H&H.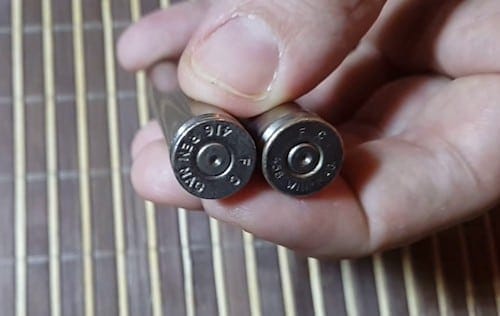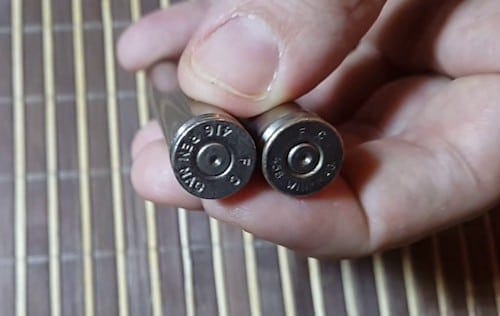 Each of the above calibers is powerful enough to bring down the largest and most dangerous game on the planet while also not being as bruising as calibers such as the .500 or .600 calibers.
---
Best Big Game Rifles
Next, well go over some of the best examples of big game rifles for you to consider, presented alphabetically:
The Browning BLR is a lever action rifle that accepts box magazines for faster reloads. It is chambered for a variety of big calibers, including the .358 Winchester, .450 Marlin, and .30-06 to name a few calibers. Historically, it was even offered in the .338 Winchester Magnum, and used models in that caliber can still be found floating around.
As a lever action rifle, the Browning BLR allows you to have a faster rate of fire in contrast to bolt action rifles or single shots, and again, the box magazines make reloads much faster. At eight pounds, the rifle is also comparatively light.
Another lever action example is the Marlin 1895, chambered for the .45-70 round. This is a very common guide gun in North America, and while the .45-70 is too light for the largest African game such as elephant, in North America the rifle is often used against hogs and bear.
The .45-70 is only effective out to moderate distances in contrast to other calibers, and as a lever action, the 1895 also has a faster rate of fire in contrast to other bolt rifles. The idea is that the rifle can be wielded quickly in a defensive situation against dangerous game if need be.
That being said, the Marlin 1895 could also easily be used as a primary hunting rifle if need be. With a weight of seven pounds, it is relatively light and easy to carry around. The stainless steel finish also means that it is very rust and corrosion resistant in contrast to blued finishes.
An example of a premium big game hunting rifle that will cost you a lot of money (as in around four thousand dollars or less) is the Weatherby Mark V.
But this is also a rifle that is designed specifically for big game. The lowest caliber it is available in is the .300 Weatherby Magnum, and the largest is the .460 Weatherby Magnum.
That's also not to mention that this rifle is incredible durable and beautifully made, with a very smooth action thanks to its fifty four degree bolt lift to make it easier to eject spent shell casings and load a fresh one from the magazine.

A cheaper but still very high quality option for hunting big game is the Winchester Model 70 Safari Express. The Model 70 is one of the most popular hunting rifles ever made, and the Safari Express model features open sights, a forged steel receiver, double recoil lugs, and a blued satin finish against a truly beautiful checkered walnut stock.
It also features a pre-64' claw extractor for a smoother operation and a rubberized recoil pad to help handle the recoil. As with other M70 rifles, it also features a three position safety: position one renders the action and trigger inoperable, position two allows you to work the bolt but not the trigger, and position three enables the weapon to be fired.
The trigger is also built. out of steel and was built with extra strength by Winchester in order to handle the larger calibers.
---
Conclusion
In summary, having at least one rifle in your collection that can handle the biggest game in the world would be a good idea. You don't want to settle for a rifle that's too light, and any of the calibers or rifles that we have covered here today will be a good choice for big and dangerous game.