If you clicked on this article then you're either trying to decide on what handgun to buy for yourself or you're looking to find the best handgun for your significant other.
If you're in the market for your own handgun, keep reading! I have plenty of suggestions for you.
However, if you're trying to find a handgun for your girlfriend or wife, save this article for when the two of you have time to take a look at this together since the best handgun is always the handgun selected by the shooter herself.
That's right, breaking news! Women's opinions matter. And, in all seriousness, if she's gonna have to handle the gun, she should have a say in what she thinks will work best for her.
And let's get something straight right outta the gate: This will NOT be a list of some teeny weeny pink guns with hearts and Hello Kitty emblems on the grips. These are simply some of the best options that are tailored to the unique needs of the female shooter.
So let's get started!
---
Basic Considerations
In my years of experience with handguns, I've come to believe that the best long-term gun investment a shooter can make is in purchasing a full size centerfire handgun.
While rimfire guns with calibers like the .22LR are viable options for first-time shooters, the centerfire handgun is more versatile and gives the beginner more fire power. That equates to more bang for your buck minus the unwieldy recoil of other weapons.
You can click here to watch a video that breaks down the key differences between rimfire ammunition and centerfire ammunition.
Unlike .22KR pistols, the centerfire handgun can serve a number of different roles; it can act as a plinker, a training tool as well as a viable firearm for competitive purposes.
Choosing a good centerfire pistol can make the shooter's life much easier in terms of learning how to shoot and maintain a handgun well.
Here, I've selected my top ten picks for favorite handguns. I believe these pistols to be the perfect fits for women, both as novice shooters and more seasoned, experienced shooters with small frames.
Some keen readers will recognize these pistols as the same handguns that are regularly recommended for men. There's a clear reason for that and it's simple. We're all human and this isn't some condescending diatribe about women being the weaker sex.
On the contrary, it was my wife's idea for us to write up this list because, as she pointed out, the fairer sex are generally smaller and have less grip strength than your average Joe.
The idea behind this list is to account for the fact that many women have less upper body mass and, thus, require a weapon that is more lightweight and compact.
So, although most guns can work well for both genders, here we allow for specific needs such as petite grips and more recoil control.
Earlier I said that this list would not have any teeny, tiny pink handguns on it. There's a solid reason for that.
Tinier pistols can, in actuality, be tougher to manipulate effectively, particularly because of their stiff, cumbersome recoil springs. As a matter of fact, smaller guns result in the shooter feeling the recoil more than they would with larger pistols.
You'll probably notice that the majority of my top picks for best handguns for women are 9mm guns. "Why?" you ask? Simple.
As I've experimented with a number of handguns over the years, the most reliable of them all have been 9mms. In my humble opinion, it's just a great caliber and is almost always affordable and versatile.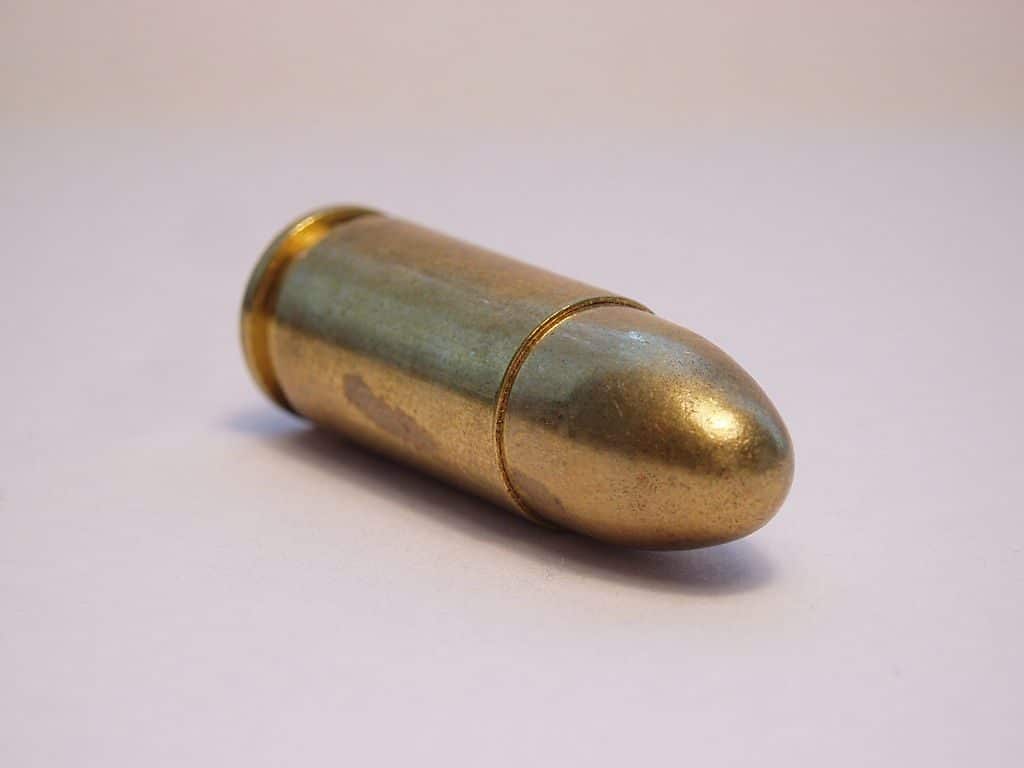 9mm handguns are appropriate for anything from shooting for fun or on the range to self-defense shooting and tournament shooting.
It's simply a well-rounded caliber for all of your shooting needs. But perhaps most importantly, it's got a low recoil which makes it suitable for learning how to shoot well.
Another reason why the 9mm is good is because it's a very common caliber which means it will be readily available when it comes time for you to purchase one and you'll be able to find ammo for it even when ammunition is in short supply. For more info, visit our 9mm ammo for self-defense guide and for info more about ammo and bullets you can read our bullets guide .
Now that you have a general overview of all of this, let's take a look at my top picks!
---
Best Pistols for Women
Download our exclusive printable shooting targets for FREE ($47 value)
1. Sig Sauer P320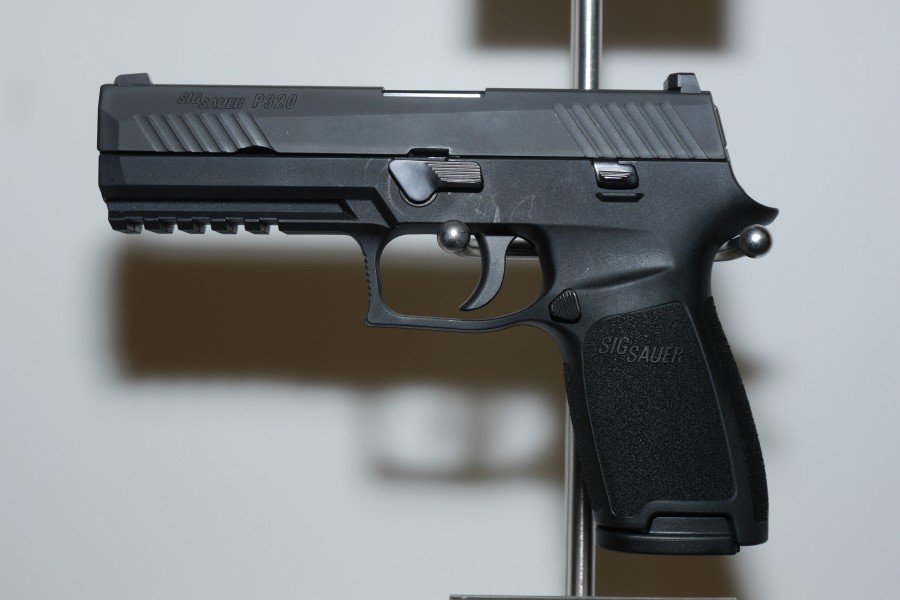 This one is "number one with a bullet" because there's really nothing about it I don't like. The design is sexy, sleek and packs a punch. Even though this handgun is one of the newer kids on the block, it's every bit as awesome as your average Glock.
Like the Glock, the P320 is a striker-fired polymer pistol and, like the Glock, it's fairly affordable at $599. It's also worth noting that the P320 was chosen to be the new service pistol by the US Army back in January of 2017.
Maybe that won't matter to some women, but the P320 also has other unique features that may be appealing to them. The one that may be the most interesting of all is the fact that Sig Sauer offers separate grip modules in different sizes so that users can tailor the pistol to their hand size.
This, of course, can make the P320 much easier to handle for women with small hands.
Like the gun itself, the grip modules are reasonably priced and can be ordered online with ease. The other thing I find nice about the separate models is the lack of risk when it comes to personalizing your handgun since damaging one will not compromise the integrity of the handgun itself.
What's more, there are Caliber-X Change kits that are obtainable without having the buy another gun, so women can won't have to spend as much to have a gun in whichever caliber they prefer with a range of grip and slide lengths. No matter what she's doing with her gun, she'll be covered.
What this means essentially is that she'll have the same trigger no matter if she's harnessing a range training gun or a home defense pistol.
2. Glock 19, Gen 4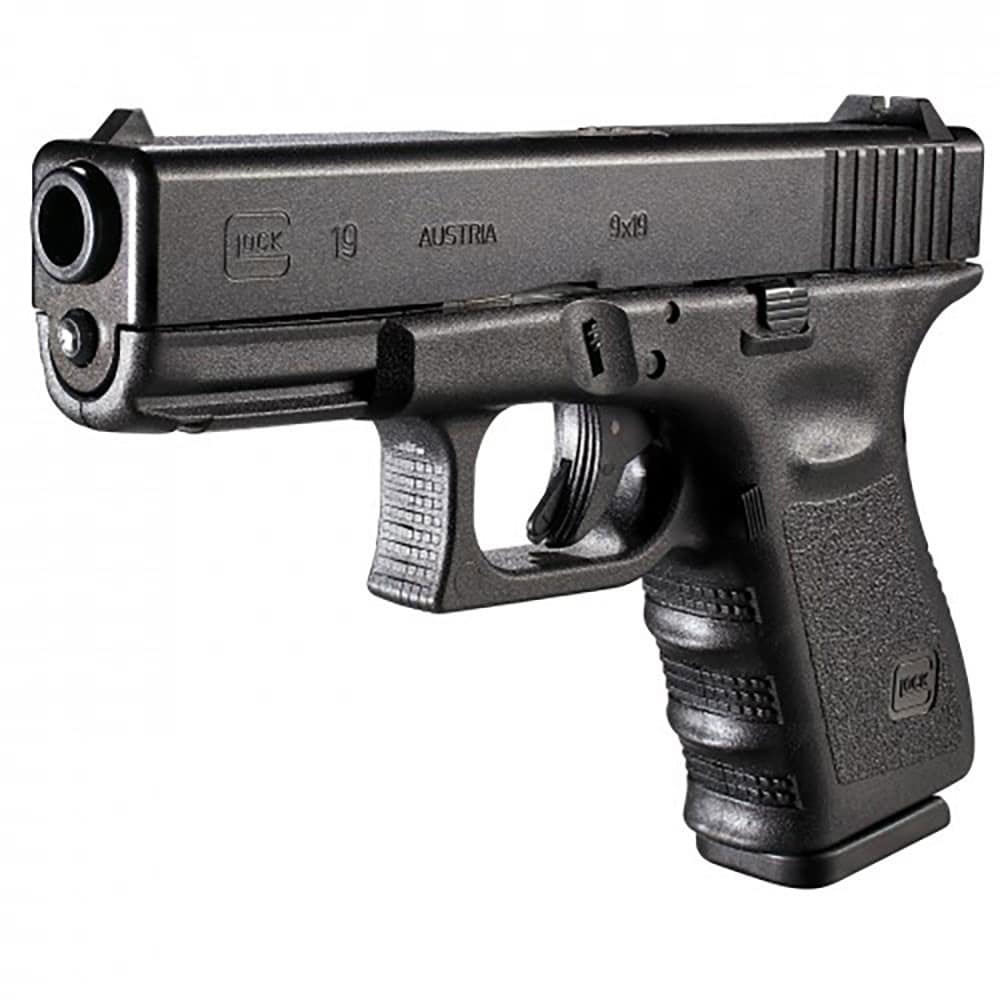 For the frugal firearm owner, the Glock 19 is bit cheaper than the P320, retailing for just five hundred and forty nine bucks. A regular recommendation on gun forums and the like, the Glock 19 might be a good option for most women, if for no other reason than there is no shortage of literature available online.
Whether you want to learn more about it in a short YouTube tutorial or see what people are saying about it on one of the many Glock-related Facebook groups, you'll have no trouble finding helpful information to give you an overall idea about what it's like to own this one.
The Gen 4 version of the Glock is fitted with modular backstraps for adjustment of grip size which takes some of the hassle out of the process.
There are several reasons why the Glock 19 might make a good girl gun for you or a loved one. As with the other striker-fired handguns on this list, it is easy to operate and has minimal controls. The Glock 19 doesn't have a hammer or anything like that, rather it's got a simple striker and a consistent trigger pull.
The Glock 19 is a medium-sized lightweight polymer-framed pistol that has a "safe action" trigger system and dual recoil springs. Just a couple more reasons why it's an ideal choice for many women and novice shooters.
Basically, this one's a no-brainer! If you know how to operate kitchen appliances or mastered the art of driving a car, you'll be able to learn how to work this one without any headaches. It really requires hardly any instruction and can be mastered with minimal training.
More experienced shooters will also appreciate its enlarged reversible magazine catch.
There are also a lot of accessories available on the market for this one. There are a variety of holsters out there which cater to women (and men) of all shapes and sizes. So whether you've got an hourglass figure or you're an Amazon, you can be comfortable carrying this gun.
The Glock 19 has a shorter grip than most other Glock models which makes it more comfortable in small hands, so you'll be covered there as well. But fortunately, it's not so small that performance is affected in any way. If you're a lady in the market for a carry gun, this is the one I would recommend over all others.
3. Smith & Wesson M & P 9mm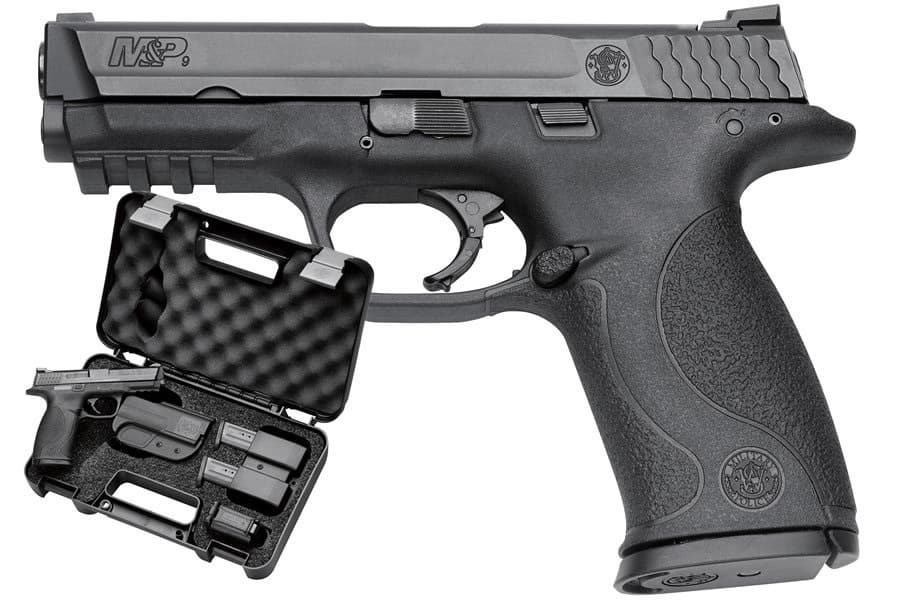 Smith & Wesson is a name that has been a perennial presence throughout my entire life. As a boy, my father had Smith & Wesson bumper stickers and decals over every inch of his foot locker and all across the back of his cargo van.
There's a reason why the name is so recognizable and that's because Smith & Wesson has a long history as purveyors of some primo armaments. Another striker-fired gun, the Smith & Wesson M & P is even more affordable than the Glock 19, selling for as little as $529.
A lot of gun lists recommend the smaller M & P shield for women, but I honestly believe that the standard size M & P model is the better weapon for long shooting sessions and extended hours at the shooting range.
The full size nine milli comes without a thumb safety which streamlines the learning experience so that all you've gotta focus on is mastering sights, trigger, magazine release and slide.
The grip size on this baby comes with multiple back straps, each of which is replaceable without the need for tools of any kind. This also means that you can personalize your handgun without running the risk of damaging the gun's body.
The small backstrap is very thin, making it user-friendly for those with tinier hands. It can also run without any backstrap whatsoever which makes it one of the smaller double-stack pistols on the market.
4. Smith & Wesson Model 66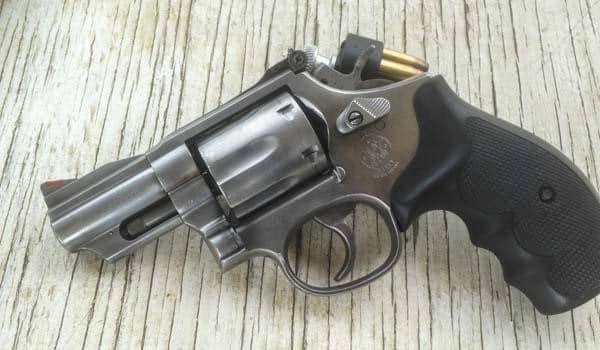 I couldn't make a list of handguns without mentioning Smith & Wesson at least twice. This K-frame revolver is often overlooked when it comes to top guns for women, but I like to think of it as the unsung hero of the pack.
The Model 66 is larger and heavier than the other guns on my list, but it's not a monster and it can be every bit as accurate as the others on here.
The most noteworthy thing about this one is that it doesn't have as much kick as similar revolvers which is good for beginners and those with smaller hands because you won't be nursing the bruised webbing between your thumb and pointer finger after an extended shooting session.
It's got full top strap and barrel serration in addition to other unique features. At $849, it's definitely one of the pricier choices on this list, but sometimes you pay for quality.
5. Sig Sauer P250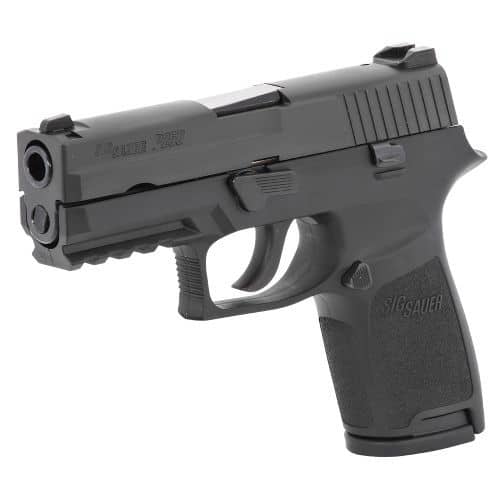 Like Smith & Wesson, I'm a big believer in the Sig Sauer brand so it's worth mentioning these guys twice as well. This one might be a worthy alternative for women who are looking for a handgun with the double-action trigger pull of a revolver with the added capacity of a semi-automatic.
At $429, it won't break the bank and it can be as easy to use as the others I've mentioned above. A hammer-fired double-action pistol, this one has similar features to those of the P320 such as grip size, modularity and accessory availability.
The grip modules, holsters and magazines of the P250 are interchangeable. This expands your options in terms of accessory selection and upgrades.
While the double-action element of the P250 makes it tougher to fire than a striker-based gun which is why I always tell my female friends that they should start with a striker gun before purchasing one of these puppies. But for those who intend to build up their collection, this one is a nice addition.
Another drawback to this one is the costly ammo which can be scarcer than ammunition for similar handguns, but its easy to run slide and consequent lack of recoil makes it a worthwhile choice for many.
This extends beyond the casual user with Police Magazine calling it "a dream come true."
The modular design and patented Sig Sauer locking system are some of the key features that many women find appealing.
6. Rock Island Armory Ultra FS 9mm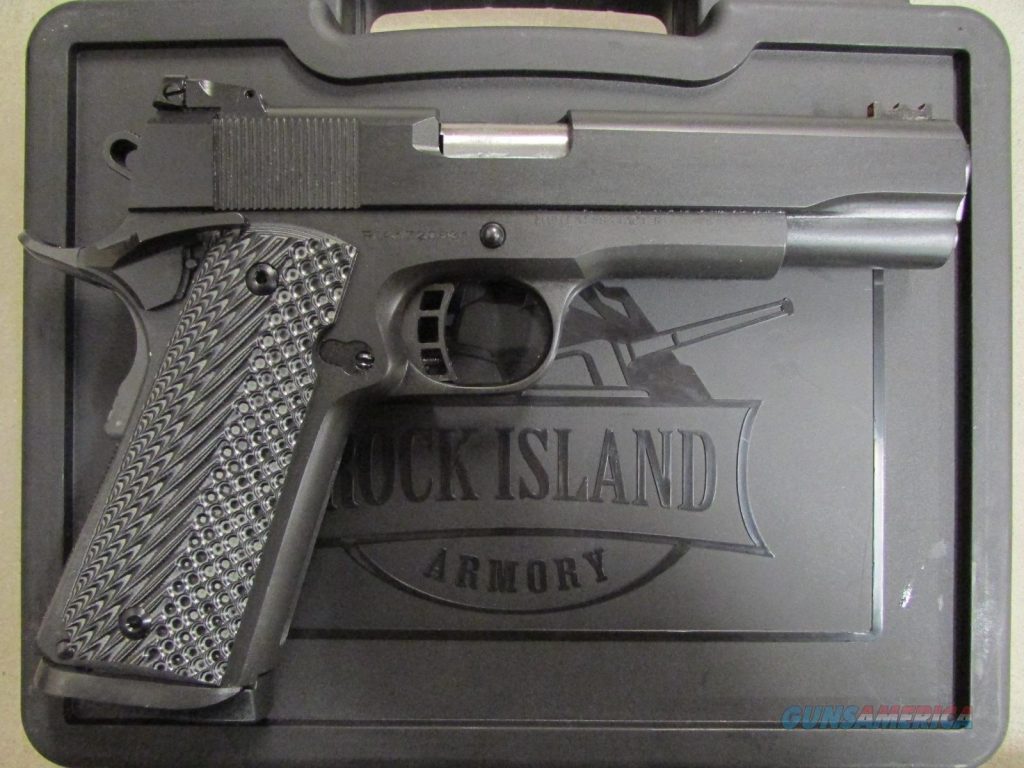 The Ultra FS is one piece that I often refer my lady friends to because it's got manageable recoil and is easy to learn how to grip, maneuver and shoot.
With a range of grip panel options including cut-out ones with make it easier for those with small hands to reach the magazine release, the Ultra FS is just a solid alternative to other pistols when it comes to ergonomics alone.
Its other features include snag-free fiber optic combat-style sights and a full-length guide rod. I also recommend this one because, if you're anything like me, you like to cling tightly to your purse strings and the Ultra FS helps you do that.
There are sellers on Gun Broker offering this model for anywhere from $329 to $449.95. Their lists are regularly updated which means you can take your time and see if, maybe, someone will list one for less.
7. CZ 75B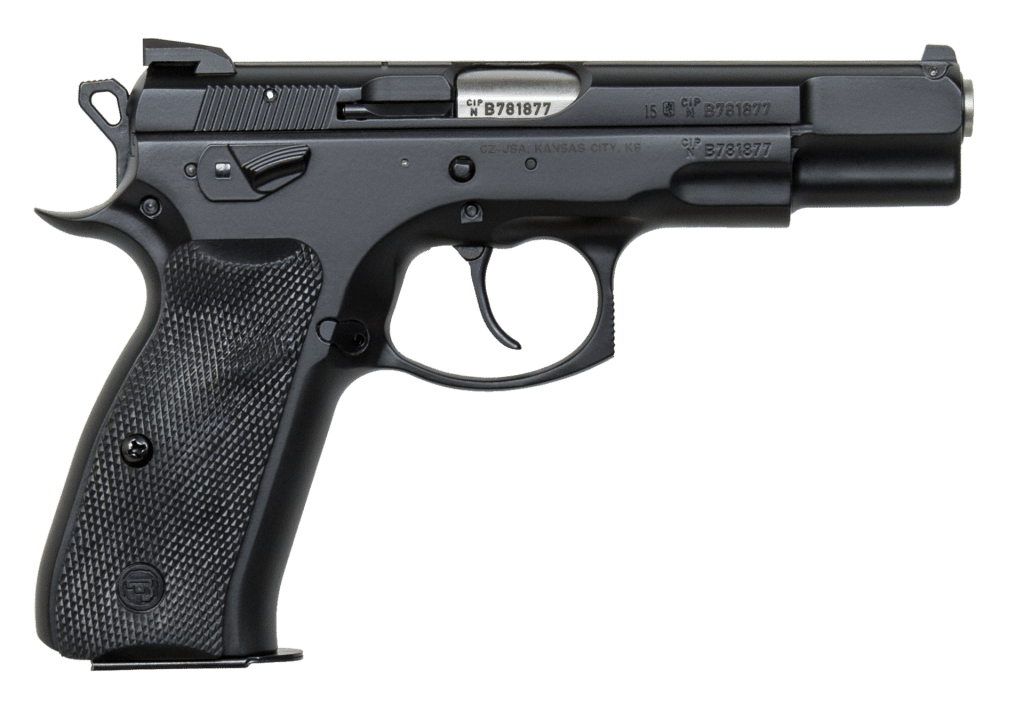 As with the P250, this is not really a beginner gun, but it's definitely one of the handguns I would recommend to women who have been through training and feel comfortable stepping up their game.
It handles well after the initial trigger pull and is a great alternative to other home defense handguns and competition pistols.
At a price point of $599, it's on the pricer side, but the sheer volume of aftermarket upgrades means that you'll be able to get a lot out of this one which pays off in the long run. This one comes with a manual safety and 3 dot sights which a lot of women prefer for accuracy.
8. Ruger LC9 9mm Luger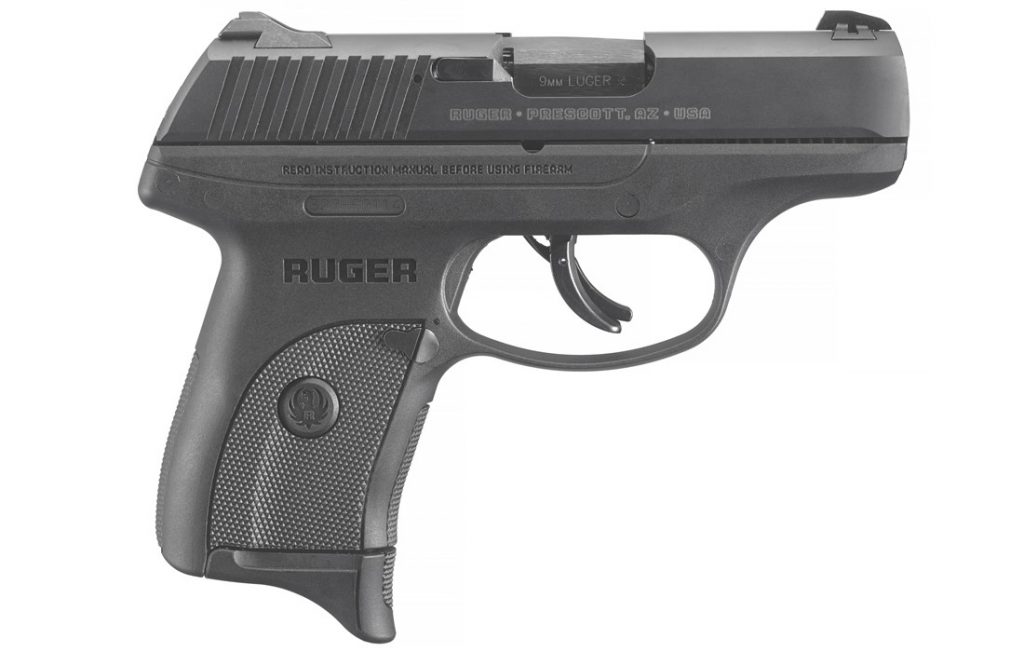 Another striker-fired pistol, the Ruger LC9 Luger is one of the simplest weapons for first-time shooters. Its 7 round single stack magazine makes it ideal for short bursts when one is starting out.
When it comes to conceal and carry, this one is just the right size for a handbag or tote bag. It is also lightweight enough to carry around in an ankle holster.
When it comes to self-defense, this is the weapon I always recommend since its cartridge is geared toward self-defense purposes. Most of my friends and family appreciate this one for these features and the fact that it is cost-effective at $379.99.
9. Kahr CW9 9mm Luger
For new shooters who favor a handgun with class, the silver body and sleek design of this one will be very attractive.
I picked one up myself because I had heard about its reputation as a defense pistol. As it turns out, the folks at Kahr Arms specifically designed it for concealed carry.
Of course, like most guns, it has its pros and cons. While it is a fairly simple design that lacks some of the flashy features of other handguns, it's not always the easiest to use in some women's experiences. Some have found it hard to rack the slide and others have complained about the stiffness of the recoil spring.
All in all, I'd have say that the Kahr CW9 is a good choice for those who are looking for a nice prop piece. It'll look sweet in a holster or on your shelf, and it'll get the job done in short bursts, but it's not exactly the greatest pistol for longer sessions.
10. Smith & Wesson M & P Bodyguard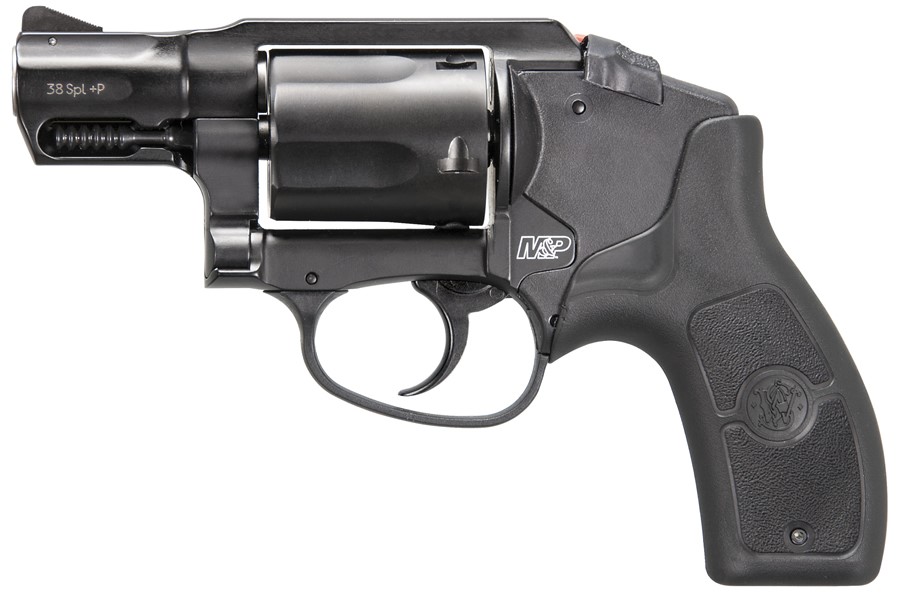 I told you I just can't get enough of Smith & Wesson pieces, but I'm including this one because it's another revolver, something that many women favor over other kinds of handguns.
This one weighs in at only 14 ounces which is something that many women will prefer over larger, heavier handguns. Personally, I tend to recommend a full size gun, regardless of whether you are starting out.
But for those who are dead set on a smaller model, you may enjoy the experience of handling the Bodyguard. Like Kevin Costner, it won't let you down.
It's got an ambidextrous cylinder for lefties and righties alike and the laser sight is an attractive feature which can instill confidence in a first-timer.
---
Conclusion
As you can see, there is a wealth of excellent choices from which to select a piece. You may be wondering which one you should choose from the options listed above.
The truth is, only you can decide for yourself what is right for you and your needs. The smartest thing to do is practice shooting each of them or, in the very least, handle them in a gun shop. That way, you can determine which one feels most comfortable in your hand.
Weight is a key factor for most first-timer shooters.
Finding a shooting range near you or, short of that, a friend with gun experience who will show you how to shoot are some great ways to break in your first handgun. Always prepare before your first visit to a gun range.
You should also consider what your budgetary needs require. There is no point in blowing money you don't have on an expensive handgun, especially if you're not going to be able to handle it over an extended period of time.
You may want or even need to purchase accessories beforehand, particularly a holster since many shooting classes require that you bring one.
All of the guns that I've covered here are ones that women will remove from their home safe time and time again. For most novice shooters, I would strongly recommend sticking with one of the first options on this list if you are using it for training purposes.
Like a first car, they will help you to determine what you want in your next handgun. Once you've mastered the art of shooting, you may want to upgrade to one of the pieces at the tail end of this list. That being said, you may even want to explore other options and there are plenty of them out there.
We also have very useful guide if you are looking for an all-purpose handgun for beginners, for guys or gals.
So there you have it! Take your pick and fire away! Safe shooting, everybody!