Is it possible to buy ammunition online?
Well a lot of people will be surprised to find that the answer is actually yes.
Over the last 10 years a multitude of stores have open up online allowing customers to purchase ammunition directly from factories and save themselves a lot of money. Online ammunition purchases are something that people generally avoid because they are unsure of the legality.
It's important to first check with the laws and regulations of your county or area before deciding to buy your ammunition online.
With that being said, let's look at some online retailers.
But first let's talk advantages. 🙂
SAFEST NEWSLETTER - WE WILL NEVER SELL YOUR EMAIL
GET GREAT

GUN AND AMMO

DEALS!
SENT ONCE A WEEK - NO SPAM - NO SELLING YOUR EMAIL
---
Why Buying Online Ammunition is Better
The biggest advantage of purchasing ammo online is that you're going to save a lot of money.
Period.
Consider a regular store that requires employees, pays taxes and has a lot of overhead expenses. An online vendor doesn't have to pay for any of those expenses and their overhead is a LOT lower. Those savings are passed on to you, the consumer, and you can end up saving a lot of money.
That means more bullets and rounds for you at the range. 
The second advantage of online ammo purchase is it's delivered within a short period of time (meaning no trip to the store).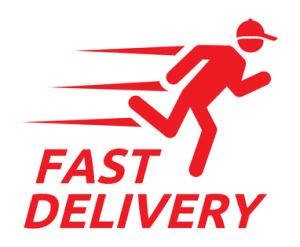 Third, HUGE selection. Normal stores can't carry the inventory that an online retailer can. You'll find some of our recommended stores have insane amounts of available ammo for all makes and models of guns.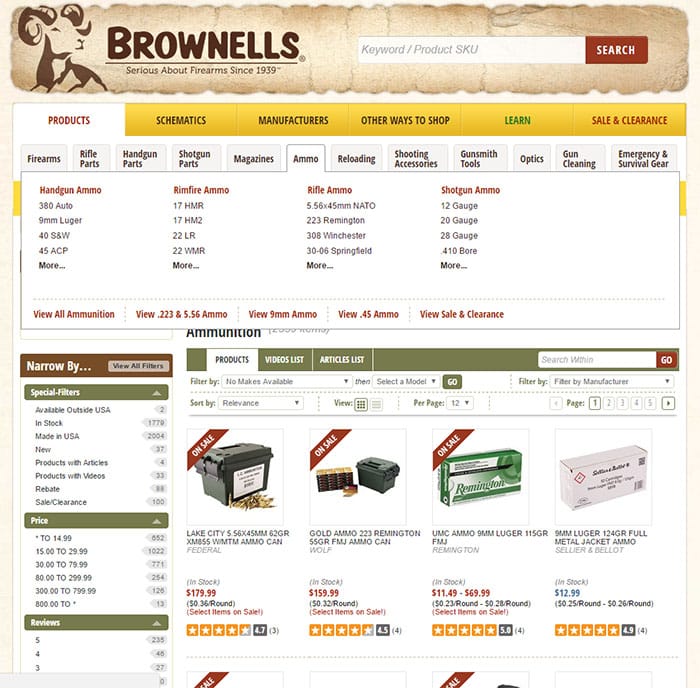 Fourth, bulk discount orders. Online retailers have a lot higher margins than traditionally operated establishments which allows them to add on 15-20% discounts for bulk orders over $300-500 dollars. A regular shop would never do that.
In this guide we're going to cover everything you need to know about buying ammo online, including the advantages, things you should pay attention to when buying and also the best places to find killer deals on bulk orders and specialty ammunition.
We'll cover some of these benefits in closer detail below.
More and More People Are Choosing Online Purchases
In a 2002 survey conducted by the NSSF gun owners throughout the US reported that almost 56% of them purchased ammunition online and those who did stated lower cost and faster delivery as the primary motivation.
Think about all the times you've gone to a store and spent hours looking through their stock to find ammo and then waited for the shopkeeper to help you out to finally end up buying only one or two boxes.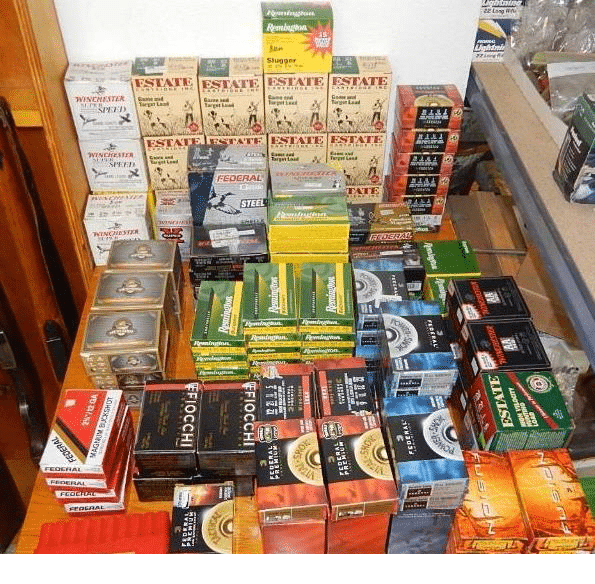 In some cases store purchases are 50% more expensive. Since online distributors want you to purchase more than one box of ammo they often incentivize bulk purchases and pass the savings off to you.
The end result is you can buy a boatload of ammo at a cheaper price and get it within 2 to 3 business days at most. Now, that's a winning situation.
Oh and there's another huge advantage to buying everything online.
When you go to physical gun store there is only a certain amount of storage space, they can't hold every kind of bullet or ammunition available. With an online distributor or seller you can access and purchase a variety of ammunition that a traditional store just wouldn't carry.
This is great for gun collectors or enthusiasts who would like to purchase high-end ammunition or a lot of specialty rounds.
The next big advantages is taxes. When you go to a physical store you're going to be paying taxes and depending on which state you're in, it might end up costing you an additional 15%.
When you purchase online those taxes aren't as high and a lot of distributors actually include the taxes into their pricing structure to make it a lot cheaper for you.
OK. Let's recap some of the advantages before you get too bored.
You're going to save a boatload of money because you're buying in bulk.
You're not paying the government so much of your hard-earned tax dollars.
Fast delivery within 2 to 3 business days. A lot more selection then you're going to get at your local Ma and Pa gun store.
Better selection.
As I mentioned in the beginning of this article different states and counties have very different laws for purchasing ammo. Some of these laws dictate that people can purchase ammo online and in large quantities, while others are a lot more restrictive in what can be purchased online.

---
Note, anyone who does purchase ammo online must be 21 years of age, we don't promote or endorse anyone purchasing online ammunition without first doing the research. For more information check your local government website or ask your local representative for more details about what you can or can't purchase.
---
Online Ammo Purchase Laws By State
Now let's take a look at some of the different restrictions that exist in 2017.
Washington DC allows for no ammo purchases online.
New York ammo must be sent to an FFL or either a special seller with no online ammunition to be sold in the New York City.
Hawaii is another no ammo online or primer shipments state.
California has different rules for each one of their cities. For example Beverly Hills, Los Angeles, San Francisco, Oakland, Sacramento, Marion County and Carson don't allow  ammunition or tracers to be sold.
Connecticut allows for online ammo purchases with some certificates or specific permits.
Alaska is another state that does not allow any primer shipments or online ammunition purchases.
Now with that aside there are still a lot of states that allow for online ammo purchases with proper ID and permits.
More and more distributors are popping up that allow people in different areas to start purchasing.
Below is a list of some of our top online ammo sellers and a little write up below each one explaining why we like them or why we don't like them.
We have purchased ammunition from all of these on multiple occasions and have friends who have done the same.
---

One of the most popular places to buy online ammunition is Lucky Gunner.
Lucky Gunner has the largest online ammunition inventory in the US, they also have extremely fast shipping, great prices and a cool shipping estimator that lets you know exactly how much your order is going to cost.
We've been purchasing ammo from Lucky Gunner for last four years and have yet to encounter a problem with their service and products. The biggest issue with a lot of online weapons or ammunition dealers is that their websites are slow, unresponsive and generally look like they were made in 1991.
These cause a lot of problems for modern browsers like Chrome or Firefox that have updated security protocols. Often when purchasing from one of these online vendors you'll find out that your shipment or order gets stuck halfway in the check-out process and you're left wondering if your money went through or if you should put the order in again.
Luckily, Lucky Gunner's system is updated and it works flawlessly. We have put in multiple orders without any problems at all.
Lucky Gunner checks their inventory before the purchase and avoid annoying issues like buying your ammo and then finding out that there's none in stock.

Brownell's is one of the original gun manufacturers and are masters of specialized parts and tools.
They're an older company that prides themselves on exceptional service, great prices and an overall great customer experience. Like the issue I mentioned earlier they have also updated the website and it's totally responsive and functional.
You don't have to worry about your order getting stuck and what you see in stock is what is available.
Another great feature of Brownell's is the ability to return any product that you don't want with their flexible customer return policy.
---
Best Ammo Brands on the Market Today
It's important to do your research before you purchase ammunition and find a brand that is reputable, safe and not too expensive.
I want to suggest and recommend some of the ammo brands that I've been using for the last couple of years and show you why I like them.
I haven't had any issues with these brands and I think that their products maintain the level of quality that is a couple of steps above their competition.
American Eagle is another affordably priced ammo brand that is manufactured in the US. I use these often and have purchased American Eagle products in bulk.
These are one of the most common brands that you'll see in gun stores throughout the US. Walmart carries their budget brand known as Federal Champion.
Go here to buy American Eagle ammunition online today.
PMC is some of the cheapest rounds that are great for target shooting or for just using on different calibers.
They are made in South Korea and can be purchased in stores throughout the US.
Go here to buy PMC ammo online today.
Tula is one of the most popular ammo brands for the AK-47. It has a polymer coated steel case and is affordably priced.
Click here to buy Tula ammo online.
---
Best Ammo for Different Calibers

So in this section we're going to cover what the different calibers are and what kind of bullets are best for each caliber.
We're also going to introduce some of the vocabulary like FMJ or JHP so you know exactly what these mean and when to purchase these kinds of ammo.
Will also cover some of the best ammo for self-defense and shotguns. There are a total of 18 different calibers we'll discuss however please pay attention to the ones at the top because these are the most commonly used.
Or if you want more read our epic bullet and cartridge guide.
9mm Luger Ammo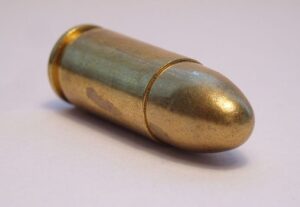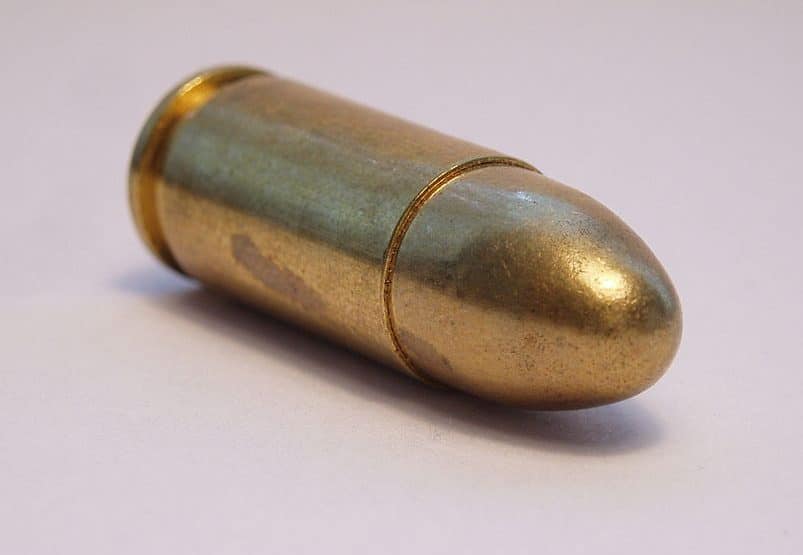 The average price of Luger 9mm ammo is around $.25 per round.
I would suggest using the 124 g instead of the more commonly use 115 g which seems to be a little bit harsher in recoil.
Either way you can try out both of them and see which one you like.
Opting for brass cartridges over the cheaper steel or aluminum cartridges is a great idea as well.
Two kinds of ammo that I like for the Luger 9 mm are the Blazer Brass 50 rounds and also the PMC at 50 rounds.
Blazer Brass 50 rounds
PMC at 50 rounds
For self-defense gone 9 mm I would choose:
22 LR Ammo.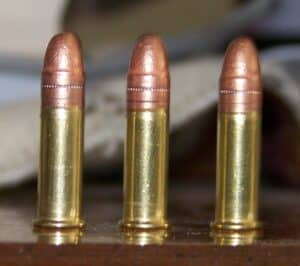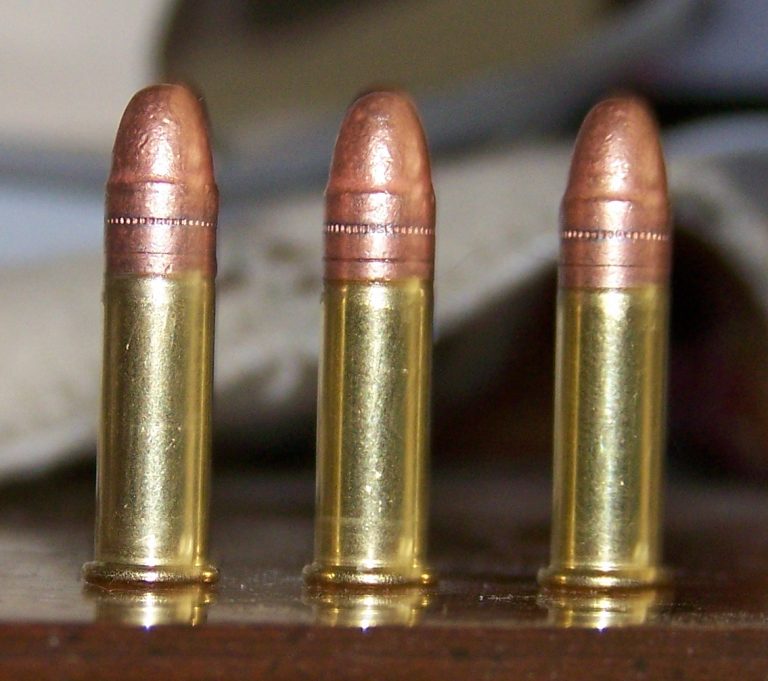 22 LR ammo is still quite difficult to find and most shops don't carry it anymore.
It's still a reasonably priced ammunition but it's hard to find any stores that sell it at less than nine cents per round.
I suggest looking for .22 LR ammo at shops like Brownell's or Lucky as they are cheaper and easier to buy.
.45 ACP Ammo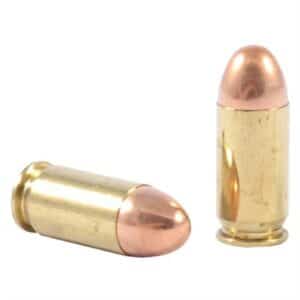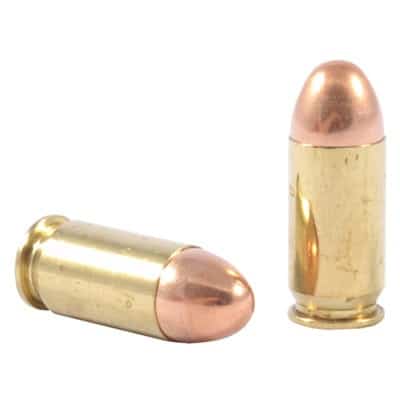 This is one of my favorite kinds of rounds to shoot. I've shot thousands of .45 ACP ammo rounds and it's one of the more affordable kind of ammunition out there.
Average price is anywhere between $.30-$.50 per round. Most distributors and local stores don't vary much in the weight with the general standard weight around 230 g.
Below are a list a couple of the brands that I've used for the PMC that I think offer some great savings and also work really well.
PMC 50 rounds 230 grams.
American Eagle 50 rounds 230 g FMJ.
Blazer 50 rounds 230 grams FMJ.
For self-defense I would suggest the following
Federal Hydra Shock 50 rounds
Speer Gold Dot 50 rounds 230 g
223/5. 56 Ammo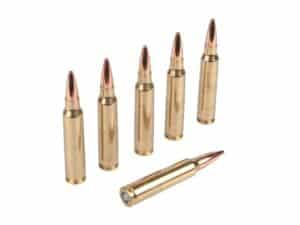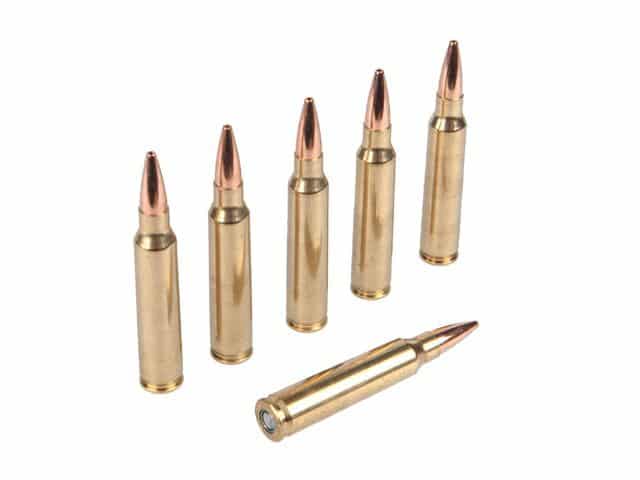 In another one of our posts I covered all the difference between the different types of bullet calibers and explain which one should be used with which gun.
One of the most important lessons is that you can easily shoot .223 ammo with a 5.56 barrel BUT remember that since the 5.56 has a much higher pressure you definitely shouldn't shoot them in .223 barrel.
Generally speaking and they will cost anywhere between $.25 to upwards of $.45 at the for the standard 55 gram bullet.
There are also a couple of variations when it comes to this model. You can see that there are two designations of XM also followed by the number 855 for the Federal and American Eagle model and also by 193.
The designation XM indicates that this model was at one point rejected from active military use however it still adheres to and often surpasses a lot of commercial specifications.
If you see the designation that indicates that it is mil-spec. The number 193 indicates that it is a 55 gram FMJ-BT meanwhile the 855 is usually 62 gram usually equipped with a steel perpetrator.
I've seen the words "Lake City" written on different kinds of ammunition and this just indicates that it was made in a specific ammunition plant for the US military, you don't have to pay any attention to this.
5.56 Ammo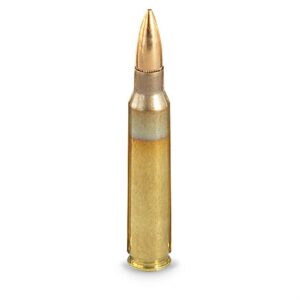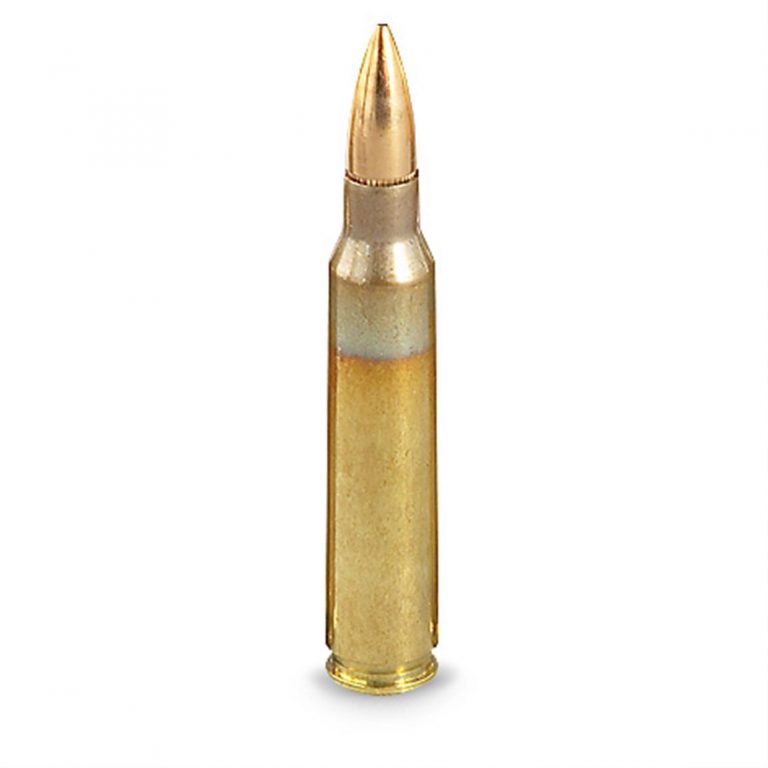 Here are a couple of my picks for 5.56 Ammo. Take a look.
Federal Gold Match 20 rounds 69 gram.  These are great for more accurate shooting if you want to do sharpshooting or precision shooting at the range.
PMC X-TAC at 55 grams
American Eagle – Assorted Ammo at 55 Grams for the XM193
7.62×39 Ammo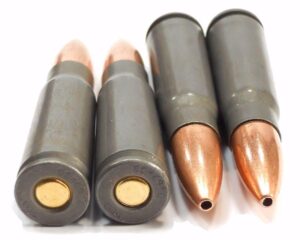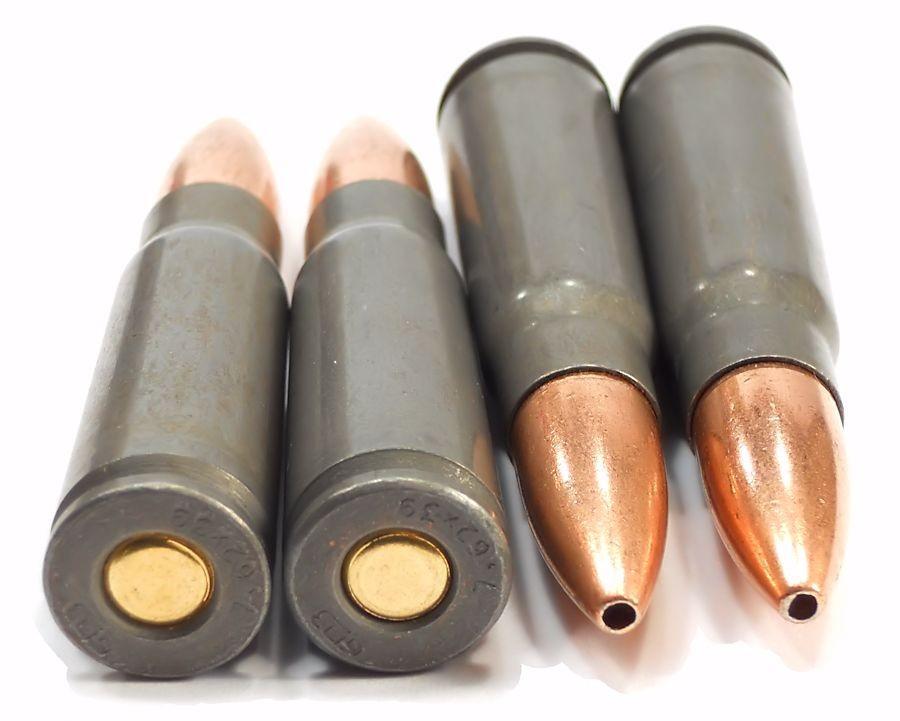 If you don't know what these are, they're AK-47 rounds.
The US manufactures a lot of AK-47 rounds although nowhere near the volume and quality as some Eastern European countries or even Chinese manufacturers.
I generally try to use ammunition from countries where the native military is equipped with AK-47s because I believe that the rounds are better quality and often produced for a much cheaper price.
One thing that you might want to keep mind is corrosive ammunition which may damage your weapon. Another issue that often comes up is shooting range rules and whether or not they allow magnetic or non-brass ammunition to be used.
You definitely need to check with your local shooting range and see if using these kinsd of ammunition is OK. If it's not then you can choose to get some more expensive rounds.
The general weight of these rounds is around 122 g and can cost anywhere between $.21 per round all the way up to $.36 per round.
The specialty cartridges like brass cartridges will be a tad more expensive.
Tula assorted at 122 grams FMJ
PMC 20 rounds 123 g FMJ
Wolf assorted 123 g FMJ
For self-defense ammo for the 7.62×39 I would suggest:
Sellier and Bellot 20 rounds 123 g SP
Hornaday SS tea at 50 rounds 123 g.
308/7. 62 Ammo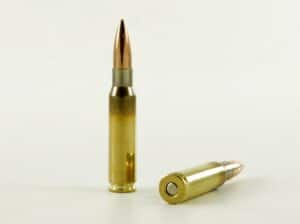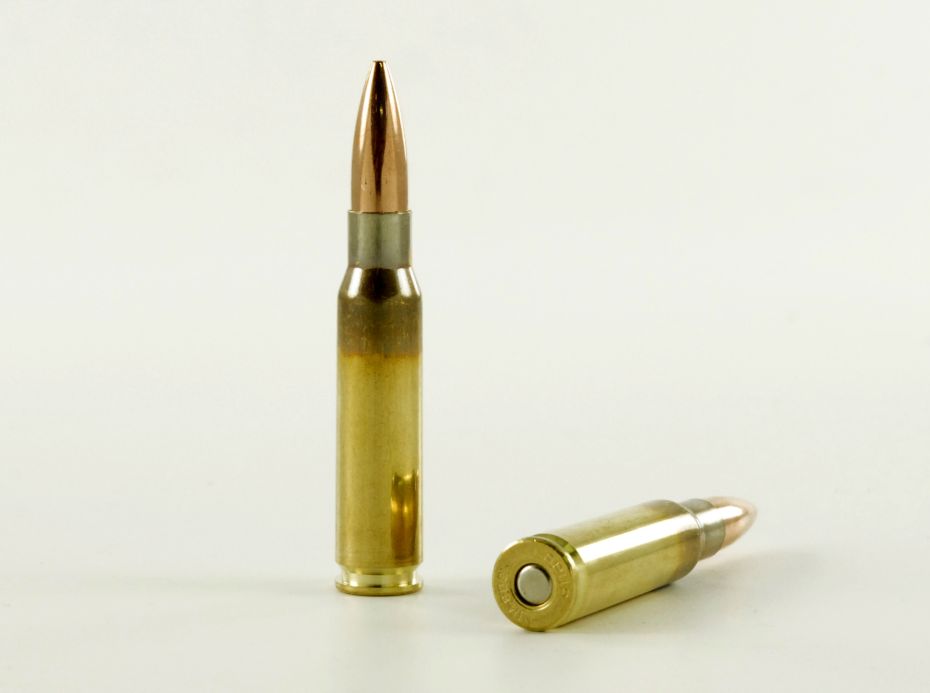 These rounds are almost the same when it comes to pressure and the specific dimensions. There are a lot of different shells for this rifle but I suggest using the ones intended for it.
Traditional ammo for this kind of rifle is roughly 147 g with a price tag of anywhere between $.56 all the way up to $.73 per round.
Another variation of the .308 ammo is called match ammo which is slightly heavier at 168 g and definitely more expensive at $1.50 per round.
Here are a couple of our top picks for the 308 ammo:
PMC 20 rounds 147 g FMJ-BT
Fiocchi 20 rounds 150 g FMJ-BT
Federal Match King 20 rounds 160 8HP-BT.
7.62×51 Ammo we suggest:
Federal 20 rounds 149 g FMJXM80C.
Federal 20 rounds 168 g open tip match.  This allows for very process target shooting.
308/7 62X50 1MM Self Defense
Federal Power Shock 20 rounds 150 g

---
Shotgun Ammo
For shotgun ammo we all know that there are a lot of different kinds of ammunition and picking the right one is sometimes a little bit difficult.
What I suggest is actually purchasing various shotgun rounds and seeing which one you like.
Because shotgun rounds are generally a lot cheaper than other rounds especially when purchased in bulk I always love to buy a couple boxes at once.
If you're looking for ammunition for birdshot keep in mind that the larger the number for smaller the power will be.
For self-defense I would recommend the 00 which has solid bullets as opposed to buckshot. Prices for the shells can vary a lot too.
Some shops sell these for as low as $.15 all the way up to $.50 and even over a dollar for slugs and buckshot.
Prices and brands that are available on Lucky Gunner are a lot cheaper than what you'd find in the store. These are locally sourced bullet manufacturers that produce shotgun bullets and sell them throughout them throughout the states.
I would highly recommend checking out Lucky Gunner if you're planning on purchasing shotgun ammunition in bulk and save yourself the money and time required to go to a store and actually buy it.
For birdshot I would suggest:
Fiocchi 25 rounds #8
Estate Ammo – 25 Rounds – #8 (save yourself some cash)
A good option for buckshot is the following:
Winchester Military Ammo – 2-3/4″ (great quality)
Slugs
Fiocchi – 2-3/4″ (work well)
Federal – 5 Rounds – 2-3/4″ (pretty powerful)
---
So, Where is the

Best

Place to Buy Ammo Online?
So in conclusion let's just cover some of the advantages of purchasing ammo online and I think at this point I have succeeded in convincing you that online ammo and weapons purchases are actually a lot cheaper than going in the store.
The bottom line is you save yourself a lot of time and money.
Let's recap.
First, you can buy ammo from the comfort of your own home and that's always nice. It's pretty difficult to purchase ammo in bulk orders.
A lot of companies will still charge the same price without any significant discounts when you purchase at the store. Buying online allows you to lock in a lot more savings and get ammo at bulk prices.
Second, you'll definitely find a better selection online, stores don't necessarily carry every kind of brand or model.
Third – Availability is also a big issue and purchasing online means you're going to be able to get ammo that isn't generally sold in stores. Quick delivery is another thing that you should definitely take into consideration.
Most services will deliver your products within 2 to 3 days without any hassle.
That's it if you have any questions, feel free to drop a comment below and we'll try to answer right away.
Related Reads: