Red dot sights dramatically improve accuracy for both rifles and pistols. For anyone who doesn't have one you'll immediately level up your shooting ability overnight.
They are a great tool for any AR-15 and all of the models we will review in today's writeup are designed for durability. Long battery life, scratch proof, water resistant and made to take a hell of a beating red dot scopes are probably one of the best add-ons to any tactical kit.
What red dots offer is increased ability to acquire a target and aim while maintaining a very clear field of vision. With your stereotypical sniper scope design you need to look down the barrel and you severely limit your field of view.
Not with a red dot. Designed for military use they offer a MASSIVE tactical advantage for those looking for faster reaction time and shooting efficiency.
How We Review
First off, if you're looking for even more info read our post on AR-15 optics. Second, all these products are tried and tested by yours truly.
While some of you might not agree with some of my product choices, that's fine. Just remember to leave a constructive comment below and no angry "your scope sucks" rant.
If you're looking for a quick list of our top picks here they are in order/score.
Get Deals on Guns and Tactical Gear
Join 70,000 Readers For Our Weekly Discounts
---
Overall Best AR-15 Red Dot Sights and Optics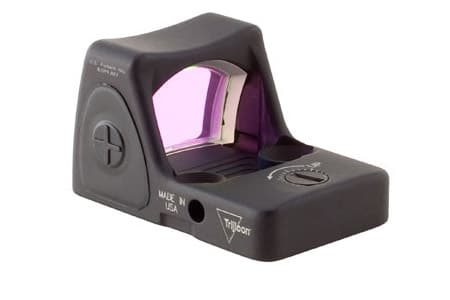 The Winner hands down. The RMR offers extremely high quality design, rugged features all for a price point that offers tons of value. I have two of these on my own rifle as well as my wife's.
At around five hundred it might seem a bit pricey but this is an optic system that you'll be using well into the future.
This Adjustable LED red dot sight from Trijicon RMR stands out from the crowd due to its unique house-shape, crafted from aircraft aluminum, protected by a patent.
It promises more durability and a longer life for the sensitive parts, minimizing the effect of the recoil. It can be attached to handguns, rifles or even optic pieces. Most shooters put in on top of an S&W, Glock MOS, Springfield Armory OSP or FNH Tactical.
It is versatile; you can use it for self and home defense, hunting, competitions or even law enforcement. The 6.5 MOA that is easily adjustable by 1 MOA per click, with no special tools.
It has an auto-brightness mode which can be adjusted in two ways for night-vision or intense light through simple buttons and a true-color lens. This is practical when switching scenery fast (indoor/outdoor or bushes/open field).
It has no parallax, which means just point, click and shoot. 🙂
The only drawback can be the high price tag ($500+) which is fully justified by the technical abilities.
At a glance, the Trijicon RMR has:
Pros
Excellent and fast target acquisition
Adjustable brightness setting with NV and super-bright mode
Eight brightness settings with 6.5 MOA
Shock-absorbing case that protects the lens from recoil
4-years of battery life at medium brightness setting
Cons
Expensive
Battery placement requires re-sighting when changed
---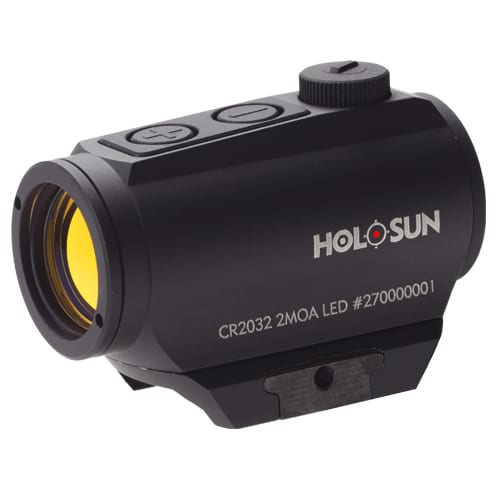 The Micro Red Dot sight stands out through its motion-activation feature; it will automatically turn on when you pick up the rifle and shut down after 8 hours of standby. This low-cost Chinese alternative promises up to 5 years of continuous use with the same battery.
It is crafted from aluminum and comes with two mounts (low and 1/3) which you can strap directly to your AR. A great feature for such a budget option is the parallax free.
That means that you only must get the red dot on the target and you are ready to take the trophy home.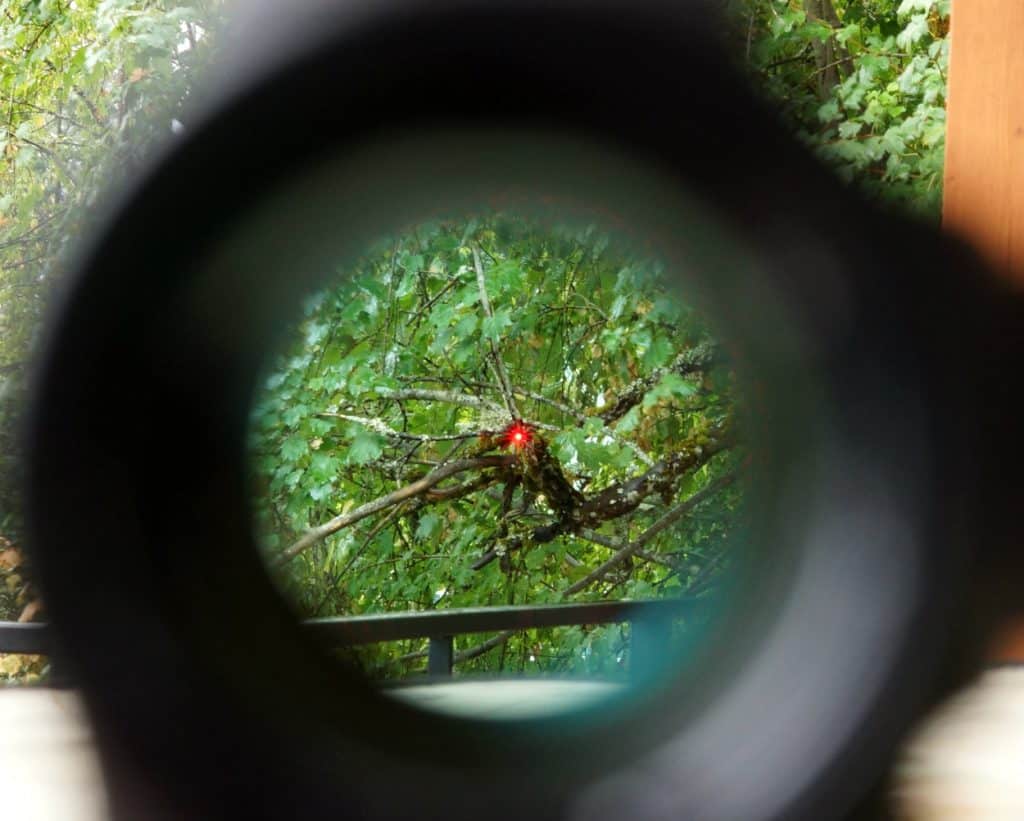 Take some time to consider this budget option for the following:
Pros
Comparable quality to higher priced options
Can be used in hunting near water due to being waterproof and even submersible (max. 100 feet)
Useful both during daytime and at night with multiple brightness settings
Clean lens, supposed to be at an angle to better absorb the shock
Ergonomic battery placement
Cons
Necessary to secure screws with Loctite, some become loose after a hundred rounds
Shooters who have astigmatism will see the red dot quite blurry
Is not compatible with Aimpoint HT mount or railed handle
The battery compartment should have the +/- signs for enhanced user experience
---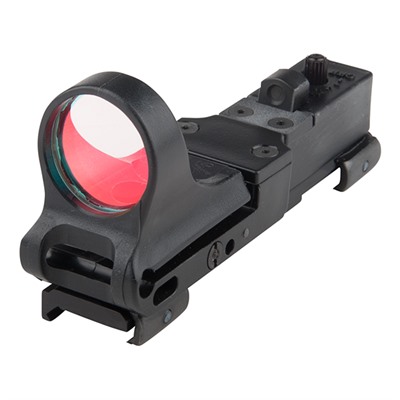 This is one of the preferred red dot sights for competitive race gun shooters and is marketed at a higher price point than a budget option. Its quality level is apparent as soon as you open the box.
It guarantees fast acquisition, and you will most likely be impressed with the dot. It is versatile; you can adjust the size and intensity, change orientation to match your necessities and make it fit your intended shooting goal. It fits on Weaver and Picatinny rail mounts.
Pros
Versatile and adaptable for windage and elevation
Eliminates tunnel vision and obstruction, increasing accuracy
Fast target acquisition increases shooter's natural abilities
Light aluminum body
Features 12 positions (8 daylight settings, 2 NV modes, and 1 low-light, off)
Available in sizes 2MOA-16MOA
Cons
Job-specific, best used for competitive shooting
Not compatible with revolvers, handguns and even crossbows or airsoft guns, check for other options from the same manufacturer
When mounted on other guns has 1-inch elevation
---
Best Cheap and Budget Red Dot Sight for AR-15
Here are a couple of our cheaper options that also don't compromise quality at all.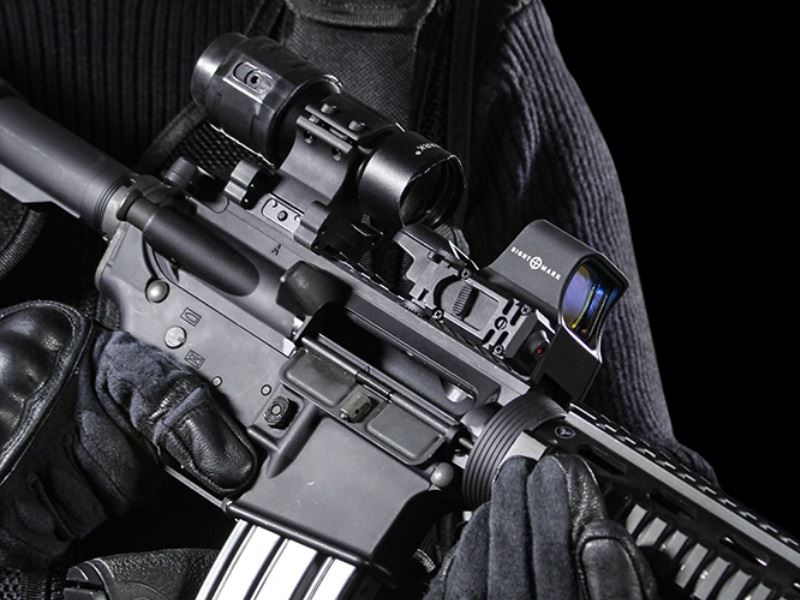 This dual-pane lens system is great due to no parallax and a built-in laser. The highlight of this model is represented by the four reticle patterns.
It is a budget option that comes with tools for sight adjustment, optional pressure switch and necessary batteries for both sight & laser as well as a Scope Coat, Lens Cleaning Cloth.
Comes with a transparent reticle and for night vision needs to be paired with another device that has that function, to enhance it.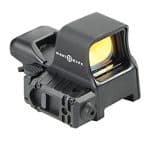 At such a low point price, it would be a pity not to talk about:
Pros
Wide field of view (36 @ 100yards) that provides eye relief
Water resistant, shockproof, operating in all weather conditions
1 click MOA adjustment
5 brightness settings (3 levels for day and 2 NV modes)
Excellent recoil resistance
Cons
The laser could have been better, at least have an automatic shut-off
20h battery life
Due to size, it could trigger peripheral view more
Doesn't hold zero accurately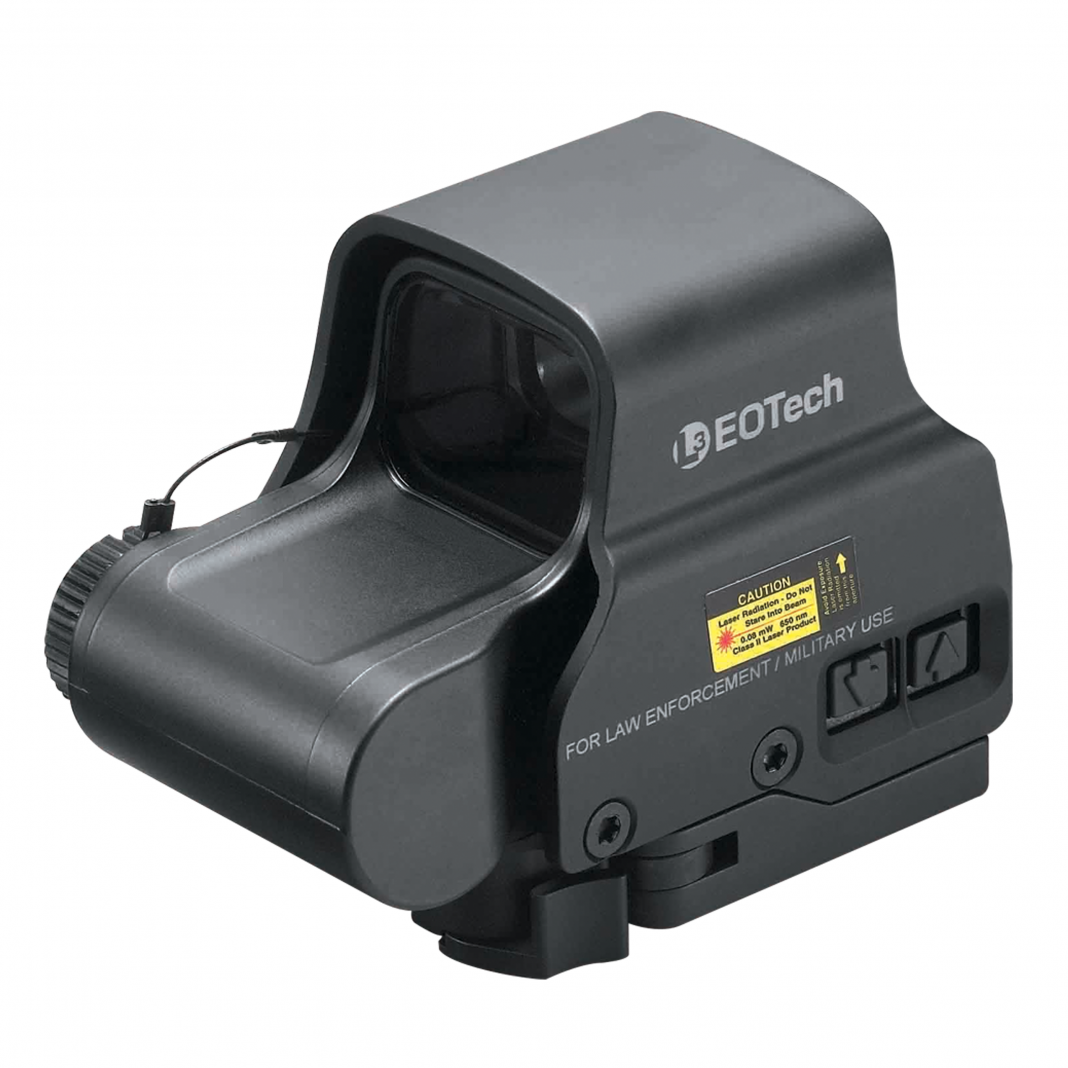 This is the Rolls Royce of the compact holographic weapon sights. Expect about 600 hours of use on one battery. It is almost mandatory to get this together with a magnifier (possibly EOTech G33.STS.BLK G33. Magnifier ).
It can go between 0 and 65MOA, having 1 MOA aiming dot and a 2-65MOA ring. It projects the laser light to illuminate the red reticle and project it on the target.
Although there are other decent items at many fair prices, we can mention the following:
Pros
Suitable for law enforcement/military use
Circle reticle-rough target acquisition, point reticle to get a precise shot
No magnification, no distortion between weapon and environment
Pairs great with an AR
Dot does not obscure the target
Auto shut-off feature
Cons
The tool is expensive on its own and becomes prohibitive when paired with a magnifier, which it needs for best results
Not the most ergonomic design regarding button placement, they seem to get in the way
Since it is a holographic sight, the red circle can appear pixelated
Needs constant re-tightening or it will fall off after a couple of hundreds of rounds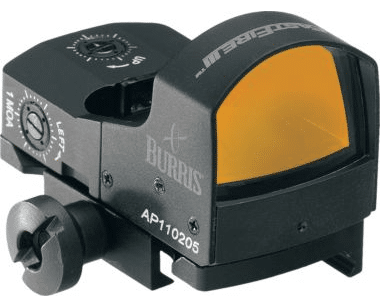 This mini red dot is extremely versatile and can be used with a diverse range of weapons, including rifles, shotguns, handguns. Secure it with the mount that comes with it (Picatinny).
It can be used as a primary optics for smaller guns or a secondary optics on a rifle. As a secondary, it can be mounted on an offset mount and give you more help in awkward positions.
It features a 3MOA red dot and three manual brightness settings and an automatic one.
This small jewel at a medium price range comes with:
Pros
Fast target acquisition, hitting exactly where you point
Perfect eye balance, with no dominance
Well-built, sturdy, not impacted by recoil (tested from 45 handgun to 460 XVR pistol)
No tools required for adjustment, which is 115 MOA for elevation and 86MOA for windage
Once mounted keeps the zero very well
Parallax free
Cons
The adjustment buttons can be considered too small by some users
Dot sometimes becomes pixelated after a few shots could be sharper
Some users would prefer a cover or any other protection method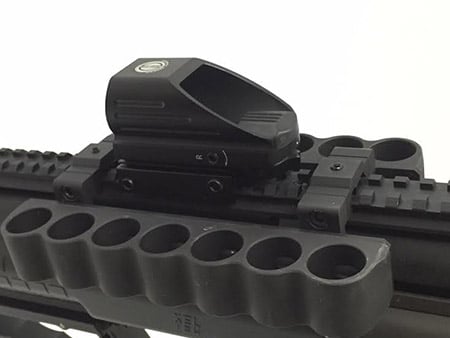 This red/green dot reflex sight is built from sturdy aluminum, the same type they use for aircraft. Its small size allows it to be part of an optical system, allowing enough space for other accessories.
It comes with four reticles to choose from, depending on your needs: get a dot or a cross hair in either red or green. The red one is good for bright, sunny days, while the green one is better adapted to low light conditions. It is waterproof, but not submersible.
Pros
The sight is easy to zero in, just a few click after mounting it should make the shots group nicely at 100 yards. Even better, it holds the zero after a couple of hundred rounds or when stored for a longer time.
Excellent brightness for both green and red settings, even on a bright day.
Spectacular customer service, with fast response and replacement in case of default
Good price quality ratio, robustly built by a veteran company
Zeros in fast, under 50 rounds necessary
Cons
Mounting screws could be better quality
Some customers have noticed some parallax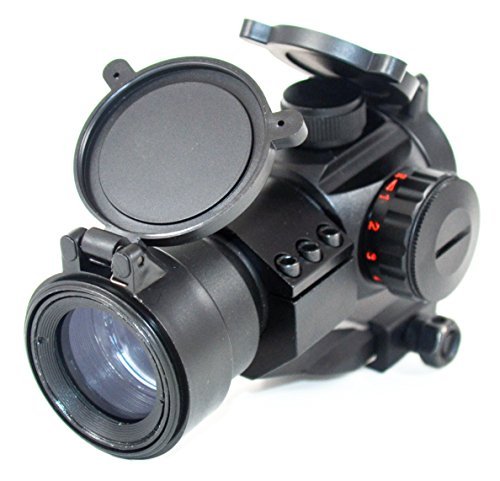 This is a cheap and sturdy 4 MOA red dot sight that works well with an AR-15. You can rely on it for fast target acquisition in most shooting conditions.
Even if the price tag is less than what you would expect for this kind of gear, it is still carefully checked for quality before being sent to the clients. This is one tough small red dot.
Works great in daylight, in both red and green setting and the 35 mm objective is soothing for the eyes. Depending on your preferences you have five brightness levels to choose from.
Pros
Easy to set-up zeros in less than 25 rounds at 50 yards
Comes with 1-year warranty, no questions asked and full support of the manufacturer
Delivered with lens caps to help protect it when you are not using it, since this is mostly a co-witness sight.
Holds zero very well after adjustment
It is parallax free and has no magnification that can compromise the line of view
Cons
In low light conditions, the dot becomes foggy or pixelated, you can adjust brightness, but still slightly annoying.
There is a slight glare showing from inside the scope
The cover is not snuggly fit to protect the lens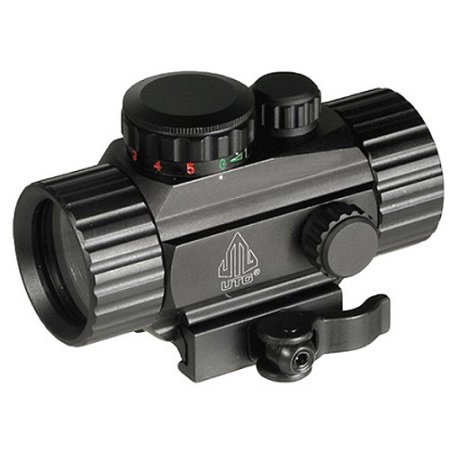 This is a multi-use red dot sight that can be mounted on different weapons, including rifles, handguns, and shotguns. It is most important feature is the detachable mounting deck for an easy disassembly.
The sight has a standard 4MOA red or green dot and a 65MOA circle reticle, which is useful both in bright light and at dusk or dawn. Adjust brightness for your comfort using the five levels to get the perfect illumination every time. It is best used as a co-witness for the iron sights.
Pros
Adjustable ½" click value at 100 yards
Excellent bright reticle, able to function in different light conditions, from low to broad daylight
An extended warranty from the producer covers two years and stands as a staple of quality and manufacturer confidence
Unlimited eye relief
Cons
You should remember to turn it off, so you do not wear out the battery when you are not using it.
Depending on your use 4MOA can sometimes be too large
Has some parallax
If you just want to get a red dot sight for pennies, this is your best choice, but remember, no green. It features a 4MOA red dot which offers fast target acquisition with high precision.
You can mount it in a complex optic system, with a magnifier or a co-witness. Since the emitter is in the 9 o'clock position, it will not interfere with 5 o'clock emitters.
Be sure to take your time to zero it in, as it is not the definition of on target right out of the box. Once you get there, it will be less work, as it holds the zero well, comparable to mid-range models, ten times its price.
The reticle comes with 11 steps for the brightness setting so that you can use it from low light up to the brightest sunny day, to keep going on your shooting adventure.
Pros
The price is the first thing that grabs a buyer's attention, but it also offers an excellent quality/price performance
Long-lasting- this red dot sight will perform well even in the harshest conditions
Adjustable with no special tools, a coin or key will be enough
MOA adjustments come with a click and correspond to 1/2 "at 100 yards
Cons
The optic is heavy compared to its size, but at least feels solid.
Take over 100 rounds to zero-in
Smaller battery life compared to more expensive models
This is a red dot you can use on more than one gun; it can be useful for rifles, shotguns, and handguns. It promises to last 10.000 hours that is 3 and a half years of shooting as a job on a CR123A battery, and it also shuts down on its own when not used.
It has red or green options for the reticle, quickly changed be a soft button located sideways. To switch between colors, use the On/Off button twice. Long push (3 secs.) will turn the device off.
There is a second button for brightness changing. It does not need a dedicated mounting plate to act as a co-witness for the iron sights. The rotary switch is placed at 6 o'clock and will allow you to change between 4 reticle patterns.
Pros
For a non-stop shooter you will get about three years of battery life, for a moderate one, about 5, but most importantly you can be sure you are not wasting battery when not aiming.
This is a water-resistant and harsh weather ready red dot sight
Provides unlimited eye relief with an unlimited field of view
Holds the zero perfectly once it is set, even through multiple rounds
Use levels 1-3 indoor and 4-5 outdoor, as a too bright setting indoor will make the reticle blurry
Cons
There are some technical faults in the manual
Some users reported that green is not bright enough and there is even a halo around the reticle
---
GUIDE TO FIND THE BEST AR-15 RED DOT SIGHT
A red-dot sight should be a great sighting piece, without having too many additional features that are usually there to justify a higher price tag but are hardly used on the range or in a self-defense situation.
The extra features often include magnification, an illuminated reticle, but you should first choose by the basics.
If you are willing and able to spend the extra money, it is best to go after a weapon specific sight, for example, AR-15.
A red dot sight for an AR-15 is sturdy, functional, long-lasting and interchangeable on different AR15 weapons.
The name red dot is generic, as some also have a green dot or a green reticle, but you should choose according to the red setting, by aligning the dot to the target and checking that you can see it.
Most sights have more than just the "dot," you can usually choose from different sizes and patterns your favorite one or change them according to your needs.
You need to adjust it enough so it does not cover the target, but it is not so small that you struggle to locate the reticle.
As far as price is concerned, you can buy a cheap sight even for $50, but as a rule of thumb avoid anything below $150 and begin considering budget options at around $200, a sum for which you can get a more than a decent red dot.
Starting at $240 up to $550 you can expect to get a quality piece, but be sure to look for specific requirements and look for performance metrics.
MOA and Red Dot Sights
Another item to consider when choosing a piece is the dot size, measured in MOA. A versatile option is the 4MOA which pairs well with rifles and handguns.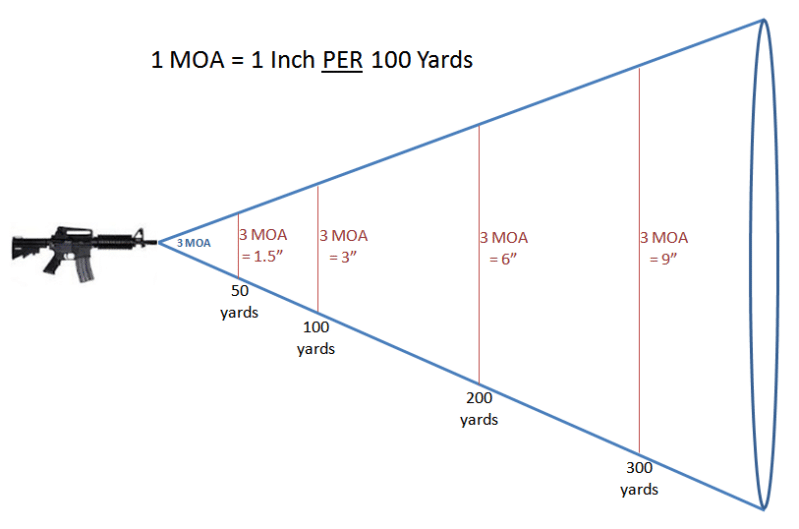 It is also useful in estimating your gun's range as a function of your red dot's accuracy. As a private user, you can expect 2MOA, 3.5MOA, up to 4MOA. The higher values are necessary for professional race gun shooters.
Types of Red Dot Sights
Although there are battery-free red dot sights, shooters tend to prefer the battery-operated devices, as these provide better performance in low light scenarios or when you are forced to use tactical flashlights.
The higher quality red dot sights come with batteries that promise up to 5000 hours of continuous use, including power-saving options such as auto turn off when not used and auto brightness.
Why Get a Red Dot?
A red dot is defined by performance, getting one means better aiming at a lower price compared to other optical devices. It is also worthwhile considering the safety aspect; the red dot is better than holographic sights.
In the case of an accident, the laser in holographic devices can be directly exposed to the eye, causing a permanent injury.
Weight is also a factor, and the red dot sights are becoming increasingly smaller and lighter, due to aluminum or aluminum alloy casing.
The most significant benefit of a red dot is a natural sighting of the target with both eyes, that is comfortable, safe and extremely quick.
Main Benefits of Red Dot Optics
The importance of a red dot sight is best highlighted by a wild game hunting session. You need to get it right the first time since the sound of the blasting gun will disturb the nature and the target. Most likely you will not get another opportunity for hours or even days.
Attaching a red dot sight to your rifle gives you additional help in hitting the target by shooting out a red dot of light that pinpoints your shot before pulling the trigger.
HOW TO INSTALL YOUR RED DOT SIGHT
Putting the red dot sight for maximum efficiency is a matter of finding that middle spot on your rail. Never mount your sight at the very rear of the rifle, that is way too close.
This mistake will minimize your perception of the surroundings, diminish peripheral vision, and make you less attentive to what is happening.
With a red dot, you will still be in focus no matter where you place it on the rail, so no need to cram it near the eyes. Placing it at the other end of the rail is no better either. If you have a non-monolithic upper receiver, avoid rear mounting it.
Try putting the sight on the forward portion of the upper receiver to seize the maximum field of vision and have it in the most secure part of the gun, avoiding unwanted damage from recoil.
Placing it correctly means the difference between coming home with a trophy and coming empty-handed.
BATTERY-FREE RED DOT SIGHT VS ELECTRONIC RED DOT SIGHT
Red dots are an invaluable help for shooters since their introduction. Among other features, shooters must choose between electronic and battery-free red dot sights.

As always, there are pros and cons for each, but the general market tendency is to go for the electronic devices.
Battery Free Sights
The absence of a battery means there is less room for failure in these devices since there are no electronic parts to break. The low light is generated by tritium radiations. You cannot expect a stellar performance in low light settings, and there is no brightness adjustment on the scope. Only use this if you are ready to face the downsides.
Electronic Red Dot Sights
Electronic red dots are beginning to dominate the market due to efficiency and is also continuously improving. The aim is to have better longevity and durability.
For example, some companies advertise their products to be able to run continuously for eight years, depending on power consumption and the type of battery used, defined by capacity.
---
Final Thoughts
We hope we gave you a good starting point in searching for the best AR-15 red dot sights. First, always select a red dot adapted to your gun to make sure you can enjoy the full package of benefits.
Look at the specs and make sure you have compatible railings and mounts to secure it to the weapon.
Secondly, look at the MOA to be adjusted to your intended shooting range. Lastly, you should think about the sight as an extension of your firearm, without becoming a burden.
Related Reads: