When it comes to choosing the best AR-15 scopes, the amount of choices can be a little overwhelming. Choosing the right AR-15 Scope isn't easy, but we are here to help.
This is due to two reasons. First, the AR is an extremely versatile weapon that can easily be fitted with a number of scopes. Second, the marketplace is well-developed with hundreds of manufacturers competing to produce AR specific products. The result is 10 million different options.
In this post we're going to cover some of our top picks for best AR rifle scopes. These are tried and tested favorites that our staff have used and still own.
For more overall AR-15 awesomeness, check out our list of the best AR-15 rifles for the money.
The Right AR Scope for the Right Conditions
One of the things we need to consider while reading this and making purchasing decisions is what situation or environment will the rifle be used in.  You need to pick the best scope for the job.
Couple of examples of what I mean:
Shooting in the fog or some wet environment? You'll need a scope with anti-fog functionality.
Looking for long range shooting? Then you'll want a magnification scope specially designed for that.
Choosing a Scope for Your AR 15
In this article, we aim to provide a comprehensive guide to picking the best scope for the AR-15. We will not only examine the best scopes, we will break them down by functionality, features, and more. We aim to give you a guide to choosing the best scope for yourself.
By the end of this article, you should be able to identify what you need in a scope, and how you can find it on our list. We will give you technical details as well as functional features.
Just a word of caution for any of you readers out there looking to buy an AR-15 scope on the cheap. Generally speaking (from my experience) with optics you really get what you pay for.
---
Best Ar-15 Scope for Under 300
Get Deals on Guns and Tactical Gear
Join 70,000 Readers For Our Weekly Discounts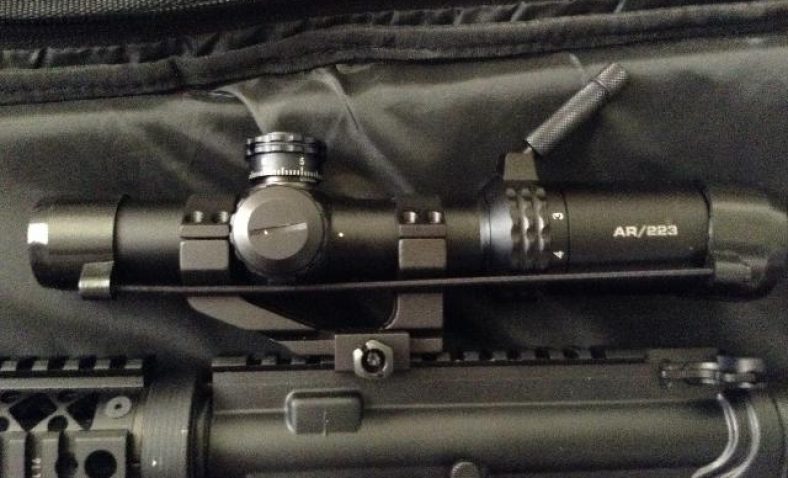 The FFP offers some high quality viewing at longer distances with a 500 yard field of vision. This is great for people looking for longer range AR-15 scopes. Operates extremely well in lower light environments as well.
One of the features that I love about this model is the Throw Down PCL quick viewer. This allows shooters to quickly switch from one field of view to another without delay. The FFP's Target Turrets systems works to allow you to make ultra fast corrections on the sighting calibration.
Scope is protected against moisture, fog, rainwater and is shockproof to protect the lenses. Although Bushnells reports is water resistant I would avoid submerging it completely. Lenses are coated to increase vision and clarity.
I recommend this for anyone looking for a high quality option that won't break the bank. High quality AR-15 scope design by a well established manufacturer.
---
Best Red Dot Sights for The AR-15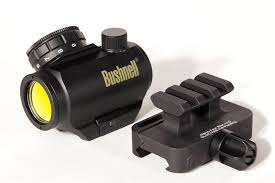 The TRS gives you some badass target acquisition. This is one of my go-to red dot optics. It's easy to use and extremely high quality given the price.
I would recommend NOT using the riser that comes with the TSR-25. I would say this is the best cheap red dot sight for an AR-15.
Another good alternative to it is the .83inch UTG model which I find is much more stable and fits with a number of different red dot scopes.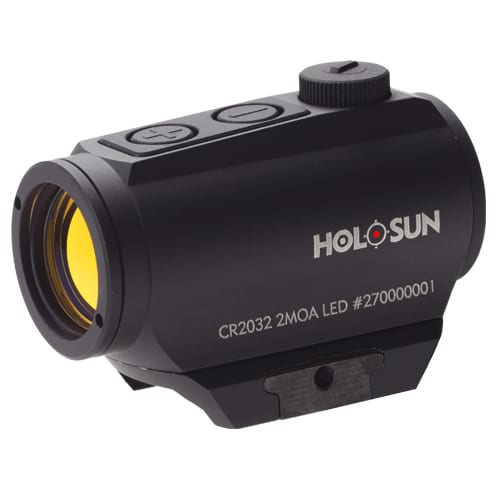 Better quality and an awesome field of view compared to some of the other more budget models. I've abused the Holosun a lot, dropped it, stepping on it and even lit it on fire (might be true) and it maintains well.  This one would qualify as the best red dot sight for the money.  Especially if you don't have a ton of it.
Good all around choices for any AR rifle. Holosun also has another model that is solar-powered.
This is the stronger brother of the Holosun. The Vortex optic has pushed a new standard for scope design and precision by combining high-quality optics with extremely durable design. AKA – this model can take some serious punishment.
Powered by one AAA battery as well.  One quick note – the field of vision is slightly smaller than the Holosun.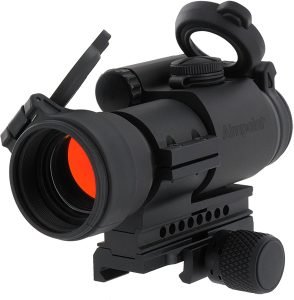 There's a lot of good to say regarding the Aimpoint PRO Red Dot Reflex Sight. Coming in a little pricy, the special modular features of this scope and its clarity of vision, even under extreme environmental conditions, make this a great scope for its value.
Right off the bat, this scope makes this list for its durability and its extremely efficient battery life. With the included DLI/3N battery, the charge lasts 30,000 hours, or continuously for 3 years. With an informative decal with in-service and battery change date, this is a great scope for a long-term investment that can keep up with your pace. This scope, compatible for both rifles and shotguns, is vibration- and shock-resistant and submersible up to 150 ft. If you need to fire quickly from standby, or in extremely bright conditions, the included front and clear back lens caps still allow for two-eyes-open focus and quick target acquisition.
Another great feature is the modular possibilities. A toolless mount kit is included, with the Aimpoint QPR2 mount. If being able to adjust for height is essential for your needs, this pickaninny-style mount is the style you want. Some criticise, however, that the pickaninny-style mount knob is too large and protruding. All in all, this is a great scope worth its value.
Pros:
Modular height
Intuitive lens cap system protects without obstructing
Great target acquisition
Toolless mount kit included
Cons:
On the expensive side
As with many modular systems, some report it more effective on some rails, less effective on others
Large knob protrudes- but has sturdy and strong pickaninny mechanism for tightening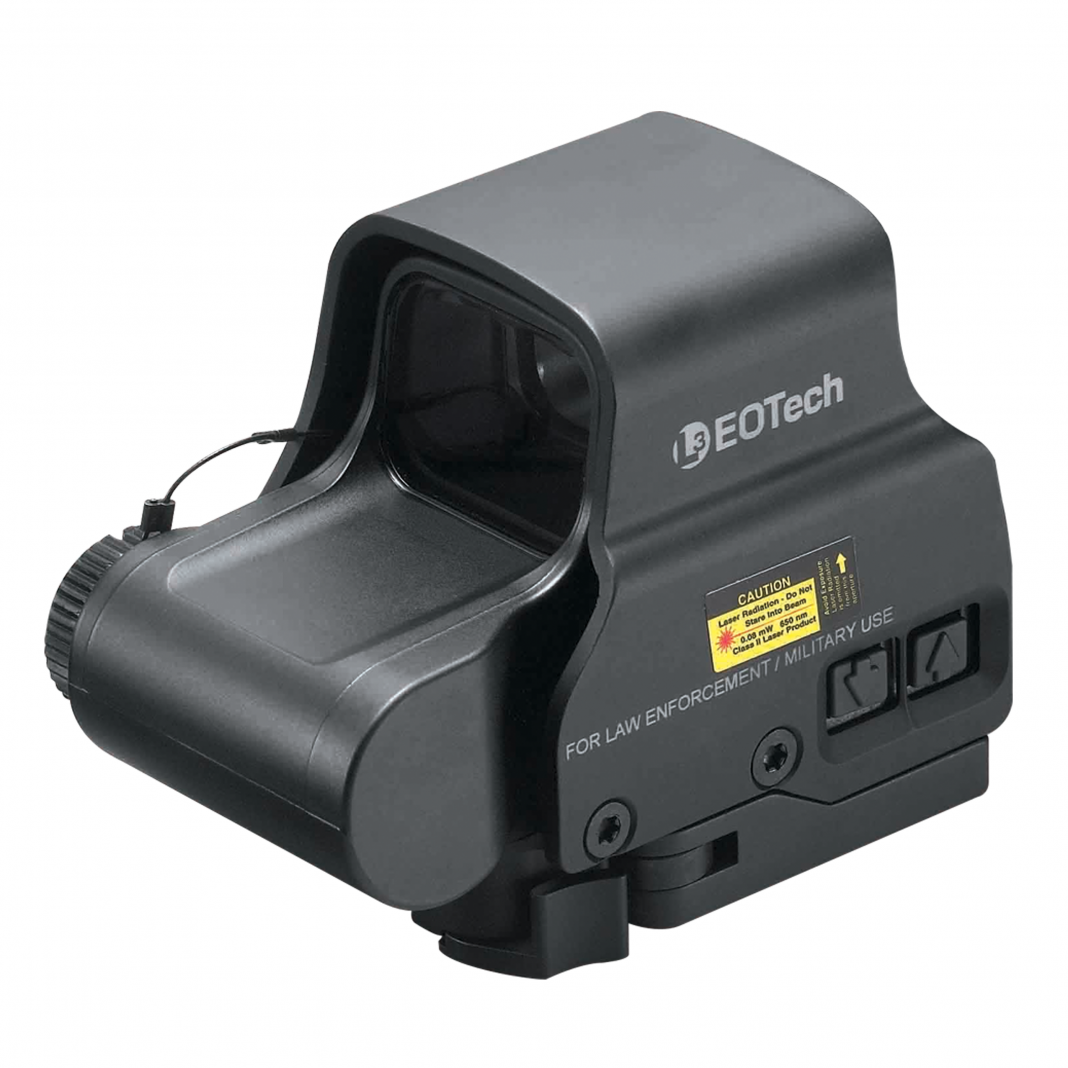 Aimpoint has always been one of the main competitors of EOTech.
I personally think that both companies really provide military-grade quality for a decent price. The difference lies in their sights.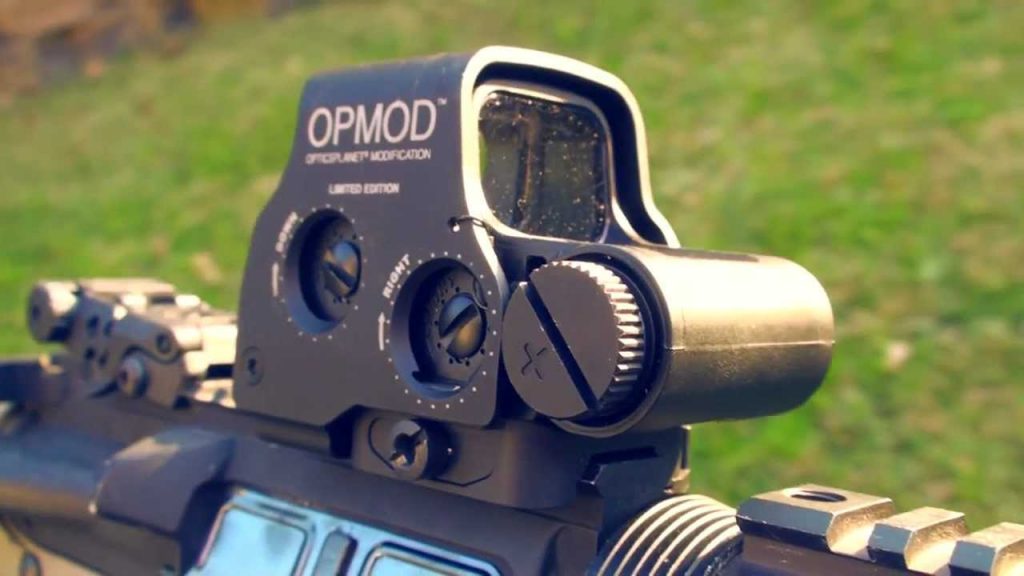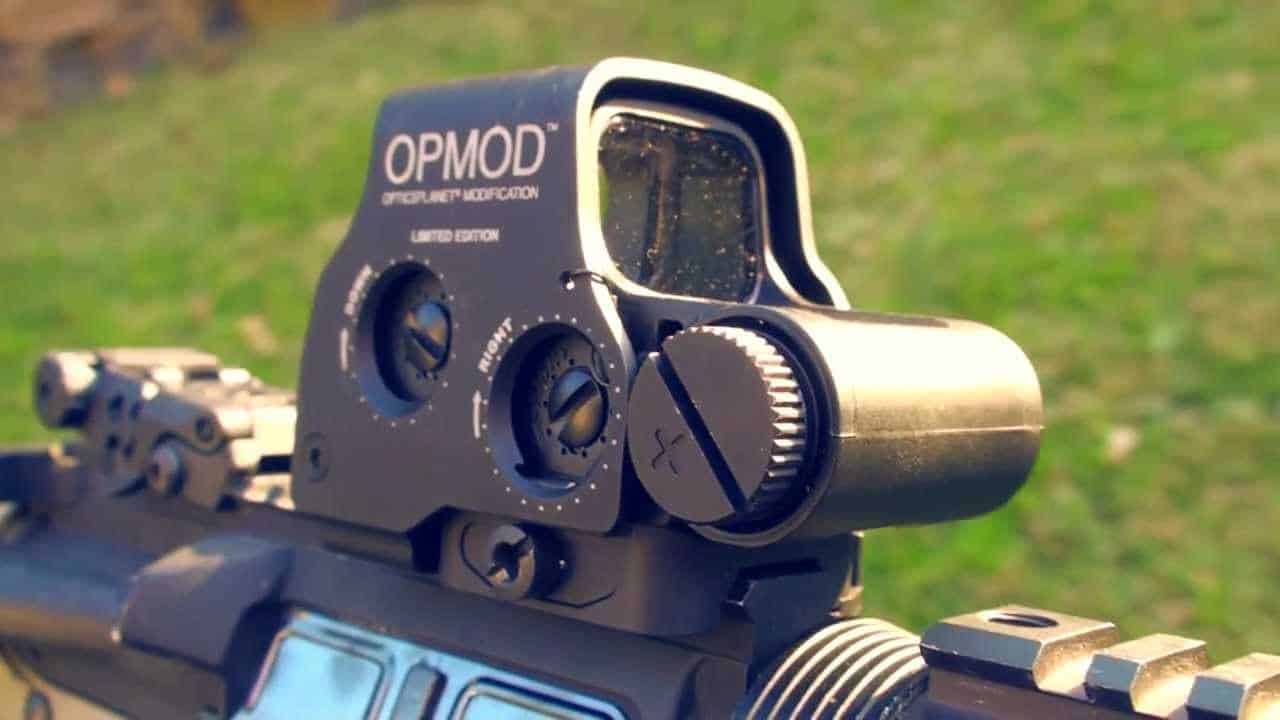 Holographic EOTech
Like I mentioned EOTech has gained a significant military following with multinational tactical units utilizing these laser scopes. I will mention for full disclosure that EOTech was involved in a lawsuit with United States government over functionality issues caused by weather.
I'd say that for anyone looking to use these rifles in minus 40 weather stay away. For those who aren't hunting polar bears than this is compatible to the H-1.
---
Best Scope for AR-15 for Long Distance – Coyote Hunting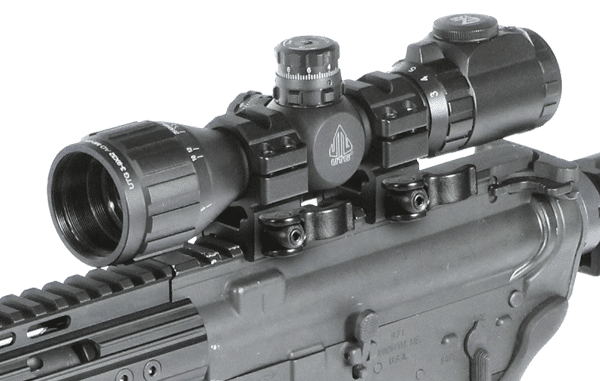 Looks and feels great
While it might have an excessively long name the UTG brings some serious durability to the table. Like the H-1 it's totally resistant to water, fog, snow and impact resistant.
You don't need an additional platform for the UTG and is quick to install.
We tried the UTG in lower lighting conditions and found it performed well. The design incorporates an emerald coated lens that serves to amplify existing light and focus them in your line of sight.
The UTG also comes with a host of options for customization. MOA adjustments are pretty fast as well.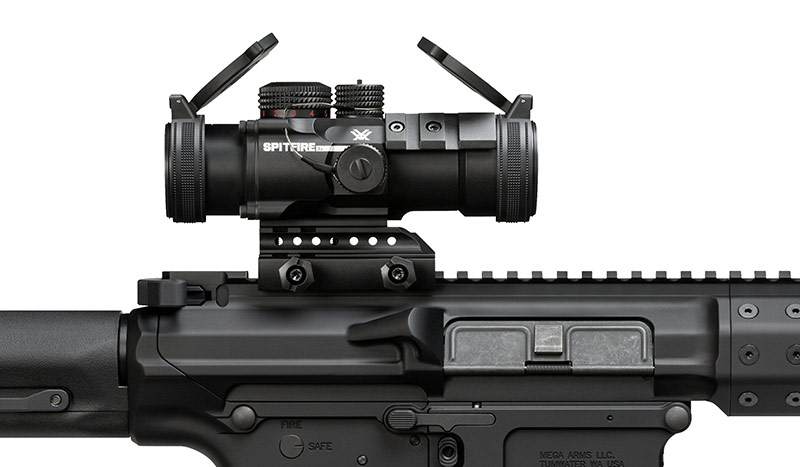 She's a beauty, ain't she?
This one from Vortex Optics gives the user magnification up to 3X. Unlike other multifunctional scopes it's built specifically for the AR model. The Spitfire has reticles with dropdown up to 500 yards. It comes with an unlimited lifetime warranty, to boot.
The upgraded version adds a mount, red/green reticle and 5 intensity levels. Great choice for serious shooters who are looking for a gun to last them the next 5-10 years.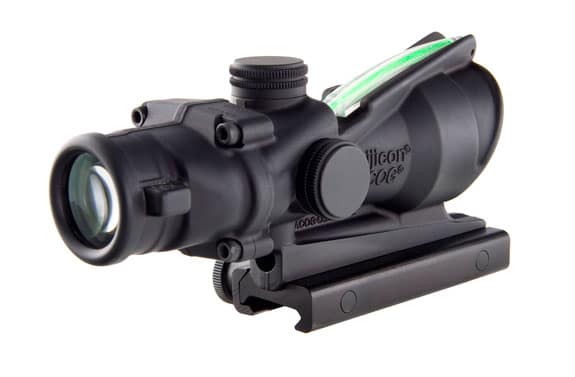 Another lovely design by our friends over at ACOG.
ACOG stands for Advanced Combat Optical Gunsight and it functions just as well as its name sounds. Beating the Spitfire with 4X magnification, it also utilizes a reticle designed for the AR platform using 5.56 from 0 to 800 meters.
I do realize that the ACOG can be a bit pricey. That's because it has a special fiber optics system that funnels existing light towards the chevron (V in scope site).  The tritium lamps also work in tandem to add extra light with a lifetime of 15 years before replacement.
Again, it's pricey I know, however, I received one as a present last year and have loved it since.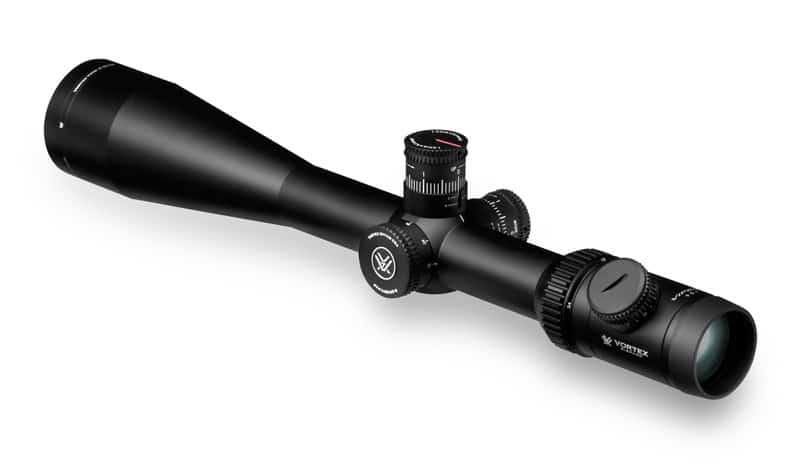 Another great mid range AR-15 scope option. Vortex is known for making quality products and the PST is great for long rang shooting as well as close quarters fire practice.
This unit has a great field of view with high quality lens.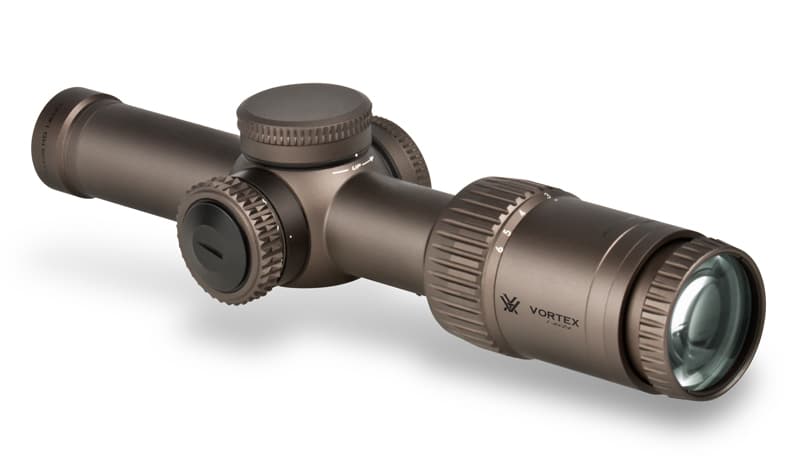 Another Vortex that I like is the Razor HD. If you're trying to hit targets beyond 350 yards using a simple one to four magnification just doesn't work.
The Razor HD adds an extra 2X which makes it an ideal candidate for distance shooting. Design is built to last with all the proof-features including: fog, water, humidity and wear and tear.
I also love the glass on the Razor, it's exceptionally clear and produces an extremely sharp image.
---
Best Ar-15 Back Up Iron Sight Reviews – BUIS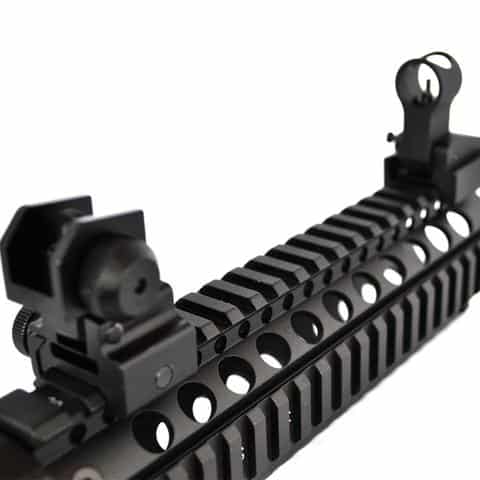 I like to be well prepared. Especially if I'm hunting or spend a few miles driving out for a competition or to try another range.
I'd recommend for any serious shooter to not just rely on your primary sight but to add a backup one as well.
These are just a couple backup choices.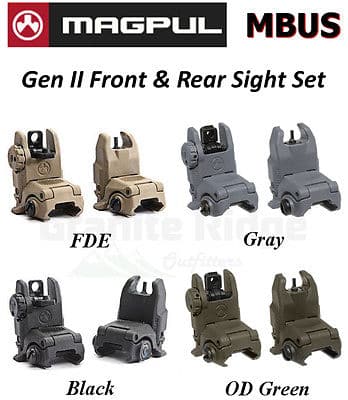 Simple. Functional and definitely gets the job done. The Magpul Gen 2 brings a polymer design that combines accuracy and affordability.
---
How to Choose the Best AR-15 Scopes?
We're going to cover some of the things we talked about before. It's important to know what you're using your scope for.
Having a clear idea of what kind of shooting activities you'll be engaging it will allow you to pick the best weapon. Nothing is worse than trying to do close range shooting exercises while using a scope designed for long range shooting.
For these reasons, you really want to outline your AR-15 scope needs clearly at the beginning of the process. A scope for beginner range shooting will be very different than a scope for competition shooters. There are many tactical scopes that offer many different options – including illumination options, telescopic sights,magnification scope options, dot reticle options, and much more.
Take a look at my persona AR setup.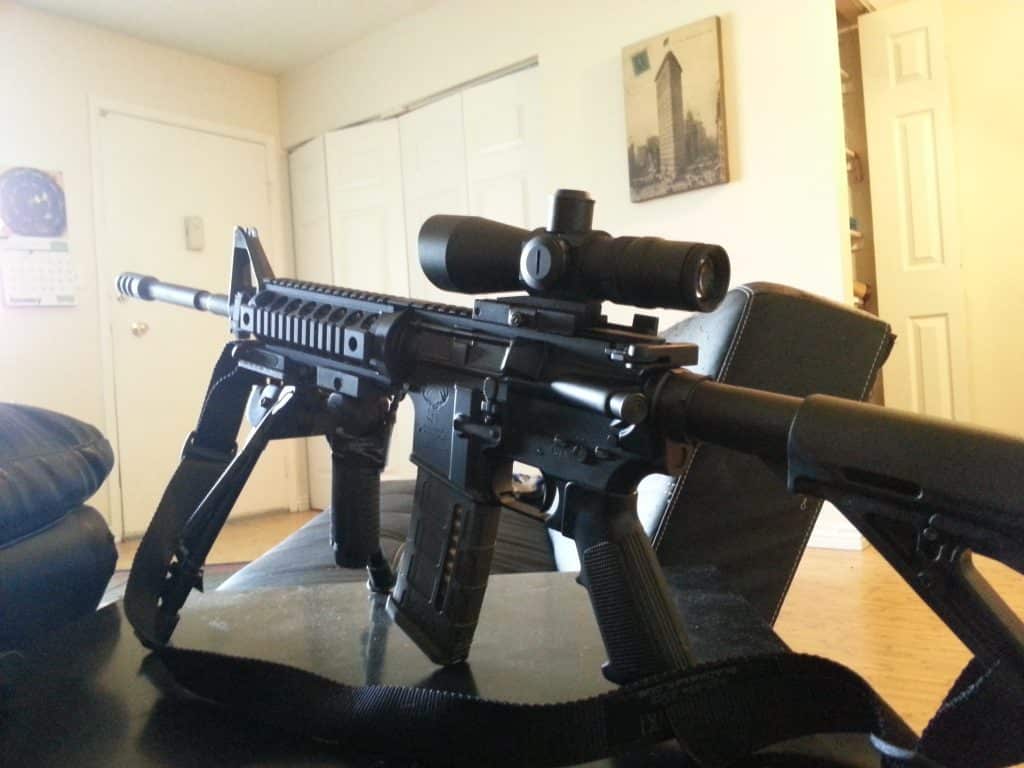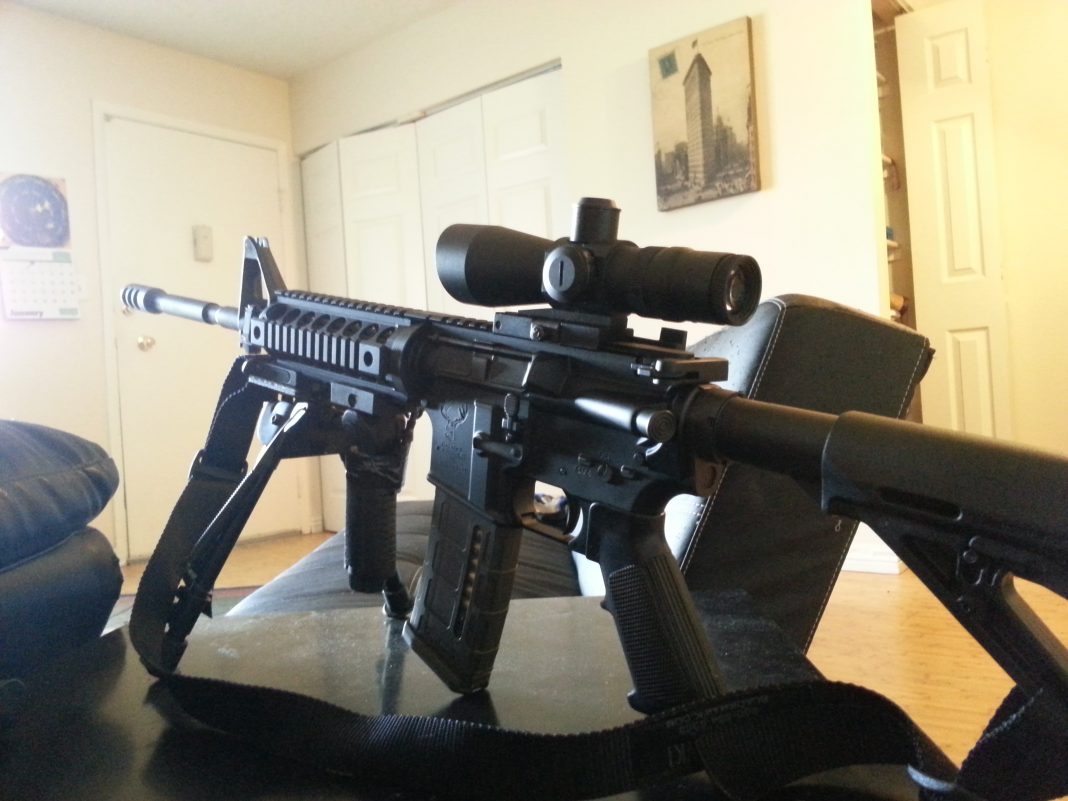 Some of the prices of the above AR 15 scopes range from $85 all the way up to $2k. We know that's a pretty big range but like I mentioned earlier – you get what you pay for.
Getting a cheap AR 15 scope at Walmart will cause you much frustration trying to constantly calibrate it.
So really try to match what you want with one of the choices on our list. Below, we will dig deeper into the features and capabilities offered by these scopes, so that you can better understand what they offer.
Technical Advantage of Quality AR-15

Scopes and Optics

 
Quality gear gives you a huge tactical advantage especially when you consider how cheap most AR 15 upgrades are now. There is a reason why US special forces utilize the latest in gear and equipment.
With optics quality comes in the form of magnification, lenses and zeroing mechanisms. Great lenses allow you to focus on your target and avoid an overly blurry field of vision.
AR 15 Scope Distance Calculation Table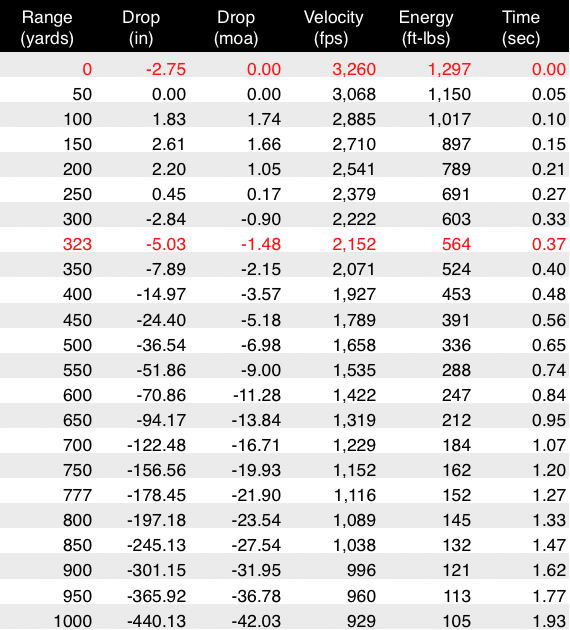 Weatherproof optics are also a recommended quality that you definitely want to look out for. If you're planning on using your optic in harsh environments you'll need equipment that is specifically designed for those purposes.
Again, this comes back to knowing your scope and being able to identify exactly the kind of situations you'll use it in.
Single Shot AR 15 Scopes vs. Full Auto AR-15 Scope
Another consideration is whether you're looking for accuracy while shooting single shots or double or triple taps. Beyond a single shot recoil becomes an issue.
Choosing a scope with good eye relief will allow you to use the field of vision more effectively and acquire your target 2-3X faster.
Something like this is good for single shots
It is important to think about the focal plane. Some users prefer a second focal plane to keep the reticle in the same position, even when the zoom is used.
If this is not your first choice, maybe a first focal plane scope would make it to your list, if you prefer the reticle to move with the image when zooming.
There is a simple justification for using a scope of this type. You get better shots and increased accuracy for a wide array of ranges.
The idea is that the reticle varies with the magnification, while for the second focal plane it remains unchanged, facilitating magnification.
Other features that should be considered when choosing a scope are power and magnification since some scopes are fixed, other adapt to the shooter's needs.
To evaluate magnification levels, look for "nx," where n is a number, usually in the range 1x-16x.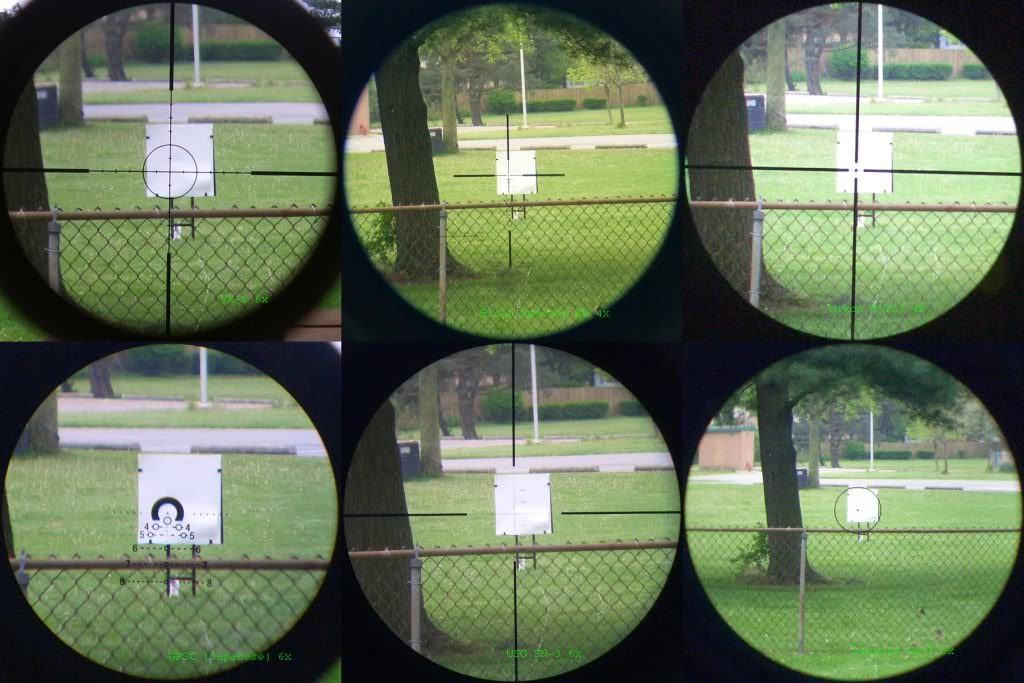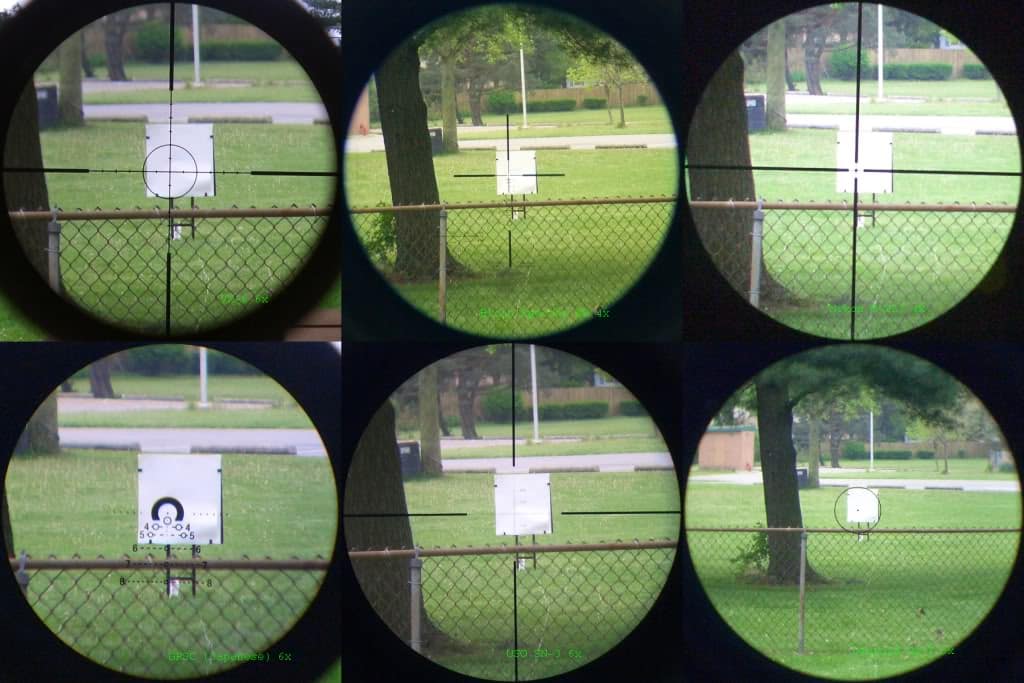 This is an abbreviation for the number of times the image is enlarged compared to your baseline vision, usually the way you normally see. Y
You should adapt the magnification power of the scope taking into consideration the shooting environment. Go for larger numbers in open plains and smaller ones in forests.
---
Still Wondering if You Should Get a New AR-15 Scope?
Consider these benefits of a quality AR-15 Scope.
Shoot with accuracy even from a great distance
Removes the need for a flashlight when shooting
Depending on the magnification power you get extreme precision
The scope makes the target appear clear so that you can direct the shot in the right area
Acquiring the target in seconds
Gives the shooter a tactical advantage
Guarantees target shooting
Eliminates the necessity to approximate distances
Enlarges the shooting range consistently
Protects the shooter's safety by allowing a greater distance
Ensures proper game identification
Don't mistake an animal for another ever again
Allows the selection of trophy-material game
Recommended even for beginners and shooters who do not like lining iron sights
Extends the hunting time to early mornings and late evenings
Suitable for night shooting, especially for larger game animals
More hours shooting, more chances
Pinpoint the target through clear imaging
Allows you to be thrifty with your bullets and get more game for the same ammo
How to Decide on The Perfect AR 15 Optics System?
Don't just get the first AR 15 scope you can find, put some time into research and study before you buy. Since there is a wide selection of scopes available, you should choose the one that actually makes a difference in your case.
The first important point is to outline your own needs first. Know what you want. Know what you will be using the scope for, and find one that matches you needs. Above, we examined several types of scope that would be suitable to different types of uses. These are the factors you want to keep in mind when choosing a scope. Once you outline what you want, your decision becomes much easier.
Don't be satisfied just with the first reviews you can find, dig deeper before taking out the money.
Go through the 5-star reviews, but for a balanced view on the quality of the scope also read with increased attention the 2 or 3 stars to prepare yourself other issues you might have. Seems like a no-brainer, but check the scope's compatibility with the gun, there is no one size fits all in this case. Also make sure it fits your upper receiver!
It is worthwhile to think about the bullets type too.
One of my favorite AR-15 models
Never accept a piece without a warranty, no respectable company would allow such a product to leave their premises. This gives you peace of mind that is case of a defect the AR 15 scope will be replaced if broken.
You also got to know your preferences, as a laser sight and your illuminated reticle are very different. You should be able to point and shoot accurately with no additional adjustments.
It is also a good idea to try different scopes or ask for advice from more experienced shooters.
---
Before Buying an AR -15 Scope – Technical Considerations
The AR-15 is a semi-automatic weapon that comes in two different calibers, the .223 and the 5.56 NATO.
When selecting a scope for an AR-15 take into consideration the necessity of a shock absorption scope that allows repetitive shooting fast and efficiently. The gun has enough recoil to make an impact on your sighting for a few seconds.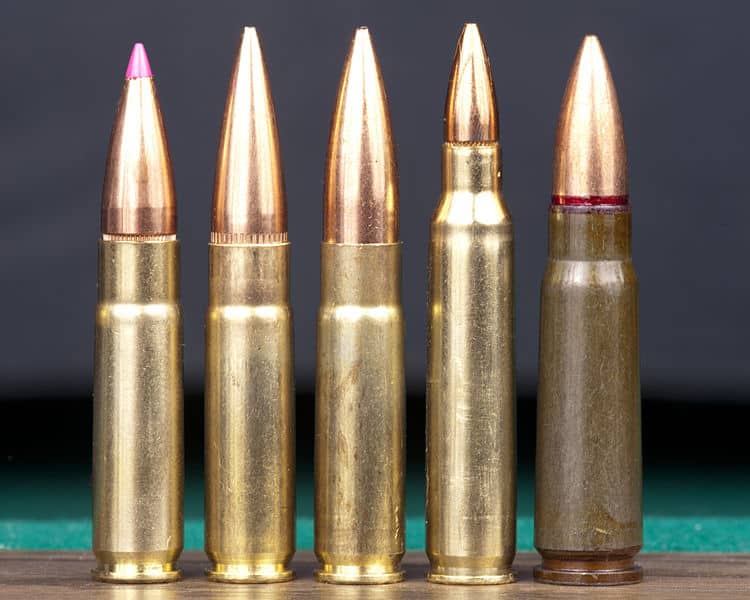 A couple of cartridges used in the AR-15
The cross-hairs are also a debatable topic, and each shooter has a personal preference depending on the use of the gun. If you are a hunter, you might enjoy a reticle with marks showing the distance, usually between 50 and 600 yards.
Precision shooters prefer a color adjustable single reticle. The adjustment comes in different intensity shades
Finally, the field of view needs to be taken into consideration to be sure you are shooting accurately both near and far away.
Again, there is a noticeable difference between hunters and marksmen. While the first need to shoot at a considerable distance, the latter are more interested in clarity at shorter ranges.
It all depends on the way you intend to use the scope, get the right tool for the job.
It's also important to clean your AR-15 regularly to avoid any buildup or damage to the gun.
How Much Magnification Is Optimal for An AR-15 Scope?
As previously described each scope has a magnification power denoted by "nx," for example 3x, sometimes up to 16x. It is important to know that the larger the number, therefore the zoom, the bigger the distortion.
Of course, a good scope will strive to reduce the distortion, but you need to balance the magnification power with other features of your rifle.

Hunters go for the large numbers, choosing between 9x and 32x, but this is not the only specification to pay attention to. The light transmission allowance is also essential, and those that have an emerald coating allow light magnification.
If you intend to hunt in low light and not lose visibility, this is a great choice since you get a clear sight of the field of view even when using full magnification.
Even for short distances, a scope is justified if the use requires excellent precision and clarity. Usual applications are in tactical missions, where clarity at short range is more important than distance. Never buy a scope before checking magnification abilities.
As you can see, these features depend highly on your usage. Depending on the type of activities you are doing, one scope would be much more suitable to your requirements.
---
How to Find the Right Reticle for an

AR-15 Scope

?
There are numerous types of reticles available, and the selections should be adapted to the user and the rifle. For a semi-automatic fast paced gun like the AR-15, a natural choice is an adjustable brightness and color reticle that can be used from early morning until late in the evening in any background or scenery.

Most shooters go for a "gradual distance reticle" which shows marks for different tick mark for each distance and the shooter can adjust accordingly. Reticles can be green, black or red with different intensities. These are much more intuitive, and will eliminate a lot of the confusion for you.
The more advanced models have a range measuring tool that enables the shooter to make small corrections for natural elements that might affect the trajectory, like the wind. These are of course more expensive as well, but might make your life easier if you struggle to make the necessary calculations.
Duplex Reticle
The primary type of reticle is the duplex. It is a cross meant to be overlapped with the target for an easy acquisition.
Variations are available, including the long-distance reticle, which has additional marks for different ranges.


The beauty of a duplex reticle is revealed in the heat of the moment when the shooter can pinpoint the target, adjust the setting to the distance and take an accurate and deadly shot.
Often, this will come down to personal preference. Perhaps you are already used to one of these reticles. We suggest you try some out at the range to get a feel for what works for you.
How Does Mil
–
Dot
Reticle
Work?
The duplex is best for stationary targets while moving targets are better acquired with a mildot. This is like the duplex but has rings for distances distributed over the vertical distance and for the horizontal as well.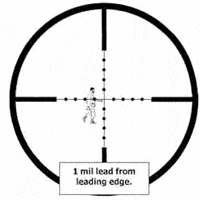 The horizontal marks are the ones that help to set your gun on the moving target. As a shooter, you adjust to estimate well the target's speed and make corrections accordingly.
What Is a BDC Reticle?
The BDC reticle can be considered an extension of the duplex but suitable for longer ranges, up to 600 yards, in comparison to 100 yards maximum for the basic duplex. This is the choice of police and other tactical shooters for their AR-15 rifles.

MRad and The Minute of Angle
To enjoy the full benefits of our scope, you need to calibrate it and actually understand what the relationship between an inch on your scope's movement and the distance in the field is. Enter the minute of angle, a mathematical relationship. These are quite complicated to understand, but offer many benefits once you get the hang of them.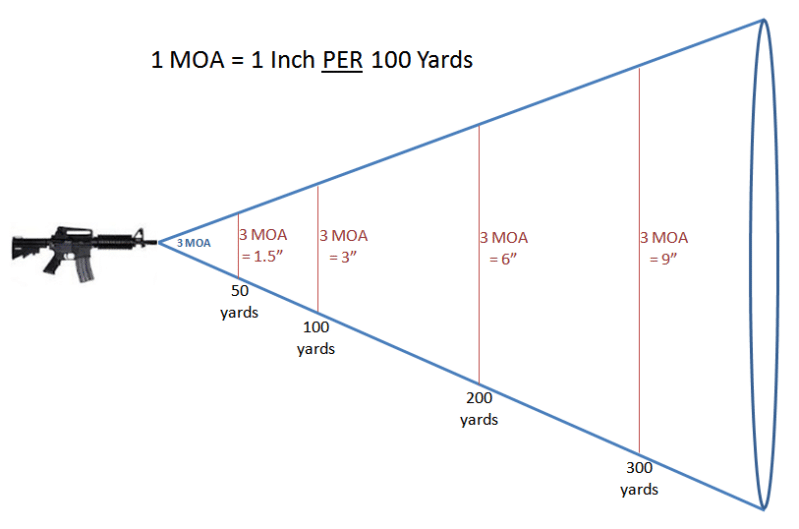 You start by dividing a circle into 360 equal parts called degrees, and each degree in 60 smaller equal parts called minutes (yes, there is a link to the minutes in an hour). You can see a graphical example below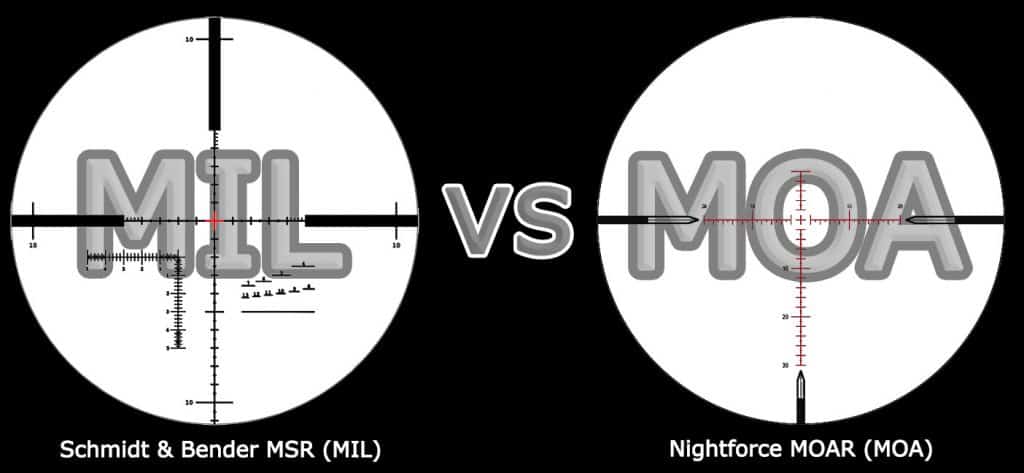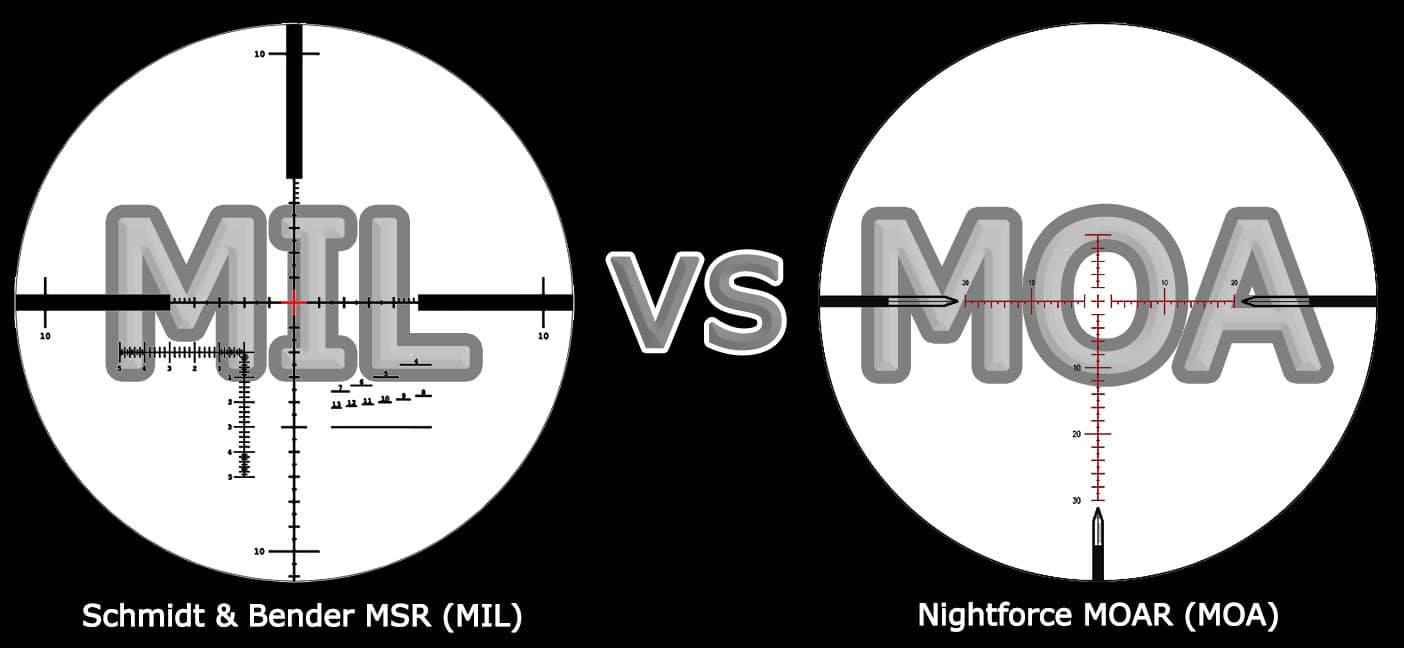 This matter becomes necessary when sighting your new scope. You need to be extremely accurate because, due to similar triangles, any error propagates and grows. As you can see, one MOA dot becomes an inch larger at each 100 yards. The knobs serve as data-entry tools, helping you fine tune the scope until you zero in.
How Does Focal Plane on an AR-15 Scope Work?
The image you see through the lens is the focal plane. This goes through an optical system since due to the lens type it appears reversed when it enters the scope.
The transformation of the image through the scope is called Cardinal Points; this describes the journey of the picture through the scope. The primary lens in the scope makes sure the image is not upside down and moving to the other side.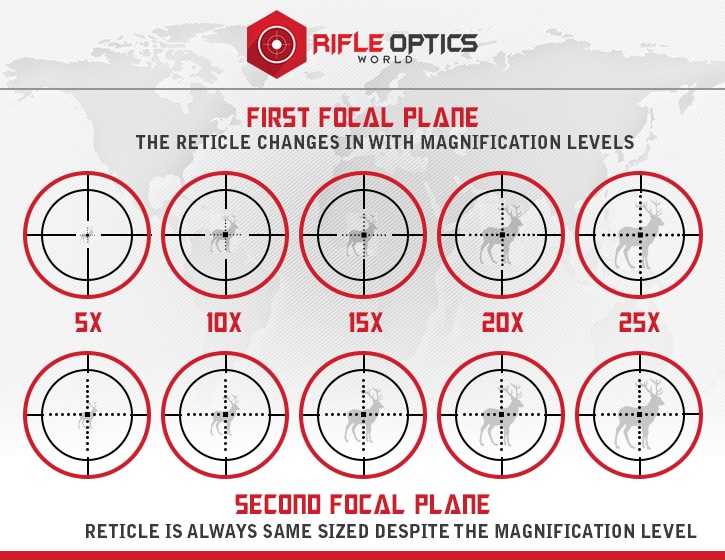 You need to know this because scopes come in two types: front focal plane and rear focal. European manufacturers favor the front focal and is most useful for tactical applications due to fast focus at different magnifications.
The rear focal plane is better for low light situations. A rear focal on a BDC reticle is best at high magnification. There is a clear preference of manufacturers for front focal plane models since these are more versatile.
Parallax
The parallax is a misalignment of the focal plane. You can empirically test this by sighting your target via the scope at rough 100-110 yards. After being on target, move your eye to observe another part of your target and watch any movement of the image. If you can see a difference, there is parallax.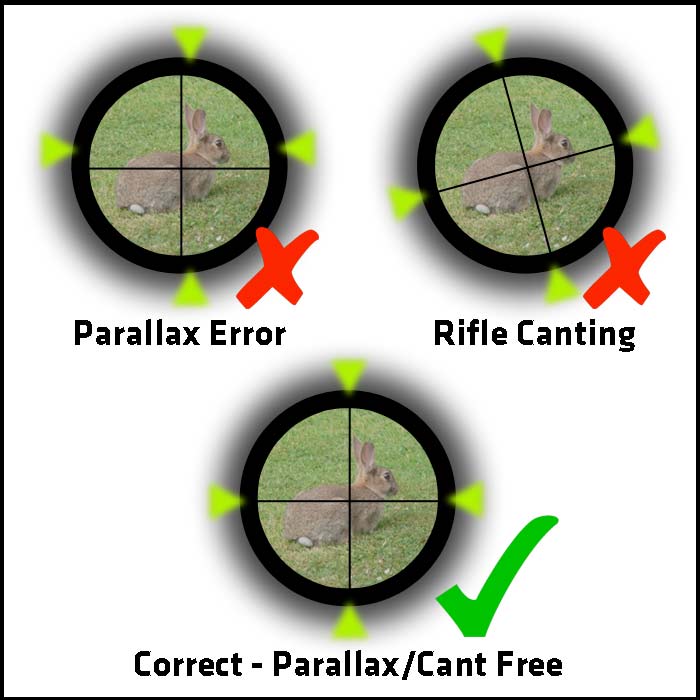 To correct this, you can use the scope's adjustments for this problem, if available. If you have a model that doesn't have a dedicated parallax adjustment you need to sight your rifle again.
The downside of this method is that if the scope has a parallax in the field, you will not be able to correct it on the spot. It just makes more economic sense to have a scope with parallax as standard.
AR 15 Scope Reticles Overview
As you can see from the above, there are many options for reticles, so it will really come down to how you use the scope, and your personal preferences. Often, it will simply be what you are used to already. If you don't have a lot of experience with reticles, it might be a good idea to head to the range and try some out.
Using a reticle can often be difficult and require quick calculations. However, this is why it is so important to learn the specifications immediately and use them in their intended way. The confusion will be diminished significantly if you base your usage on a good foundation of knowledge.
Hope You Enjoyed Our Best AR-15 Scope Review
There are numerous AR-15 scope options available, and your job is to select the right tool for the job. Start by thinking about the way you are going to use this scope.
Don't forget to look for opinions and reviews online, as these are usually pointing out both pros and cons. Use the retailer's similar products feature and you can start with a model and explore other products.
Don't worry about the mounting system too much; it is a generic "bridge" mount. It is more important to think why do you need the scope. Is it for a tactical use or hunting?
In conclusion, the best AR-15 scope is that one the fits your needs and is within your budget. There are plenty of models available for hunting, tactical or even self-defense. The decision becomes much easier if you outline your needs and requirements beforehand.
Since this is a utilitarian tool it is meant to be durable and last for years, making your shooting pinpoint accurate and there is no shortage of options, you just need to research in depth to find the one for you. Remember, if it's expensive but will last you longer, it might be a better investment overall.
Enjoy the reading and comparing, maybe after this you can help others make an excellent choice of the best AR-15 scopes.
Share your experience and thoughts on this matter and have fun hunting!