A good AR-15 is, by no means cheap or usually even relatively inexpensive. But they are valuable to the all of us AR enthusiasts of the world. We like to clean them, prep them before our next trip to the shooting range, and when we aren't using them, we like to know that they are safe and secure. And when we need to transport them, we want it to be a simple matter.
This is where owning a good AR case comes into play.
Today, we are going to be taking a look at the best 3 AR rifle cases currently available on the market. As an added bonus, we won't only be focusing on just hard cases or just soft cases… We will be looking at the top 3 in both categories.
So, if you are ready to invest in a high-quality AR case, let's dive in!
Get Deals on Guns and Tactical Gear
Join 70,000 Readers For Our Weekly Discounts
---
Top 3 Hard Cases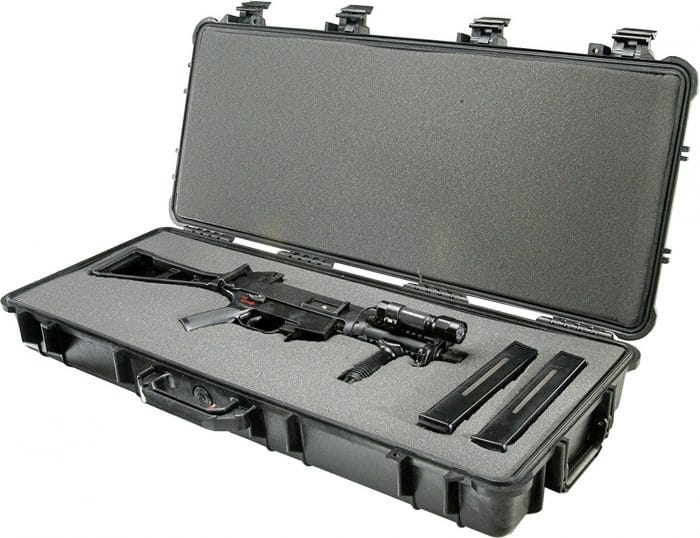 Pelican is a big name when it comes to strong, high-quality rifle cases. And they've been building that trusted reputation for over 30 years now.
The Pelican 1700 Rifle Case is, by far, one of our favorite Pelican cases that have been perfected with all those years of experience in the industry. It is a strong case that features an open cell core with a solid wall design.
This design is not only stronger but also lighter than a solid core wall. It is completely crushproof thanks to such a sturdy build. It has even been thrown out of helicopters in Iraq and rolled over by SUVs in Tanzania just to test its durability.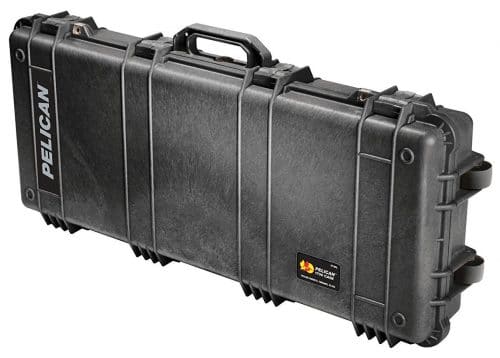 And if water seeping into your AR case is a concern, worry no more because the Pelican 1700 takes care of this problem through the use of a tongue and groove fit and a polymer o-ring. And if that isn't enough, it also features a pressure equalization valve that releases built-up air pressure while simultaneously helping to keep water out.
The interior is filled out with 3-inch thick foam padding and is spacious enough to contain a full AR-15, your red dot scope or two, and some extra magazines.
Pros:
Very well-built
Spacious
Waterproof and dustproof design
Cons:
The replacement foam can be expensive
This case is rather heavy
---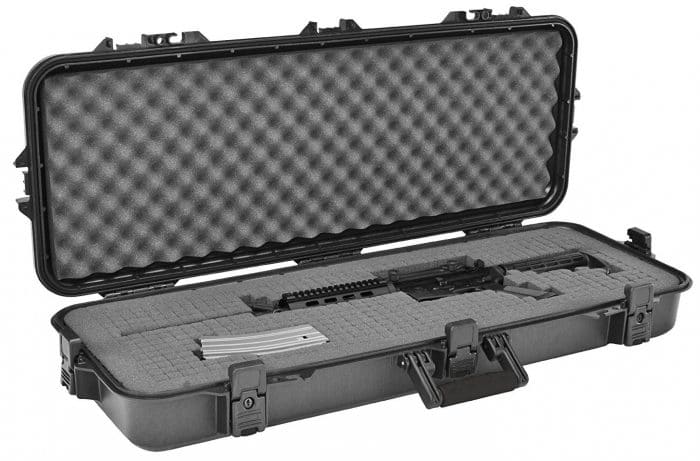 The Plano All Weather Tactical Case is weatherproof rifle case that features probably one of the best thick-wall construction cases you can get without breaking the bank.
There are two major selling points when it comes to the Plano All Weather Case. The first is that it is made to be just as high-quality as a Pelican case but without all the extra added weight that a Pelican case generally packs on.
On the other hand, it is not nearly strong and doesn't have such thick walls. But the Plano All Weather case proves that thick walls and extra weight doesn't equate to a better case. Quite the contrary, actually.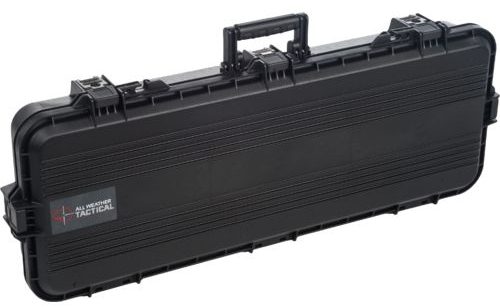 The second major selling point is its ability to be easily customized to handle all of your carrying needs. The foam interior is solid, yet perforated. This allows you to easily make interior adjustments should you need to add a few extra mags, ammo, scope, or really any other gear that it doesn't have a default space for inside.
This case also features a watertight Dri-Loc Seal that will make sure your AR-15 stays dry even in the wettest or humid environments. And to top things off, its heavy-duty, dual-stage lockable latches and built-in pressure valve make this case perfect for dealing with the usual bumps and jarring associated with traveling.
Pros:
Waterproof/Dustproof
Lightweight design
Built-in pressure valve
Cons:
---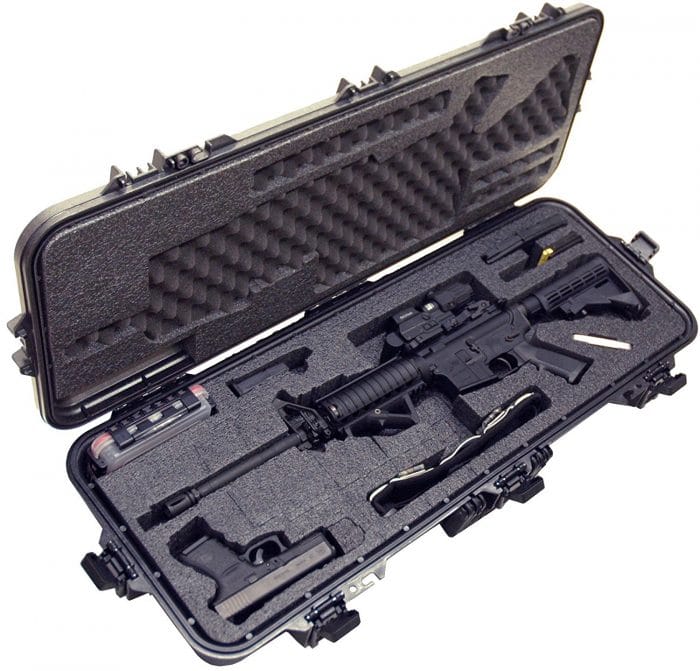 This waterproof AR-15 rifle case from Case Club is designed specifically with the AR-15 owner in mind and is great for those who may be needing to travel by airplane with their rifle.
It is airline approved for checked luggage and is fully shippable. To boot, it can put up with just about any abuse TSA feels like throwing at it without taking any damage or failing any of their thorough inspection procedures.
The interior contains custom pre-cut closed cell military grade polyethylene foam designed specifically for carrying an AR-15. In addition, it has several other spaces for things like an extra full-size or compact pistol, and two 10, 20, or 30 round regular or pmag magazines.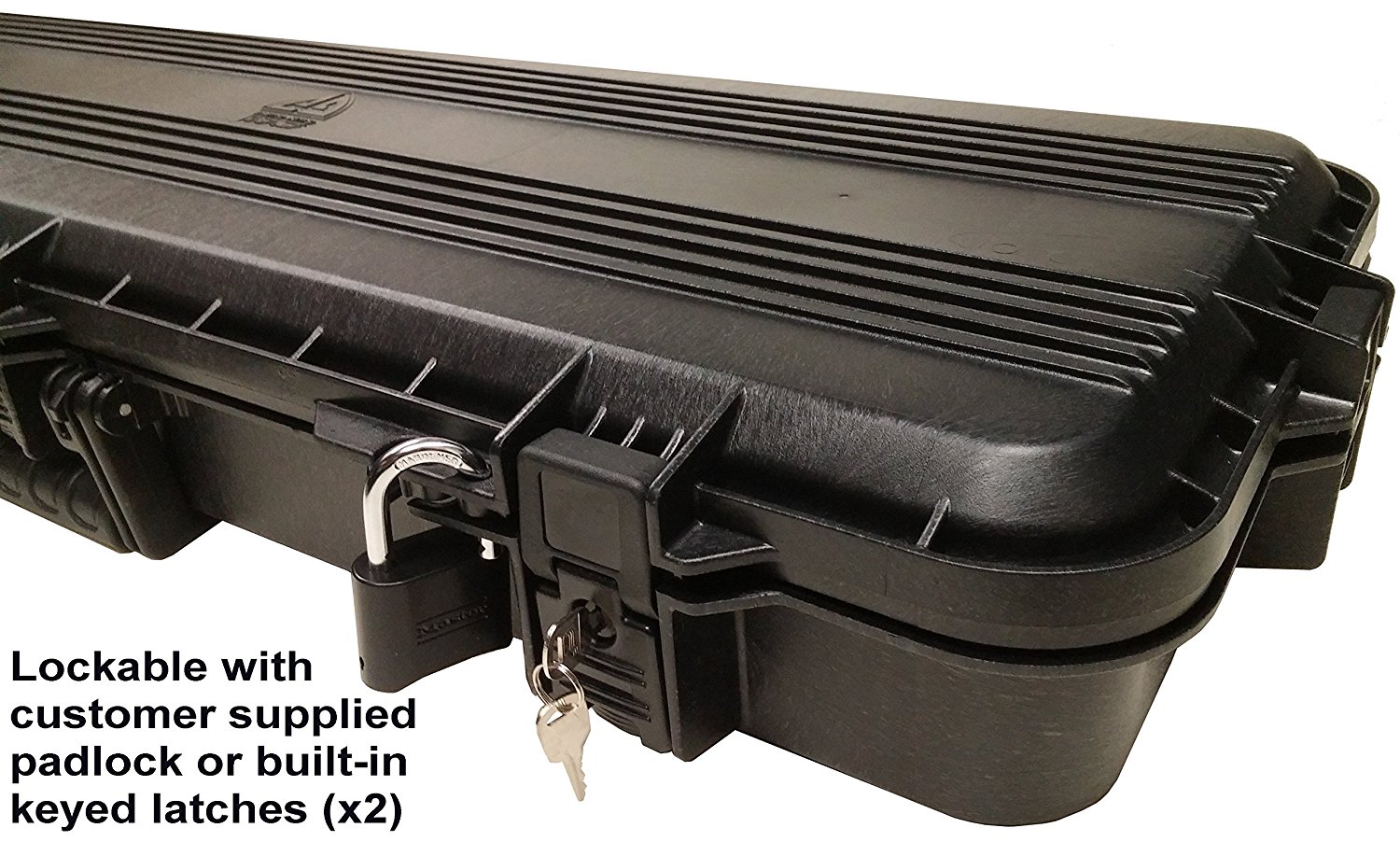 It contains a total of five built-in heavy-duty latches, and two of these latches are even keyed to give you that extra layer of security. If that still isn't enough for you, there are also padlock-able holes so you can add your own locks to the mix if you feel you need it.
Pros:
Waterproof/Dustproof
Easy to modify interior foam
TSA approved
Cons:
Case feels clunky to carry
Gun cut-outs are spaced apart very weird
---
Top 3 Soft Cases
Probably one of our absolute favorite soft cases on this list is the Voodoo Tactical Deluxe Weapons Case.
For starters, this soft case is a beast when it comes to adding multiple extra accessories due to all that MOLLE webbing that's been included on the outside of the case. Seriously, you could probably very easily carry your entire arsenal in this case if you put a little prep work into it.
The interior of the main compartment will accept two long guns up to 36 inches in length. The two exterior padded pockets can hold another two full size or compact pistols and this makes it appealing for quick draw scenarios when you may need a firearm in a hurry.
Both the pistol and the mag pouches have sturdy locking zipper pulls to keep everything secure and out of anyone else's hands. And yes, the padlocks are even included so no need to worry about supplying your own.
Altogether, this case can hold up to six 30 round rifle mags and up to six pistol mags with ease, in addition to your valuable firearms themselves. It is lightweight, made of quality material and is completely padded, lockable and it can easily be configured to multiple carry styles and needs.
Pros:
MOLLE compatible
Very long to accommodate long guns
Spacious
Cons:
Cumbersome to have in tight spots
Handle is rather small to support the overall length of this case
---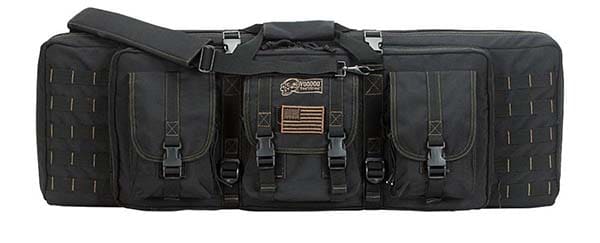 Looking for a soft case that is capable of carrying not only more than just your standard soft case, but also more than even the Voodoo Deluxe Weapons case? Then look no further than the Voodoo Tactical Rifle Case!
Made of a rugged ballistic cloth construction, this case is certainly built to last through years of rough handling without taking much in the way of even normal wear and tear.
On the exterior of the case, you will find plenty of PALS webbing for attaching any of your extra gear that is also PALS compatible. As a matter of fact, when we say plenty, we mean, it has an entire five rows of webbing!
There is also 3 exterior ammo and accessory pouches to tote all your extra ammo, magazines, and maybe even a few hunting knives.
Lightweight, expandable, and high-quality overall construction. What more could you ask for?
Pros:
Very Spacious
PALS/MOLLE compatible
Ballistic cloth construction
Cons:
Can feel bulky
Buckles are a bit noisy
Interior is not heat resistant
---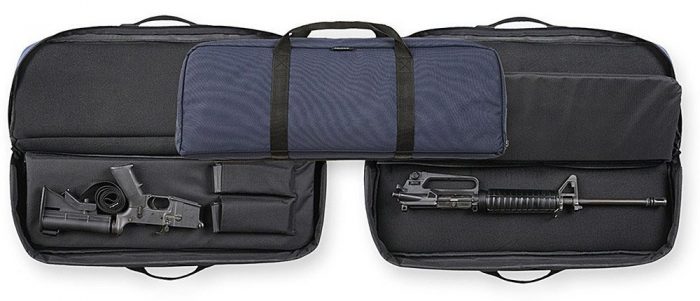 Looking for something a bit smaller than the rest of the cases on our list? Why not take a peek at the Ultra Compact AR-15 Discreet Carry Case?
This is by far, one of the smallest AR-15 cases available today with an interior size of only 27″ x 9″. No worries though as this case can hold up to a 27″ long rifle and still have room for a few smaller accessories such as a scope, two magazines (in the sewed in internal mag sleeves), and a few shoulder straps if needed.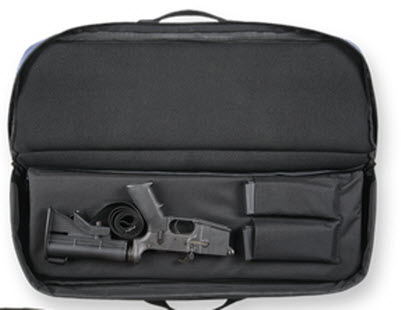 The inner padding is 2 1/2″ thick and the lining is a heat resistant tricot material.
Nothing fancy here, but it is an extremely practical carrying case for your AR-15. Straightforward, lightweight, and thoroughly padded to keep your rifle safe from minor jolting, drops, and scratches.
Pros:
Very easy to organize your gear inside
Small in size
Sewed in magazine holders
Cons:
No way to keep a rifle from bouncing around inside due to lack of inner straps for this
---
Should You Buy A Hard Case Or A Soft Case?
When it comes time to pick out your AR-15 case, you have the option of a hard case or a soft case. Both of these types of rifle cases have their individual pros and cons.
Hard AR-15 cases are the perfect choice when you need something that you can use to store away your rifle when it isn't in use. They are also ideal for long excursions or transporting one of your more expensive rifles that require that extra layer of protection.
They usually also have a bit more space for more mags, ammo, and scopes than their soft counterparts.
Hard cases typically offer the most protection for your AR-15 but they can also be rather heavy and sometimes too cumbersome to be easily toted around. This is where a soft case comes in, however.
Soft cases are the better pick if you want something lightweight that you can pack up and throw in your truck on the way to the gun range.
While hard cases are great at keeping your rifles secure when they aren't with you at the range, maybe you already have a gun safe at home and don't want to have to find room for yet another gun case at the top of the closet. With a soft case, just put your rifle in the safe, fold up or flatten your soft case and tuck it away until you are ready to head out again.
---
Final Thoughts
In this review, we took a gander at what we believe to the best 3 AR-15 cases, in both the hard case design as well the best 3 soft cases for rifles.
When it comes time to make your decision, we hope that we have given you enough information to be able to choose wisely.
At the end of the day, it all comes down to a careful blend of practicality, comfort, and quality. Is it practical for your needs, is it comfortable to carry around, and has it been built with quality in mind?
Answer those three questions and you'll be one step closer to finding the best AR-15 case for your valued rifle and gear.
If you feel that we have left out a case or two that you feel deserved to make it onto this list, please don't be shy. Let us know about it in the comments section below, we'd probably love to check it out too!
Related Reads: