Ah, the humble AR. Or, actually, not that humble – rather, hugely powerful and adaptable.
It seems nowadays that almost everyone has one of these iconic weapons hanging up in their gun safe. Now used for everything from competition shooting to hunting, there are now almost as many different variants of the AR as there are people who use them.
Add to this the fact that the AR is gun that can be modified to your heart's content, and there is really no reason why any serious gun enthusiast shouldn't own one. In addition, the fact that almost every major gun manufacturer now produces at least one AR variant means that the prices for these weapons has dropped a lot in recent years.
If you feel it's time to get your first AR, or you just want to replace your battered old example, you are in for a shock. With so many different variants of the AR being made every year, choosing between them can be real difficult. Fear not, however, I'm here to help. Here is a list of the best ARs  to come out recently.
Get Deals on Guns and Tactical Gear
Join 70,000 Readers For Our Weekly Discounts
---
Colt M16A1 Re-Issue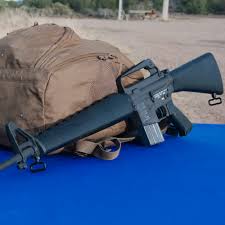 This is the classic, perhaps the closest AR you can get to the original M16. Though the M16 has become a cult weapon in the years since its debut in Vietnam, its worth remembering that the reason it was originally chosen for this role was its reliability and power.
With this AR-15, Colt seem to have looked at the original M16, and decided that if it wasn't broke, you don't need to fix it.
As you would expect, this weapon comes with the classic styling straight out of Vietnam. The triangular stock, in particular, looks great.
In addition, this weapon comes with Colt's first production mid-length gas system, which promises to become a new standard for this type of system.
It moves the gas block closer to the muzzle, and this results in a much smoother felt recoil. With a more predictable kick from the gun, expert users are able to fire more reliably and accurately, even when unloading many shots in quick succession.
So, although this weapon looks like it came out in the 1970s, you can be assured that it still has what it takes, whether you are using it for competition or hunting.
---
Savage MSRs

Not so much a gun as an entire system, the new offerings by Savage promise to take both the AR-10 and AR-15 categories to a new level. They've gone back to the drawing board to completely update and re-design the heart of these guns for better performance.
The Savage MSR 15 is chambered in 5.56 mm, and the larger MSR 10 shoots the popular and powerful .308 Winchester round. Building on these solid platforms, different variants are available to suit the needs of almost everyone.
In the MSR 15 series, there is the MSR 15 Patrol, and the MSR 15 Recon. The former is a lightweight, affordable weapon that comes with a full set of furniture from Blackhawk. The Patrol is the more expensive of the two options, featuring a pistol grip and a free-floating barrel.
If you want more power, look to the Savage MSR 10 range. The Hunter is chambered in 6.5 Creedmoor, giving you huge power in order to take down that record-breaking deer.
This same round can be used in the MSR 10 Long Range, which makes use of the huge power of the Creedmoor to take your effective range right out to hundreds of yards. The stocks on both these rifles, as you would expect from Savage, are excellent.
---
DPMS GII AP4-OR

If you take your hunting really seriously, this is perhaps the best gun on the list for you. The design philosophy here seems to be to make a stripped-back AR that users are able to build into their perfect weapon.
As a result, this is a very light AR, at only 7 pounds without anything attached. It's chambered in .308, which I know is a very popular choice for many hunters, and also helps to keep the loaded weight of the weapon right down.
The only problem with this rifle is that you are going to need some knowledge in order to get the very best from it. As standard, you get nothing but the naked rifle, and one magazine. Whilst this may sound stingy, in reality it means that you can build on this base in order to create a weapon which is perfect for your needs.
---
Bushmaster Minimalist-SD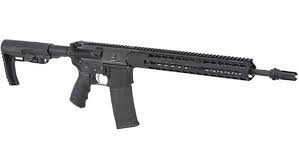 I have a friend who loves to add all kinds of stuff to his AR. He always has a different scope, and swaps up his slings almost every time we go out hunting.
Whilst this certainly brings him pleasure, to my mind an AR should be light and maneuverable, just like the military weapons they are based on. The Bushmaster is that gun.
This weapon makes use of a minimalist design that pares down what you need on an AR to the bare essentials. By doing so, the weapon is light and easy to handle even in the closest bush.
This AR weighs just 6 pounds without a scope, and also incorporates a AAC 51T flash hider as standard. If you're using it to hunt game, you can be pretty sure that nothing will see you coming.
The adjustable gas piston system on this weapon is also a marvel. "Modularity" is something we hear a lot about nowadays, but with this AR it actually means something. You are able to quickly and easily swap barrels and calibers, even in the field.
In addition, if you are planning on taking some long range shots, the Bushmaster affords plenty of rail space for both an optic and a bipod. All in all, this is a great choice if you want to use your AR for hunting.
---
FN 15 Series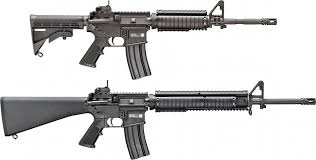 The FN 15 series is constantly evolving, and this year has seen the release of a few new weapons. Each showcases new features that promise to become standard in years to come. So if you want tomorrow's AR today, these guns are a great choice.
A notable addition this year is a new FN handguard. Making use of M-LOK technology, this handgaurd is constructed of 6061 aluminum, which keeps its weight right down, and means that it will put up with the toughest field conditions. It locks in place safely and securely, and never moves around no matter what you are doing with your rifle.
There are two new guns in the FN series. The first is the DMR II, which is equipped with an 18-inch barrel and a competition standard muzzle device. The second is the FN 15 Tactical Carbine II, which comes with a 16-inch barrel and a tactical flash suppressor.
The trigger mechanism on both these guns has been upgraded, and both offer a huge amount of space for mounting any optics or bipods you like.
---
Mossberg MMR Tactical and MMR Pro Rifle

Mossberg are very highly regarded when it comes to building ARs, being one of the first manufacturers to make civilian grade versions of this weapon. With these guns, they have taken that experience, and combined it with the latest technology, to make two great weapons.
The two rifles are quite different. The MMR Tactical is set up for hunting, with a six-position butt stock. It also comes bundled with a Vortex green and red dot sight, which is really amazing – with this AR, you'll be out hunting a few hours after it arrives!
The MMR Pro Rifle is set up for competition. The 18-inch barrel gives the maximum possible accuracy, an the muzzle brake improves the felt recoil.
In addition, the trigger mechanism on this AR is totally adjustable, which is a feature that is indispensable for competition shooters. If you are after an AR for competition shooting, this is definitely the one to get.
---
CMMG MkW-15 T SBN ANVIL

An exotic name for an exotic gun. One of the biggest trends of recent years has been the increasing use of previously strange and unknown calibers for both hunting and competition.
With more and more people seeking out the perfect round for their purposes, many gun manufacturers have responded by offering established weapons in previously unseen calibers.
This is the case with this rifle, which is chambered in .458 SOCOM. The problem, up until now, for fans of this round has been that rifles, and especially ARs, suitable for firing it have been astronomically expensive. CMMG therefore deserve credit for making an AR that is both affordable and able to fire the .458.
Though it fires an unusual caliber round, however, it is not a gimmick weapon. The Mk3 platform receivers are constructed with 7075-T6 aluminum, meaning they will last longer than you do.
The 10-round magazine also gives you the capacity to take down the largest game with ease, though with the power of the .458 SOCOM round you are unlikely to need to use the whole capacity!