Whether you are in the military or a hunter, a rifle sling offers a variety of benefits including comfort and durability. There is an astounding difference between a sling that simply gets by and one that lasts for years.
Another benefit of the best rifle slings is that they save you money, in that you don't need to replace them often. They survive rugged use when hiking through the mountains, hunting in the mountains and other rough situations.
Unfortunately, there are thousands of rifle slings on the market. The fact that different types of slings are designed for different purposes makes one's choice even more difficult. So what you do when you need a rifle sling but don't know where to start? Our comprehensive guide aims at giving you all the information you need to aid your search.
We also have a great rifle caliber guide for those who want to know more about rifles.
Get Great Guns and Ammo Deals!
---
Factors to consider when choosing a rifle sling
The right material
Rifle slings are usually made from either nylon or leather. Many people prefer nylon slings are lighter while others prefer leather slings because it's a more elastic material.
At the end of the day, the choice of the right material comes down to personal preference. It's however important to note that leather stretches over the years and is a better choice for someone who loves the traction as well as style that this material offers.
Comfort
The main reason why people invest in a rifle sling is to add to the comfort. It's important to ensure that your sling has at least 2-3 inches of wide and thick padding. This goes a long way towards reducing stress on the shoulder as well as maintaining balance while on the move.
By so doing, extra padding makes it easier to carry and use your rifle for longer hours before discomfort sets in. Adjustability also helps with comfort as it allows the sling to fit people of various sizes.
Versatility
Some slings are designed to be incredibly versatile and for use with a vast number of rifles. Purchasing such slings makes more financial sense as they are compatible with many rifles. It is best to buy a sling with several slots.
Types of gun slings
Rifle slings are broadly categorized into three i.e. single-point, two-point and three-point slings. Single point slings use one connection point to the gun while two-point slings use two connection points to the gun.
Three-point slings also have two connection points, but have an additional loop that goes around the torso.
The Ching-sling incorporates the principles of two point slings and hasty sling. It uses three connection points to the gun.
A cuff-sling, on the other hand, is designed to get an accurate shot without having to use a bipod. It can also be used effectively for any air rifles.
---
Carrying Rifle Slings Reviewed
Single-point rifle slings
These slings are a favorite option for many gun enthusiasts simply because they are incredibly comfortable. They wrap around the body and the point attaches to the gun or rear.
Advantages
Makes picking and dropping gun easy
The gun sits in front of you, point is a safe downward direction
Great for moments when you need to grab the weapon at a moment's notice or go hands-free
Allows for a wide range of movements including transitions caused by barriers
Can also be worn to the side
Disadvantages
They provide little shooting support and as such, the aim doesn't improve much as compared to when you don't have a sling
The gun sways a lot, especially when not holding it
Users constantly get knocked in their groin or knees

What makes the MS4 stand out is the fact that it allows for single-point as well as two-point configurations. It incorporates push-button QD sling swivels on both ends rather than the snap hook design found on other Magpul slings.
The sling swivels are a welcome feature that allow for versatility and use with several gun systems. This sling can be adjusted quickly, making easy to switch from one rifle to another instantly.
The MS4 has various functions including holding the rifle on the shooter's back while negotiating obstacles as well as retaining the gun on the body when transitioning to a secondary weapon. It can also be used as a shooting aid when you need an unsupported firing position.
This sling comes with a tri-glide buckle that helps with adjusting the length. The Receiver Box and QD Sling Swivels are both made of steel and coated with black oxide. We love the fairly substantial, 1.25" thick nylon webbing as it improves strength and reduces the risk of fraying.
Two-point slings
Otherwise known as carrying straps, two point slings connect to the front and rear of a firearm. They are quite popular and often used for carrying weapons over the shoulder, particularly during long hunting expeditions.
Advantages
They come handy for carrying weapons and improving aim
Hasty-sling method of carrying the sling involves looping it around the dominant arm and using the tension to keep weapon stable. It's a great way to improve aim.
The loop sling is a shooting modification used with the two-point sling. It is achieved by disconnecting the rear of the sling, sliding the arm through the loop before pulling tightly. This technique allows one to stabilize a long gun, hence a more accurate shot.
Disadvantages
A two-point sling makes it difficult to retrieve the weapon quickly, especially when time is of the essence
It's not easy to transition from side to side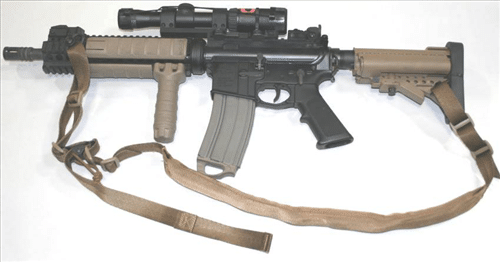 This is a wide weapon sling and an upgraded version of the original VTAC MK-1 sling. It comes with the added benefits of tough construction and faster adjustment, both of which come handy in combat situations.
The sling is constructed using a rugged nylon material, which is preferred by manufacturers for its lightweight nature and resilient performance. Like the MK-1, its rapid configuration and features closed-cell foam padding for comfort.
Viking Tactics uses a new rubber pull that is well textured, allows for easy adjustments and offers an easy grip. Rather than plastic buckles, the MK-2 has metal hardware for enhanced durability.
Notable recommendation: Vickers Sling by Blue Force Gear
The Vickers Sling has revolutionized the way military carries automatic weapons. It was designed with the help of Larry Vickers, a former first SFOD-Delta operational member.
The sling incorporates key features that you would expect in a world-class tactical two-point sling. Such include the patented Quick Adjuster, which allows for quick transition from carrying a weapon to being combat ready.
It is constructed using 1.25" nylon webbing for durability and stellar performance. The overall length is adjustable, thus allowing for a comfortable fit and accommodating weapons of different sizes.
Three-Point Slings
As previously noted, three-point slings have two points of attachments and an additional loop that goes around the torso.
Advantages
It keeps the weapon within easy reach
Offers more control than single-point slings when moving hands-free
Easy to transition from rifle to sidearm and vice versa without worrying about fumbling between weapons
Disadvantages
It tends to get caught on block ejection ports and release mechanisms of rifles
If you are on the market for something that doesn't restrict your body movements excessively, the Specter CQC three-point sling will prove a worthy investment. It is made with nylon-web and features polycarbonate clasps and keepers for durability.
The keepers and clasps are welcome features that hold the weapon in a comfortable position until you need to fire. Another notable feature is that all the stress points are double stitched for maximum strength and durability.
We love that it is available in a variety of tactical styles for use with different types of guns. With a choice of six positions, you can rest assured that keeping your hands free and bringing the weapon to action is easy.
Like other slings in this guide, the Specter three-points have an adjustable length and don't have unnecessary fasteners, buckles or straps.
---
Shooting Slings Reviewed
Slings can be designed to either help you carry your gun or improve your shot. That said, shooting slings are available in two main types i.e. Ching Sling and Cuff Sling.
Ching Sling
This type of sling is a special two-point sling with an additional strap that attaches to center stud of a gun. You can think of it a two-point sling that was specially designed for executing the hasty-sling shooting method.
The small strap can be slid up and out of the way when using this sling to carry a rifle. All you need to do when shooting time comes is loop the dominant arm through the loop created by first and center studs. This allows for a steadier aim.
Andy's Leathers offered two Ching Slings i.e. Biothane and Scout Rifle Ching Slings. Both of these are designed with advanced features to ensure a great shooting experience. The former is a synthetic version of the Ching Sling and features black Cerakote hardware.
The swivels come pre-installed and the sling is available in two widths i.e. 1" and 1.25". You have the freedom to choose between machine screw for a Ruger Scout synthetic stock and wood screw for wood or laminated stocks.
The Scout Rifle Ching Sling, on the other hand, is a 3-point sling whose design is based Eric Ching's original work. It is also available in 1" and 1.25" widths, three leather colors as well as three colors. Our only concern is that the swivels for this sling are sold separately.
Cuff Slings
Cuff slings are a favorite variation among sharpshooters as they allow for a steady, accurate shot even without a bipod. They are a great way to improve your shot and are easier to set up compared to loop sling methods including the USGI sling.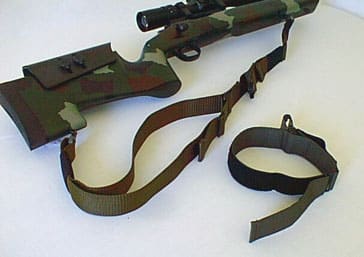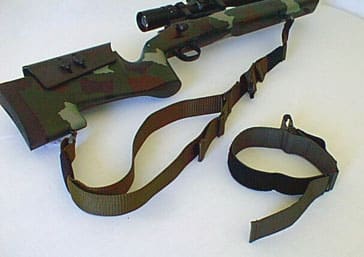 Tactical Intervention Specialists is a small business owned by police sergeant known as Mike Miller. It offers two main cuff slings i.e. Slip Cuff Sling and Quick Cuff Sling.
The latter features a nylon band that is secured by Velcro. One end of the band has a fastex buckle that can be snapped into the sling whenever you need to loop up.
The Slip Cuff Slip from Tactical Interventions is so called probably because it constricts like a slip knot.
What differentiates it from the Quick Cuff Sling is that it has two fastex buckles, one that opens loop and another one that separates the sling at the center. It utilizes metal tri-glides for adjustability of length.
There are several ways of carrying your gun with Tactical Intervention Cuff Slings i.e. clinched across the back, for hands free movement or patrol style. You will certainly appreciate the ability to make adjustments with one hand for multiple shooting and carrying options.
The Fastex buckles and Slider provide the unprecedented support needed to make an accurate shot.
---
Additional hardware that you may need
It's important to understand that a sling may not always be enough. You may need to invest in additional hardware to help you attach to the rifle.
The Troy Rail Mount is a handy tool that you goes into the rail. You will need it for the forward attachment if your preferred rifle sling doesn't have a swing swivel on the front sight block.
If you need to do a quick disconnect, consider investing in the Magpul RSA QD for the rails. You can also go with the BCM QD End Plate for the rear. It is a great option for single point slings.
Maybe you are interested in scoping your rifle and trying to find the right scope? Check out our Rifle scopes guide for in-depth info.
---
Conclusion
Before buying a rifle sling for specific purposes, consider practicing how to use one. Keep in mind that it takes time to get used to a new sling so be patient. When using a leather strap, mark the most comfortable notch to avoid repeatedly looking for the perfect adjustment point.
Whether you are using a loop or cuff sling, ensure that you don't over-tighten it as this will constrict your movements. Remember that your choice of a gun sling can make the difference between ability or inability to switch firearms quickly.
Related Reads: