Throughout the 1940's, archery developers and novice designers began to make their own bows and arrows. These creations eventually led to modern-day bowhunting and archery hunting. A bow stabilizer wasn't even a thought, nevermind a crossbow.
Not until the 1960's was any type of modern technology discovered. During that decade, fiberglass was used in bow limbs for the creation of the compound bow, which ultimately led to the development of the crossbow. Today's modern day archer has moved on from the old days and upped their game with a bow stabilizer.
Stabilizers can perform a variety of functions. Besides absorbing vibrations in the bow at the shot and reducing the shock, they can also make the bow quieter. In addition, a stabilizer keeps the bow properly balanced by adding weight below the grip.
Archers new to the sport may not even understand the purpose of a stabilizer. Others, like some experienced archers, may wonder if a stabilizer is needed. One thing is for sure — every target shooter or hunter has their personal choice. You don't need a stabilizer to shoot a bow, but they do offer extraordinary advantages.
Get Great Guns and Ammo Deals!
---
Weight of a Stabilizer
A stabilizer is mounted to the riser back and is screwed into a threaded hole, located below the grip. Stabilizers can also combat bow torque, which is applied by unnecessarily gripping the bow handle.
For example, when an archer releases the bowstring, the riser torques as the energy makes contact. As this happens, it allows the stabilizer to resist the torque because of its weight in front of the bow.
If you have a really heavy stabilizer on your bow it will wobble and impair your accuracy. If it's too light, the vibration will greatly increase and result in a bad shot.
---
Length of a Stabilizer
Before you purchase a bow stabilizer, you should try out different lengths and types to see what best suits your needs. If you're the type of bowhunter who shoots at game no more than 20 plus yards away, you might prefer the lightweight version of a 6-inch stabilizer.
On the other hand, if you're a professional competition archer shooting at targets over 70 meters (roughly 230 feet) away, you might favor a steadier option, such as a stabilizer over 20 inches. This extra length can help tighten arrow groups at longer distances.
For example, in competition, athletes competing in archery at the Olympic Games use a recurve bow to propel arrows towards targets set 70 meters away. Consider how you shoot, where you shoot and what you shoot at before you make the decision about which stabilizer to purchase.
---
Will You Use it for Target Archery or Hunting?
Generally, you're moving when you're hunting, so a shorter length is usually the preferred choice.
Archers generally choose longer stabilizers because they can really go a long way. Some archery experts recommend choosing the length of the stabilizer based upon your height.
Other experts recommend choosing a stabilizer based upon your type of archery. For example, bowhunters usually choose short stabilizers (1 to 7 inches), so it's easier to handle in cramped hunting situations. Target shooters prefer long stabilizers, which are generally measured longer than one foot.
---
Noise Reduction and Vibration
If you've ever shot a bow, you'll understand the feeling when you release the bow towards your target. Tension can accumulate on a bow's string — when it's released, the energy is discharged. The end result is a very distinct vibration.
But don't let this stop you. The stabilizer will absorb a portion of the energy when your bow is drawn backward and released. Therefore, the vibration is reduced, as well as the noise reduction.
Please keep reading for our review on some of the best bow stabilizers on the market today…
---
When it comes to reputable brands, Trophy Ridge offers many top-not products. Their bow stabilizers are available in 6 inches and 9 inches, and the weight is formulated for those who seek comfort and lightness.
For your convenience, this stabilizer comes complete with added weights, which you can adjust to your preference for increased balance. Let's begin with the 9-inch model. It's longer and better for archers because they zero in on an object that is not moving. It will provide higher precision, plus better accuracy.
The Trophy Ridge Static is available in various colors. Obviously, camouflage is the most popular for hunters, as it disappears in with the contour of the surroundings. The construction of this stabilizer features holes in between for better airflow, which is great for balance.
Perfect for Amateurs and Professionals
No matter what your sport, you'll really feel the exceptional stability of this stabilizer. This rugged stabilizer is fully capable of enduring all types of weather, which is always a great advantage.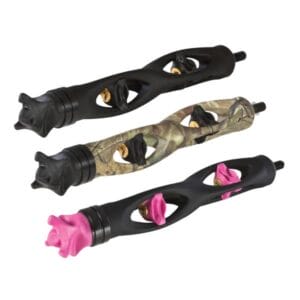 Constructed of a Ballistix copolymer system, the Trophy Ridge Stabilizer has the power of aluminum but nevertheless is very lightweight. Weight is a very important factor because it influences the accuracy of your shot.
Another factor to consider in a quality stabilizer is the type of coating used. The Trophy Ridge features a soft-touch coating to enhance the ability of the stabilizer to reduce vibration and noise.
Overall, the Trophy Ridge is a great performance bow stabilizer.
Features
Extreme lightweight design
Includes two customizable weights for added weight and balance
Braided wrist sling also included
Exclusive design allows air to pass through for a steadier shot
Features Ballistix copolymer system
Offered in both 6-inch length and 9-inch length
Available in pink and black
Check the latest price on Amazon
---
Another excellent choice is the Bee Stinger Sport Hunter Xtreme Stabilizer. With the Bee Stinger, you have a wide variety of equipment for multi-use.
The super light carbon fiber rod was created to make your stabilizer rigid as well as steady, and to give you greater accuracy in your shot. In addition, vibration dramatically reduces.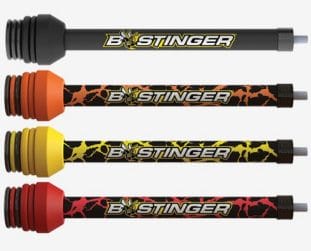 The structure utilizes rubber for its significant material. The goal with this stabilizer is to give you a nice and easy shot and deliver incomparable results. Additionally, Bee Stinger is really comfortable because of its soft construction.
The Bee Stinger Sport Hunter Xtreme Stabilizer is highly durable and will last you for many years. Although its price is higher compared to other stabilizers, this con is outweighed by the pros and is a solid stabilizer, to say the least.
Features
Provides superior stabilization while combatting shot-induced vibration
Ultimate hunting stabilizer
Individual one-ounce end-weights allow users to customize their stabilizer to meet their specific balance requirements for each particular hunting bow
Available in 6 inches, 8 inches, 8/6 inches, 10 inches and 10/8 inches
Offered in 12 different colors
Check the latest price on Amazon
---
The Limbsaver S-Coil Bow Stabilizer is affordable, stylish and extremely functional. Measuring at 4.5 inches in length and weighing only 4.5 ounces, it's very lightweight and small in size — ideal for a hunter.
The Limbsaver is designed to withstand tough weather conditions, especially when it's very windy. When the wind is strong, you always need the added security to ensure the bow is stable and capable of traveling in the desired direction.
In addition, the Limbsaver S-Coil uses the innovative NAVCOM (Noise and Vibration Control Material) technology. It provides a quiet shooting experience for users because of its short length and lightweight. It's well-balanced and supplies hunters the comfort they seek in an advanced stabilizer.
The Limbsaver is sturdy, reliable, and capable of hitting your target in all weather conditions. The installation is pretty easy and doesn't take up much of your time when assembling. The only disadvantage to this stabilizer bow is the fact that it's not suitable for all types of bows or for target archery.
Features
Lightweight bow stabilizer
Features a unique continuous spiral design
Uses Limb Saver's proprietary NAVCOM material to dampen vibration and noise
The coiled design increases the surface area for a smoother feel and reduced bow jump
Quick and easy installation
Ideal for all harsh weather conditions
Standard-sized S-Coil measures 4-1/2 inches; weight: 4.5 ounces
Available in black, red, camo, pink, purple, pink/black and red/black
Check the latest price on Amazon
---
Another contender for multi-sports is the NAP Apache Stabilizer. Weight is important when you are considering a stabilizer. With this stabilizer, there are no issues as it only weighs a pound. It's pretty ideal and when you remove the 2-ounce carbon fiber accessory bar, you'll feel the greater balance difference.
The NAP Apache stabilizer isn't expensive and quite reasonable for the convenience factors. One huge perk is the minimal bow and noise vibration. You can easily make your shot without your targeted prey hearing the sharp noise.
Excellent Target Accuracy
Some users even claimed that because this stabilizer is so quiet, they improved their overall accuracy — a huge advantage for the NAP Apache Stabilizer. With the NAP Apache stabilizer, the idea of reaching beyond a vast area is not impossible — and it can be achieved with great accuracy — always a good thing!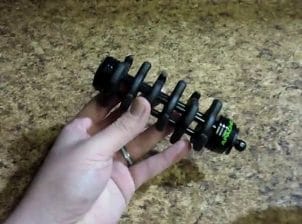 Another feature of this bow stabilizer is its ability to hold up in strong wind conditions. Simply adjust the stabilizer settings — you'll be happily surprised with its performance.
Without a doubt, this stabilizer system has solid construction and great qualities that New Archery Products offer their consumers. It features proprietary dampening materials which eliminate vibration and noise with each shot.
Available in traditional black and camouflage, the Apache can be converted down to a 5-inch stabilizer by removing the extender. In addition, this stabilizer has a hard plastic layer on the back. The layer is to keep the finish of it protected when you place it on your bow. Overall, it's a top-quality bow stabilizer.
Features
Trusted, solid design and features
Vibration control and bow silence from patented dampening materials
8-inches in length with removable 3-inch 2-ounce carbon fiber accessory bar
Hard plastic layer to protect the finish
Check the latest price on Amazon
---
Final Thoughts
No matter what your sport, your goal is usually the same. We all want to make sure we hit our target smoothly and accurately. While many think a stabilizer isn't necessary, ultimately it comes down to personal choice.
Regardless of the products presented (Trophy Ridge, Bee Stinger Sport Hunter Xtreme, Limbsaver S-Coil, or the NAP Apache), it's always up to the archer/hunter to choose what they're most comfortable as well as what best suits their needs. But if we had to choose the top pick, we'd go with the Trophy Ridge Bow Stabilizer.
Finally, a word to the wise — give a few bow stabilizers a try before you buy, get a feel for all different types, and then make your decision. And don't forget to put more thought into your options — the right bow stabilizer can make the difference between great success and disappointment.
Related Reads: