Gun sales have risen dramatically in the past few years. So has the demand for the best gun safes. 
In doesn't matter whether there's a Democrat or Republican in the White House, the fact remains: Americans love guns.
The Bureau of Alcohol, Tobacco, Firearms, and Explosives (ATF) keeps detailed records of the number of background checks initiated for new gun sales and demonstrates a dramatic increase in applications processed from 2005 through 2016.
A single background check can cover the purchase of multiple guns, and there's no background check required for private sales between individuals. So, though there's no way to know exactly how many guns are sold each year, what we do know is that it's a large number.
One thing we know is that 2016 set a record for any single year and that May 2017 surpassed even May 2016 in gun sales.
The point is, there are many more gun owners now than at any time in the past. Many purchasers are those buying additional guns, but many others are first-time gun owners.
Though new gun owners know they must secure their guns to prevent access by children or intruders, the best way to do that isn't always clear. Stashing the new gun on a top shelf of a closet gets it out of sight but certainly doesn't secure it for safety.
The following guide is a review of all the best gun safes on the market, no matter your budget or type of gun.
Just scroll down the chart to the type of gun that you need and see our top choices. 
Best Handgun Safes
We broke down some of our top handgun safes to help you decide.
SAFEST NEWSLETTER - WE WILL NEVER SELL YOUR EMAIL
GET GREAT

GUN AND AMMO

DEALS!
SENT ONCE A WEEK - NO SPAM - NO SELLING YOUR EMAIL
Best Biometric Gun Safes
It's always important to do your research when it comes to biometric safe. There is a lot of garbage out there that will end up breaking.
Best Midsized Gun Safes
Like the name says, these are safes made for larger pistols or multiple handguns. You can also add extra ammo in here and any other items that require safekeeping.
Best Long Gun Safes
Every long gun needs a home, these are our top picks for both value and safety.
---
Why Do You Need a Gun Safe?
Choosing the best gun safe for your needs depends on several factors, such as how many guns you currently own, how you use those guns, whether you plan to purchase additional guns in the future and how readily accessible you want to keep your firearms.
If you own a single handgun and don't plan to purchase other types of guns, then it is unlikely that you'll need or want a formal gun cabinet or large gun safe designed for long guns.
You won't be needing this…
Of course, you'll want to find the best safe for the money, but what's best for you depends in large part on how you'll use it.
It's likely that the owner of a single handgun will be happiest with it stored close to the bed or in a desk drawer. Even committed gun owners with several rifles, shotguns or other long guns stored safely in a large and secure freestanding gun safe generally choose also to have a handgun safe close at hand.
How to Keep Gun Safe but Accessible?
There's a variety of types of locking mechanisms and practically none that are universally appropriate for every possible use. Some gun safes offer biometric access, meaning that it's the fingerprint of only one or two individuals that will unlock the safe.
Others have digital keypads that can be good for quick gun safe access. Most large safes use mechanical locks that operate with keys or a combination dial.
Keyed entry is convenient, but where do you keep the key? And how accessible would that key be in an emergency situation?
Perhaps IN your bed?
Though a key or combination mechanical lock is fine when planning a hunting trip, a safe with quicker access is better in emergency situations.
Will you use your gun safe as secure storage for other valuables? The security and fire resistance of high-quality gun safes make them attractive as storage for other valuables, too.
Gun Safes = Great Place to Hide Your Gold, Jewelry, and Secret Pirate Treasure
Jewelry and irreplaceable papers can find a good home inside a high-quality gun safe, but they also take up space. If you have several guns to secure, it's wise to buy a gun safe that's larger than you need.
An individual who already owns several guns is likely to purchase additional firearms in the future. Storage of other valuables inside the gun safe will claim some of the space.
And if you live in a humid environment it may be that you'll also want to add a gun safe dehumidifier that requires still more internal space. Of course, you won't need a safe with a 48-rifle capacity if you have only a few long guns, but do consider what else you'll be storing inside and whether you'll need to add a gun safe dehumidifier so you won't regret buying a gun safe that really could use some extra space inside.
These are a few of the primary points you'll need to consider before determining which type of gun safe is best for your specific needs. Online reviews and the experience of others greatly help in decision-making.
A gun safe review benefits many potential buyers. Gun safe reviews are valuable when weighing one product against another.
---
Best Gun Safe 2022 – Our Top Picks
Now, let's dive into our top picks for the best safes this year. I've broken them down into four categories:
Best safes for handguns and pistols
Best biometric gun safes
Best safes for mid-sized guns
Best long-gun safes
For each category, we'll look at the pros and cons of each safe, how much they cost, and my overall top pick.
Are you ready? Let's get started.
Best Handgun Safes
Small Manual and Electronic Locking Handgun Safes
These small models are light on technology, which generally translates to highly affordable prices. Manual models lock and unlock with a key; electronic models generally use a digital keypad.
Each has a downside if being used as a primary handgun safe. Certainly, neither is the best handgun safe for quick access in a bedroom or for emergency access, but each has its benefits.
Owners of several handguns they want to keep handy around the house but still protect children or slow down intruders find these manual and electronic models quite useful.
Manual gun safe models require keys, which can be an issue when it comes to storage, accessibility or even remembering where they are. Electronic keypad models dispense with the key issue, but they require batteries or even plugging into a wall socket.
Those who are fully organized and never forget to check batteries in any device they own will have no problem with that. The rest of us, however, could find ourselves in need of the gun that's locked safely inside and inaccessible because the batteries died long ago. 🙁
The same problem can arise with plug-in models when the power goes out.
On the other hand, either of these types of models is highly effective for use within a vehicle.
Everyone with concealed carry licensure knows there are locations where they can't take their handguns and these small manual models provide the perfect solution. The key is with the car key and so that's no longer an issue. Most keys are tiny and look just like a bike lock.
Most of these manual models are smaller than those that include the electronics governing biometric access, so they fit well in a variety of locations within a vehicle. They can be stashed in a glove compartment, in a console or even under a seat.
Using a Cable to Secure Your Gun Safe
Most have a thin cable similar to those that some use for laptop computers. A small manual model can be lashed to an internal vehicle structure with that cable to make things more difficult for any would-be thief.
Though the cable likely won't deter a committed thief with unlimited time, it can make things difficult enough to make stealing the box too time-consuming or just too much trouble. These small manual models also are useful for safeguarding other valuables that must be left inside a vehicle.
These small manual models are the best value gun safe for many individuals.
Following are handgun safe reviews for some of the leading manual and electronic locking models.
Top Picks for Manual and Electronic Handgun Safes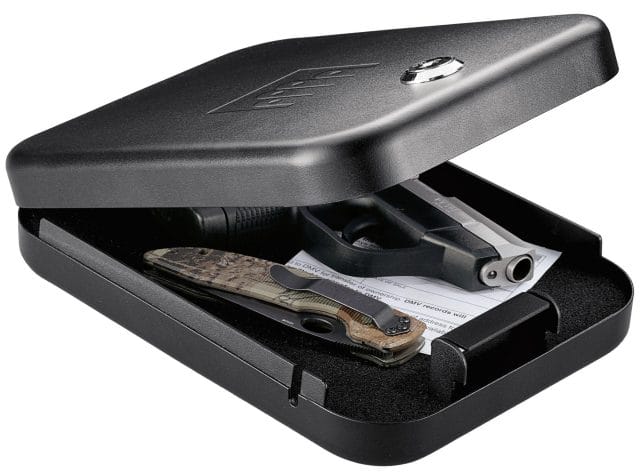 This is a compact manual handgun safe good for many uses. It is made of 20 gauge stamped steel but weighs only two pounds and measures 8.2 x 6 inches.
Its interior is fully lined with 1/2 inch memory foam andhttps://www.tsa.gov/travel/transporting-firearms-and-ammunition it includes a 1500 pound test security cable. It meets TSA firearm guidelines to make air travelers' lives easier when transporting a handgun.
An added benefit is that it comes pre-drilled to allow easy permanent mounting. One purchaser permanently mounted it inside a home office desk drawer to safely store his loaded .357 Magnum and an extra 12 rounds, keeping the gun quickly accessible for him but also safe from the lightning-fast hands of his toddler.
This is the answer for couples or anyone else with two vehicles that get regular use.
The package includes two manual handgun safes keyed alike so the same key will work on each item. There's no issue of being in one vehicle but having the handgun safe key for the box that's in the other vehicle.
These boxes also are much larger than the compact manual handgun safe above. Made of 16 gauge steel and measuring 11.5 x 8.5 inches each, these handgun safes have much greater capacity.
The two foam-lined handgun safes come with four identical keys and two 1500 pound test security cables. One user states that a single lockbox holds his Glock 19, his wife's Glock 21, and a spare magazine for each.
Another user states that this model is perfect for air travel and that the large size accommodates his Glock 19 and three boxes of ammunition.
Here's a larger handgun safe than likely isn't good for vehicle use because of its size but provides an excellent alternative as a non-biometric model for home use.
Made of 12 gauge sheet steel, the box measures 12 x 9.5 x 4.5 inches and is large enough to accommodate one or two larger handguns as well as ammunition, cash, or other valuables that are small in size.
This model operates on four AA batteries (included) but also comes with two backup keys for those of us who can't manage to test or change batteries as often as we should.
Keeping up with the keys can be an issue – you certainly don't want to be taping them to the side – but they're included. The user chooses his own pin code for the keypad.
The unit has predrilled holes to enable permanent mounting to a floor or wall using the included mounting hardware.
It also has a sound option, which one user notes that he turned off in the event he was accessing his gun in the vicinity of a suspected intruder.
Another user reports that he uses his to store his Glock 19, two additional magazines, two boxes of ammunition, a speed loader, and a holster with room to spare. Though this isn't a model that can work well in most vehicles, it's good as a device to secure a firearm and small valuables.
---
Best Small Biometric Handgun Safes – (Quick Access Gun Safe)
Biometric safes represent the highest level of technology available among gun safes of all sizes. Gun safes with biometric operation typically are smaller than the large traditional forms designed for long guns.
That is mostly by design because one of the traditional hallmarks of biometric gun safes is portability as well as being among the best handgun quick access safe styles.
By definition, biometry is the process by which an individual's identity is established and then later verified on the basis of measurement of some physical characteristic unique to every individual. Some building access biometrics use facial features, voice patterns, or retinal scans to identify individuals.
Among biometric gun safes, the physical feature of interest is the fingerprint. Fingerprints are unique to every individual, of course, which makes their use of particular value to gun safe manufacturers as well as to users. The purchaser of a new biometric gun safe establishes his own fingerprints to allow the gun safe to open.
Some models use the fingerprint of only one individual but some higher-priced models can store the fingerprints of two or more individuals in memory. Thus either husband or wife or perhaps grown children can activate the opening of a biometric gun safe without having to resort to any backup system such as the key entry that many biometric models include as well.
Why I Love Biometric Gun Safes
The great value of biometric access is that there is no fumbling around for keys, wondering where those keys might be, or trying to remember just what that pin code is for a keypad entry model. Biometric handgun safes are ideal for use in a bedroom nightstand or anywhere else where handguns need to be secure yet quickly accessible.
They will not open for a curious child but they offer instant access to their contents for the adult for whom access is intended. Many see these as the best small gun safe and the best value gun safe.
Because biometric identification is a technological advantage, it also is subject to failure, of course. Most handgun safes operating biometrically also have alternative entry systems.
Some offer backup key entries. Others provide alternative keypad entry.
Still, others provide additional backup systems. Fingerprint recognition rarely fails, but any time it does the results can be catastrophic or at least highly stressful.
All leading biometric handgun safes offer some alternative means of access to the handgun held within them.
Handgun safes operating on biometric identification are great choices in many situations. The first is that if yours is a one-gun household, then you have total control over who can access the handgun the device protects.
Multi-gun households also can benefit. If you're a hunter with a collection of long guns safely stored in a gun safe in another part of the house, you still can store a handgun next to your bed or in your desk drawer with safety and full confidence that no child or intruder will be able to access it.
The following are handgun safe reviews for some of the leading biometric models for handguns.
Top Picks for Best Biometric Gun Safe (Fingerprint Gun Safe)
Verifi Smart Safe

– Top Pick for Biometric Gun Safe – FBI Certified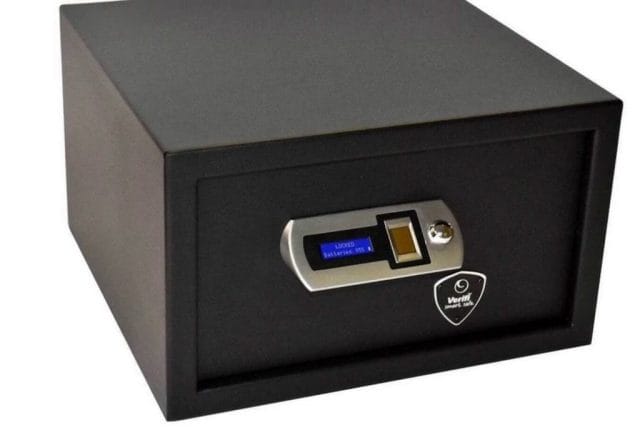 The Verifi is a fast-access biometric safe with a high-fidelity FBI Fingerprint Sensor. This is a battery-operated unit but the manufacturer says it will operate for several years on the four AA batteries it requires.
Because it has batteries and thus an internal power supply of sorts, it also offers a night light and LCD display. Solid steel construction, this unit measures 17.4 x 16.1 x 7.9 inches. It even uses an FBI-certified fingerprint sensor.
What's really intriguing about this unit is its versatility. It accommodates a single fingerprint of up to 40 people, a four-point identification series for four people, or any combination in between.
The "administrator" can add and delete individual users at any time, providing full control over who has access to the contents of the handgun safe. It also comes with a key entry backup just in case.
Another benefit of this unit is that it logs and records what the manufacturer terms "tamper alerts." In the case of curious kids or nosy houseguests, the tamper alert feature informs the owner of unauthorized attempts to open as well as any failed resent attempts.
The unit logs those incidents with a timestamp. The night light feature softly lights the interior after opening the unit.
Best Safe for Home Protection
The purpose is to provide enough light to see what the user needs to see without blinding him in an otherwise dark room or alerting a potential intruder that someone has opened the handgun safe.
This is a rather pricey unit at $319, but it also carries a 4.7-star rating on a basis of five possible stars. Fully 86 percent of the 173 people leaving reviews for this item award it five stars.
One user says it's attractive enough to keep on his bedside table – which he does – while giving him peace of mind in knowing he can access his weapon at any time but that his young daughter cannot.
Finally, there is a battery-operated biometric access handgun safe for the battery-testing challenges! This is a biometric handgun safe that doesn't look like a handgun safe.
Made of 16 gauge carbon steel with anti-theft protection, this unit has an appearance more like a high-tech toy than that of a gun safe. It even comes in black, silver, and pink – letting it look pretty on a college daughter's bedside table.
The unit has an impeccable biometric function, includes soft interior LED lights for discreet illumination in dark rooms, and provides security for small valuables while keeping its handgun contents safe and secure.
The outstanding feature of this particular model is its Bluetooth capability providing unique communication abilities from the user's smartphone. The company provides the Vaultek Bluetooth App to allow the user to view battery status, adjust the interior light brightness, remotely unlock the safe and discover whether anyone has been trying to tamper with it.
The app alerts the owner if anyone has tried to tamper with the unit, which is a great feature in situations in which there are roommates or dorm visitors that the owner doesn't know well. The app also allows the owner to disable access to the unit by anyone who previously has been given permission to access it.
Best of all for the battery-challenged among us, this product uses a rechargeable lithium-ion battery that powers the unit for four months and recharges in 2 ½ hours using the USB charging kit that's included with the product.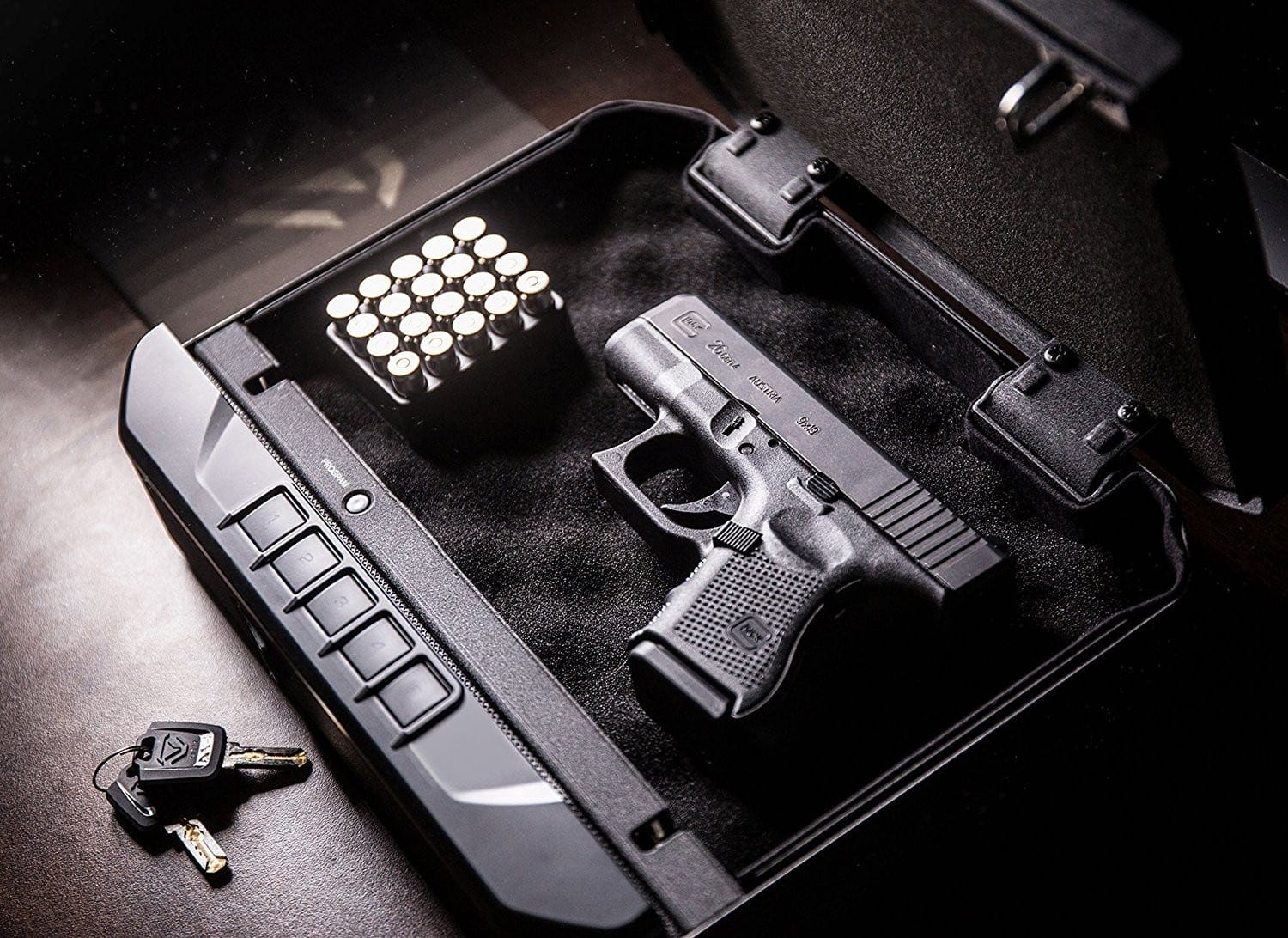 This is another highly rated biometric safe for pistols. Currently rated highly in Amazon's Gun Safes & Cabinets category, this unit features an accurate biometric scanner, illuminated keypad, lithium-ion power, and the VAULTEK TM Smart app.
Unlike many other biometric units, at its external depth of 2.75 inches, it is slim enough to slide under car seats. Its other measurements are 11.5 x 9 inches. It meets TSA firearm guideline requirements but also is fully at home on a nightstand.
The manufacturer offers portability as well as pre-drilled holes for permanent mounting, along with a 5mm steel security cable that's a full four feet long.
The unit has numerous physical safety features including its 16 gauge steel body, anti-pry bars preventing forced external access, interior hinges that cannot be broken from the outside, and anti-impact latches designed to withstand forceful impacts intended to break into the unit.
Its high-resolution fingerprint scanner can store up to 20 user ID fingerprints and the owner can directly control that using the company's smartphone user app. It includes a backlit keypad and sound control.
The company promotes the product as one of the best handgun safe quick access but also mentions jewelers as likely happy customers. More than 92 percent of reviewers at Amazon give this product as well as the manufacturer glowing praise.
The best handgun safe is the one that best fits your needs. The best pistol safe for one user may not be the best choice for someone else with different circumstances, so always assess available options and choose the best handgun safe for you.
Always consider the advantages of the best quick access handgun safe for your own situation when seeking to secure a handgun but have it readily available for your use too. Accessibility also is a factor in determining which is the best pistol safe.
---
Best Medium Gun Safes
Interestingly, biometrics seems not to have progressed well to large and heavy long gun safes. There is a class of gun safes between the small size of handgun safes intended for only one or two handguns and the large, free-standing gun safe that accommodates long guns, however.
Also of interest is that one of the top-rated manufacturers of best handgun safes rates is only marginal in the midsize range and other manufacturers don't even bother with this category. Even so, there is a place for the midsized gun safe.
Though a midsized safe can't accommodate long guns, it can store several handguns and an array of ammunition for them as well as small items of value such as cash or jewelry. A midsized model also can be the best quick access handgun safe.
Though most gun owners favor either the small handgun safes above or large gun safes that can accommodate long guns, some do favor the midsized safes.
Here are some of the best :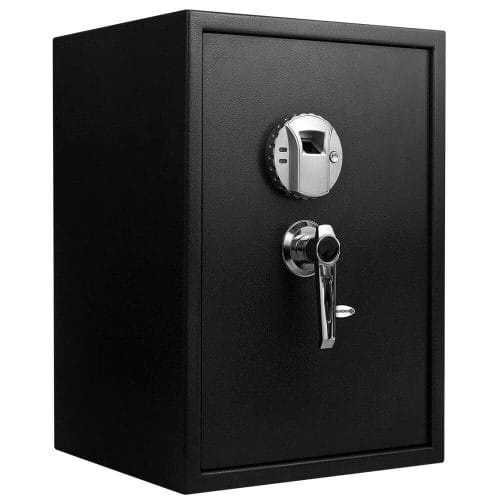 "Large" is a relative term here in that outside dimensions of this safe are 14 x 13 x 19.75 inches and it weighs only 47.6 pounds. If a thief really wants this safe and it isn't bolted to a floor or wall, s/he easily can simply pick it up and walk away with it.
Of course, this is true with small handgun safes as well, but people entrusting goods to a larger safe likely expect a greater degree of security. Even so, this safe offers a high degree of security in terms of access.
It stores up to 120 fingerprints, operates on four AA batteries, and provides a silent access mode in which the user can deselect all "beep" notifications of active use.
Though Barska is a respected name and its small biometric handgun safes are recognized in any best small gun safe list, users are not as happy with its midsized model as they are with Barska's smaller biometric models. Primary complaints appear to be with the biometric function.
The manufacturer expounds on the benefits of this safe, pointing to its 1.5-inch solid steel door, drill resistive hard-plate to prevent drilling into the lock, spring-loaded re-locking system in the case of attack, and reinforced door frame to resist prying. These all are admirable traits.
What the manufacturer doesn't say in its description is that the safe measures 15 x 15 x 20 inches and weighs only 79 pounds, that anyone with nefarious intent can simply pick it up and carry it away. Better choices include any highly rated handgun safes or any long gun safe.
With its solid steel construction and dimensions of 17.25 x 18.75 x 20 inches, this safe is good for what it's good for. At 140 pounds, it is much better than other safes in its size class. It's much more difficult to simply walk off with.
The manufacturer claims it is "fire safe," however, a nebulous term that means little if anything.
There is no truly fireproof safe at any price, though many truly are fire-resistant. The fact that the manufacturer makes its "fire-safe" claim immediately makes it suspect.
Even so, this product is high quality and includes a door that is 4.5 inches thick. It is lined with a fire-resistant material. The body is 1.75 inches thick and also is lined with a fire-resistant material.
Fire resistance is 2 hours at 350 degrees Fahrenheit. Its lock is a UL listed Group 2 Combination Lock.
This isn't a bad selection at all, but gun owners likely will be happier either with a small handgun safe or a solid long gun safe.
---
Best Long Gun Safes – Rifle Safes
Now, this is a category! This is the gun safe category that most people think of when hearing the term "gun safe."
It's the category that Tractor Supply puts on display in its retail stores and offers to its local rural customers. It's the category that Bass Pro Shops and Dick's Sporting Goods promote to its hunting – and therefore gun-owing – customers.
Long gun safes or rifle safes can be small to immensely large, lightweight to more than a ton in weight. They can be ornate or plain, incorporated into décor, or relegated to a basement room outside of public view.
The bottom line is that they can be and are anything that purchasers want them to be. In every setting, there are many options in terms of appearance.
The primary function is to keep guns and other valuables protected, of course. Whatever your spouse says about what any new long gun safe should look like, what we address here is how the rifle safe functions for you and your family.
What To Consider Before Buying a Long Gun Safe
If you're a hunter or anyone else who owns any form of a long gun – rifle, shotgun, or more – then the long gun safe is the one that you'll need to purchase. The long gun safe accommodates the physical size of long guns. As well as providing space for storage for an array of handguns.
Long gun safes are the best choice for individuals who already have several guns. Or who anticipate acquiring additional long guns in the future. It also is an excellent choice in any household where there are children or young visitors.
The vault designed for the long gun absolutely is the very best for protecting its contents and the people surrounding it. The long gun safe generally is the very worst choice for quick access, however.
Biometric Access & Long Gun Safes
As stated, biometric access quality declines with the size of the gun safe. Though biometric access is admirable and even most desirable for small handgun vaults, it still takes good, human physical strength to open the very heavy steel door of a high-quality long gun safe.
There are more than a few considerations to assess if you're thinking of purchasing a long gun safe. The most important one is the view of your spouse or S.O., of course. If you're set on making your brand new long gun safe the focal point of your formal living room, your better half will likely veto that idea without even thinking about it!
That aside, there are other considerations you'll need to evaluate. These include physical size, weight, lock type, fire rating, and your own geography.
Physical Size of Rifle Safe
You've decided you do indeed need a long gun safe and you know where you want to place it. We're assuming your spouse agrees with that decision.
Will it fit in the space you've designated? Will it fit through the doorways it will have to travel through to reach that space?
What is the advertised depth of the unit? Does that measurement include any obtrusive handle or sealing wheel that the safe may have on its face? You'll need to ensure that the depth you're expecting. The advertised figure includes the unit's handle and combination lock. So you'll be able to maneuver it through as many doorways as necessary on its journey to its predetermined destination in your home.
Aside from doorways, is there anything over or around the designated space that will conflict with the safe's advertised dimensions? Even a simple shelf can prevent safe placement where you want it.
Measure well and ensure that the intended space can accommodate the long gun safe without impediment. Alternatively, alter the space to accept your new long gun safe.
Long Gun Safe Weight Considerations
Is the long gun safe you decide on heavy enough to deter theft and symmetrical enough that you don't need to bolt it down?
Generally, the heavier the safe the harder it is to steal. That's fairly obvious but it's something that's often overlooked.
Several years ago, many convenience stores placed third-party ATM machines near their front doors. Some enterprising thieves merely rammed their trucks into the stores' fronts. Chained the ATM machines to their trucks then drove off with the ATM machines bouncing behind.
The thieves took the machines to more private locations to break into them. If the machines managed to survive the trip still intact. Don't let the same thing happen to your gun collection and whatever else you've stored in your otherwise best gun cabinet!
Hefty guys armed with a hand truck likely can spirit a 300 pound safe out of your home without too many problems. A gun safe that weighs 500 pounds or more will provide much more trouble in that regard.
Gun Safe Bolt Down Requirements
First off, if your long gun safe of choice weighs 300 pounds or less, it is strongly advised that you bolt that thing down to deter theft, as stated above. Additionally, bolting down a long gun safe can be a matter of safety for the very people it's meant to help protect.
Broad, heavy safes constructed of thick metal are typically stable. However, those that are tall, narrow, and constructed of relatively thin steel can tend to lean forward when the door is open. As it isn't good to have a safe weighing several hundred pounds crashing forward onto anyone. It's a good idea to bolt these safes either to a floor or a wall.
If your safe of choice weighs 500 pounds or more, you likely won't need to bolt it down either for theft or safety issues.
Each safe may have its own gun safe bolt down kit.
Long Gun Safe Lock Type
There are many considerations to assess here.
Is the long gun safe your only means of securing all firearms in your home? If so, then one with an electronic lock may be most beneficial for you. As long as electricity holds or you've remembered to check and replace any failing batteries.
Most long gun safes have mechanical locks of some type, either keyed or combination. As stated earlier, keyed locks can be problematic. Not because of operation, but because of the difficulty in keeping up with keys.
Where do you put the keys so they're readily accessible to you but not to anyone else? You certainly can't just tape them to the top or side of the safe and still retain any benefit of having the safe in the first place.
Combination locks are popular. They're great if your memory is good and you can remember the combination when it comes time to open your gun vault. That one can be tough in times of high stress.
A great compromise is to use a combination lock on the primary large gun vault.  As well as keeping one or more best quick access options open. Including using a good gun safe that's available for quick access near your bed, at your desk, in the den or even in the kitchen. This arrangement allows you to have quick access in times of emergency. As well as keeping your hunting or firing range guns safely locked away so they are accessible to no one but you.
Long Gun Safe Storage Capacity
So you buy a great new long gun safe with just enough capacity for the guns you currently own. That's good enough, right? Probably not.
Any gun owner with more than only a few guns in the present likely will add more in the future. Be certain that any long gun safe you buy now has sufficient capacity to accommodate additional guns you know you'll be acquiring in the future.
Even if you don't intend to add to your collection, assume it's going to happen and buy a gun safe large enough to accommodate additional guns.
Rifle Safe Fire Rating
This feature offers little more than a warning about which manufacturers to reject from consideration. There is no such thing as a fireproof gun safe!
There are many gun safes that are highly fire-resistant, however. Pay more attention to those manufacturers and give none at all to any claiming to be fireproof.
Several years ago, a friend's house unexpectedly went up in flames in an electrical fire. Her purse containing her handgun was in her second-floor bedroom. Inspectors later found a molten blob of metal two floors directly below in what formerly was the unfinished basement. They determined that the blob of formerly molten metal was the remains of her handgun. No, the gun wasn't in a safe at the time of the fire.
The point is that the house burned for less than two hours and was a total loss. Right down to the basement walls. The fire even totaled a car that was parked outside and melted the entire side of a truck that was parked on the far side of the car.
Only larger gun safes carry fire ratings. The best ratings available are expressed in terms such as "1700 degrees Fahrenheit for two hours" or so.
Fire inspectors estimated that this particular fire reached more than 2000 degrees for an extended period of time. Had this friend had her handgun inside a large gun safe, in the end, it still would have been a molten blob of metal. The same would have been true for the safe.
Gun Safes and Humidity – Geography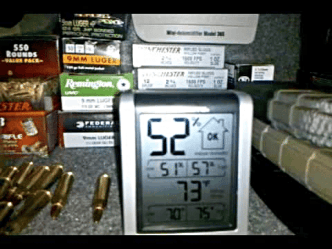 When you're in semiarid Colorado or arid Arizona, humidity won't be an issue for you. If you're in a hot and steamy part of the country. Where summer temperatures and humidity levels can be very nearly equal. You'll have to deal with a different set of circumstances.
If you're in one of those humid areas of the country.  And your spouse is adamant that there will be no long gun safe in any living area of the house and that it will be in the basement if it has to be anywhere. Odds are you'll need to add a dehumidifier.
Most homes in the sticky, humid areas of the country have air conditioning now and have for years. Gun owners lucky enough to be able to place their long gun safes within air-conditioned areas will have no need for any dehumidifier.  Because that glorious central air conditioning will accomplish the same end for them.
Those who live in air conditioning but must place their prized gun collections in gun safes located in cool but humid basements will need to take additional steps to protect their guns from Southern or Midwestern humidity.
Several of the best-rated gun safes have holes drilled in their backs that can accept electrical plugs of dehumidifiers stored and used within them. This feature will be of no use to anyone in an arid or semiarid region.  But will be a boon for anyone where summer temperatures and humidity levels can be very nearly equal.
Here are our favorite long gun safes, and their ratings for both fire and security:
Top Picks for Long Gun Safes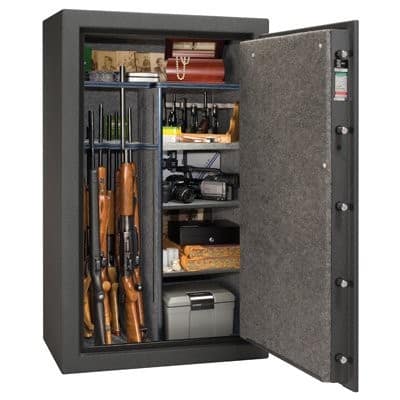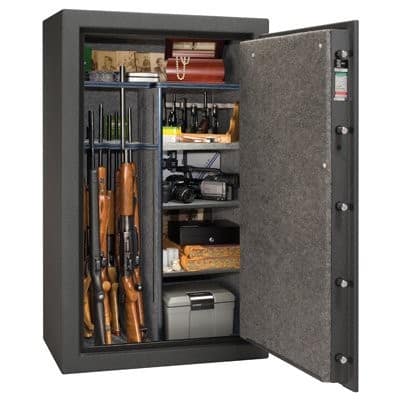 This is an "entry-level" safe, which means you probably should bypass it and go at least to the next larger size and perhaps even a size above that. Liberty gun safe prices can vary, so it is best to buy from a big-box retailer.
This safe is 59.5 x 24.25 x 22 inches. It is made of steel and is rated to withstand fire temperatures of 1200 degrees F for 30 minutes.
It uses a mechanical combination locking system, so there are no worries with batteries going dead at inopportune times and there are no keys to hide away or remember the hiding place.
If the model above is an "entry-level" safe, then this is the model that occupies the other end of the spectrum in that it has a maximum capacity of 48 long guns.
The maximum capacity is misleading, however. When filled to that point, guns are touching each other. It's inconvenient to reach those in the back without taking out the ones in front.
The owner risks scratching or otherwise damaging long guns that are not in a fabric case or cover. Which further reduces the ultimate capacity of this safe. On the other hand, an individual with 48 long guns likely has the means to purchase an additional safe.
This one has an electronic lock and what the manufacturer calls a defensive barrier. Consisting of a total of 12 bolts on all four sides of the door. Further, the door holds triple case hardened steel plates to protect the lock from any attempted drill attack.
At 60.5 x 25 x 42 inches and 760 pounds, this is not a safe that is in any danger of being stolen and carried away. You may want to bolt it down just for good measure, but bolting really isn't necessary with this safe.
It is fire resistant for 120 minutes. Currently, there is no customer gun safe review of this particular safe.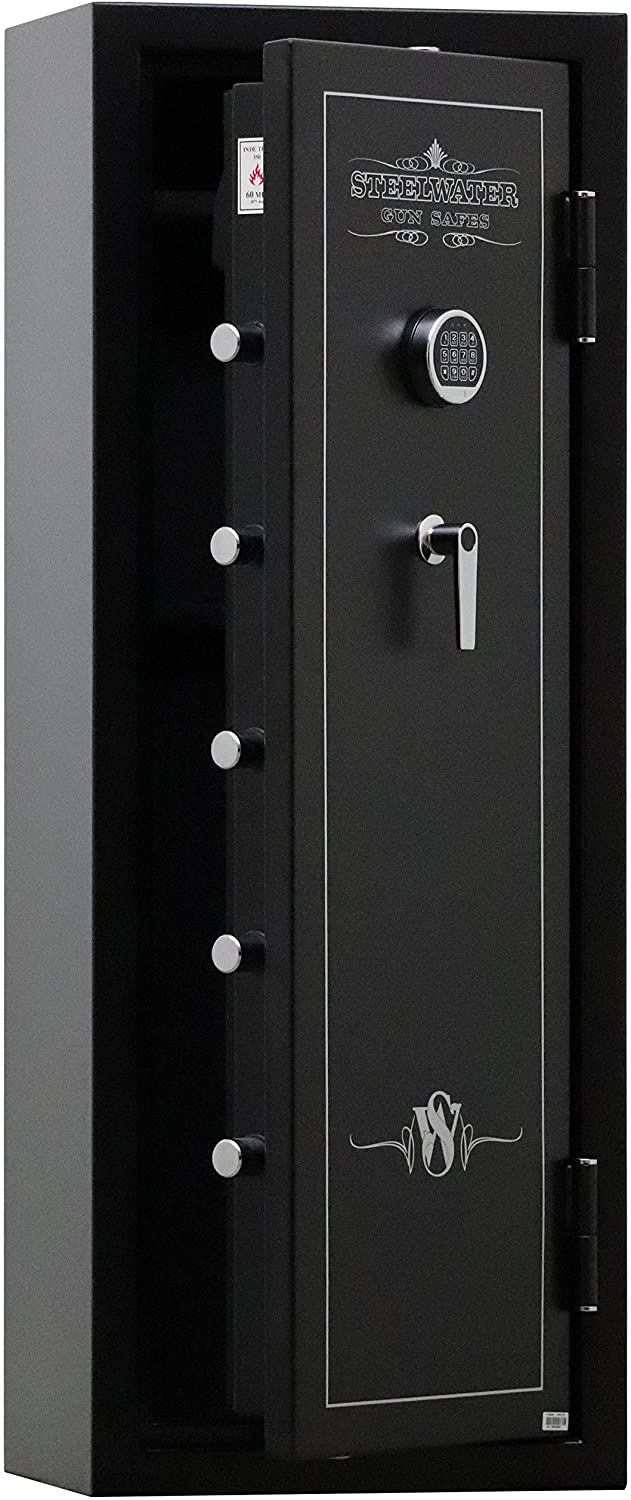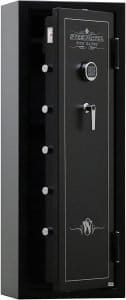 This heavier-duty Steelwater brand long gun safe is touted as "new and improved," and we have to agree. This attractive and sturdy long gun safe has upgraded safety features to protect against accident, fire, or robbery. This safe is seemingly well worth the money. "Sturdy" is an understatement, by the way. This new composite construction is 14 gauge steel, with drill- and ballistic-resistant metal plates protecting the keypad and lock mechanisms. And, the new lock bolts are bigger. There are more of them, with 10 individual 1.5" locking bolts locking in from all 4 sides.
One unmissable feature of this high-quality long gun safe is the included free door organizer. The soft yet protective pockets are great for any smaller guns, ammo, or other valuables like jewelry or documents. They aren't perfectly designed, but whatever can fit in the door organizer is sure to be protected without falling out.
While Steelwater states the average capacity is 8-10 long guns, they also advertise it fitting a max of 16 long guns. This seems to be pushing it, as no one I've seen has been able to fit nearly that many. There is modular, customizable shelving that is included, one full-length shelf and three smaller ones. However, it seems that one shouldn't count on storing more than 10 or so long guns.
Stillwater Safe Doors
The door, clocking in at 4 ¾" thick itself. The walls, ceiling, and floor of this hefty gun safe are all reinforced with double layers of fireboard. No wonder why the new fire rating is impressive- 60 min fireproof at 1825°F. With a backup spring-loaded re-locking system that activates if the keypad is damaged. Weighing 305 lbs, this large heavy-duty long gun safe is sure to deter any thief.
Pros:
Strong construction and top safety features make it worth the money
Backup re-lock system in case of keypad damage, and backup bypass key for no lockouts
Extremely attractive semi-gloss black finish with chrome details- looks great
Shelves are customizable
Cons:
Reportedly over-estimates the capacity, definitely won't hold 16
Can't detach door for easy transport, extremely heavy and hard to move… wait, is this a pro?
No dedicated place to store ammo or optics, door organizer pockets could work but not easily visible for display
---
Final Thoughts: Choosing the Right Gun Safe for Your Budget
Ultimately, the best gun safe for the money is the one that you don't have to replace because it isn't large enough. Though larger gun safes cost more than smaller ones, one large one certainly costs less than two smaller ones.
So be sure to buy a safe somewhat larger than you'll believe you'll need to be certain you get the best gun safe for the money. Be certain to get the best safe for the money. Every choice here reflects a very good gun safe.
Some of the Leading Gun Safe Manufacturers
All of the manufacturers represented in our product reviews are reputable and produce high-quality, functional products that provide great value.
Many people prefer to buy products made in America. Only a few of the gun safes reviewed above meet that criteria. Though there are many very good safe manufacturers, those mentioned below are American Gun Safe companies who make their products here.
As is the case with many cars actually are assembled in the United States. Some of these companies may use components sourced and imported from other countries. In the end, however, the top safe manufacturers all finish their assembly in America.
Liberty Gun Safe
This likely is the most widely known brand of safe among the general public. Including people who have no need for a gun safe and cannot envision themselves even considering buying one.
This is a result of creative and entertaining marketing that arose from Liberty Safe's insane quality and durability testing. Insightful marketers filmed some of the company's routines through unusual quality assurance testing to create great advertising.
The company appears to sacrifice one or more of its beautiful safes through a series of abuses. Including dropping them from 200 feet, crashing cars into them, executing brutal attacks in the form of drilling and prying. They even use explosives on them from time to time.
Of course, they place a few safes inside a controlled fire that they can measure with precision at every point.
Testing Safes
After subjecting their own safes to all of these abuses, they then subject some competitors' products to the same rigors. Without fail, the Liberty Safe always wins and outperforms all other similarly tested gun safes.
Its highest-rated fire resistance is with a safe that is rated for 2.5 hours of protection at 1200 degrees Fahrenheit. A level of fire resistance protection that few other manufacturers can match.
Because of this company's superlative construction and quality control, Liberty Safe also offers a lifetime warranty on all of its safes. This is of great value given that some purchasers of other brands have experienced locking system failures.
Heritage Safe Company
Though not as well known as Liberty Safe, Heritage Safe Company also produces high-quality and functional safes in many sizes. Its long gun safes come in sizes providing capacity for 30, 48, 56, and even 72 long guns.
One of the 48 capacity models is Class 4 fire protection certified. It provides fire protection for 95 minutes at 2300 degrees Fahrenheit.
This particular model uses a mechanical combination that also is key-dependent. It is necessary to initiate an opening with the key. It is the combination that releases the lock system, the dial won't even turn without first having used the key.
Fort Knox Vaults
This is another company that produces high-quality long gun safes in America. It offers fire protection for 90 minutes in temperatures of 1680 degrees Fahrenheit. Keeping the interior temperature at no more than 350 degrees Fahrenheit.
It also is built of heavy gauge steel and uses high-quality locking and bolt systems.
There are other American producers of high-quality and functional safes. Any will be suitable according to individual needs and wants.
Heritage Safe Company even offers its long gun safes in an array of colors other than the standard black. Though it's doubtful that anyone truly wants to decorate a room using a gargantuan safe as a focal point. That certainly could be the case in the right setting!
---
Do You Really Need a Gun Safe?
If you own a gun, the short answer is "Yes!" There are many, many reasons you must keep all firearms secured at all times.
The most obvious reason is so you can keep your gun use reserved for yourself and for your family members instead of for any bad guys who may want to break into your home and (1) steal your guns or (2) use them against you.
There are several other compelling reasons to secure all firearms at all times, however. Here are a few:
Child Protection
Accidental death by gun is a leading cause of death among children. It kills twice as many children every year than does cancer. It's five times more at fault than is heart disease.
Kids can and do get into anything. They're masters at accessing things they aren't supposed to, and in only a few minutes of unsupervised time.
Don't have young kids of your own? That doesn't let you off the hook of securing all firearms in your possession.
Protecting your children, grandchildren and any neighbors' children who may visit you is a hallmark of being a responsible gun owner.
Theft Protection
Read the news. How many gun-related assaults or deaths are associated with stolen guns?
Though you yourself won't have culpability if your legal gun is stolen and then used in illegal activity or even murder, why go there? Being a responsible gun owner includes properly securing all firearms you own or have control over.
Put them in a vault that qualifies as the best choice among gun vault reviews.
Liability Protection
Liability associated with stolen guns varies greatly among states. The fact of owning and using one of the best gun safes available greatly reduces your liability in case of theft or other misuses of any firearm you own.
It is your Constitutional right to own and use a firearm. It also is your responsibility to ensure that every firearm under your control is secure and properly used.
Gun Safe Fire Protection
Some manufacturers claim that their top gun safes are fireproof. They are not.
Any company claiming that their gun safes are completely fireproof is one absolutely to avoid and not to buy from.
Top-rated gun safes indeed are fire-resistant, however. Most residential and office fires are not totally devastating. Most do not reach the upper level of temperatures and temperature duration that high-end gun safes can withstand.
A high-quality gun safe can deter the effects of fire on your gun collection. Also on any other valuables you've stored in a high-quality safe. A great gun safe may or may not keep your gun collection and other valuables intact. The fact that you have the best fireproof gun safe can significantly decrease your insurance rates on those items.
The best "best fireproof gun safe" is one that is highly fire-resistant.
Better Insurance Rates
As stated, the very fact that you have your guns protected in one of the best-rated gun safes reviewed here can reduce your insurance rates on the guns stored within them in terms of the value of the guns.
Additionally, your use of one of the top gun safes listed here also can serve to reduce your liability in other respects. Such as protecting others including children and visitors to your home.
Further, it also is possible that your insurance provider will provide one or more discounts when you purchase a specific safe.  One of the best-rated gun safes they identified as having a superlative security rating.
---
Safety First – Best Gun Safe Reviews of 2021
As can be seen throughout this overview and selected product review, there are many options available for all current and prospective gun owners.
The most important step in selecting what's best for you is to decide how you will use your new gun safe. Also, how many guns you anticipate needing to secure long term.
A one-gun household likely has no need for a large long gun safe. However, those who already own more than one long gun almost can guarantee that they'll be acquiring additional guns in the future.
Choose your safe with that in mind and opt for the additional space inside.
Related Reads: