As gun owners we want to be sure that we can quickly access our home defense handgun in the result of an emergency or home invasion. But we also need to make sure that this handgun is kept secure at all times so it won't end up in the hands of a child or a burglar when we aren't around. This is where a handgun safe comes in.
The purpose of a handgun safe is to be a way to quickly access your weapon to respond to a home invasion but while also keeping the weapon secure.  Many people will keep a handgun safe under their bed or on their nightstand for this reason.
In this article, we will cover the factors you need to take into consideration when choosing a handgun safe, the qualities to look for in one, and then the top five very best handgun safes that are currently available.
Get Deals on Guns and Tactical Gear
Join 70,000 Readers For Our Weekly Discounts
---
The Factors To Remember When Choosing A Handgun Safe
The main purpose to owning a handgun safe is to keep your pistol out of the hands of children and burglars while also permitting quick access to the handgun (punch in the code or your fingerprint to open the safe) in the event of a home invasion.
Contrary to what many people believe, a handgun safe is not designed to protect your pistol from a fire.  No matter how 'fireproof' handgun safes claim to be, most of them simply will not give adequate protection for the contents inside in the event that your house burns to the ground.
If you want a safe that's actually going to protect the contents from a fire, then you will need a much larger safe that's actually designed for the purpose.
With this in mind, here are some questions that you need to ask yourself when choosing a handgun safe:
Do you have kids in the home?
Will you be using this safe primarily for home defense purposes?
Will you be keeping more than one handgun in the safe?
Will you be keeping spare ammunition (or a spare magazine or speed loader) in the safe?
Will you be keeping any money, jewelry, or important documents in the safe?
Will you be removing your handgun and other contents from the safe frequently or infrequently?
How large of a handgun (or handguns) are you going to be keeping in the safe?
Where do you plan on keeping the safe (bolted to the wall, under the bed, on your nightstand, etc.)?
What is your budget?
Do you need more than one handgun safe?
The point to asking yourself these questions is to figure out your priorities, so you can more effectively narrow down what kind of safe you need.
For example, if you plan on keeping a large handgun or two handguns in your safe, then you're going to need a larger safe rather than a smaller one. If you have kids in the home, then you're going to want to make sure that your safe is extra secure. If you have a budget in mind, then you're going to need a cheaper safe rather than a more expensive one.
Once you have your priorities set in regards to what you need in a safe, you can then further narrow down your selection by knowing the specific qualities you need to look for in a safe regardless of its intended purpose.  We'll talk about this next.
---
Qualities To Look For In A Handgun Safe
Here are the main qualities that you will need to look for in a handgun safe:
Fire Rating
In addition to quality construction and a safe locking mechanism, many gun safes have more advanced protection systems, like fingerprint scanners, tamper alerts, or app connectivity with your phone.
A fingerprint scanner is a great way to secure a gun safe and open it quickly, without having to find keys or remember a code.
Many of these gun safes can store multiple fingerprints, so you can allow various family members to open the safe when necessary, without the security risk of writing down combinations or having numerous sets of keys. However, these scanners rely on battery power, so the gun safe needs more monitoring and maintenance.
App connectivity can warn you when the safe is tampered with, notify you of battery or power conditions, or maintain an access log of safe usage data. It's a great way to monitor your gun safe, no matter where you are.
Consider Advanced Protection Mechanisms
In addition to quality construction and a safe locking mechanism, many gun safes have more advanced protection systems, like fingerprint scanners, tamper alerts, or app connectivity with your phone.
A fingerprint scanner is a great way to secure a gun safe and open it quickly, without having to find keys or remember a code.
Many of these gun safes can store multiple fingerprints, so you can allow various family members to open the safe when necessary, without the security risk of writing down combinations or having numerous sets of keys. However, these scanners rely on battery power, so the gun safe needs more monitoring and maintenance.
App connectivity can warn you when the safe is tampered with, notify you of battery or power conditions, or maintain an access log of safe usage data. It's a great way to monitor your gun safe, no matter where you are.
It Must Be Able To Be Bolted To The Wall or the Floor
If your handgun cannot be bolted down, then a thief can just steal the entire thing and break into its contents later.
It Must Be Secure
It's also important for your safe to be secure and hard to break into.  The best kinds of locks for a pistol gun safe are either durable and robust key locks or a combination mechanical lock of some kind.
Key locks are the cheapest option, while mechanical locks are going to be more money.  A key lock simply works by inserting a key into the safe to move a deadbolt, permitting you access to the safe.
Mechanical locks are more complex and require you to punch in a combination in order to access the contents of a safe.  Since there are thousands of different possible combinations, someone who doesn't know the code will have a very tough (and long) time breaking into the safe.
Both key locks and mechanical locks are suitable for a handgun nightstand safe, though many people prefer a mechanical lock because you don't have to have a key present in order to open the safe.
It Can't Have Very Many (Or Any) Holes
This may sound obvious, but your safe cannot have very many or any holds in the steel exterior. Most holes for handguns safes are covered up but can be visible after popping off an exterior piece.
Burglars can then use the holes to pick around the inside of the safe's mechanism to open it.
Most holes are found with safes that have sheet metal seams that are not welded. Other safes will have extra mounting holes or security cable slots.
Ultimately, holes in a safe are largely a construction problem, and you will want to avoid safes that have them.
Durability and Construction Quality
This one may also sound obvious, but your handgun safe needs to be durable and high quality.
The vast majority of small pistol safes out on the market are rather flimsy. Even if the locking mechanism is quality, it can be easily to beat down the safe to access the contents inside instead.
Most pistol safes are also not welded, which is another major construction flaw. This means that they can be opened simply by throwing them on the ground or hitting them hard enough with a hammer, and the rest of the safe will pop open.
You must choose a handgun safe that is properly welded and seamed together, and you also must select one that uses thick and high quality steel.
---
The Top 5 Best Handgun Safes
Now that we know about the qualities you need to look for in a handgun safe and the factors to remember when choosing one, we can dive into the top five best handgun safes currently available on the market.
Here are the top five best handgun safes, presented in alphabetical order:
Newly designed with all the best features for quick access to your firearms, the Stealth Handgun Hanger Safe holds your three favorite handguns at the ready position along with space for two more flat on the floor of your safe.
The interior of the safe is lined with a high-density foam to protect your handguns from getting scratched or damaged. The solid steel door is recessed from the frame and when added with the thickness and latch strength, it makes this safe nearly impossible to pry open. This safe is California DOJ Approved to hold five handguns.
Fast Access with Door Spring
Spring loaded, the door quickly drops right after the correct combination is entered. The heavy door is supported with a speed reducer to catch the door for a soft finish.
New Power Port Included
External power port plugin (cable included) for powering your safe or instead use a 9V battery.
Blue Illuminating Electronic Keypad
The Handgun Hanger Safe comes with a Blue Illuminating Push Button Electronic Keypad with a Six-digit combination. The lock comes with Audible Feedback and an optional silent mode for ultimate Stealth.
PROS:
More Room Than Many Competing Safes
2 Modes of Entry
External Power Port
Spring Assisted Door
Electrical Keypad For Quick Access
CONS:
Pistol Hanger Doesn't Adjust
---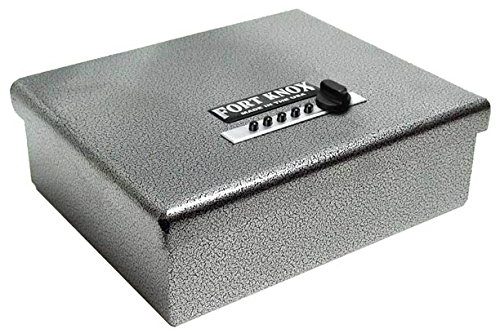 If you're looking for a handgun safe that is compact, convenient, secure, and easy to install, then you will want to give the Fort Know Handgun Safe PB1 a god look.
The safe is compact but also has enough space inside to either hold one full size pistol or two compact ones, in addition to a spare magazine or two.
This safe utilizes the Simplex lock system with over one thousand possible combinations (not quite as much as some its competitors), which has been around since the early 1960s and has proven itself to be extremely easy to use.  No, it's not quite as fast as some of the other locking systems out there (such as a biometric gun safe, for example), but it still opens very quickly with enough practice.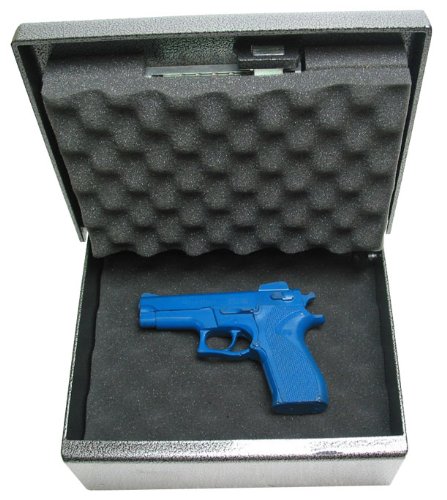 Additional features of the Fort Knox Handgun Safe PB1 include a concealed hinge (definitely a plus against burglars), and a wrap around style door that adds more strength to the overall design.
The safe is built out of 10 gauge steel, while the entire safe weighs twenty four pounds.  As an added bonus, Fort Knox sells this safe with a lifetime manufacturer's warranty.
PROS:
Proven Simplex Locking System
Batteries Are Not Needed
Space For One Full Size Handgun or Two Compact Handguns
Hinges Are Concealed
Durable Build and Constructions
CONS:
Expensive (Almost $250)
1,000 Combinations is Less In Comparison To Some Competitors
---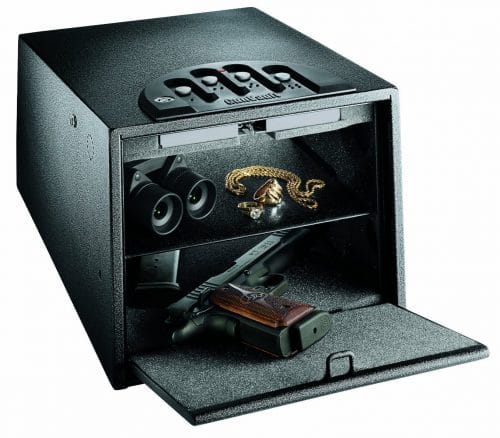 The GV2000C-DLX Multi-Vault Deluxe Gun Safe from GunVault is an excellent safe with several features that you should like, including a sturdy design, a keypad that is easy to use, and space for more than one handgun.
While the Fort Knox safe we just looked at is definitely a great safe for handguns and home defense, one of its problems is it only has just over 1,000 possible combinations. The GunVault GV2000C-DLX remedies this issue with over twelve million separate access codes.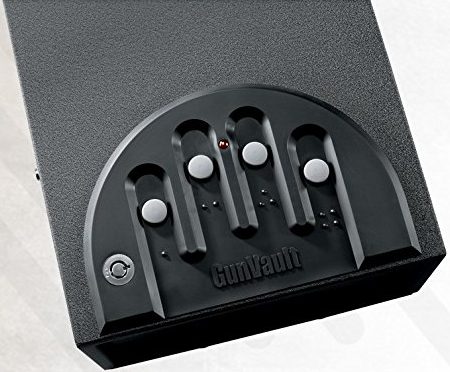 As an added bonus, this safe comes installed with a computer that blocks access after too many attempts to open up the safe. This safe is also very affordably priced in comparison to some of the other options we've just looked at, with a price tag of around $150.
Additional features that this safe comes with include a 1 year warranty from the manufacturer, internal lighting, two override keys, and 16 gauge steel for the construction.
The biggest negative to this safe is it requires to be hooked up to a 9V battery in order for it to work, and the battery is not even shipped with the safe.
PROS:
16 Gauge Steel Construction
Affordable
Over 2 Million Keypad Combinations
1 Year Manufacturer Warranty
Internal Lighting
Comes With 2 Backup Override Keys
Enough Room For More Than One Handgun
CONS:
Requires a 9V Battery To Run (and does not ship with the safe)
---
If you're looking for an even more affordable safe than the GunVault we just looked at, then you'll want to pay close attention to the Sentry Safe Quick Access Safe. This safe can be had for less than a hundred dollars, which easily makes it one of the most competitively priced safes on the market.
Now with this dip in price comes a tradeoff. This safe is slightly less sturdy in comparison to the other options that we have covered, and there's also only room for just one handgun.
But it still comes with some neat features from higher priced safes, including a backlit electrical lock that makes no noise when you push the buttons (perfect for keeping your presence unknown for a burglar), a gas strut assisted door, a manual lock with a key as a backup option to the keypad, and a master override key that you can to open up the safe as well.
Built out of 12 gauge steel, the Sentry Safe Quick Access Safe weighs 12 pounds and ships with a one year manufacturer warranty.
PROS:
Very Affordable Safe (less than $100)
1 Year Manufacturer Warranty
Backlit Keypad Makes No Noise When You Push The Buttons
Manual Lock With Key
Compact and Easy For Storage In Tight Areas
Gas Strut Assisted Door
CONS:
Room For Only One Handgun At The Most
Less Sturdy Than Its Higher Priced Competitors
---
The final handgun safe that we will cover for now is the V-Line Top Draw Locking Tactical gun Storage Box.
This safe utilizes a Simplex mechanical lock. This lock is proven, but it also only has 1,000 possible combinations, which is far less in comparison to some other safes on the market.
It comes installed with pre-drilled bolt holes that make bolting it to the wall or your floor extremely easy.  But as an alternative, you can also purchase a separate mountain bracket to mount your safe onto that if you don't want to go through the process of bolting it.
This safe is also highly versatile in that it is designed to double as both a home defense handgun safe and as a car safe.  As such, it is very compact and light at just ten pounds.  Available for around $150 or less, this is a competitively priced safe as well.
PROS:
Competitively Priced
Works As Either A Home Defense or a Car Safe
Pre-Drilled Bolt Holes
Mounting Bracket Can Be Purchased Separately For Ease of Installation
Very Portable and Slim
Does Not Require Batteries
CONS:
Limited Combinations
Room For Just One Handgun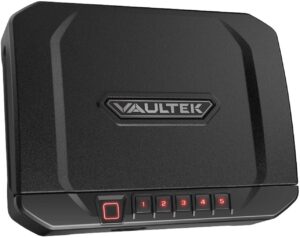 The Vaultek VT20i Biometric Handgun Safe is a compact size but has ample room to store a handgun, mags, and other vital possessions such as cash, medicines, and passports. And it comes with some interesting high-tech features. Anti-theft protection includes anti-pry bars, bolstered interior hinges, and dual anti-impact latches to resist impact.
The design gives you four quick, secure ways to open the safe. You can use the phone app, the biometric fingerprint scanner, the keypad combination lock, or the keys.
The biometric scanner stores up to 20 user ID fingerprints. That means approved users can open the safe with a touch while others are locked out. Or use the two included keys to open it via the concealed vital slot.
Smart Safe technology lets you manage the safe with your phone. A gaming-inspired 5 button keypad lights up when it senses your hand and gives you over 40,000 possible combinations. Use hotkeys to toggle Bluetooth on/off, check battery life, change interior lighting, respond to security alarms, manage fingerprints, view history, and open the safe.
The Vaultek VT20i has a quick, quiet auto-open lid, stealth mode option, and responsive LED lighting to see contents.
The safe can be mounted or tethered using the included mounting hardware or leave it untethered for portable security in your car, office, or luggage. Vaultek VT20I meets TSA guidelines for air travel. The rechargeable lithium-ion battery lasts 4-6 months and charges in 2.5 hours with the included micro-USB charger.
Pros
Rugged unibody design
Compact and portable, or mount with included hardware
Multiple secure ways to access the safe, including storing up to 20 fingerprints
App connectivity for easy access and control
Batteries are rechargeable via USB
Cons
Small size limits the amount of storage
Fingerprint scanning may be unreliable and should be used in combination with other security options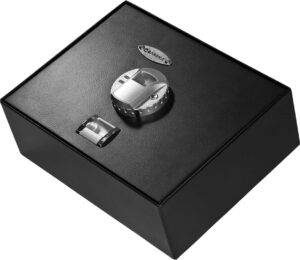 The BARSKA biometric fingerprint top-opening safe keeps firearms, documents, medications, electronics, jewelry, or other possessions secure from children or thieves. The safe has a biometric module that lets you store up to 120 fingerprints. Fingerprint storage is easy to program. A recognized fingerprint will open the hydraulic-assist top-opening door in 2.5 seconds.
This BARSKA gun safe is roomy, with .23 cubic ft. of interior space. It has a silent mode option when stealth is wanted. An alarm sounds if the safe is left open.
Four AA batteries, provided with the safe, will power it for a year. A warning alarm will sound when the batteries need to be replaced. And even if the batteries die, the keys will open the safe via the concealed keyhole.
This BARSKA Biometric Safe is approved by the DOJ. It's designed to be mounted inside a drawer for both secure storage and convenient access. Built with 16 gauge durable steel, it has tamper-resistant edges and 2 built-in pry-resistant solid steel deadbolts. It comes pre-drilled for mounting and with mounting hardware.
Pros
Easy to program, and stores up to 120 fingerprints
Room for multiple weapons with ammo
DOJ approved
Cons
An Allen wrench (included) is needed to access the keyhole
It requires approximately 4 AA batteries a year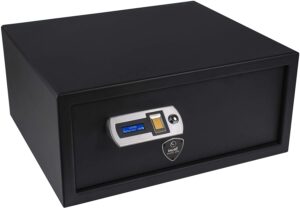 The Verifi Smart Biometric Gun Safe is the only gun safe to have an FBI-certified fingerprint sensor. Up to 40 prints can be stored in the system. The TouchChip fingerprint sensor uses high-resolution imaging, so it can read worn, dirty, or delicate prints that other systems can't. It also has anti-spoof 3D technology that works below the skin surface to recognize living tissue.
This Verifi smart safe automatically performs a thorough self-diagnostic every 24 hours and after every use. It tests batteries, the sensor, and the safe lock mechanism and notifies you with audible and visual alerts if there's a problem in any area.
Tamper alerts are timestamped and saved in memory to keep you informed of backup key access, reset attempts, and unauthorized access attempts. It has audible alerts for tampers, low batteries, and an open door.
The safe will operate for years on a single set of batteries, and the audible low-battery alert can be snoozed, which is convenient if the safe is kept beside the bed. It has an LED light and indirect night light that helps prevent night-blindness.
This solid steel-constructed Verifi safe is approved by the California DOJ for firearm safety. It comes with 2 backup keys, 4 batteries, 1 user manual, 1 quick start guide, 1 microfiber cloth, 1 mounting hardware kit, 1 battery cover removal tool.
Pros
Best fingerprint tech available on a gun safe
Approved by California DOJ
Room for multiple guns
Ongoing self-diagnostics with customizable alerts
Cons
Self-diagnostics can reduce battery life, which often isn't as long as claimed
This gun safe isn't as thick and rugged as others and could be better for protecting children than for theft prevention
Gun Safe FAQ
Will Guns Rust in a Safe?
Yes. Gun safes are usually not specifically designed to control moisture and humidity that can cause rust. Guns stored in a safe still need to be regularly cleaned and lubricated to prevent rust. You may want to consider adding a dehumidifier inside the safe for added rust protection.
Are Gun Safes Fireproof?
A: No. Any thick steel box is more fire-resistant than, for example, a sofa. However, only gun safes that are specifically tested and rated are actually "fireproof." A fire exposes the safe to extremely high temperatures for a very long time, so fireproof gun safes are tested and rated to withstand high temperatures over time.
Are Gun Safes Easy to Break Into?
No. While almost any gun safe can be broken into if a thief has sufficient tools and time, they are usually not easy to break into quickly and quietly. It may take a long time and power tools to cut through the wall or door of a safe, or time and tools to pick a mechanical lock or overcome an optical scanner.
A determined thief may prefer to steal the entire safe and take it elsewhere, so they have the time and resources to break into it. However, many gun safes are not designed to prevent theft. They are designed to prevent accidents and protect children and family members from accessing a gun.
Should I Opt for an Electronic Lock or Mechanical?
Both mechanical and electronic locks have advantages and disadvantages. Mechanical locks are highly durable over time and can be used for decades. However, they can be slower to open in an emergency, and an experienced thief can usually break into a mechanical lock given enough time.
An electronic lock is faster to open in an emergency, and they are easy to use and easy to change codes when necessary. However, they require electricity and may not work if the batteries run out or there is a power outage, and the electronic circuits wear out over time.
Many modern gun safes have both kinds of lock, so you have the ease of using an electronic lock with a mechanical lock as a backup.
Choosing a Gun Safe – Conclusion
Hopefully, this article has given you some insight into what to keep in when
choosing a gun safe for your handguns and recommendations to help you choose the best one for you.
Related Reads: