The market for AR 15 accessories is absolutely massive. Go to Shot Show, or the NRA show, and toss a stick. Trust me when I say it will hit an AR 15, or AR 15 accessory.  You have a dozen different choices for just about every part of the AR 15 rifle. One of the most important is going to be the magazine. You don't just want good AR 15 magazines, you want the absolute best AR magazines.
SAFEST NEWSLETTER - WE WILL NEVER SELL YOUR EMAIL
GET GREAT

GUNS AND AMMO

DEALS!
SENT ONCE A WEEK - NO SPAM - NO SELLING YOUR EMAIL
---
Why Choosing the Best AR Magazines Is Important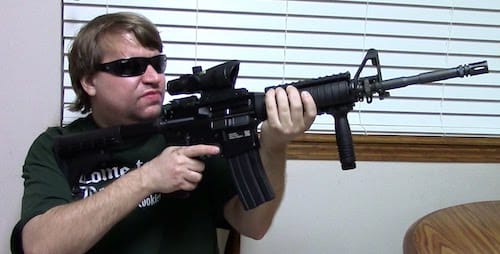 I served 5 years as a Marine infantrymen and having carried an M16A4 or M4 around the world. I shot thousands of rounds from AR 15 style rifles. Shooting that many rounds, and seeing 100 times that many rounds fired from fellow Marines means I've seen my fair share of malfunctions.
Do you know what they are almost always caused by?
Bad magazines. Some magazines were simply old and needed to be retired, some had bent feed lips, others had wonky followers, cracked spines, and more. Whenever I saw a malfunction occur more than once I'd have the Marine change his mag. Guess what? It almost always fixed the problem.
A reliable AR 15 magazine is worth its weight in gold when it comes time to start pulling triggers and dropping targets. The best AR 15 magazines won't just feed your rifle reliably, they'll do it under harsh and demanding conditions.
These magazines need to function after being dropped dozens of times during reloads. They need to function covered in dirt and sand. They need to keep ticking after thousands and thousands of rounds have been fired from them.
A good magazine may work really well in softer conditions. If you are just sitting in an air-conditioned range and shooting in a static position at fixed targets they're great.
When you are getting real on the range and training for a fight, good magazines just won't do it. If your life is online you don't want good magazines, you want the best AR 15 magazines.
---
Are all AR 15 Magazines the Same?
No, all AR-15 magazines are not the same. There is no magic when it comes to the best AR magazines. What it comes down to is good ole fashioned craftsmanship. Magazines are very simple pieces of gear, they aren't much more than a magazine body, a spring, a floor plate and a follower.
One of the most important pieces of the AR 15 magazine is going to be the follower. The follower is the portion of the magazine that the ammunition rests on. The spring is putting tension on the follower at all times, and the magazine follower is pushing rounds upwards at all times.
The best AR 15 magazines are going to feature anti-tilt followers. That's a very important feature you need to look into. This will ensure the ammo is always presented properly for the bolt to pick it up.
AR 15 Magazine Springs
The spring of the magazine is important for a variety of different reasons. Springs are pretty simple and design wise in many ways they are identical. The material used is what's most important. Stainless steel is the material that the best AR 15 magazines use. It's highly resistant to corrosion and it's slick nature ensures dirt and grit comes off easily.
The magazine body needs to be tough, and durable. It's likely going to be dropped, exposed to heat, gun oil, and more. Polymer is highly durable and has become the main material used to build AR magazines. Plus the polymer AR 15 magazines are lighter and less expensive.
Crap polymers from low end companies will often split at the spine, and the feed lips will break off very easily. Now it's hard to find out exactly what polymers companies use in their magazines, so you have to go by reputation.
Aluminum AR-15 mags have similar benefits to that of the steel magazines, however their feed lips can break off or bend.  So if you have the option go with the steel. However, both are heavier than polymer AR mags. However, spotting a quality polymer AR mag can be a challenge.
No worries though, I am here to give you 5 of the best AR magazines designed for use in not only AR 15s but any weapon that accepts AR magazines. I own, shoot, and use these magazines and have used them extensively.
What are the Best AR-15 Magazines?
---
The Top 5 Best AR Magazines
The Lancer L5 Advanced Warfighter Magazines are my absolute favorite AR 15 magazines and the best AR magazine in my opinion. These magazines are a hybrid magazine that utilizes both metal and polymer in its construction.
The magazine is mostly polymer, but at the top, you get metal feed lips. Metal feed lips don't expand or break as easy as polymer feed lips.
The Lancer magazines can even be translucent so you can actually see your ammunition and instantly know how much you have in the gun. These magazines are incredibly strong and I've tortured tested them extensively.
They are durable, reliable, and just keep ticking. They are textured for an easy grip, and due to the metal feed lips, they drop free easily.
The Magpul PMag changed the magazine industry as we know it. They were the first widely accepted polymer magazine among military, civilian, and police forces. These days if you purchase an AR 15 it likely comes with a Magpul PMag.
The Magpul PMag is now in its third generation. The all-polymer magazine is in use with some of the most elite forces in the world for a reason. It works. It works very well.
The Magpul PMag comes in a variety of colors, and even sizes. There are windowed versions that allow you to see the ammo in your guns. There are 40 round magazines and even a 60 round drum.
PMags are customizable with a variety of aftermarket accessories and are easily the most popular AR mag on the market. PMags can take some serious abuse and they keep coming back for more.
Elite Tactical System magazines are some of the most interesting mags on the market. You never just buy one. The kick of the ETS Magazine is that it comes equipped with an internal coupler system.
The ETS Magazines can be connected together for quick and easy reloads. The ETS Magazines are also translucent so you can easily see just how many rounds you have left. The magazines are heavily ribbed for a sure grip and these things are extremely well built.
They are overbuilt to a degree. This increases their weight, but it also makes them capable of taking serious abuse. The massive floorplates make them easy to remove from your mag pouch which is one those awesome little touches.
They also tend to be pretty dang affordable. ETS rifles mags are quite unique and a pair of them is perfect for home defense.
Daniel Defense is mostly known for making extremely durable and well made AR 15s. When they announced they were making magazines I was pumped. Daniel Defense wouldn't be happy with a simple 30 round magazine so their magazine holds 32 rounds.
It holds two extra rounds in the same size magazine as a 30 round magazine. It's construction mixes polymer and carbon fiber to reduce weight and provide extra strength.
The magazine body is textured aggressively for easy gripping and ripping. The bottom of the magazine comes with a raised baseplate that helps mitigate damage when dropped during reloads. The feed lips design, the anti-tilt follower, and stainless steel magazine spring ensures everything works and keeps working round after round.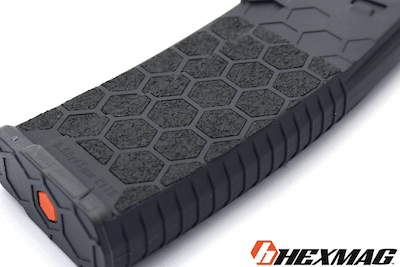 Hexmags are the on the list for a few reasons. First, for the price they are by far the most affordable AR 15s on our Best AR magazines list. Hexmags gain their name from the unique hexagonal texturing on their magazines.
This increases your ability to grip the magazine with or without gloves. These hexagons also allow easy attachment of grip tape hexagonal panels as well as stickers that allow you to customize the mags for appearance sake.
The magazines are incredibly durable, lightweight and designed to last. They use anti-tilt followers, stainless steel springs, and an excellent all around design. Hexmag creates a variety of customization options for their magazines and they are even available is 10 and 15 round capacities for those folks in firearms restrictive states.
---
Where to Store your Best AR 15 magazines?
Before I go I gotta mention the MTM AR 15 Tactical Magazine can. If you got mags, and you should have lots of them, you need a place to store them. The MTM AR 15 magazine can is a simple way to organize your magazines. Inside the can is custom cut foam bottom that allows you to stand 15 magazines up in the can.
This organizes the magazines and makes them easy to store loaded and ready, You can secure the can via three different points with padlocks. The box is water-resistant and sealed via o ring. The can's top and bottom are designed to be easily stackable.
These cans are perfect for storage of loaded magazines in the home, on the way to the range, or just about anywhere else.
---
What is the Largest Capacity Magazine for an AR-15?
The largest capacity AR-15 magazines are usually referred to as Drums. Beyond a custom built magazine, we've seen drums on the market that hold up to 100 rounds.  Stay tuned as we are writing a review of the best high capacity magazines for the AR-15.
Shopping for an AR15 Magazine
It can be intimidating when it comes to shopping for magazines. There are just so many options out there, and it's daunting. With so many weapons out there rocking AR 15 magazines it's not a problem only AR 15 owners have. That's why we're here. We want to give you the skinny on the best AR mags on the market.
Now to the readers, do you agree with our list? If not let us know why.
CODE FOR ENTIRE AR-15 GROUP
Related Reads: