If you have never any AR-15 bipods for your rifle before, what are you waiting for? With a rifle bipod, you can easily stabilize your firearm while improving the precision and accuracy of your shots.
Sandbags work well enough to stabilize your rifle in a pinch, but they aren't the easiest things to carry with you to the shooting range, making them inconvenient for casual use. Whereas, most AR-15 bipods are small, foldable, and lightweight. They can be tossed in your hunting pack and carried around with you literally anywhere.
If you are ready to step up your game, let us tell you about our pick for the 5 best AR-15 bipods on the market currently. We will briefly overview each of them, point out their individual pros and cons, and even drop a few tips on you at the end of this review. When it comes time to buy a rifle bipod, you will have more than enough knowledge to make an informed decision.
SAFEST NEWSLETTER - WE WILL NEVER SELL YOUR EMAIL
GET GREAT

GUNS AND AMMO

DEALS!
SENT ONCE A WEEK - NO SPAM - NO SELLING YOUR EMAIL
---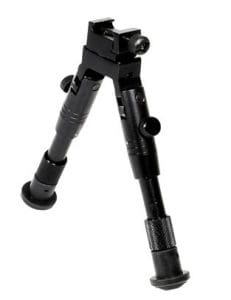 If you are buying your very first rifle bipod, we suggest starting with an entry-level model. One of the best entry levels on the market at the time of writing this review is the UTG Tactical OP Bipod.
This bipod is affordable enough for just about anyone, costing little more than a box or two of AR ammunition. But don't let the inexpensive price tag fool you, this little bipod holds up rather well out on the range.
The body and legs of this bipod are both constructed from a durable aluminum and features an all-steel mounting platform on the top.
The feet on the UTG Tactical OP Bipod are rubberized to create more friction between themselves and the surface you place them on. This alone will help give you the most stabilized shooting position possible.
These aren't just cheap little pieces of rubber-like many other bipods on the market, either. No, these are extremely solid, they will not fall off easily, and they can take a little bit of abuse.
In terms of how this bipod performs, in short, it does exactly what it is built to do. It can handle some moderate recoil, and the adjustable legs work wonders when trying to level your rifle across uneven terrain. Meanwhile, the spring tension-controlled arms help to steady your rifle when it's time to take aim.
The system this bipod uses is what is known as a dual-mounting system. Dual-mounting allows you to easily mount your rifle using a standard Picatinny rail mount or on the swivel stud mount.
And when you do get your rifle mounted, you will notice the panning capabilities on this bipod are a nice touch to have as it gives you the capability to slightly turn the clamp mount horizontally along a vertical axis. This feature opens up a much wider range of shooting angles for you to explore.
Overall, the UTG Tactical OP Bipod is well-rounded, easy to set up and use, and is perfect for beginners shooting something like a 22LR, while also suitable enough to be used as an AR-15 bipod.
Pros:
Perfect for entry-level use
Dual-mounting system
Excellent horizontal panning
Cons:
Rubber feet are not easy to get replaced if they come off or get damaged
---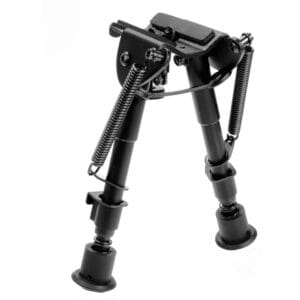 If you are still using entry-level bipods but just haven't found the right one for you, take a look at the AVAWO Hunting Rifle Bipod Rifle Bipod.
Crafted from a mix of heavy duty hardened steel and aluminum, this bipod is sturdy, lightweight, and resistant to rusting.
To ensure you always get the perfect shooting angle, the legs can be extended to a maximum of 9 inches to give you easy height adjustments when you need to make up for uneven terrain. When you are ready to pack it all up, the quick retraction button and built-in return springs will easily pull the legs back into their original position.
Attaching this bipod to your AR is as simple as sliding it onto your Picatinny rail, and you are good to go. You may need to purchase a Rifle Bipod Sling Swivel Stud Mount and Picatinny Mount Adapter.
Now that we've gotten all the basic specs out of the way, let's talk about what really makes this bipod stand out from the crowd. I'm talking, of course, about the 360-degree revolving design of the mount.
Once you've gotten your AR mounted on the bipod, you have complete freedom to swing your rifle quickly and easily from side to side. If you have ever shot in competition with moving targets, you know just how valuable that little extra bit of mobility can be.
All in all, the AVAWO Hunting Rifle Bipod is a well-built entry-level AR bipod and is a steal for the price.
Pros:
Lightweight
360-degree swivel mount
Built-in return springs
Cons:
Leg adjustments can take some time to learn
If left out in the weather for very long, it will begin to develop some rusting
---
Our top pick for the best general use AR-15 bipod is the CVLIFE Tactical Rifle Bipod because it is simply an all-around workhorse. It isn't really what we consider to be an entry-level bipod, but it also isn't at the top of the spectrum, either, it falls somewhere in between the two.
It is constructed from aircraft-grade aluminum 7075 and is finished with a black rustproof coating. This makes it extremely lightweight, yet durable enough to take some heavy recoil or even some accidental drops. The finish on the body ensures that you will never have to worry about this bipod getting rusted, so long as you take proper care of it.
Fitting your rifle onto the bipod is as easy as sliding the Picatinny rail on the forearm of your rifle onto the Picatinny adapter that comes included. Once you've got it slid into position, take advantage of the upgraded mount tension screw to lock it into place, and you are ready to head to the range.
We really like the upgraded mount tension screw on the CVLIFE tactical Rifle Bipod. The threads seem to be a lot deeper than on most entry-level and mid-range bipods, and this means that it can hold a larger amount of tension than most. So, if you are heavy handed with your equipment or like to reposition your rifle frequently, this is one feature you are going to love.
The legs can extend between 6 to 9 inches and feature 5 notches to help you select the perfect length. Setting the leg height is done by slightly pressing a button. The spring system inside the legs keeps them stabilized and locked in place. Both folding and unfolding is smooth, not gritty feeling, and is silent enough to be suitable for hunting trips.
Pros:
Constructed of aircraft-grade 7075 aluminum
Upgraded mount tension screw
Rust resistant
Cons:
Some users report that the leg extension button gets stuck occasionally
---
Looking for a bipod that performs like a higher priced model but for half the price? You want the AVAWO Hunting Rifle Bipod.
The build quality on this bipod is simply amazing for the price. It is made from a mixture of hardened steel and aluminum that makes it both capable of handling some moderate recoil from an AR-15 well, while also weighing in at no more than 10 ounces.
The base featured on this model comes with a swivel stud clamp that allows for quick and stable attachment of your weapon every time. To either side of the base, there are cushioned pads to protect your rifle from damage.
To attach your AR-15 to the base, it is as simple as sliding it onto the mount and then securing it by screwing tight a knob that sits directly underneath the base.
Once secured, there is no noticeable wobble, which is probably thanks in large part to the spring-loaded legs and rubberized feet. It holds its ground well and doesn't budge much at all when the legs are leveled properly. These legs can extend in the standard range of 6 to 9 inches through a total of 5 settings.
Like the CVLIFE we reviewed, the AVAWO Hunting Rifle Bipod is also coated with a non-rusting black anodized finish so that you will be able to enjoy your bipod for many years to come.
Pros:
Easy to attach your AR-15
Non-rusting anodized finish
Cushion rifle forearm pads
Cons:
The knob that is used to tighten the base is made of a plastic that isn't very durable
---
At some point, you are surely going to outgrow your entry-level AR bipod, and that's where the Harris Engineering 1A2-BRM comes into play.
This bipod is proudly made in the USA. It is constructed from high-quality heat treated steel and hard alloys that make this bipod a durable, trustworthy piece of equipment to have in your range bag.
With all that high-quality metal and the fact that this bipod is a little larger than the others on our list, you would think that it would be a great deal heavier. It's quite the opposite, however.  Harris engineering has gone far beyond the standards with this bipod as it is ultra-lightweight, weighing in at only about 10 ounces.
The legs are easy to adjust and eject smoothly thanks to a well-built spring action system (available on the M model only). There are 4 height settings for this bipod, ranging from 6 to 9 inches, which is the perfect range of length for both hunting and range shooting. Once the feet have fully extended, you will hear a noticeable clicking sound so you know it's ready to be used.
So, if you're serious about shooting and are ready to invest a little more money in a bipod that is going to greatly outperform any entry-level model, buy the Harris Engineering 1A2-BRM today!
Pros:
Made in the USA
Constructed from heat treated steel
Ultra-lightweight
Leg locks click to let you know they are secured
Cons:
A little on the expensive side of the spectrum
---
What To Consider Before Buying An AR-15 Bipod
Before you rush over to Amazon to order your new AR-15 bipod, we have just a couple last pointers to give you to help make your decision a little bit easier.
While these are not the only things that you need to consider before buying a new bipod, they are what we feel to be the ones you should consider first and foremost. Every bipod is different, so take your time researching them and make a final choice based on what is most important to you and one that suits your shooting style the best.
Stability
Any piece of equipment that you are going to place your rifle on top of to keep it stabilized needs to able to hold the weight of your rifle without stressing the legs, it shouldn't move considerably under moderate to heavy recoil, and any locking mechanisms onboard need to lock tightly and not jiggle or give way under pressure.
This may seem like a simple thing to remember, but it is also pretty crucial, so don't overlook this simple tip.
Weight And Size
One of the biggest upsides to owning an AR-15 bipod is that it is lightweight and compact enough to be foldable up and carried around with ease. This is an advantage that you simply won't get from using things like sandbags, bricks, or complete shooting benches.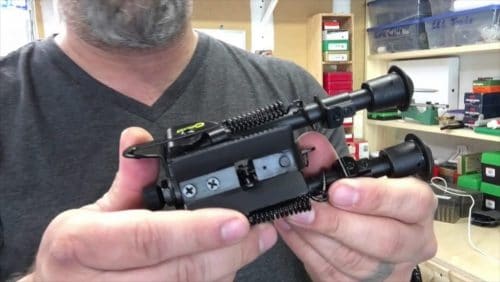 When choosing your AR-15 bipod, look for something that is around no more than 10-12 ounces, isn't too tall or short for your desired shooting angle, and is foldable, or at least compact enough to fit in a backpack or back pocket.
---
Final Thoughts
Having an AR-15 bipod on hand when you go out to shoot your rifle is a luxury, yet its usefulness cannot be denied or replaced. They are almost an essential piece of tactical equipment if we are being perfectly honest.
There are a lot of great bipod options on the market at the moment. They all come with their own sets of pros and cons, but at the end of the day, it is up to you to choose a bipod that has all the features and capabilities that are best suited to how you plan to use it.
We hope that this review, along with a couple of pointers we have given you is enough to get your search started off on the right foot.
If there is an AR-15 bipod that we haven't included in this review, but you think deserves a spot in our next round-up of bipods, let us know in the comments section below so we can have a look at it.
Until next time, happy shooting!
Related Reads: