Many beginner shooters, as well as professionals, want to improve their aim and shoot better. A shooting bench helps you to accomplish both of these tasks. While there's a wide array of benches available on the market, you can also easily build one of your own. The right-shooting bench plan will help you to achieve your shooting goals.
The internet is full of free downloadable shooting bench plans to help you construct a solid bench for under $100 in materials. Building your own portable shooting bench is a great do-it-yourself project. In comparison, if you decide to buy a shooting bench, you can spend up to $600 or more — most can be found online.
Before we get into our checklist and review of shooting bench plans — among a few of the best store-bought shooting benches — take a brief look at where it all began …
SAFEST NEWSLETTER - WE WILL NEVER SELL YOUR EMAIL
GET GREAT

GUNS AND AMMO

DEALS!
SENT ONCE A WEEK - NO SPAM - NO SELLING YOUR EMAIL
---
Shooting Benches: Early Beginnings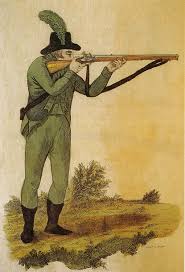 Since early 1840, shooting benches became popular when riflemen wanted to hone their skills as marksmen and practice their target shooting. Today, shooting is a well-known sport all over the world where rifles, shotguns, handguns — and even air pistols are used.
With that said, if you want to shoot properly, you need to fully concentrate to get the best possible shot. Shooting benches (or tables to some) will help you feel comfortable as you position your gun and aim better.
---
Shooting Bench Checklist
Comfortable Seat
Before you buy a shooting bench, think about your priorities … comfort should be the main concern. A comfortable position is extremely important when you need to concentrate and even wait some time to get the perfect target.
It doesn't matter your distance from a target, because if you're in an uncomfortable position, you may miss the target. Always make sure the attached seat of the rifle shooting table you want is comfortable enough for you.
Hand Rest
Some manufacturers use a foam pad to make the seats comfortable. But if you are about to sit there for an hour or so, a padded seat is not enough. Another thing that you need to feel more comfortable with is an adjustable hand rest.
An ordinary shooting bench that is made of wood doesn't have this feature so some of its users suffer from a wedged hand. Look for an adjustable hand rest where you can place your hands comfortably especially if you're into hunting.
Sufficient Space
Make sure you have sufficient space when you position yourself and place your shooting accessories. As any target shooter knows, backup ammunition is vital. Therefore there should be ample space on your table for extra rounds. This additional space will also help you concentrate more knowing that your supplies are within your reach.
Movability
Movability may not be a concern if you simply practice your shooting in your backyard. However, if you plan on bringing your shooting bench/table for hunting — invest in a portable one.
If you're a hunter, you know that moving around and chasing after targets is very common. In this case, a lightweight shooting bench is your best bet. In addition, some portable benches include straps for carrying, while other movable shooting rests can be broken down and placed inside a bag.
---
Shooting Bench Plans: Permanent and Portable
A bench's durability determines the type and amount of materials you'll need to complete the project. If you prefer your shooting bench to be a permanent installation, you'll need to construct it using weatherproof wood and rust-resistant hardware — including screws, nuts, and bolts.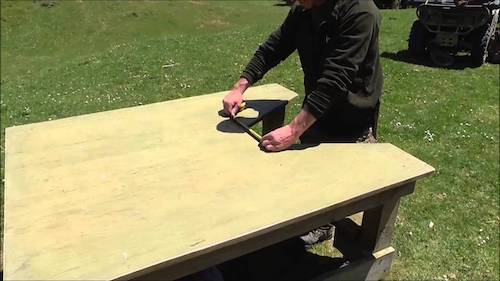 A portable bench, on the other hand, is one that you can assemble at the shooting range. You can then fold it up and disassemble to take with you until you need to use it again.
If you go for the portable option, consider using both wood and steel for your project. You'll need a ½-inch plywood top mounted to a collapsible steel frame — this will be sturdy and light enough to load into your vehicle.
Design Options/Special Features
When you visit your range, have you ever taken a close look at the shooting benches? Perhaps they've been designed by shooters just like you. It's a good idea to sit at their shooting benches and see if they're not only comfortable but also user-friendly.
Next, jot down some measurements and draw diagrams of these benches. These notes will help you in preparation for your DIY bench. Take pictures and make a checklist of your likes and dislikes.
In regards to a permanent installation, features such as a roof can provide shade on hot days, rain protection on wet days. These add-ons will increase the life of construction. Installation on a concrete pad will add stability and expedite retrieval of the spent brass.
Lastly, you can include bullet holders, padded seating, weatherproof storage for ear and eye protection, and other supplies for your ideal shooting session. Have fun with it — your DIY bench will be unique to your needs!
---
Top Three Shooting Benches: 2018
1. X-Stand X-Ecutor Shooting Bench
The X-Ecutor Shooting Bench from X-Stand is a terrific option if you need a quality shooting bench. The X-Ecutor is easy to carry and simple to use. It features a foldable function for easy storage — and you can even hang it on your wall or any other useful area.
In addition, the gun rest is completely covered with non-scratch rubber padding, including handy pockets on each side. Finally, the X-Ecutor has an adjustable knob for improved elevation and tuning — simply perfect for both left and right-handed shooters.
Features and Specifications:
Slip-over non-scratch and non-skid rubber coated
Solid steel construction
Wide and spacious to place guns and aim properly
Multi-purpose pockets for ammunition, shooting accessories and more!
360° swiveling seat (can be pushed higher or lower to tuning knob and rotating rifle rest)
Convenient for left and right-handed users
Heavy-duty bench top and seat for light to heavy loads
Portable / lightweight folding system
Easy transport
Check the best price online!
Pros
Durable steel construction
Easy to store and transport
Budget-friendly
Very portable and user-friendly
Cons
No backrest support
Takes up space
2. Caldwell Stable Table
The Caldwell Stable Table is a favorite among customers. This shooting bench is simple to use, adjustable and priced just right. Known as one of the best benches for shooting on the market, the Caldwell Stable Table is known for its basic yet integrated shooting rest, flexible seat, and very stable tripod. The result is an excellent shooting stand.
This shooting bench has been tested time and again and proven for its excellence. The end result is a remarkable product way above and beyond shooters' expectations. Finally, the Caldwell Stable Table delivers a quality, reasonably priced product.
Features and Specifications
Made from water and chemical-proof polymer
Padded for more comfort
Adjustable for terrain leveling
Adjustable from 16 to 22 inches higher to fit shooters according to the height
Quick to disassemble thanks to quick release pins
The frame is constructed from solid metal to ensure durability and stability
Check the best price online!
Pros
Enables 360° movement to shoot in all directions
Fewer joints enable users to maximize it for other shooting types
Cons
Quite heavy
Not very stable
The table tends to shake while shooting
3. BenchMaster Shooting Table
The BenchMaster Shooting Table is rugged, durable and made of the finest quality materials. If you're looking for a shooting bench that really delivers, the BenchMaster Shooting Table really delivers. Like many other brands, the BenchMaster Shooting Table is also compact and easy to store when not in use — simply fold it, grab its handle and you're all set.
Whether you are a newbie, intermediate or veteran shooter, the Benchmaster Shooting Table is a smart investment. In addition, this shooting bench is perfect for practicing long-range and target shooting. Lastly, the shooting table's legs are made from durable solid steel for ultimate longevity and stability.
Features and Specifications:
Easy fold-up
Spacious table top
Plenty of room for shooting accessories
Adjustable for many comfortable positions
Sturdy carrying handle
12 adjustment settings
Swivel seat extends from 8 to 19 inches
Lifetime warranty
Check the best price online!
Pros
Very portable and easy to carry around
Smart, sleek and classic design
No tools required for assembly
Adjustable swivel seat
Adjustable legs to level your shooting
Cons
Not the best stability
Doesn't include gun support
---
Final Thoughts
Whether you choose to build your own shooting bench or purchase one from Amazon, your shooting experience will be more productive and fun. Your aim and accuracy will improve and you'll wonder why you didn't make or purchase one sooner!
A word of advice — always think of other important things that you need to keep within your reach, while positioned comfortably. To find the best shooting bench for your lifestyle, simply consider your shooting needs. How often will you use your bench? Will you use it for hunting or for target practice?
And remember, a shooting bench is just one thing you need to improve your shooting skills.  You also need good ammunition, an accurate rifle, good targets, and a lot of patience.
After all, the tactical shooting bench you ultimately choose needs to be comfortable and easy to use as well as set up. Lastly, consider portability … the last thing you want is to haul around a bulky product. Stick to your guns and buy what's right for you! Good luck!
Related Reads: