If you're serious about shooting you need a pair of quality glasses, not just some Walmart garbage. This guide is to help you find the best shooting glasses.
Shooting glasses are a must for any active shooter. Most ranges require you to have a good pair of glasses and you should be wary of ranges that don't require you to wear them.
In this post we're going to cover absolutely everything you need to know about shooting glasses. 🙂
I'll say right off the bat that anyone who is looking for a discount pair of glasses — this isn't the review for you.
We cover some of the top brands and go into the specific brands for different sports.
Get Deals on Guns and Tactical Gear
Join 70,000 Readers For Our Weekly Discounts
---
How We Reviewed
The answer is pretty simple. I've been a a shooting instructor for the last fifteen years and done a handful of professional shooting workshops for private security companies.
I've used almost every brand of glasses out there.
We are always open to new reviews or products that you think would make good candidates for our recommended gear.
If you're a distributor who wants us to review your gear please send us an email via the contact form.
If you're an individual shooter just drop a comment below.
Let's keep your eyes safe.
---
Our Top Two Picks
If you don't want to read this giant 5000 word article than just focus on the top two picks for this review.
They offer the best shooting glasses for both men, women and new shooters. Oakley combines a great looking pair of glasses with high quality design and 100% ANSI certification.
They also offer 100% UV and UVB protection and a carrying case. While the price tag might be a bit higher you're getting a better deal overall when you add the case, UV resistant lens and cleaning solution together.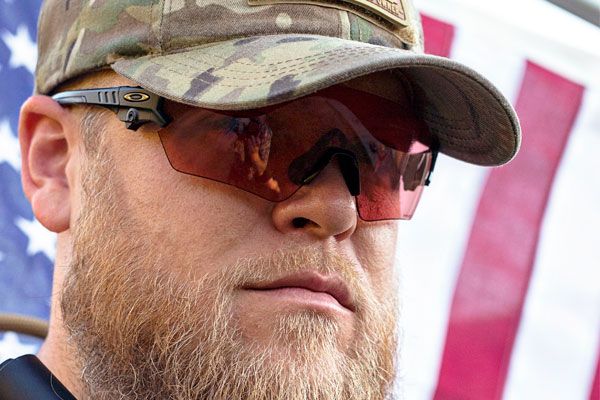 The Oakley SI Tombstone Spoil with Prizm Shooting Glasses is built for tactical use. Built on mil-grade specs, the Tombstone's are a pair of glasses that you can literally use for years to come.
The guys at Oakley have worked on the FOV and asked veteran marksmen what to include. They modified their original model a few times to come up with a pair of shooting glasses that improves FOV without compromising design or functionality.
The veterans focused on three things. They singled out contrast or clarity, the changing of lens, and field of view.
Prizm is also in use here, where it decreases eye strain. The lens can also be changed without leaving a fingerprint mark on the les. All of these advances are incorporated into the Tombstone. 🙂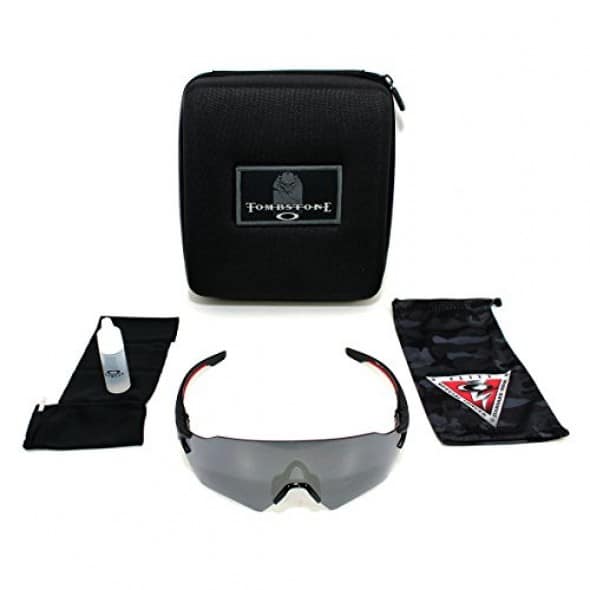 Specifications
Unobstructed field of vision
Complete UV Protection
A Tombstone cases, designed to look and feel great
Allows for the quick changing of lens with the help of the Switchlock Quick Lens Exchange.
PRIZM is included in the package. The PRIZM technology enables the lens to be fine tuned for the environment
Best FOV you'll get with any glasses
A plethora of lenses can be chosen, like the PRIZM TR45, PRIZM Tr22 and Clear types
The PRIZM TR22 is for lighter conditions while the TR45 is for dark conditions
The Thin Stem technology works with the Oakley SI Tombstone Spoil with Prizm Shooting Glasses
Compatible for hearing protection
Unobtanium nosepad. This feature allows the grip to stay firm even if wet
120 degrees on the lens profile. This gives the user the a wider FOV
Pros
PRIZM feature allows for fast modification
Fast changing of lenses
Unobtanium nose grips even in wet conditions
Tombstone Spoil
Con
---
Specifications
Includes the PRIZM, which allows the fine-tuning of the lens for every kind of lighting condition
PRIZM TR22 for lighter conditions and TR45 for dark conditions
It has the MIL-PRF3243 for ballistic resistance
Unobtanium ensures grip even in wet conditions. This technology is applied on the earsocks and nosepads
The Oakley Radar Range with Prizm (TR22) Standard Issue Shooting Glasses has an anti-fog coating
This product includes O-matter technology, which enhances its durability but is still lightweight.
The guys at Oakley have been perfecting this design for over 30 years. The Oakley Radar Range with Prizm (TR22) Standard Issue is one of their best products.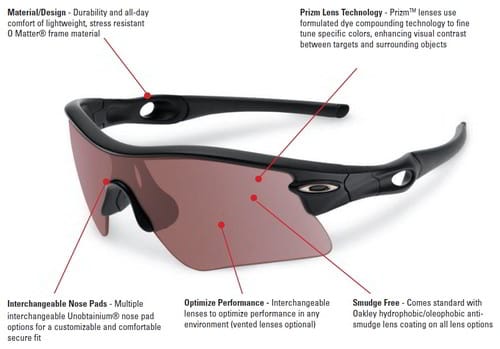 The Oakley Radar Range with Prizm (TR22) Standard Issue is fully equipped with the PRIZM, Unobtanium and O-matter. Countless athletes have won using Oakley products and this product aims to continue that proud heritage.
Pros
Extremely clear FOV
Unobtanium means that your glasses won't drop even in wet conditions
Anti-fog coating
O-matter technology ensures that this product will be lightweight but strong
Con
Little bit on the pricey side
---
Pilla Magneto 2 Shooting Glasses
Although they're not the best shooting glasses, the Pilla Magneto are a popular choice especially with shotgun shooters. We still give this product the thumbs up, but our ultimate pick is definitely still with the Oakley glasses. Let's jump into some of the more technical aspects of the product.
Specifications
The package includes 4 temple arm kits, enabling greater flexibility for each user
The Pilla Magneto 2 Shooting Glasses is correction lens friendly, meaning it can accommodate users with seeing impairments
Neodymium magnets are used for changing lenses
A plethora of kit choices
Progressive Lens Kit (PED,PL,PM and PN)
Included in this kit are 4 vision lenses that can adopt in light and dark situations by swapping lenses
Enhanced Def Kit (42ED, 22ED and 78HC)
3 types of lenses that will ensure the fidelity of the view in different environments
Kit B (69MWN, 58ED and 18RHC)
This kit also has 3 lenses in its package. They work to make your vision clear even in broad daylight by sharpening the contrast while the last lens is focused on giving you a good view even at night.
Kit A (60HCP,50RHC and 32MXB)
The lenses are focused in giving you a better contrast, enabling you to see better in any condition
The Pilla Magneto 2 is designed for tactical performance. As such, users will not feel the weight of this product because it is made to be light as possible and not feel too heavy on your face.
Titanium frame is extremely strong whilst keeping it pretty light. The Pilla Magneto 2 is package with 3 VVX (made by ZEISS).
It is also quite easy to change lenses with this product, as neodymium magnets are used for lens ingress and egress.
Pros
Partnership with Zeiss means that the lenses in use here are of top-notch quality
Lots of kits to choose from
Can accommodate corrective lenses
Lightweight but sturdy frame
Con
Fitting issue might arise from some users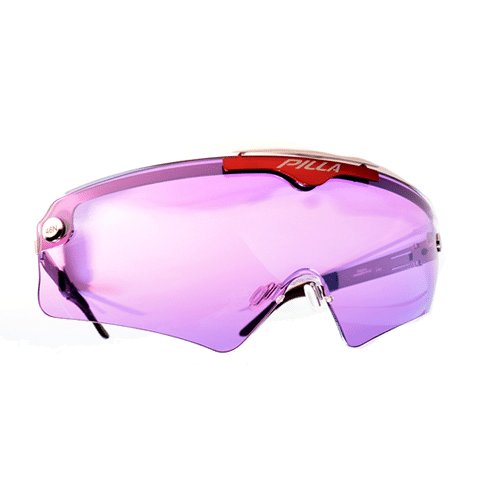 Another quality product by Pilla. These are a great choice for people looking for a general product pair of glasses without breaking the bank. There are a lot of options for this model, so let's take a closer look at what lens type best suits your needs.
If you're unsure about size, go with the X6 as the glasses are somewhat adjustable. I'd rather go with a bigger pair of glasses for better FOV then a smaller pair any day.
Specifications
The Pilla Outlaw X has different configurations for shooting, archery, and action shooting
The Pilla Outlaw X comes in White, Red, Yellow, Blue, Gray and Black
Other color combinations are also available
---
Option for Lens Filtration
Up to 4 kits made available by Pilla
Progressive Lens Kit
Truck Kit
Bank Kit
Boost Kit
Prescription inserts is an added feature
Two temple options are available:

Rubber is essential here as the temple tip is made up of soft rubber
No metal wire for better comfort
The 5 positions for adjustment gives it added versatility
Two size options:
X6 (M-L)

Provides wide coverage
Over 1500mm wide and 55mm high (Dimensions)

X7 (S-M)

Provides high degree of wrap and better coverage
Somewhat similar to the X6 but bends around the face
Pilla has yet again partnered with Zeiss to create another product. The Pilla Outlaw X guarantees a good viewing experience for shooters. The two size options available puts up a non-obstructed view of the environment.
These shooting glass incorporates materials that are strong yet lightweight to ensure that the performance of the shooter will not be impeded. Fogging is reduced because the rubber sweat bar has integrated vents. Likewise, the sweat bar minimizes the risk of lens smudging. All in all, the Pilla Outlaw X is an excellent product
Pros
Lightweight build
The lens changing feature ensures that changing said lens will be stress free
Customizations galore
Zeiss made lenses
Extremely protective
Con
The inserts may be too close from the eyes
---
Best Shooting Glasses for the Money from a US/Family owned Company you may not have heard of, yet!

Specifications
Ultra-Durable Memory Nylon frame
Shatterproof, Scratch Resistant Poly-carbonate lens
BALLISTIC RATED: Ballistic ANSI Z87+ Certified
Polarized lenses
110° Hinge Technology
LIFETIME WARRANTY
4 Lens Color Options: Mirror – Blue, Red, Green & Smoke
STNGR's line of ballistic eyewear is purpose built for the practical shooter who wants one pair of glasses for both a range application and everyday use (One pair to rule them all). Made with the shooter in mind, the RAZR polarized lenses cut glare and help provide a crisp clear picture of the target downrange.
Built from a virtually indestructible memory nylon material and backed with a no-nonsense lifetime warranty, STNGR isn't messing around when they say these are the last sunglasses you'll ever need to purchase."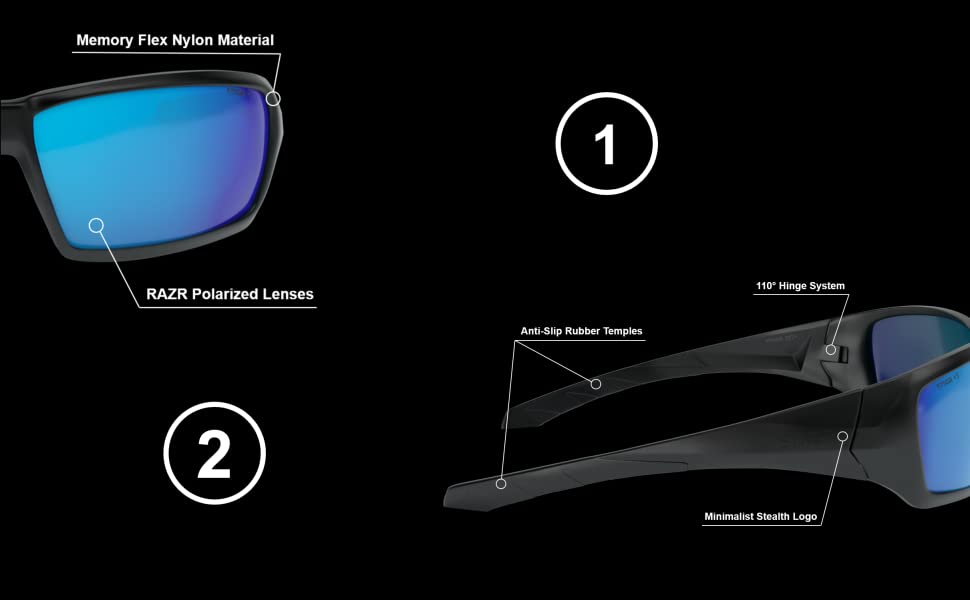 Founded by Ernest and Philip in 2016 out of a garage in Allen, Texas, STNGR was born out of a desire for more. If you like the idea of buying from a family owned, US based business that stands behind their products with a life time warranty then the STNGR brand is for you. Basically return broken, damaged, basically "whatever is left" and they will replace them.
Great Video from our friends at 704 Tactical to see glasses undergo extreme testing.
Pros
Two models and multiple lens choices.
Virtually Indestructible lens
Great looking for wearing away from the range also.
Lifetime Warranty.
US based, family owned.
Cons
Not a traditional shooting glasses frame.
---
The Ranger Edge shooting glasses are built for versatility. As is the norm for Randolph Engineering products, the Ranger Edge comes in a lot of different flavors.
The NexPC lens is rated to be 6 times more resistant than other glasses. The materials in use can absorb the blast or any smaller particles that are emitted from a blast. The lens also provides better contrast when compared with contemporary products. Glare reduction is also great with these. Ranger optics are one of the best shooting glasses you can get.
Specifications
Includes a lifetime warranty for solder joints
Premium case is also included
EDGE is the name of the frame
The lenses in the Ranger Edge are dubbed the NexPC
Distances between lenses are reduced
A plethora of color choices for the lens component:

Medium Yellow, Max-Light, Modified Brown, Vermillion, Pale Yellow, Orange, Light Purple, Dark Purple, Copper Polarized, HD Copper, HD Medium, HD Light, HD Dark, CMT

Three choices for the frame can be had:

63mm
67mm
69mm
The lifetime warranty for solder joints means that the Ranger Edge will stay with you for a long time. About the only difficult thing here, especially for novices, is that the plethora of configurations may overwhelm would be buyers.
Pros
Lifetime warranty for solder points
The comprehensive customizations and configurations
The numerous NexPC lenses available
Easy ingress-egress of lenses
Extremely protective
Con
The plethora of customizations may overwhelm, especially for novices
---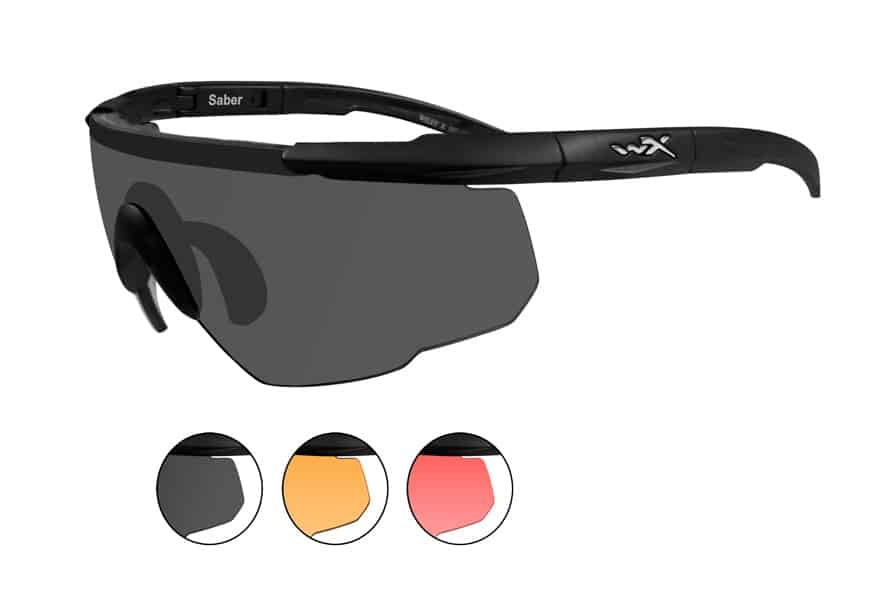 The Wiley X Saber Advanced are built for tactical use based on military special force team specs. They Wiley X are extremely lightweight and offer a hell of a lot of protection for the price-tag.
The lenses are also more than adequate in protecting your eyes because it has been certified to withstand close proximity firing. The temples included are also adjustable, meaning that your glasses can adapt to the environment as changes happen. The brow bar also has the Ultra Foam. The size and molding of the Wiley X make them a great choice as a top notch eye protection for shooting.
The Ultra Foam will ensure that the glasses will never lose its grip even in wet conditions.
Specifications
Lens provided reduces glare
Fully adjustable temple
T-Shell coating will resist surface scratching
Adjustable nose piece
The package includes:

Instruction Card
Foam Brow Bar
Nosepiece
Microfiber Storage Bag
Smoke Grey Lens
Matte Black Frame
Tactical Strap

Shatterproof Selenite Polycarbonate Lens meets the following standards;

US Federal OSHA
EN 166 FT
ANSI Z87
MIL-PRF-32432
I know I keep covering the product specs, but it's important to know what you're getting. Let's take a look at some of the features that I love about these products.
Pros
The high quality lenses included have been certified and are guaranteed to be strong
The lens also have anti-scratch coating
The Ultra Foam ensures that the Wile X Saber Advanced will not slip off your face
Adjustable Temples
Con
Image distortion may develop on some lenses
---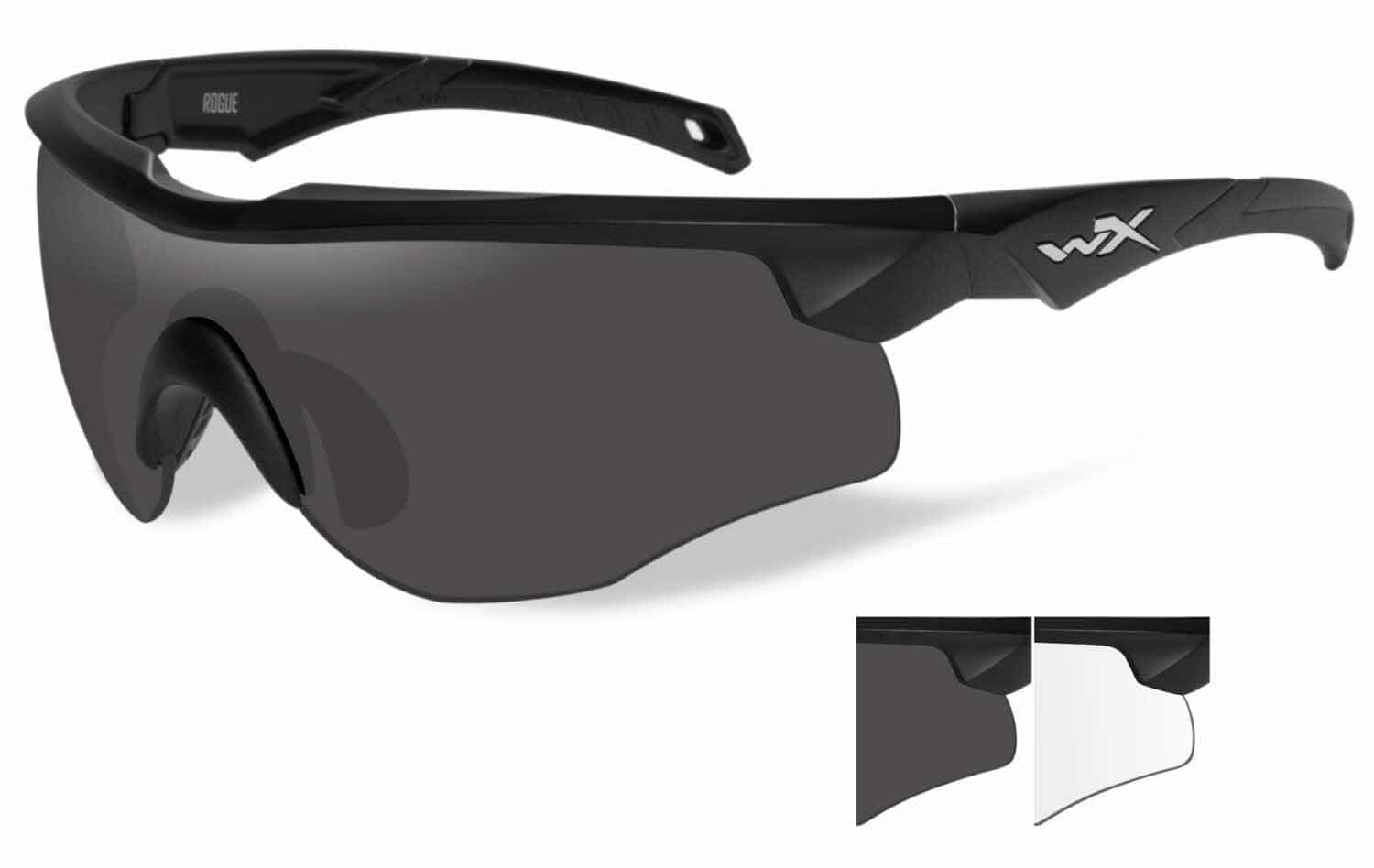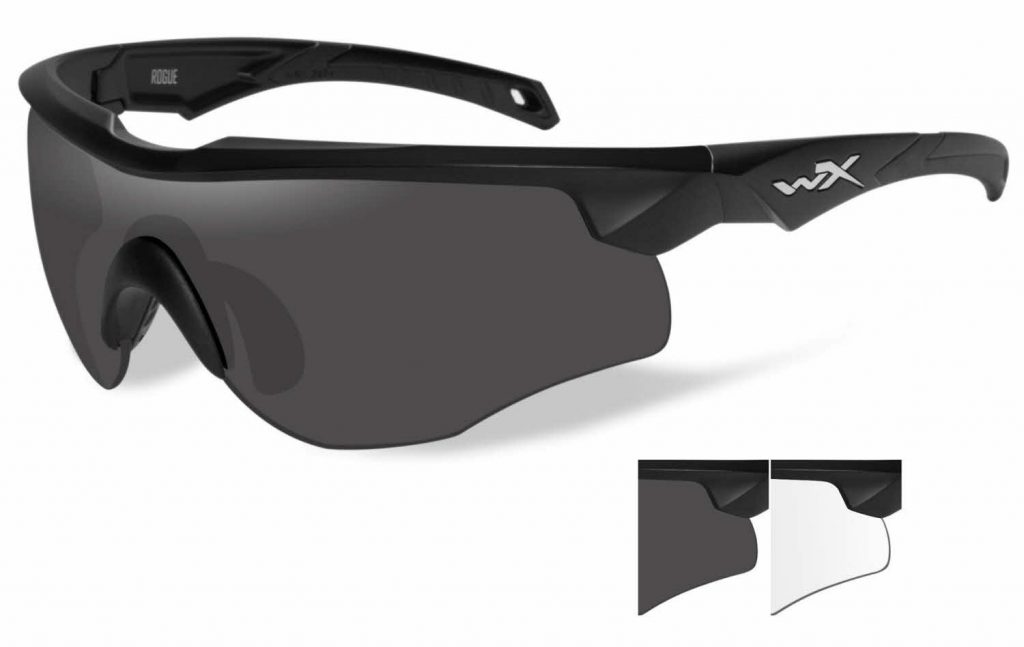 Another great choice by Wiley, although it's almost the same as the Saber advanced choice. In all honesty I'd go with the Saber Advanced over these. I find that the Valor glasses while still great just don't include all the little upgrades that the Saber has.
It's a more basic model for roughly the same price.
Specifications
Rx Ready
Polarized Lenses
T-shell lens coating
UVA.UVB Protection
Shatterproof Selenite Polycarbonate Lenses with the following certifications;

MIL-PRF-32432(GL)
ANSI
EN 166 S
Package includes the following:
Kryptek TyphonTM
Leash Cord
Polarized Smoke Grey Lens
Microfiber Cleaning Cloth
Built for tactical no nonsense shooting these just work.  The lenses are easy to change and FOV is also pretty great.
The Wiley X Valor is quite comfortable to wear too as the frame is quite flexible, adapting to the wearer's facial dimensions. The sturdy lens are certified for max protection. Also comes with UV ray protection as stated in the specifications.
Pros
The hardy lens will surely protect your eyes
Comfort fit
The lenses are easy to change
The lenses are also scratch resistant
Con
Reflection haze may occur
---
Pilla Magneto RX Series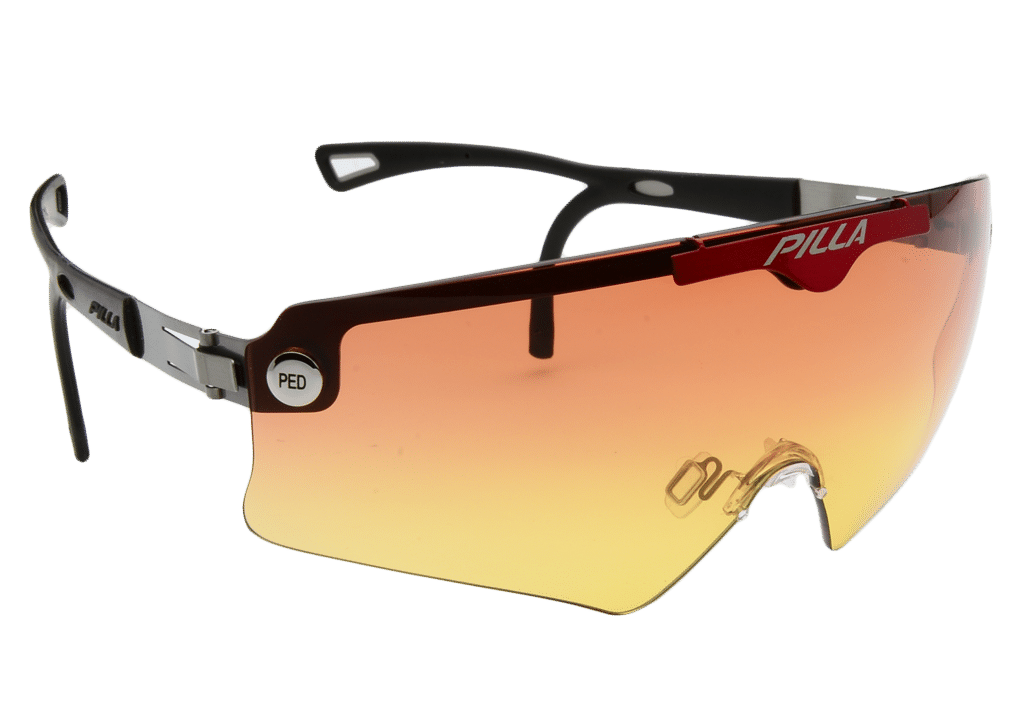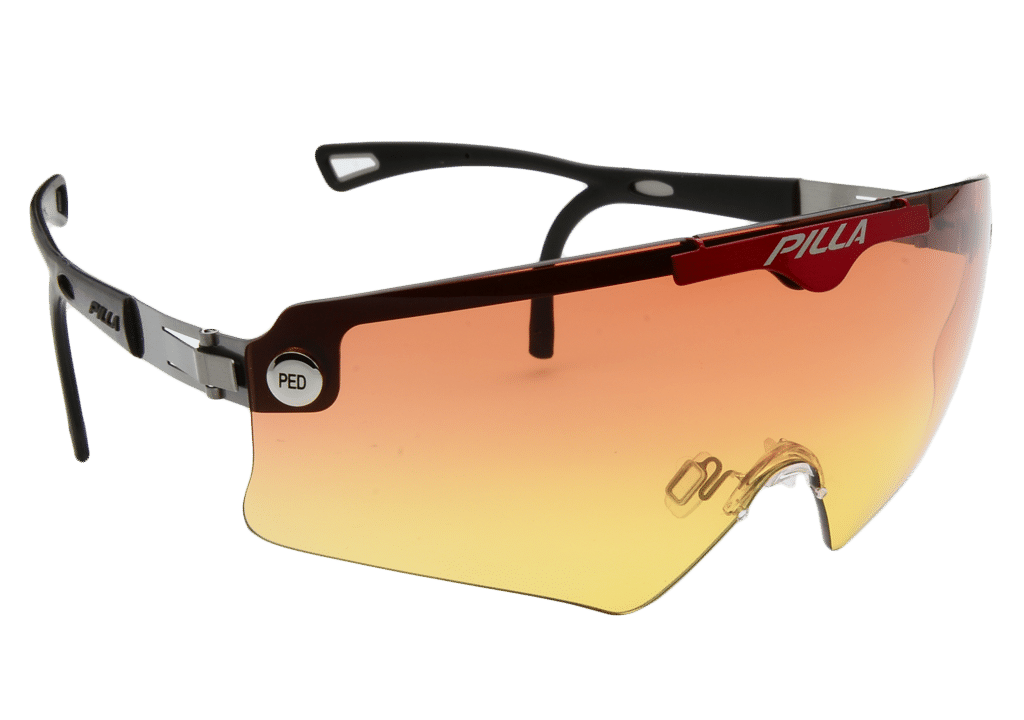 I had to cover these Pilla glasses too as they are a pretty popular choice. I will say that they aren't my favorite. For what they offer I don't think the price is justified. They definitely aren't the kind of eye protection for shooting we'd recommend.
Specifications
4 interchangeable temples are included for greater versatility:

Fork temple arm
Long temple arm
Medium temple arm
Short temple armThe frame is made up of titanium

Neodymium magnets for the changing of lens
Corrective lenses can be used
UV Protection
Anti-reflective (Reduces glare from the Sun)
Bifocal – Includes a "reader" portion of the lens
Progressive – Suitable for both near and far vision
Hi-index – Reduces the thickness of the lens
Kits are also available:
Progressive Lens Kit – 4 lenses are included to suit every environment
Kit A – Has a Max lens that guarantees up to 600 percent of contrast through an orange tinted lens
Kit B – 3 lenses available that focuses in high, medium and low light settings
Kit C – All around lens quality
The frame is made up of titanium. The frame is ultralight as not to impede the movement of the users but it does not sacrifice durability.
Pilla has partnered with Veiss again to create quality lenses that can adopt to any environment. The lens are easy to interchange with the help of neodymium magnets.
Pilla's lens are also build for military grade projection specifically for snipers in the field. They offer max protection from blasts and other projectile matter.
Pros
Lots of customization
Partnership with Veiss = quality lenses
Ease of changing lenses
Lightweight titanium frame
Con
The degree of customization may intimidate novice shooters
---
The name Beretta is known for quality gear and weapons. They have also produced their own pair of glasses that maintain that same standard of high quality materials with functional design. The Trident Glasses are no exception to that rule providing a military grade tactical shooting experience. Here are some of the specs for the Tridents in closer detail.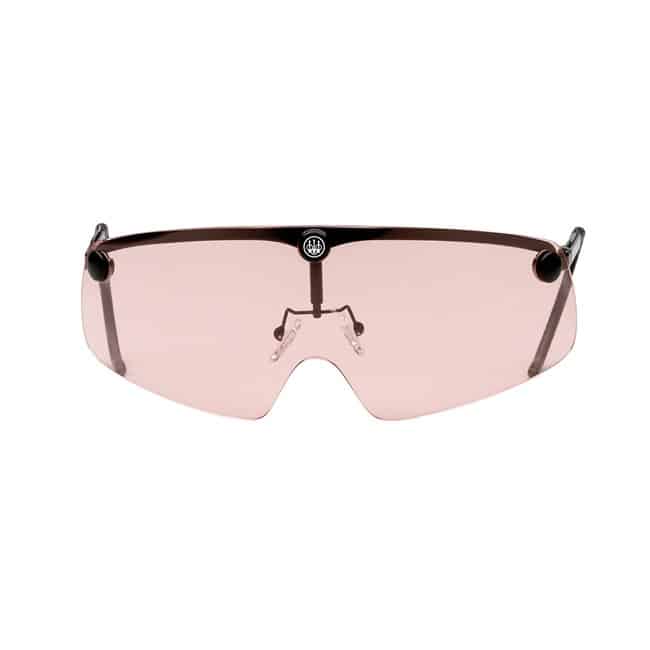 Specifications
The glasses are rated 100 percent in UV and UVB
Lightweight product.
Three interchangeable lenses for different environments

Black for all weather use
Red lens is used for bright days
While the yellow lenses are used in dark and low-light conditions

The lenses are also of the wrap-around variant
Adjustable nose piece
Comfortable fit ensured
Includes a hard-clam case for protection when not in use
The Beretta Trident Shooting Glasses is built for versatility. It includes 3 sets of lenses. As stated above, the black lens is the most popular choice while the red and the yellow lenses are good for bright and low-light conditions respectively.
The Beretta Trident Shooting Glasses is also frameless, which gives you unobstructed view of the field. Sometime, the frame obstructs the peripheral view of the person using them. That is not the case for this product. The Beretta Trident Shooting Glasses is lightweight, meaning that wearing it on the field won't be cumbersome. A case is also included in the package.
Pro
3 sets of lenses for any type of environment
Frameless design means peripheral view is unobstructed
Comfortable fit
Lightweight
Con
Sometimes, the lenses are hard to change because of the nose piece.
---
Another popular option by Beretta are the standard shooting glasses. These are the most basic models that are good for novice shooters.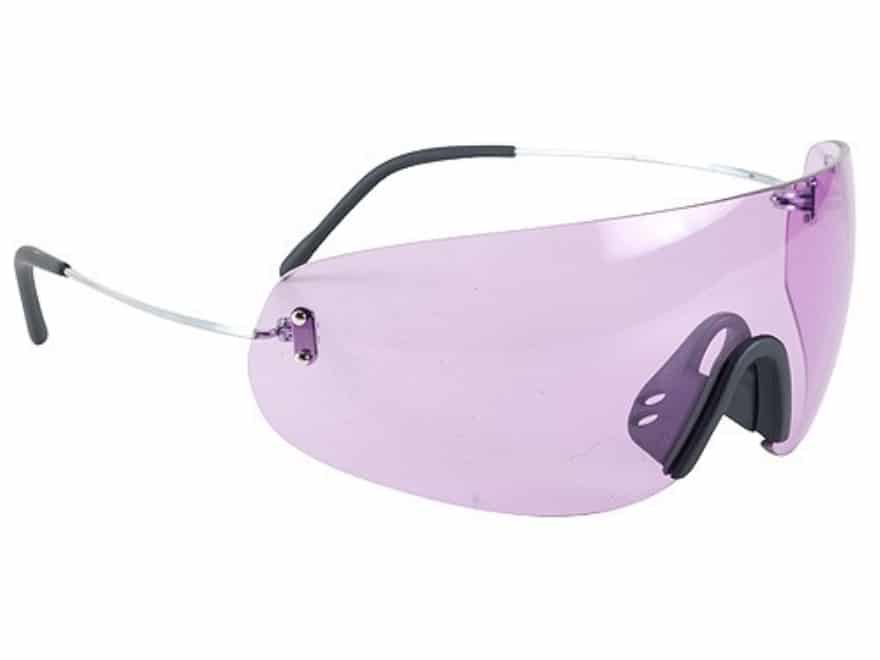 Specifications
Policarbonate Injected Lens
Lenses are also purple
The lenses also provide good contrast
Light weight product
The frame is made up of soft plastics
Cloth bag included for protection
Product weighs 1 pound
Not compatible with prescription glasses
The Beretta Shooting Glasses focuses on the the quality of the lenses that is included. Lens in question is injected with policarbonate and coupled with good color contrasts and a better overall view.
These elements give the users a better viewing experience which is essential in the sport of shooting.
The frame, and by extension the whole product, is quite comfortable to wear because of the soft plastics used by Beretta. The product is also quite light, enabling usage in the field without being cumbersome. Only issue are these glasses are a bit bigger, so those with petite faces may have some difficulty in using said product.
Pros
Excellent lenses with good contrast and added technology
Lightweight product for easy usage
Cloth bag provided
Comfortable fit
Con
Incompatible with prescription glasses
---
Best Shooting Glasses for Sporting Clays
The Radians Clay Pro Shooting glasses are frameless by design. This means that the peripheral view is unobstructed.  The view is always important in the sport of shooting.
The Radians Clay Pro also over 99 percent UV protection, which is essential for the outdoor quality of the sport. The lens are also durable, with ANSI certification. The nose piece is made up of soft rubber which ensures comfort.

Versatility is the name of the game as the Titus Premium G series is a good choice for riding, shooting and target practice.
There are also a plethora of lens colors to choose from with each color serving a purpose for every environment.
The lenses are also very easy to change since the mechanism in place (Integrated Side Shield) is efficient. The Black Impact Frame is adjustable ensuring comfort when wearing this product.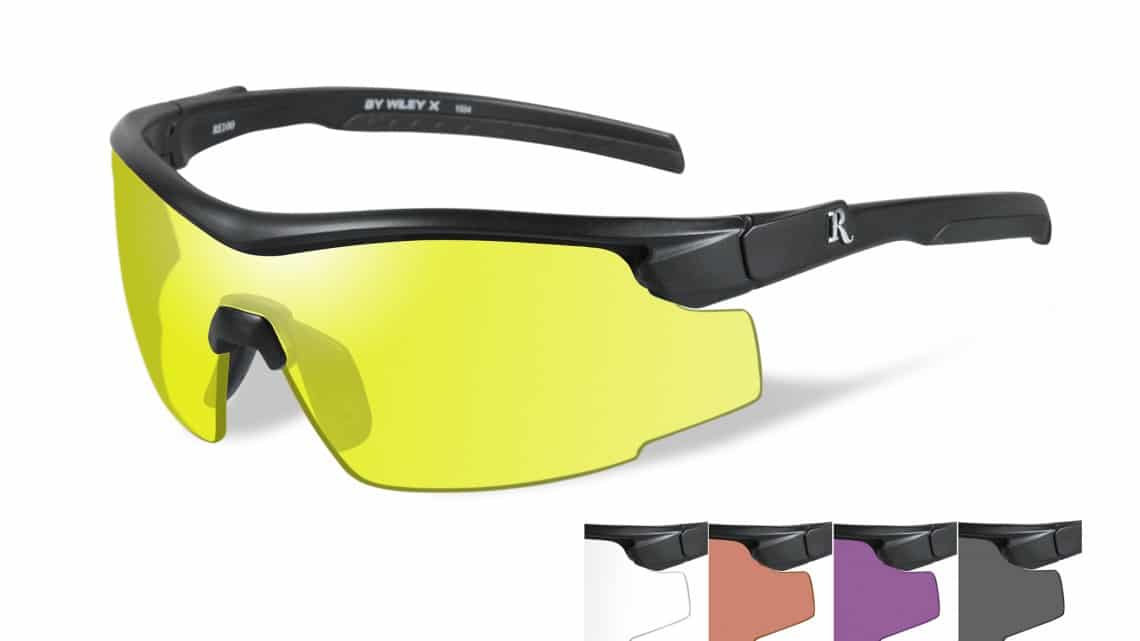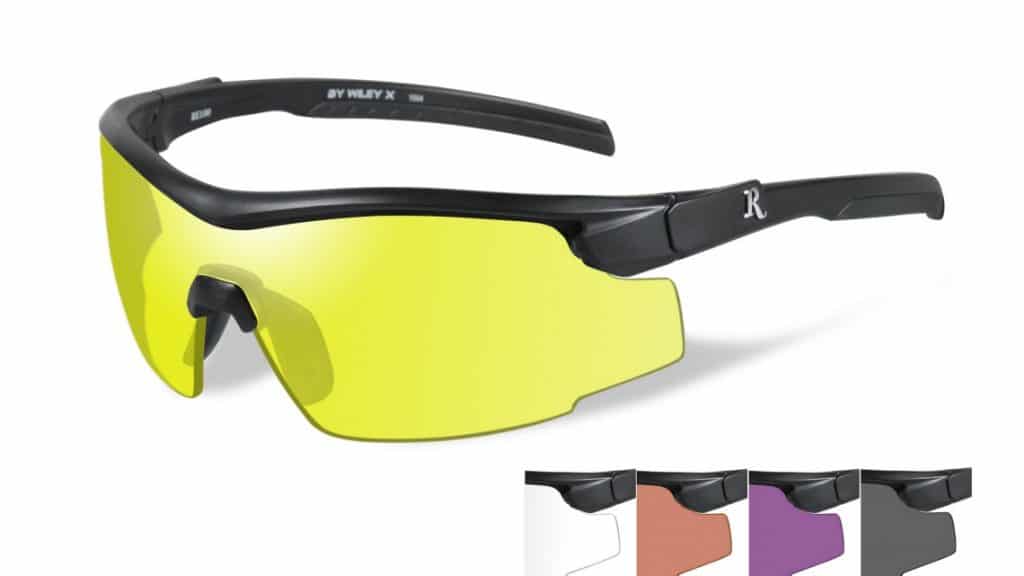 The Remington Shooting Glasses places a heavy emphasis on the quality of its lens. The lens in question are hard-coated to give a rated 99 percent of UV protection/UVB protection which is essential to the sport of shooting.
These lens also have an ANSI Certification which ensures the protection of your eyes. The curve design is also prominent here which offers greater coverage of the view compared to other designs.
This NYX product focuses on versatility, as 3 lens are included in the package. Light Vermillion, Optic Yellow and Medium Amber 27 are the choices of lens that are included. All three will help you adopt in every environment, be it under the sun or near the end of the day.
The lenses are designed to be used either in sporting clays or for hunting, adding to the versatility being offered by this product. The NYX glasses also include the twin technologies of TR-90 Memory Nylon Frame and Polycarbonate Lenses, thereby adding to the already great value.
The frame is also lightweight to ensure the comfort of the user while on the field. The package also includes a carrying case plus a microfiber pouch for the protection of the NYX Carbon Professional Shooting Glasses when not in use.
---
Best Eye Protection for Shooting Indoors
The picks below are all solid choices for shooting indoors. The difference between outdoor glasses and indoor glasses is two fold. First, with indoor glasses you don't need a huge FOV or light sensitive lens. Second, indoor glasses are a lot cheaper as they don't need all the extra bells and whistles that you would get with any pair of quality outdoor shooting glasses.
That being said here are our picks for the best eye protection for indoor shooters. 
Great quality glasses built on a simple design that works. The lenses meets the standard of ANSI (High Impact) which ensures the safety while shooting.
The lenses themselves provide 180 degrees of view. The lens is also coated with Fog-Ban Anti-Fog to discourage fog from forming in the lens.
The frame is also quite light, which made up of black nylon. The fit is also comfortable with a soft nose bridge and a sturdy temple.
The iLumen Shooting Glasses will feel at home in both indoor and outdoor settings. The lenses offers protection from debris. The lenses are also suited for low light conditions and also has anti-fog coating to discourage fogging.
The product can also be paired with UV flashlights should you choose to utilize both. This product from iLumen8 also promises 100 percent protection from UV rays by virtue of the yellow colored lens in use here.
The lenses are also both impact and scratch resistant, furthering the protection of the eyes.
The best thing about the GT is that they are light and extremely durable.
The product also features an elastomeric browguard, high-wrap lenses for better and wider viewing and anti-fog coating for the lenses to discourage fogging in the lenses.  The temples are dual-injected and are highly adjustable so that the user can adjust at his or her discretion.
The lens are also polycarbonate and will absorb UV rays from the Sun and the like. The Maxim GT Protective Eyewear can be used in other things too like chipping, chiseling, drilling, masonry. It is not only limited to indoor shooting ranges.
It can handle of the activities mentioned because the lenses are certified in CSA and ANSI.
With a black frame and blue glasses, the Jackson Safety V30 Nemesis Safety Glasses look great.
The color blue was chosen so that it can block of the rays from the Sun should the user choose to get out of the indoor range.
The polycarbonate lenses protects the user from UV and UVB at 99.9 percent. This product has a sporty, lightweight frame.
The lenses are tough and adequate to protect your eyes by meeting the ANSI standards. A patented nosepiece is included which is very flexible and channels sweat away from the eyes.
---
Our Final Thoughts
I realize that was a long read but the important takeaway with all of this is that getting a quality pair of shooting glasses is an investment that will protect you long into the future.
My strategy for purchasing shooting glasses is simple – get a few pairs. Having a backup pair of glasses is great to throw in your range bag or lend to a buddy when they forget his.
I hope our review was helpful and I definitely encourage you to take a look at our hearing protection page for more safety tips.
Thanks!
Related Reads: