Ever since the Florida school shooting, body armor has been in high demand. But the armor isn't for the military, it's for parents to put in their children's backpacks. The numerous violent attacks have caused parents to be on high alert.
Many parents have chosen to line their children's school bags with plated armor. Preparation is key these days and parents are taking action. In today's society, it's detrimental for every parent to be concerned for their child's safety.
These actions bring me to our topic for today's review — body armor. In the United States, body armor creation started as a series of experiments in 1861, when thin steel plates were enclosed in military jacket materials to protect against bullets. If one wanted to use protective armor, it was a matter of personal choice, cost, and appearance.
In addition, items such as bulletproof vests and plate carriers offer solid protection against flying lead. Plate carriers can be designed to be simple or highly modular, via the use of pockets for accessories. Still, other plate carriers are designed with the ballistic armor on the interior.
If you acquire effective armor systems, you're making a wise decision to keep out of harm's way. Body armor is a core component of protecting yourself, but original body armor wasn't constructed with today's technology. Older armor often weighed a great deal, whereas modern armor is completely revolutionized.
The choice is always your particular preference. But whichever brand of body armor you choose, you're sure to stay protected. They're all designed to stop high-velocity rifle rounds.
Get Deals on Guns and Tactical Gear
Join 70,000 Readers For Our Weekly Discounts
---
Body Armor Construction
Depending on weight, body armor plate carriers are constructed of simple steel or complex materials. Carriers come available in several sizes and each size accommodates different needs. However, some plate carriers stand alone to provide single- or multiple-hit protection.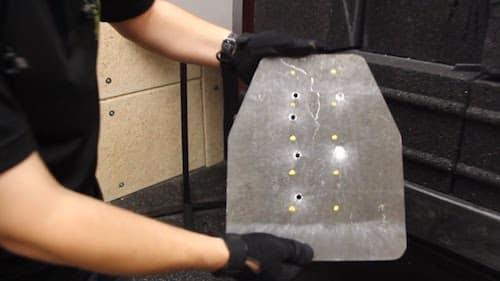 On the other hand, modern hard armor plates are lighter and can withstand multiple hits — either on their own or in conjunction with soft body armor. Thankfully, this modern armor is softer, lighter, more flexible and better equipped to stop some very lethal pistol rounds.
Hard and soft armor provide the most complete protection possible, while still being pretty comfortable, easy to put on, and customizable. Whether a simple carrier riding over your ballistic vest or a complete system, there are more high-quality choices than ever before.
AR500 Armor is a vital part of any preppers gear, however, most of the conventional body armor plates are extremely costly. To address these drawbacks in the armor industry, manufacturers such as AR500 Armor have utilized abrasion resistant steel armor plating to create cost-effective personal body armor. AR500 is a fairly new competitor to the body armor industry.
This relatively new competitor to the body armor industry is one of the most popular of the AR500 armor systems. Their low cost and overall effectiveness are highly attractive to money-conscious survivalists and individuals with dangerous occupations. Over a short timespan, the AR500 company has created specific coatings to enclose fragmentation of projectiles.
Please keep reading for some of the best AR500 Body Armor on the market today.
---
1. AR500 Body Armor Ballistic Backpack Plate III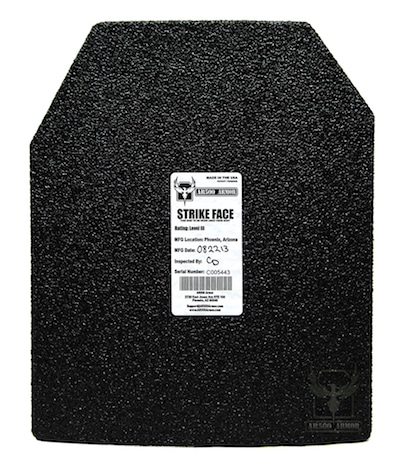 The AR500 Body Armor Ballistic Backpack Level III is designed to be inserted into a backpack providing protection from bullets under concealment. This type of backpack armor will fit into your laptop carry bags (accepting up to 15.1" laptops) and hydration pockets. This backpack is the ideal choice to be prepared in unfortunate situations that involve flying bullets.
AR500 Armor Level III Body Armor is manufactured from an intensely rugged ballistic grade steel core. It's also coated with PAXCON spall and fragmentation protective coating. The ballistic steel plate is unparalleled in the industry, stress fracture resistant, and is formulated with superior craftsmanship. In addition, its specifications are designed for improved consistency, durability, and tested to NIJ standards.
Backpack body armor is the ideal choice for staying prepared for the day to day life. Whether you keep a backpack in your truck or bring it to the office, you will have the ability to turn your everyday commuter back into an armored backpack. It's important to have options for protection, regardless of your location.
Level III Rating: AR500 Armor body armor is Stand-Alone and Multi-Hit capable. Designed to defeat rifle threats up to 7.62×51 M80 NATO Ball at velocities up to 2,780 feet per second and all pistol calibers.
Features
9.5" x 13"
Designed for laptop pockets up to a 15.1 inches
Complements trauma pads
Practical, concealable and low profile
Rifle protection on the go
Rugged and reliable
Fully sealed design protects from spills, chemicals, and harsh elements
In-house ballistic resistant testing and quality control
Maintenance free
0.26" ultra low profile ballistic core
Weight 8.0lbs (+/- 5% due to PAXCON coating)
Check the best price online!
---
2. AR500 Body Armor Stand Alone Lightweight Ballistic Plate III+ Lightweight Shooter's Cut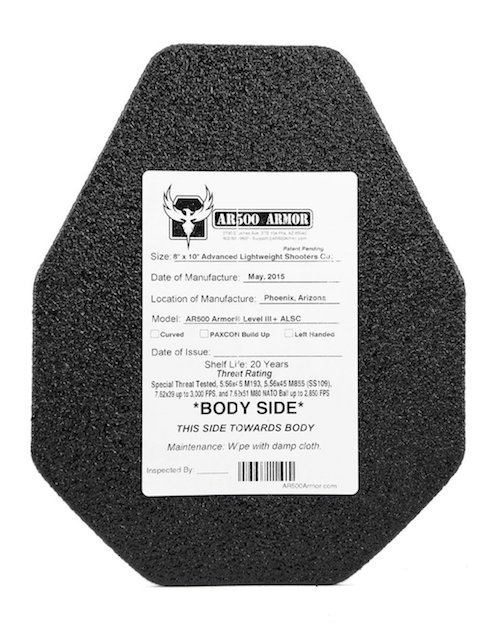 The AR500 Armor Level III+ Body Armor is rugged and made with a ballistic grade steel core. The stand-alone lightweight armor is coated with PAXCON spall and fragmentation protective coating. Like most of AR500's products, the ballistic steel plate is one of the best in the industry. In fact, it's treated specifically for improved consistency, durability, and reliability.
This stand-alone ballistic plate is a solid performer in terms of achieving multi-hit performance within its designated threat level. Its rounds exceed the armor's limitations, plus any threat level or any extreme hit scenarios that may cause the armor to crack upon impact. Thus, the outcome significantly reduces the rounds velocity, as opposed to through and through penetration.
Overall, the AR500 Armor 10" x 12" Level III+ back plate is perfect if you're looking for increased backside coverage in a package that fits in most plate carriers on the market. The 10" x 12" backplate fits nicely in pockets designed for medium and large SAPI shooters cut style body armor plates.
The ballistic plate core is stress fracture resistant and features an ultra-low profile ballistic core of just .26 inches. It can handle severe abuse in daily use, training, and pragmatic storage conditions. This is a fantastic addition to your tactical gear.
Level III+ Rating: Level III+ armor offers enhanced ballistic protection against 5.56×45 M193, 5.56×45 M855/SS109 at 3,100 fps, 7.62×51 M80 Ball non-AP at 3,000fps & Black Tip AP (.308) at 2,800fps. This product is available in a flat model this is budget friendly and fits perfectly in the back pocket of your plate carrier — or anywhere else you need the resources to add rifle threat protection.
Features
10" x 12" rectangle back plate body armor will fit in many plate carriers capable of accepting medium and large SAPI plates
Cost effective and modular
Outlasts ceramic, Dyneema, and UHMWPE constructed body armor
Rugged, reliable, and stress fracture resistant
Multi-hit capable and stand-alone
PAXCON (Line-X) military grade anti-spall and fragmentation protective coating
Fully sealed design protects from liquids and chemicals
Compatible with trauma pads
Maintenance free
Check the best price online!
---
3. AR500 Body Armor Stand Alone Ballistic Plate III Side Plate Steel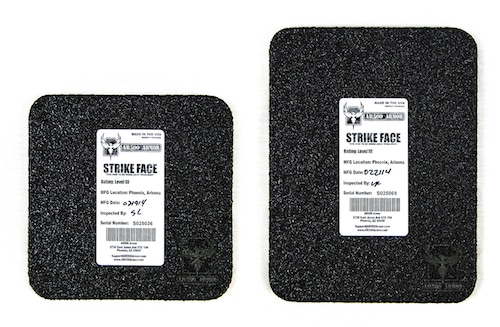 The AR500 Armor Stand Alone Ballistic Plate III Side Plate is simply the best in the industry. PAXCON (a division of Line-X) military grade protective coatings have been used in this plate to increase protection on the walls of the U.S. Pentagon.
This body armor has been tested to the maximum with an extensive four-stage cleaning, etching, and preparation process (prior to the Line-X coating application). This inclusive procedure ensures maximum adhesion and helps mitigate "blowouts" which are common in lesser quality coatings and improperly primed body armor alternatives.
Level III Rating: Stand-alone and multi-hit capable. Designed to defeat rifle threats up to 7.62×51 M80 NATO Ball (.308 Winchester) at velocities up to 2,780 feet per second and all pistol calibers. The superior Line-X coating entirely seals the armor to reduce spall and fragmentation. Additionally, it protects from chemicals, liquids, and other harsh elements. This fully sealed design combined with the advanced ballistic plate results in a remarkable performance.
Features
Available in 6" x 6" and 6" x 8" side plate
Level III rifle rated for 7.62×51 M80 Ball (.308 win) @ 2,780 fps
Independently tested to NIJ 101.06
Patented Advanced Shooters Cut in thin .26" profile
Most independently tested body armor in the world
AR500 Armor® high hard specially treated ballistic steel core construction
Rigorous quality control standards for consistency and performance
Rugged and stress fracture resistant
20-Year maintenance free shelf life
Unparalleled multi-hit and stand-alone performance
Outlasts ceramic, and polyethylene body armor
PAXCON abrasion and chemical resistant coating
Check the best price online!
---
4. AR500 Level IV Plate Curved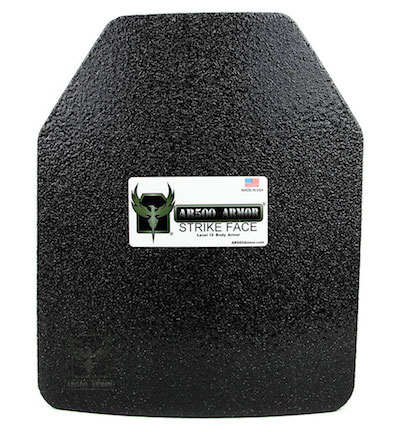 It's very common that many people prefer budget friendly curved plates over flat plates. Curved plates are affordable, reliable and capable of defending against multi-strike threats. The AR500 Armor Level IV hard armored curved plate is a cost-effective, multi-hit rated, NIJ .06 Certified plate.
PAXCON protection coating in conjunction with spall and fragmentation containment makes this body armor extremely resistant. This Level IV body armor is completely sealed from harsh elements by a coating created to form a watertight seal. This intuitive seal protects inner armor components from liquids, chemicals, UV, and sweat.
The most effective materials are used in AR500 armor and are essential to protect military personnel and civilians. This AR500 Level IV armor is compatible with AR500's trauma pads. Furthermore, this armor is water-resistant and can be used as either a front or back plate.
Features
Budget-friendly
10″x 12″ stand alone
Single-curve for maximum comfort
Front or back side accessible
8.3 lbs. (3.49 kg)
One-inch thickness
Monolithic ceramic and polyethylene
600 Denier Water Resistant Cover
NIJ 0101.06 Certified
10-year manufacturer warranty
Check the best price online!
---
Final Thoughts
AR500 Armor is an outstanding company with a very prestige reputation. Not only have they innovated some fantastic and well-crafted armor, they continue to keep up the good work today. While all the AR500 armor offers excellent protection, one, in particular, stands out.
Our choice for the best armor on this list is the AR500 III+ Lightweight Armor. After much research, we chose this brand for a few reasons. It's the perfect choice for daily, training, and pragmatic use.
It's true that the market is improving. This is all good news for civilians on a budget and who feel the need to protect themselves. If you're looking for a solid armor solution at an affordable price, AR500 body armor will certainly do the job.
Related Reads: