Do you want the best bug out bag you can possibly get? If only it were that simple.
The truth is, there's probably no such thing as the 'best' or 'ultimate' or 'perfect' bug out bag or any other kind of adjective that you want to use.
So does this mean that you should quit reading this article right now because getting or building the best bug out bag ever is impossible? No.
This is because while your goal should not be to build the best bug out bag ever, your goal should be to build the best bug out bag that *you can*. In other words, you need the best bug out bag for your environment and for your needs.
In this article we will dive deep into how you can build this bug out bag, by going through the purpose of the bug out bag, what you need to look for in a bug out bag, and then the best makes and models on the market for you to consider.
Get Great Guns and Ammo Deals!
---
The Purpose of the Bug Out Bag
The purpose of the bug out bag is simple: to keep you alive for a minimum of three days or seventy two hours in a dangerous disaster scenario should you have to evacuate your house.
To this end, your bug out bag needs to accomplish a bare minimum of three things:
It Must Be High Quality and Durable and Resilient To The Weather
It Must Be Well Organized and Designed (So That It Can Store A Wide Variety of Items and So That Other Items Are Readily Accessible)
It Must Fit Your Body Dimensions (so it won't wear you down and cause fatigue)
Those rules are just for the backpack itself. You also need to make sure that you are wise about the contents you choose to put into it (since it's actually the contents of the bag, not the bag itself, that will keep you alive).
However, the subject of the items you need to include in your bug out bag is for another discussion. This post is focusing solely on just the bag.
---
The Best Size of Bug Out Bag
Let's talk about that third rule in greater detail: finding a bug out bag that fits your body dimensions and that is not too heavy as to wear and slow you down.
The best bug out bag size will be based around your torso size. What you need to do is measure yourself from your waist up to your neck. A torso size of 15 to 17 inches will need a small backpack. A torso from 18 to 20 inches will need a medium sized pack, and a torso greater than 20 inches will need a large pack.
Space and Organization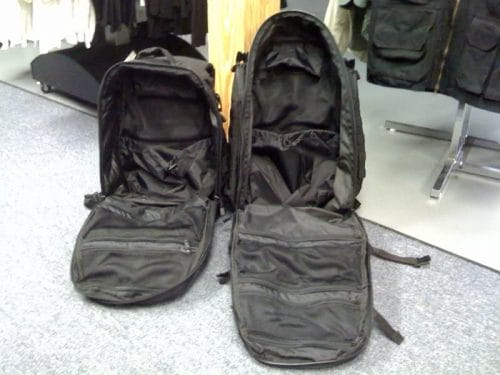 Regardless of the size of backpack you need, it needs to have plenty of space to store the items you need and just as importantly it needs to be well organized. Avoid any backpack that only has a single compartment space.
Instead, your backpack needs to have multiple compartments of varying sizes, with a variety of zippers, pouches, and other storage options. Not only does this make organization of your items much easier, it also makes certain items much more accessible.
For example, certain larger items in your bug out bag such as a tarp or clothes probably will never need to be accessed urgently, but other items such as water or a knife would be. Therefore, you would want to place those items in your smaller compartments on the side.
Ultimately, bigger does not necessarily mean better with a bug out bag. So long as you have enough storage space with a wide variety of compartments, you will be good to go.
Here is a checklist of what to look for in a bug out bag when it comes to space and organization:
A MOLLE System for attaching more gear to the outside
A hydration tube
Thick and adjustable straps
Pockets on the hip belt
A large compartment that can fit bulkier items (tarp, sleeping bag, clothing, etc.)
Comfort
Comfort is critical. Remember that phrase.
If your bug out bag is not comfortable for you, you more than likely won't use it. And there are two ways you can ensure that your backpack is comfortable:
Having enough padding to protect your back
Being lightweight enough to carry over long distances
Many preppers like to imagine beefing out their bug out bags with 70 to 100 pounds of gear, but avoid doing this if you are not physically prepared or have enough training to carry that much weight over long distances.
Lightweight is better, and you can accomplish this by focusing on including items in your pack that are more multi-purpose and versatile. For example, a tarp can be used as a shelter wall, a rain catchment, a blanket, a mattress, and even as a sleeping bag.
It would be better to have the single tarp to be able to be used as any of those things rather than including a separate item for each of them.
Color
Most people don't think about the color of their bug out bag, but it's important because there are certain colors that you must avoid at all costs.
To be more specific, you must absolutely avoid any color that stands out and attracts attention. To this end, orange, yellow, pink, light blue, red, or any other similar colors should be avoided. Just don't even consider them.
Instead, stick with colors that allow you to blend in with your environment. Brown, dark blue, gray, tan, and dark green are suitable colors for this purpose.
You can also consider camouflage or black, but those colors could have the adverse effect of making you look like someone who's 'tactical' or a prepper and also gain you unwanted attention. You can go with black or camo if you want to, but just keep that in mind.
In the end, the less you stand out, the better and safer you will be.
---
The Best Makes and Models of Bug Out Bags
The best bug out bag you can possibly get will incorporate each of the above criteria and characteristics that we have listed out for you. So with those things in mind, here are some of the best makes and models for you to take a look at:
As the name suggests, this backpack is designed to last you for a minimum of the first 72 hours (or 3 day) or the disaster situation.
With a capacity of 55 liters, this backpack features a main compartment with even more storage compartments within that large compartment, including space to keep a hydration pack.
This backpack also features an exterior webbing to add more items, an adjustable shoulder strap designed, and even a pouch in the front to keep EDC gear such as a knife, wallet, phone, or sunglasses.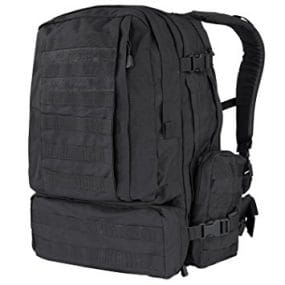 This is a tactical themed backpack that is available for a more affordable price in comparison to many other backpacks. It has more than enough space to include everything you would need in a bug out bag, including food, water, ammo, medical items, and other supplies.
It also contains a separate compartment where you can fit a six liter or 2 three litter hydration bladders, which is certainly an easier way to carry water versus carrying a canteen across your shoulder.
All in all, this backpack has seven compartments of varying sizes, including a smaller storage compartment within a larger one. There is also a MOLLE external webbing installed on the outside for you to attach more items and gear.
3.
Kifaru EMR II Backpack
This backpack is notable for its extremely large capacity: almost 140 liters. Honestly, that's more capacity than you'll probably need, and when fully loaded it will certainly be too heavy for you to carry over long distances if you are a person of smaller stature.
But on the flip side of things, this backpack can also be compressed down into a bag that is much smaller and more manageable. In fact, it can be compressed all the way down to 40 liters, and when you need some extra space all you need to do is expand it again.
Additional features that this backpack comes installed with include two exterior pockets, Cordura nylon, and a full length zipper.
This backpack is fully equipped to serve alongside you in the worst of circumstances, thanks to its nylon 1000D exterior build that will help to protect the inside of the bag from the outside weather.
It also comes installed with a MOLLE grid system on the back, straps, and the sides for adding even more gear. This backpack also lacks an overall tactical look in comparison to some other backpack models, which means it will be suitable for a simple backpacking or hiking trip as well without attraction attention.
---
Advice On Packing Gear Into Your Bug Out Bag
For the remainder of this article, we will go over some basic advice you can follow for packing gear in your bug out bag to maximize the amount of space.
A tent, tarp, sleeping bag, or blanket will undoubtedly be the bulkiest and likely the heaviest item in your backpack. For this reason, pack it into the bug out bag first and specifically place it vertically into the largest compartment.
After placing that into your bug out bag, next place your cooking equipment (if applicable) into the large compartment of your bug out bag over the tarp.
Your clothing should go into the bug out bag next, such as a spare jacket, socks, or poncho, or you can put them into the second largest compartment as well.
Examples of items that need to be placed in a smaller side pocket for quick access include your personal water filter, flashlight, and knife.
In the opposite side pocket, put your water bottle, fire starting devices, and any other items that you can think of that you would need quick access to.
Your food items should be placed in the top of your pack on top of your tarp or tent. NEVER store your food items on the bottom of the pack or else they will get smashed.
Finally, make sure that your first aid kit is within easy reach as well.
---
Conclusion
Hopefully this article has given you some solid insight into some of the highest quality bug out bags on the market, and more importantly into the qualities that you need to look for in a backpack.
In summary, your bug out bag needs to meet the following criteria:
It must be comfortable and lightweight
It must be in a color that does not stand out
It must be high quality and waterproof/weatherproof
It must have a variety of different compartment sizes for ease of organization
It must fit your body dimension so it's easy to carry
But of course, the items you put into your backpack are more important than the bag itself because those items are what will keep you alive. Therefore, continue your research from this article into a checklist of items that you should put into it.
Related Reads: