Let's face facts. No single perfect survival rifle exists.
The best semi-automatic rifle is relative to the gun owner's personal needs and preferences. Each semi-automatic rifle possesses its own unique features and accessories.
So how do you choose the right semi-automatic rifle?
If we go on the evidence of most gun lists available online, it's damn near impossible. This is because the vast majority of gun-related websites publish lists of the top ten survival rifles.
This is a mistake. It makes for a cluttered list that's hard to get through and gives the consumer far too many options to choose from, resulting in indecisiveness and confusion.
Here I will take the headache out of selecting a semi-automatic rifle and break down only the very best rifles currently available. Below I will share with you everything that you need to know about my top five picks for best semi-automatic rifle.
Survival situations vary and there are many different tasks you may be looking to perform.
For this reason, I will explore the 5 biggest areas for which you may want to pick up a survival rifle. Here they are:
Small game hunting
Large game hunting
Perimeter defense beyond 200 yards
Self-defense within 200 yards
CQC (Close Quarters Combat)
The following semi-autos are the ideal firearms for these situations.
Ruger 10/22 Takedown (Scoped)
Remington 700
Armalite AR-10 A2
Colt 6920
Daniel Defense AR-15
Before choosing one, it's important to understand what factors play into the rifle and what makes each great.
Get Deals on Guns and Tactical Gear
Join 70,000 Readers For Our Weekly Discounts
---
Things to Consider Before Purchasing Your Semi-Automatic Rifle
There is a great deal to learn before purchasing your first firearm, especially when it comes to long rifles or shotguns and the like. It is always advisable to study your user manual carefully prior to taking your survival rifle out and firing that first round.
Here are some helpful hints that you should consider when buying a semi-automatic.
Hire a Personal Instructor
You may not think you need someone to show you how to fire a weapon. You might be thinking, "It's so simple, a chimp could do it. Just point and shoot." The reality is actually much different. Safety always comes first.
Trigger sensitivity varies from model to model, meaning you could end up firing before you're ready, thereby missing your mark or even, in the worst case scenario, injuring yourself or someone else.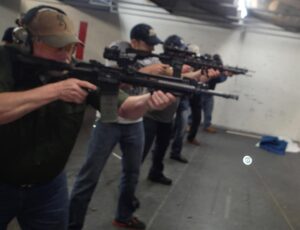 How you handle your weapon is also integral to the process of game hunting or any sport involving a semi-automatic rifle. Chances are, if you've never fired a tactical rifle before, you are not familiar with how to properly hold the stock.
If you live in a city or state that allows concealed carry or open carry, there should be plenty of training opportunities at your disposal.
A personal instructor will teach you all that you need to know about owning and operating a semi-automatic rifle including how to handle it, how to maintain it and how to take all appropriate safety measures.
A personal instructor will share tactics for self-defense and home defense as well as strategies for avoiding dangerous encounters. They will also walk you through the legalities of owning a firearm including any liability you may face in the aftermath of certain undesirable experiences.
Having a gun is no joke and these guys aren't kidding around. They'll learn you and they'll learn you good so that when you leave a shop with your first semi-automatic rifle, you'll be confident in your ability to be a proud gun owner.
Velocity
If you're buying a survival rifle, you want something that's going to do the most damage. That's when we get into velocity.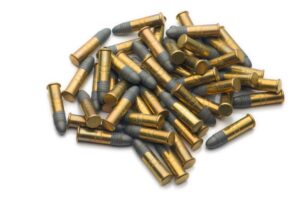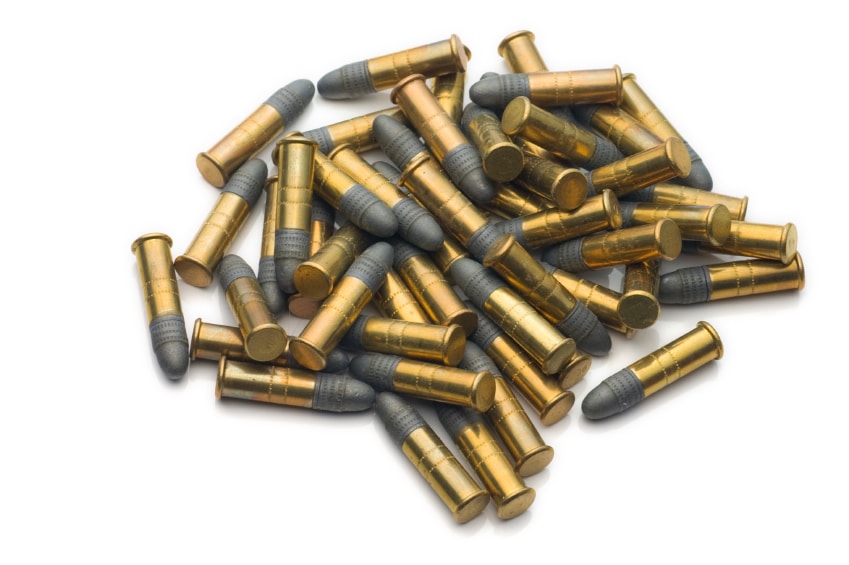 A higher velocity rifle will tear through flesh like a knife through butter.
Another key factor for optimizing velocity is choosing the right kind of ammo. There are specific forms of ammo that are designed for higher velocity. The .22 LR is a round that achieves the highest velocity readings when tested.
You may want to look into other forms of ammo too (see: sub-sonic and hyper-velocity).
---
The Best Rimfire Rifles: Our Top Picks

This .22 LR beast is the absolute best for small game hunting in my personal opinion. It's got a durable design and is easy to break down into component pieces. Ruger's rimfire semi-auto has an 18.5 " barrel length and splits into 2 subassemblies.
Utilizing a blowback semi-auto action and a 10-shot rotary magazine, the Ruger has come to replace the once-popular Remington 597 for shear bark and bite.
It can be disassembled to fit into a backpack for those venturing out into the wilderness on a camping trip or game expedition. The best part is, no tools are required for assembly or dismantling.
And at an average price point of $379.99, it's the most affordable survival rifle on this list. Hands down, it's my top pick for semi-automatic survival rifle.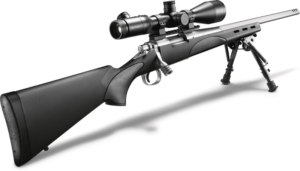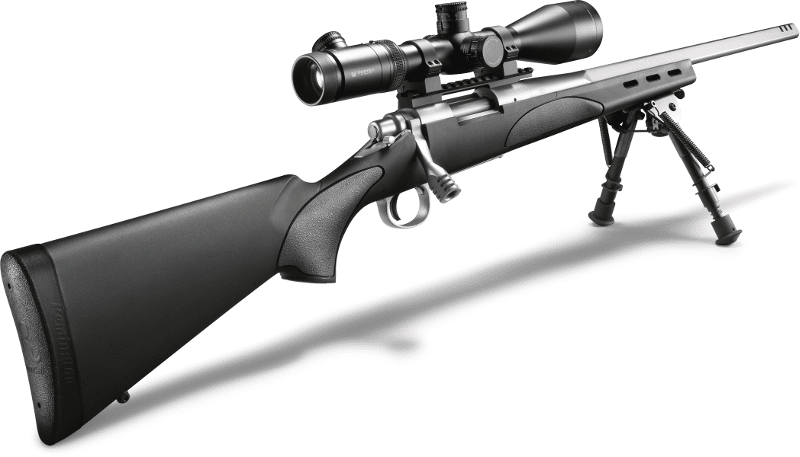 If you and your loved ones are out in the woods and you spot a buck at 300 yards, you're gonna need a big game hunting weapon. The Remington 700 won't do you wrong.
This is the firearm for you. It's got a cartridge that will reach out and remain lethal at 300 yards or more. A 220 grain load will blow the limbs off that beastie even if you take a bad shot.
You'll want to use a .30 caliber soft-point for best results, but no matter what, this rifle will perform and perform well.
The top choice of elite military snipers, the Remington 700 comes loaded for bear (literally) with bolt action, a 26 " heavy-contour barrel and extended range for optimal precision.
The aluminum bedding block makes for added accuracy and a four-load magazine capacity. It also comes drilled and tapped for scope mounts. With a good scope, this one is simply unbeatable.


This semi-automatic tactical rifle is a great choice for tactical requirements as well as competitive shooting and leisure activity. It has a gas-operated system that propels your projectile through a tube that then cycles back to force the bolt back, delivering a real kick.
It features a forward assist which comes in handy if a round gets trapped in the chamber. The sensitive button the gun owner taps to resolve this is easy to use, ensuring that nothing will hold you back from taking that kill shot.
The tactical two-shot trigger kicks off the action with a long pull and the rear sight is conveniently adjustable to suit elevation and wind patterns.
The 20" double lapped barrel provides ultimate accuracy while the .308 Winchester caliber packs a real wallop. Personally, I've purchased two of these just so I can always have a back-up and can invite my friends over for some fun during hunting season.
At $1,560, it's a fairly expensive choice, but it's worth every penny if you want a long range weapon that's versatile and durable. It also comes with a variety of scopes.

Like its combat proven brother, the M4, Colt's 6920 model is a formidable tactical rifle. It has an M4 chrome lined barrel and a muzzle compensator that reduces the sound of your muzzle blast.
It's got a direct gas system with a locking bolt for easy, dependable feeding. Perhaps the most attractive feature of all is its 30-round Magpul PMAG magazine which makes it a terrific firearm for continuous rapid fire use.
Other features include a 4 position adjustable stock and a hardcoat anodized finish.
This is the preferred weapon of many law enforcement agencies and military operations, and it's obvious why. It has a collapsible stock to suit any situation and a detachable carry handle with A2 sights.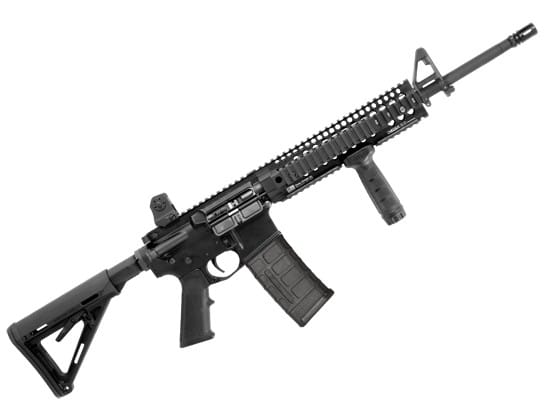 This one is a viable option for beginners as well as the more seasoned shooter. Its modular design makes it user-friendly for those who aren't overly familiar with the machinations of most semi-automatic rifles.
Primarily, the AR-15 consists of two major components—a lower receiver and an upper receiver, both of which can be swapped out in seconds flat.
The DDM V5 is a model which is tailored to those who intend to attach a red dot or add magnified optics. It's got a slick top monolithic upper receiver that provides room for a number of accessories.
A lightweight weapon with a 16" barrel length, the DDM V5 is outfitted with a flash suppressor, chrome lining, indexing marks, swivel attachment point and enhanced flared magazine well.
At $1,773.00, it's the most expensive firearm on my list (and even expensive when compared to other AR-15s), but with the DDM V5 you'll know that Daniel Defense broke out all the bells and whistles to bring you a top notch tactical rifle that's easily adaptable to virtually any conflict or competition.
---
Important Accessories for Your Rimfire Rifle
Whether we're talking about a tactical rifle or a snub-nosed revolver, safety should always be your number one priority when it comes to buying any firearm.
Home Gun Safe
If you're planning on keeping a survival rifle in your home, you want to make sure that it stays out of the wrong hands. To take proper precautions and prevent your child or spouse from getting hurt, you should purchase a gun safe.
My favorite gun safe for a rifle is the Barska Large Biometric Rifle Safe. It's strong and sturdy, and it comes with a 5-point deadbolt system for ultimate security.
Biometric gun safes are the best gun safes because they eliminate the possibility of someone swiping your safe key or entering your digital code. Instead, they rely on the gun safe owner programming their fingerprints into a digital fingerprint reader.
Handguards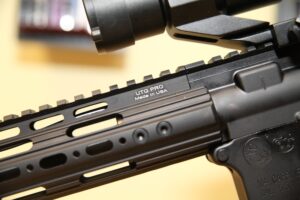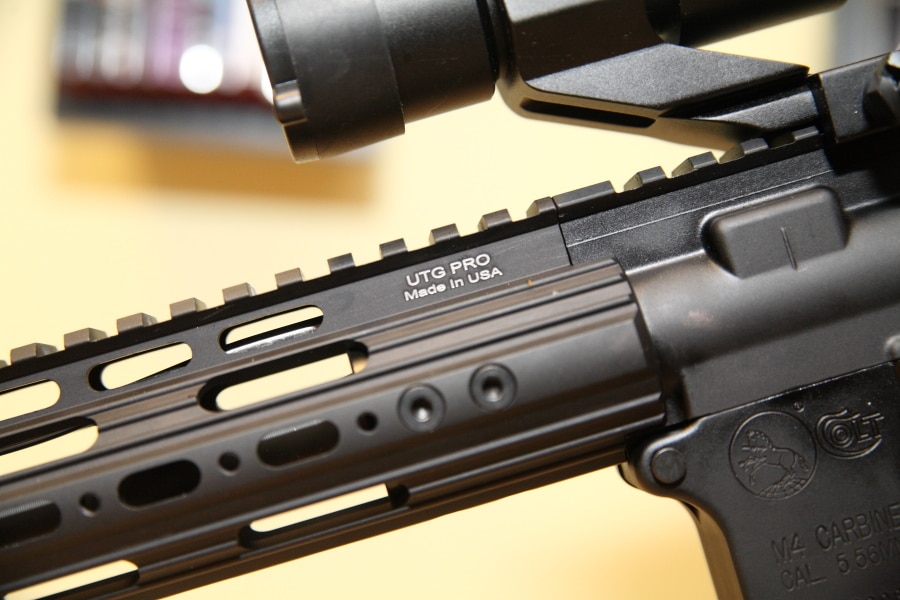 There are many ergonomic handguards on the market that can make it more comfortable for you to handle your rifle over a longer period of time.
If you decide to purchase an AR-15, Leapers offers the Leapers UTG Pro AR-15 15 Super Slim Free Float Handguard with an integral anti-rotation tab for rock-solid locking and a lightweight piccaninny rail at the top.
Other options include AIM Sports' AR-15 Free Float Quad Rail which is an aluminum handguard that's only twelve inches. It has T-marked rails and an anodized hard coating. Check out our handguard article for more choices.
Brass Catcher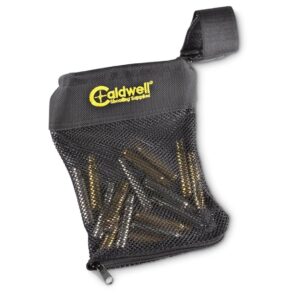 Many avid shooters like to have a pouch that catches their shells during rapid fire play. Caldwell offers a 30 round mesh pouch for $21.00. It uses hook and loop webbing and zips closed in a cinch.
Lasers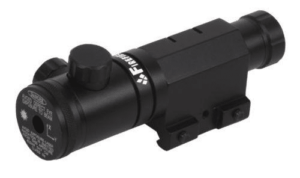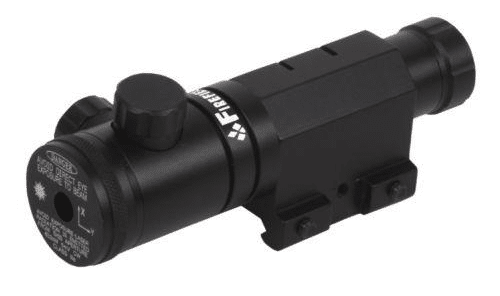 Lasers can be easily mounted to most rifle models and can substantially improve precision in dimly lit environments or under the blanket of night. Firefield's XY Green Laser.
It's hand adjustable and can mount to a rail or barrel. Each XY Laser comes with a tail cap and a remote pressure switch. It normally retails for around $80.00.
Cheek Risers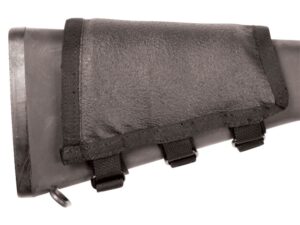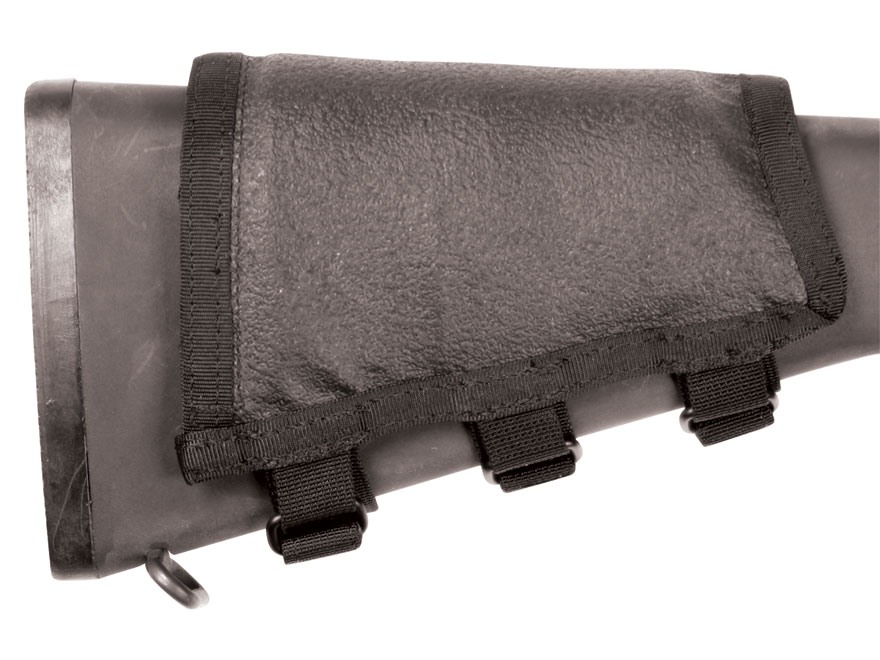 Cheek risers are a nice luxury accessory for those who know they're going to be spending extended periods of time with their weapon. It's a good accessory to have if you're going to be camped out, waiting for your target to make its presence known.
Blackhawk offers a nylon tie down cheek pad/riser for just $17.63. Its closed cell foam cheek pad assists in eye relief when you're using a mounted scope.
Bipods, Tripods & Monopods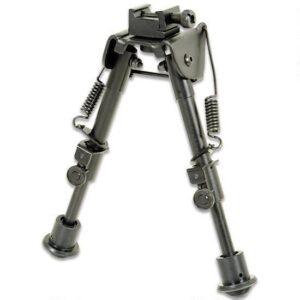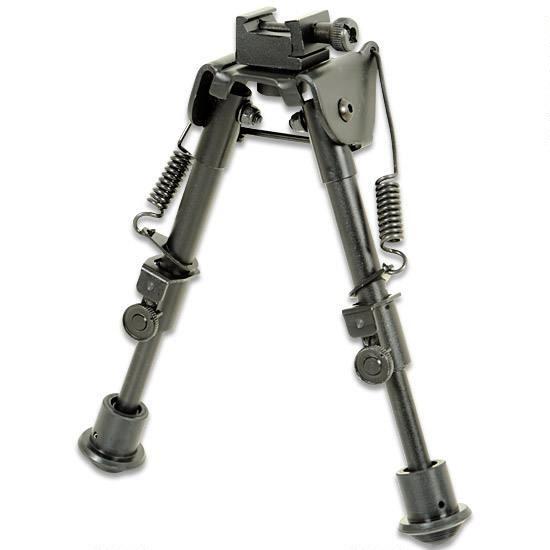 Stabilization is another key factor when it comes to semi-automatic rifles. Tripods, bipods and monopods can aid in this area in a big way.
Leapers UTG Bipod Tactical OP is an awesome model that comes with rubber feet and a sleek spring action design. It's got dual mounting and fully adjustable legs with a quick retraction button. It's one of the more affordable models available at a price point of $26.26.
The KNS Precision MG42 Tripod is a great option for any firearm with a piccaninny bottom rail. A bit more expensive at $77.52, it's nevertheless a great accessory for those who need to lock down their firearm for the long haul.
Monopods and shooting sticks are other viable options for some models and circumstances. The Accu-Shot BT12-QK Standard Quick Knob Precision Rail Monopod is a compact aluminum pod with push button deployment and retraction. It also comes with an extra thumbnut for locking the unit at a fixed elevation point.
---
Conclusion
So there you have it, those are my top picks for rifles and accessories. Hopefully, you've learned a lot about how to choose the greatest weapon for your personal needs and how best to handle your firearm.
That being said, there are other great options beyond the ones that I have included in this list, such as the Springfield M1A or the Ruger Mini-14.
If you have any questions or would like us to cover a specific semi-automatic rifle, please drop us a line. We'd love to hear from you. Happy hunting.
Related Reads: