A great American once said, pick up a rifle and you change instantly from a subject to a citizen. That's certainly been the case with the AK-47, which has been a tool of revolution since its inception in the 1940s.
But is the AK the best ever? As the venerable designer of the AK-47, Mikhail Kalashnikov, once said, "I do not consider the AK to be the best ever assault rifle."
I very much agree with Mr. Kalashnikov, because the the AR-15 rifle is superior in many ways. Not the least of which is that it is extremely customizable, functioning almost like a LEGO system.
You can personalize and customize the AR-15 from plain 5.56mm /.223 cal rifle to a force multiplying, multi-caliber capable, close quarters combat, or medium range sharp shooter with a wide array of options and upgrades.
Now folks, I am by now means a history expert. I'm just guy who simply loves to shoot and the challenges that go along with owning, maintaining and being proficient with small arms.
But without a doubt, the AR-15 is my favorite all-around rifle. To me, its storied history demonstrates the ingenuity of American design and engineering, and its modern look is symbolic of American military superiority today.
The challenge of building this exceptionally versatile firearm from scratch and configuring it to my personal preferences was an immensely satisfying experience.
I'd like to thank all of my many instructors who placed videos on YouTube for their excellent mentoring throughout my build process.
Get Great Guns and Ammo Deals!
---
Supercharging the AR-15: My Favorite Upgrades
There are a dizzying array of upgrades and customizations for the AR-15.
In my case, I decided upon having a single lower receiver and two very different upper receiver builds. Law enforcement where I live considers the lower receiver the actual weapon to be registered with the government.
The uppers and their accompanying build outs match up very well with my Spike's Tactical Crusader lower receiver. The missions of the two uppers are distinctly different, one is outfitted for close quarters encounters and the other is equipped for longer range 'reach out and touch' scenarios.
For a great lower receiver, the list of quality manufacturers is a long one, including Lewis Machine Tool, Continental Machine Tool, Noveske, Armalite, Wilson Tactical, Colt, Bushmaster, Palmetto State Armory, and my personal choice, Spike's Tactical.
The list of great manufacturers is extensive and the ones listed here are by no means a complete listing.
Upper receivers have the same long list of quality producers. Out of a long list of outstanding manufacturers, I went with Lewis Machine Tool for my upper receivers.
My builds fit neatly into my 'Zombie Apocalypse' bug out bag complete with ammo, extra magazines and a quality cleaning kit, but more on that later.
For my builds a solid, smooth working aftermarket trigger to replace that original Mil-Spec trigger that will be tough enough for the close quarters combat upper, yet buttery smooth for my sharpshooter upper is a core functional item in my lower receiver.
I chose Geissele, but there are several quality manufacturers to choose from with similar, rock solid, superior performance like ALG Defense, Timney, and Rock River Arms, just to name a few.
No durable, quality AR-15 lower receiver would be complete without an exceptional stock to complement that buffer tube. There are fixed and collapsible varieties of stocks, but for my purposes, a collapsible stock made the most sense.
Adjusting for the short barrel upper for close quarters, while further adjusting to get that necessary fit for good eye relief while peering through the scope for the longer range stuff demands a balanced, durable, yet light stock.
The quality choices here are numerous and in the end it really boils down to personal preference relative to fit and durability.
AR stock makers such as Magpul, Mission First Tactical, Strike Industries, and Daniel Defense are once again just few of the long list of purpose built stock manufacturers for your AR-15.
Back up iron sights are the red headed step children amongst many users new to the AR-15 platform with their sights on that spiffy, high-tech optic that connects to the smartphone and records every shot.
My old Marine Gunny drill instructor would beat down this former squid for not knowing the basics of manual, analog iron sight shooting which is why my close quarters upper receiver has flip up Magpul MBUS sights to complement the holographic red dot optic.
When you think about it, just about every ex-soldier, marine, and law enforcement officer with an AR-15 has iron sights on their rifles. The Magpul, Dueck Defense, Global Military Gear, and DPMS are some of the many makers that come to mind.
The battle continues to rage over barrel choices, length, weight versus muzzle velocity and accuracy, for the AR platform.
For me, it has much to do with mission flexibility for a variety of targets, which is why in my case with two mission distinct uppers, I chose a 14.5 inch barrel for close quarters and the 16 inch barrel for the longer ranger stuff.
Again, when it comes to barrels, the quality choices are many and varied. One of my choices was Lewis Machine Tool, purely personal preference, but DPMS and Noveske are among the best you can find, fluted or otherwise.
For competitive, tactical, hunting, or just plain ol' plinking, there's an optic for every mission, every need, and all are adaptable for differing purposes. You can skimp on price or go hog wild on the high end, there's an optic available, be it for short or medium range shooting, variable power scopes for that long, precise shot.
There are Red Dot or Reflex sights, that unlike iron sights, allow the shooter to keep both eyes open for much faster target acquisition, with choices like Holosun, Aimpoint, EOTech, Vortex, and Bushnell for starters. Read our AR15 scope guide to find the best deals for your dollars.
There are compact fixed scopes like those made by Vortex, Trijicon ACOG, and Burris. The magnified scopes by Leupold, Nikon, Simmons, and UTG make up my 'broken record' refrain that there are many quality manufacturers to choose from to outfit your personal weapon.
I have to say that for me a Nickel-Boron Bolt Carrier Group is a must upgrade and my units from Rainier Arms don't disappoint. Cleaning after heavy usage tells the tale with a Nickel coated BCG versus any standard AR-15 bolt carrier group.
Now that's not to say that Nickel-Boron BCGs are maintenance free. They most definitely are not.
These BCGs will carbon up just like any other bolt carrier group, but they will last longer and I've found them to be easier to clean.
On the subject of cleaning, a quality cleaning kit is a must have if you're going to spend good money on your AR build. If there was one thing that ol' Marine gunny beat into us lowly Navy squids was that a clean weapon was a reliable weapon and in the end, keeps you in the fight.
The M-16 Field Cleaning Kit is basic and designed to keep your AR running, keep it firing, and keep it corrosion free. The Otis Cleaning System is being implemented by the US Marine Corps and the kit includes a belt loop for convenient transport.
All in all, upgrading and personalizing your AR-15 is an excellent way to become familiar with and bond with your rifle of choice. The sheer amount of superior aftermarket, interchangeable, quality parts make the AR-15 platform akin to an artist's canvas for endless and tailored combinations of unique builds.
When it gets right down to it, whether you build from scratch or modify an existing build, the process get you involved with your rifle and how it works so you can operate it effectively.
Builders and upgraders inherently take Major General William Rupertus' quote to heart: "This is my rifle. There are many like it, but this one is mine."
So, to recap types of AR upgrades, let's look at a list of things you can do to increase the awesomeness of your rifle.
---
Upper Receiver Upgrades
Barrel—changing your barrel can upgrade you to a different caliber or give you a longer/shorter barrel, depending on your needs. A longer barrel is ideal for target shooting, while a shorter barrel works best for home defense. A new barrel can also help reduce barrel whip.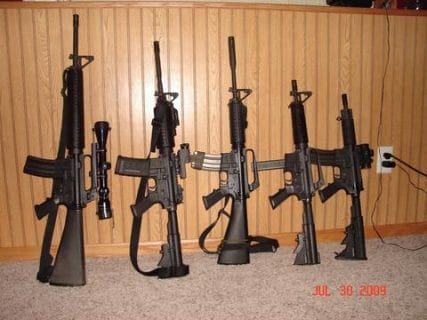 Gas Blocks–since the gas block regulates gases released during firing to cycle the next round, upgrading this can make your AR's cycle smoother. You'll also have to use a low-profile gas block if you want to add a free-floating handguard.
Handguards–these are available in drop-in or free float depending on your preference.

Drop-in Handguards–you'll need this type of handguard if you have a fixed front sight base (FSB) on your AR.
Free Float Handguards–these won't touch the barrel at all, adding accuracy, and you can add an extended grip by using a free float handguard if you want.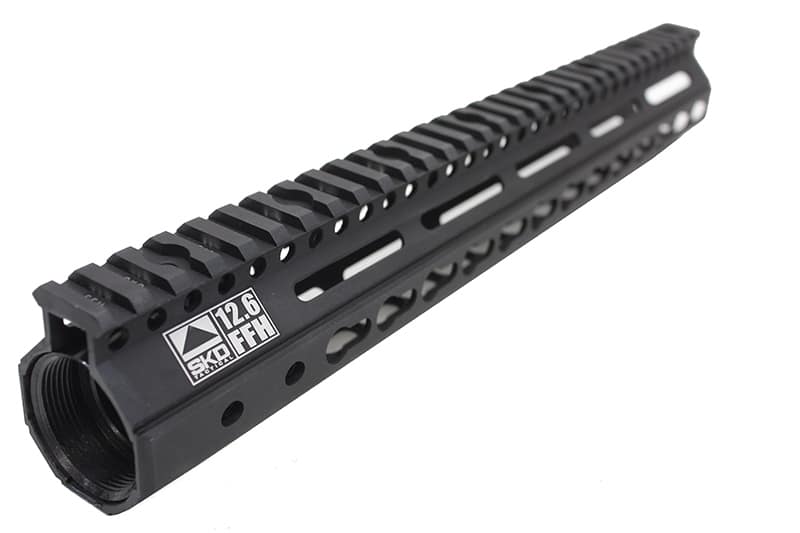 Bolt Carrier Groups (BCGs)–new technology has allowed for a Nickel Boron coating on some BCGs, which is supposed to be self-lubricating and easier to keep clean. You can also upgrade your BCG for competition or self-defense shooting.
---
Lower Receiver Upgrades
Triggers–you should stick with your existing trigger in your special purpose AR, especially one for self-defense. But replacing a trigger can net you a lower trigger pull weight, which could be beneficial in competition shooting.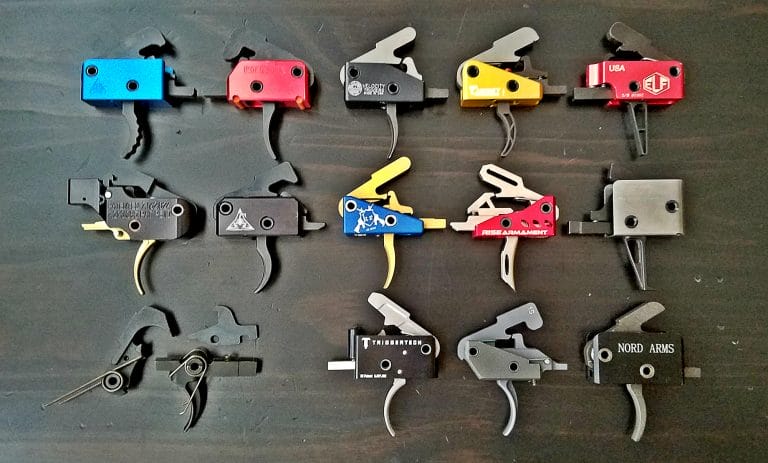 Mil-Spec triggers–they're polished to give you a nicer feel and improve pull weight.
Single Stage triggers–they tend to have a softer pull and operate in just one movement.
Two Stage triggers–with this, you can take up part of the trigger's slack and then add a slight pressure to fire the rifle. They're great for competition rifles, but they do have the problem of reducing the strength of your hammer strike.
Ambidextrous Safety–ideal for left-handers and those with a 'featureless AR' (required in some locations like California).
BAD Lever–this accessory from MagPul lets you operate the bolt release with just one hand.
Gunfighter Charging Handle–BCM makes this accessory so it's easy to operate your charge handle and it helps prevent early wear to the part.
---
AR Furniture Upgrades
These are changes you can make to your AR's basic stock.
Pistol Grips–these creating a more comfortable shooting experience, which is great for long periods of repetitive shooting. But, they're not allowed in some places like California.
Stocks (Buttstocks)–you can change the stock to meet your personal needs. Most of these are collapsible or folding, which isn't allowed on ARs in some locations (California being one of them).
Recoil Pads–these will make it more comfortable to shoot in repetitive situations like target or competition shooting.
Handguards–we talked about these in the Upper Receiver Upgrades section.
Sling Plates/Slings–of course, these make it easier for you to carry the AR and a sling just completes the overall look of the rifle.
Vertical Grips–offers better handling, but isn't allowed in some states.
Alternative Grips–these sit somewhere between a pistol grip and a vertical grip.
Bipods–a bipod helps with stability and is especially useful in repetitive shooting events because it takes some of the rifle's weight out of your hands.
Magazine Accessories–you can earn benefits from adding some of these to your AR's magazines.

Magazine Pull–by MagPul (in fact, this is how they started the company), this allows for quick magazine removal and also gives the mag a cushion when it drops.
Smart Load–it's a speed loader for the 5.56 caliber magazines.
Magazine Coupler–allows you to attach two magazines together, doubling your round capacity.
---
Final thoughts
There's a dizzying number of ways to customize an AR-15 rifle.
Today, I've laid out a few of the more common upgrades and customizations, but there are other upgrades you can try as well such as swapping out the charging handles.
Give them a try and your AR will stand out in a very good way.
Did we forget any AR-15 upgrades? Please let us know in the comments below!
Related Reads: