Trying to find the best AR-15 upgrades for finishing that new build? Yeah, we've been there. That old plinker finally gave out and needs a new stock? Yup, that can be a dangerous road if you don't know what you are looking for in a quality stock.
Things to consider and pay attention to when making that call are cheek weld, length, weight, cost, and if it matters to you (which it does to most firearm enthusiast); looks.
I have had many AR-15's over the years and fired even more, everything from the most basic factory set up to super tuned and hyper-precise custom builds. One of the things that I have learned in that time is that a good buttstock can prove to be quite the game-changer.
Keep reading for my breakdown of the best buttstocks in a variety of categories, and by the end, you will have a better idea of what to look for in your next AR stock upgrade before you drop down any cash.
---
Best Adjustable Stocks
Magpul really knows how to make stellar equipment and this buttstock is no exception to this legacy of excellence!
Admittedly, I did have the Magpul MOE (Magpul Original Equipment) on my first AR-15 so it will always hold a special place in my heart.
This stock has a really fresh look to it, and it is designed with multiple spots if you want to attach a sling for different carry options. The minimalistic style paired with raw accessibility lends to a rather hearty feel to an otherwise very simplistic buttstock.
Great for beginners and life-long range hounds alike, this is an all-around solid stock.
Weight: 8 oz.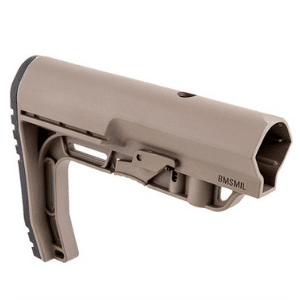 A relatively recent entry on the market, the Battlelink Minimalist is quickly finding its way onto a vast majority of newer lightweight AR's.
Sporting a unique shape that is specifically designed to shave off several ounces, this stock may not be the strongest structurally. Aside from that, the volatility that you are playing around with here will result in a complete rifle that is extremely mobile and lightweight.
And in case the hook shape keeps snagging on gear there are ways to add a bottom brace while maintaining the low weight…..add yet another use to paracords mile-long list!
So if you are looking to go with a lightweight stock but aren't looking to shell out for an ULTRA light option, then this is the one for you.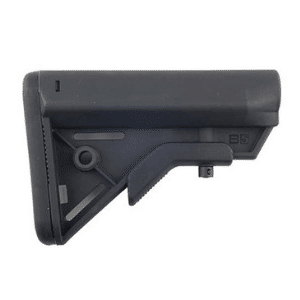 The B5 System's Bravo is a stock that is a must-have for competitive/speed rigs due to its top-notch design.
For the amount of space that you get to for a more consistent cheek placement, you could consider this a rather lightweight stock as well.
If you are more accustomed to "normal" factory buttstocks then upgrading to a Bravo will rock your world. The difference between the two are like night and day, and it will leave you thinking: "Where have you been all my life?"
I actually use a Bravo stock on the rig I use to test the accuracy of different scopes and ammunition.
The back has a nice shoulder feel, and it doesn't have a tendency to snag on anything.
On top of all that, it is extremely light on the wallet!
Magpul makes the list again with the MOE-SL, the SL standing for slimline.
The MOE was taken to another level with this redesign while maintaining a fantastic feel to it that is hard to rival.
With a manageable price and decent weight, this stock is an excellent answer to the Bravo in every way. But on a personal note, the Magpul looks much cooler, but of course, that doesn't affect performance in the least.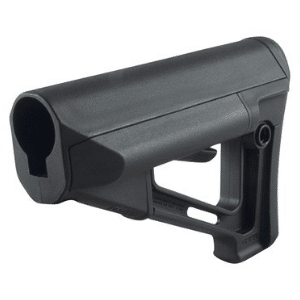 The Magpul STR has one of the best cheek weld that can be offered by an adjustable stock.
It is noticeably heavier than the rest, but the STR (storage type restricted) comes with built-in water resistant battery cases. Where the MTF Battlelink requires you to sacrifice a bit of durability in return for increased mobility, the Magpul STR offer you more durability in exchange for mobility.
I cannot overstate the cheek weld here.
It is massive, like big enough for 8 lanes of traffic! Not only is it huge, but it is also impressively comfortable which makes sighting up on any optic a dream.
I have one on my PSA AR-10 .308 and could not be more satisfied.
The shoulder seat is pretty much the same as the other Magpuls, but with the added slope for the batteries, it has a unique level of comfort.
Although it is a heavy stock compared to other collapsible options, it offers a rather high dose of precision, but it does have an understandably higher price.
This is a true innovator as the VLTOR IMOD was one of the first production buttstocks to feature an expanded area for cheek placement.
I have used one of these for a very long time and really put it to the test! However, no matter how rough I get, it always stands firm. I have one of these to this day and have had it for roughly one year now. I have yet to take it to any competitions, but so far it works great for a fairly lengthy day at the range.
It has a feel that is close to the Magpul STR (although the STR has a slight edge) and even shares the built-in battery cases.
There is about a $20 difference between the two, but that translates in the area of weight.
When carrying something for a long distance every ounce counts, but if you also want the impeccable cheek weld then combine the two and look into the IMOD!
---
Best Fixed & Lightweight Stocks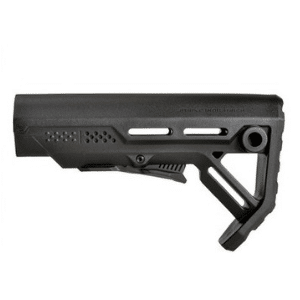 I absolutely love Strike Industries, and this buttstock is just another reason for that!
It's not really a big surprise that something like this would come from the company that is continuously pushing innovation while keeping their products affordable for most shooters.
The Viper Fixed Stock is a fixture in my gun safe.
While it is priced just right, it can offer a bit of difficulty when being installed. With a bit of patience and a dab of elbow grease, you will enjoy this fantastic stock in no time.
Combine it with a few other parts from SI for a look that will make a statement.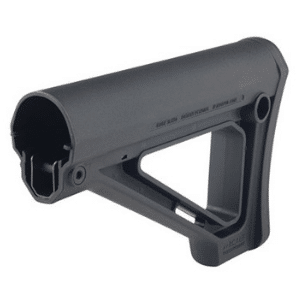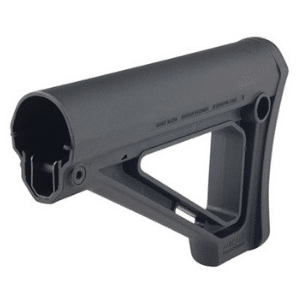 The MOE Fixed Stock is Magpul's contender in the world of fixed stocks.
Even though the name is rather uninspired, the quality is there and at a very reasonable price.
Installation is a breeze, and it has the same feel as the adjustable MOE stock.
If you are looking for something that is going to be reliable, can be installed with little fuss, and is easy to use, then look no further than the MOE Fixed Stock!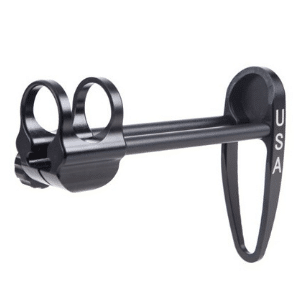 ELF, a company that makes some of the most impressive triggers, finds their way onto this list about stocks with their Ultralight stock.
I am a big fan of the large "USA" printed on the side, and the overall design has one of the coolest looking mounts out there!
You are able to adjust the length by loosening a hand knob on the side making it easy to make changes on the fly.
It should also be said that this configuration does present some issues when trying to aim down an optic. It's not impossible, but it certainly will not be the best cheek weld that you have ever felt.
It is best used for run-and-gun competitions where there is less hard scoping, and I would say that the best pairing for this stock is a laser setup.
I haven't noticed any issues with mine, but I also haven't been as rough on it as I would be with something that has a bit more material to it.
Ultimately, if you really want to achieve that sleeked-down look, keep your firearms weight as low as possible, and have the funds to spend, then this is the stock you need!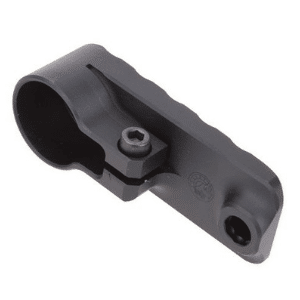 BAD's LBS (Lightweight Butt Stock) takes the concept to the logical extreme!
Weighing in at a feather-light 3 ounces it is a minimalists dream.
The buffer tube now takes the job of being your cheeks resting spot.
This might not be for the larger shooter as the stock is only as long as the buffer and there is no adjustment room.
When I use these little guys, I have never noticed any slipping or give, and would venture to say that this buttstock will last for many years.
---
Best Precision Stocks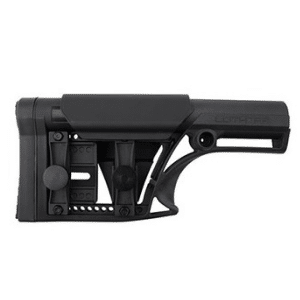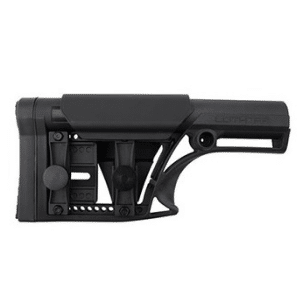 For those situations where the goal is highest precision without a thought towards weight and adjusting parameters like length and cheek rise are crucial, Luth's AR is a perfect fit.
As mentioned before the rear section of the stock, as well as the rounded cheek rest both have the ability to be independently adjusted. Once you get them where you want them simply lock in the setting, and you are good to go!
The cheek weld is noticeably better than the MOEs seen earlier but is still outclassed by other stocks with slanted designs.
When it comes to hyper-accurate stocks, the Luth AR is a prime example of how to do it correctly.
And if that wasn't enough, it also happens to be more affordable than some of the higher end stocks.
Weight: 19 oz for rifle length version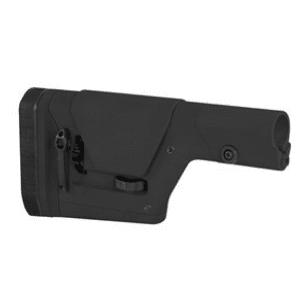 Magpul's PRS Gen 3 is on the absolute top shelf of high precision AR-15 stocks!
The construction feels far more robust than the Luth, and the adjustment knobs make a clicking sound that rings out like music when changing the settings.
The cheek weld is phenomenal, and with the flat bottom, you can easily set a secure base with range bags, both factors which contribute to this stocks unequaled performance.
It is also extremely versatile by fitting rifle and carbine size buffer tubes, which is fantastic for custom builders.
This is the one you want if you are serious about getting the best possible precision from your AR-10 or AR-15 rig.
That said it does have a rather high weight and a price to match, but for the results, it is worth it.
---
Conclusion
So there it is my list of the top twelve AR-15 buttstocks. The market is full of all kinds of buttstocks, but I believe these are some of the best buttstocks for 2019.
I hope this has given you plenty of information to select the stock that will best fit your needs and fits into your budget.
This has been a work of passion as I love to test out new stocks in the never-ending quest to find the perfect balance between weight, cheek weld, adjustability, precision, and last but not least price.
Until I can find the one that is absolutely complete, I will now break down the top pick for each field to give you a better idea of what to look for in each style.
Admittedly I think the Magpul STR has a slightly better, maybe more ergonomic feel, but this Bravo can act as a high accuracy stock that has a low weight. If you are ok with sacrificing the ability to make adjustments for ease of carrying, then this is the right stock for you.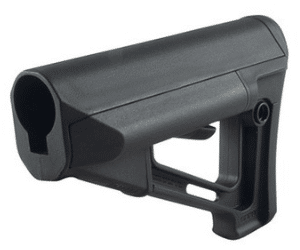 Like I said, this stock is the bees' knees of the cheek weld! The smooth surface and the added area of the battery compartment make it exceptionally easy to get consistent placement and comfort.
Hands down this title has to go to the all-work-no-play Magpul MOE Fixed. The picture of simplicity, this stock is a must have if you don't want the hassle of messing with anything.
BEST LIGHTWEIGHT STOCK
If you want to keep the weight down and still have a remarkable "tac-gear" appearance, then you need to check out the ELF Ultralight. This buttstock is sleek, stylish, and fully adjustable! There is not much to fuss with or adjust here, but that is the beauty of this stock, after all.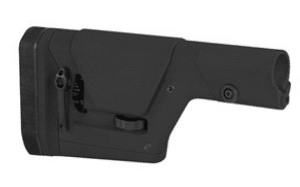 Finally, if you are not concerned with anything but making a tiny group at 500 yards or farther, then you should seriously consider the high-performance Magpul PRS Buttstock.
---
Final Thoughts
With all of that to ponder, at the end of the day, it comes down to each shooter's needs and wants to determine what makes one stock better than another.
It is best to try a few options when selecting an upgrade to your firearm, so I encourage you to test several out. This can be done easily at most ranges and gun stores by asking to borrow a gun equipped with different gear.
Did you see your favorite AR-15 stock on this list? Did you discover your next upgrade? Let us know in the comments below.