Have you been considering a rifle scope but aren't sure what to look for?
Well, there's a lot to learn. There's scope terms, the numbers, and all the other various lingo that goes along with searching for a good scope.
With all these new things to consider, the inexperienced scope user can be left feeling a little overwhelmed.
If that's who you are, this crash course is for you. Even if you have experience with scopes but need a refresher, we've got you covered.
All you need is to learn the basics and you'll be off and hunting (or target shooting….) with a new, high quality scope.
We also listed which scopes are our top picks, for various uses. You can shop through our list and read about how to pick a quality scope, all in one place.
First let's take a quick look at our top picks. We will go into greater detail about each one later in the article.
Mid Range Hunting Scopes:
Vortex Optics Diamondback 4-12×40
SWFA SS 3-15×42
Regular Hunting Scopes:
Nikon ProStaff 5 BDC Riflescope Black, 3.5-14×40
Vortex Viper HS 2.5-10×40
3-Gun Scopes:
Burris 200437 MTAC 1-4×24 Illuminated Scope
Vortex Optics Strike Eagle 1-6×24 Illuminated Scope
Vortex Razor HD Gen II 1-6×24 Riflescope
Long Range Scope:
SWFA SS 20×42 Tactical Riflescope
Nightforce Optics 5.5-22×56 NXS Riflescope
Get Great Guns and Ammo Deals!
---
Things To Consider When Buying A Scope
As you research scopes, consider how you will use it in order to know what features are important for you:
Are you a long range target shooter?
Are you a hunter who hunts at dawn or dusk?
Are you looking to hunt varmint?
These are just a few of the circumstances that will need different features in a scope. You will also need to make sure the scope you are thinking of purchasing is able to mount on your rifle.
Unless you are a wizard with duct tape.
Cheaper Isn't Always Better
As you begin searching online for scopes, you are bound to find many different manufacturers and many different prices. This can make you feel a little overwhelmed. It's hard to know how to pick the best one.
There are scopes out there that will cost you $50 (and probably break right away) and there are scopes that are military grade that cost $4k plus.
Knowing where you can shave off some of the price is a good thing to know.
Reading articles won't make you an expert but if you go into your purchase with some basic knowledge, good recommendations, and knowledge of the features you need, your chances of coming away with a great scope increase dramatically.
I will tell you right away, you shouldn't just look for the cheapest scope. The cheap ones are cheap for a reason.
They're not well made, probably imported, and won't come with any warranty. 🙁
I know it's tempting to save some cash. We have all fallen for some scheme, from someone, to get us to buy a cheap item and walked away with regrets.
The other extreme is the really expensive scopes. Not many people need to spend $4k plus on a scope.
If you are an elite competition shooter, military or police, or somehow make a living by using your scope, then a middle of the road scope is probably what you are looking for.
Getting an awesome scope is well worth the cash, something that I described in huge detail in our top AR optic review article.
If you don't get a quality scope how else are you gonna beat this guy…
Things You Need To Know
If you have been researching scopes you have come across some terminology that is probably new to you. Optics have very specific terms and you need to learn a few to get started.
Not only will this help you know what kind of scope you need, it will also help you understand reviews and articles regarding the scope you may want to choose.
Objective Lens
This is the lens on the front of the scope. It is measured in millimeters. The larger the objective lens, the more light it lets in.
This is good for low light conditions like dawn or dusk. The drawback of a larger objective lens is that it gets bulky and may need to be mounted higher on the rifle.
The size of the objective lens is after the magnification of the scope. In a scope that is 6-12×40 the objective lens is 40mm.
Adjustable Objective
Some scopes feature an adjustable objective lens. It is a ring around the lens that turns to allow for adjustments, just like a camera.
This feature is best for long range shooting. Maybe some midrange. It allows you to adjust the reticle for your own eye.
Scopes that don't have an adjustable lens aren't worse. The manufacturer sets their scopes to be parallax free at a certain distance. You won't be able to adjust it.
Parallax
While looking through your scope, the reticle should stay in the same place, no matter what angle you are looking through the lens. When you move your eye is when you will see parallax.
Parallax can throw off your shot, especially at long ranges.
Here's a good video that explains parallax:
Scope Coating
Most scopes will have coated lenses to improve performance. Coatings vary in type, number, and quality. Lens coatings prevent glare, help transmit light, and have water bead for rainy days.
There are high quality lenses with only one coat and low quality lenses with multiple coats. Multiple doesn't always mean better. The quality of glass and the quality of the coatings is what matters. Good quality always costs more.
Most companies that are leaders in the industry can be trusted to have good coatings and quality glass, which leads to good light transmission.
There are four terms that are accepted in the industry to describe coatings:
Coated: A single layer on at least one lens
Fully Coated: A single layer on all air to glass surfaces
Multicoated: Multiple layers on at least one lens
Fully Multicoated: Multiple layers on all air to glass surfaces
Scope Reticle
The reticle, sometimes called the crosshairs, is the aiming point in the riflescope. The reticle can be dots, lines, or other markings.
Some can be illuminated so you can see them easier in low light situations. Many manufacturers even have their own reticle style.
An example of a company that has their own reticle style is Nikon. They have their "Spot On System," which works great. It takes bullet drop compensation (BDC), and pairs it with a ballistics calculator. This calculator is on their website or you can use your iPhone.
You enter your scope, your ammo, then your ballistic information. Once this has been entered it will help you quickly get your scope on target.
Minute of Angle (MOA)
Most scopes have windage and elevation adjustments as MOA, or minute of angle adjustment. Each click of the scope's turret is usually ¼ MOA change. Some scopes may even have ⅛ MOA change.
Most new shooters will have a hard time understanding MOA. To keep it simple, a minute of angle is simply a unit of measurement for an angle. Most people are aware of a degree, which is also a measurement of an angle. 90 degrees is a right angle.
1 MOA is equal to 1.0472 inches at 100 yards. Most will round down to 1" per 100 yards. When you hear shooters saying they they shot a sub MOA group with their rifle, what they are saying is all their shots fit into a circle, less than an inch in diameter, at 100 yards. At 1000 yards the MOA group would be 10 inches in diameter.
Mil Dot Reticle
A mil dot reticle is basically the metric equivalent of the MOA scope. A mil dot reticle will have normal crosshairs with a series of dots, spaced along the horizontal and vertical crosshairs.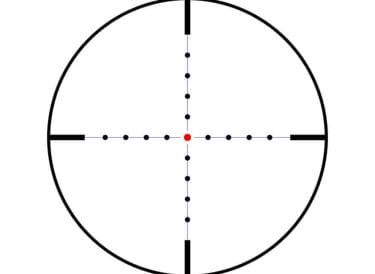 The center of one dot to the center of the next dot is exactly one milliradian, or mil. There isn't a dot in the middle of the crosshairs so your view is not obstructed. You count the crosshair intersection as a dot.
Mil dot reticles are the scope of choice for really precise shooting. If you find metrics easier than the American measurements of feet/yards/miles, then a mil dot reticle is a good choice.
Mil vs. MOA
Either MOA of Mil Dot will work well. There really isn't one that is better than the other. The biggest factor is you. Whichever one you are the most familiar with, or the most comfortable with, should be the one you use.
You don't have to stress over which one to go with. Either one will work just as good as the other.
There are a few differences between the two.
¼ MOA adjustments are slightly more precise than 1/10 mil
Mil values are slightly easier to communicate
If you think in cm/meters the math is easier with mil
If you think in inches/yards the math is easier with MOA
If you have a shooting buddy who uses one, you may want to be on the same page as they are
90% of the pros use Mil
There are more options with Mil
Many entry level scopes have a Mil Dot reticle but the turrets are ¼ MOA adjustments. This can limit how quick you are with second round adjustments. It's always best to make sure you get a scope that has matching reticle and turret systems.
There is quite a bit of science and geometry behind this, that goes beyond the scope of this article.
You can check out this video for a clear, easy explanation and check out the books he recommends at the end, if you are still curious.
Turrets
Scope turrets are the adjustment knobs, on the body of the scope, that allow you to adjust the reticle.
The knob on the top of the scope is the elevation adjustment and adjusts up or down. The knob on the side of the scope is the windage adjustment and adjusts left or right.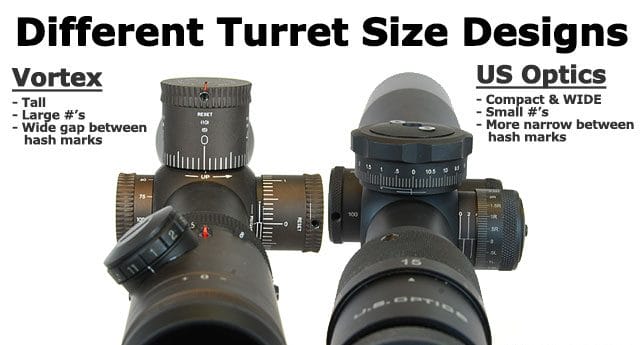 Check out the turrets for the scope you are thinking about purchasing. Some turrets can be adjusted by hand and some require a tool for adjusting.
Some will make an audible click when you adjust and some won't. This varies by manufacturer.
As a general rule, you probably want to go with a scope that has the audible click when adjusting. Some people like a hand turned turret and other like to have to use the tool.
The benefit of a tool is that the knob stays in place.
Field of View
Field of view, or FOA, is the distance you can see, through your scope, left to right. For example, if you have a 100 meter field of view, you will be able to see 100 meters, left to right, while looking through your scope.
You may need a better field of view for different situations. As the magnification power gets higher, your field of view is less.
If you are a hunter and you hunt in an area with a lot of brush and you need to acquire your target quickly, or follow a running target, lower power magnification and a larger field of view is a good choice for you.
If you are a long distance shooter, magnification is more important than field of view, for you.
Magnification
Magnification, or sometimes called power, is the amount of magnification the scope has. If your scope has 9x magnification, your scope allows you to see nine times farther than the naked eye.
Scopes will have either a fixed or a variable magnification. Fixed means just what it says, the magnification is fixed. A variable will let you adjust the magnification power.
A scope with a 3-9x magnification power allows you to see three times, and up to nine times further than the naked eye. A variable scope with a 3-9x magnification is a great beginners scope.
Zeroing Distances
It doesn't matter if you're hunting or spending time at the range. Whatever you're shooting at, you will want to hit it. In order to make this happen you will need to zero your rifle.
If you zero your rifle at 100 yards, it means if the target is 100 yards out the bullseye will be at the center of your reticle. You will need to adjust for targets that are further away or closer than the 100 yards.
This is a great video that explains how to zero your rifle, step by step.
Focal Plane
As you are learning about scopes, you are bound to come across first focal plane, or FFP and second focal plane, or SFP. The focal plane refers to how the reticle works inside the scope. Really, they are built for two different things.
First Focal Plane
FFP scopes are newer to the reticle options for scopes. They are more specifically designed for tactical shooters and hunters. These shooters are often in conditions where the distance to the target changes and are unknown.
With FFP, the crosshairs don't actually grow but they appear to grow with greater magnification. The reticle is being magnified to match the magnification of the target. The scale always stays the same.
First focal plane scopes do have a few drawbacks. With higher magnification, the crosshairs can be so big they cover the target. The flip side is with lower magnification the crosshairs may be so small that they are hard to see, especially in low light situations.
If you are thinking about a first focal plane scope, two brands to check out are SWFA and Zeiss. Both of these companies make high quality first focal plane scopes.
Your focal planes are seriously increase your accuracy in shooting.
Pin point accuracy.
Second Focal Plane
With a second focal plane scope, the reticle doesn't grow and shrink with the change of magnification.
When you change your magnification to the higher range of your scope, you lose field of view with first and second focal range. With second focal range you will not lose part of the reticle like you do with first focal range.
Second focal plane scopes are the standard. They are more common, especially with American made scopes. They are usually more affordable than first focal plane scopes, and are accurate at all magnification levels.
---
Other Things To Consider
There are a lot of things to consider when purchasing a rifle scope, as you can tell. What should your first thoughts be as you consider what scope to purchase? It depends on the rifle you use and how you plan on using it.
After you know what rifle you are using and how you want to use it, you can ask yourself a few questions.
Magnification. How much power do you need?
What objective lens size do you need?
What type of reticle do you want?
Those are some basic questions to get you started thinking about what scope you should purchase.
If you haven't already purchased your rifle, you will want to budget for the rifle and the scope. It's always best to include the cost of a good quality scope and mount in the whole budget so you can get a picture of what you need to look for.
Generally, you want to spend about half as much on a scope and mount as you do on a rifle. You don't want to get a high quality rifle and place a cheap scope on it. You won't be happy with that choice, in the long run.
You also don't want to get too many scopes……
If you think you're going to be a serious competition shooter or make your living from shooting, then feel free to spend a little more money on a scope.
Another option is to look at used scopes. There's nothing wrong with a used scope. It is actually a good way to get a scope that may be out of your budget if you purchased it brand new.
---
Recommended Rifle Scopes
If you've read this whole article you may be ready to look at some recommendations and make a purchase. Let's get on to some good scopes for you to look through.
Scopes For Target Shooting and Mid Range Hunting
This is probably the most common use, that most of you reading this, needs a scope for. When choosing a scope for one of these purposes, strike a balance between not spending a lot of money and buying something so cheap it doesn't do what it claims to do.
The SWFA SS 3-15×42 Tactical Rifle Scope is a great mid priced scope. It contains features that are on higher priced scopes. There is not many scopes in it's class for it's price.
It's a well made, crystal clear scope that will be faithful for years to come.
A little cheaper option is the Vortex Optics Diamondback 4-12×40 Dead Hold BDC Reticle. Don't be fooled by the cheaper price.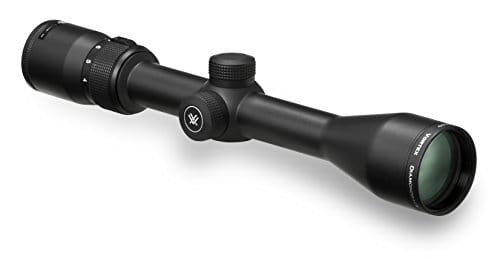 This scope has plenty of high quality features and is great for any shooter.
Competition and 3 Gun Shooting Scopes
Competition shooting and 3 gun shooting is growing in popularity. Versatility is important in a scope for these events.
Vortex has a transferable warranty that lasts a lifetime. They are a reputable company and will stand behind their product.
The Vortex Optics Strike Eagle 1-6×24 AR BDC Reticle is a great option. This scope is made for speed and versatility. For the price, you may find that you can't afford not to get it.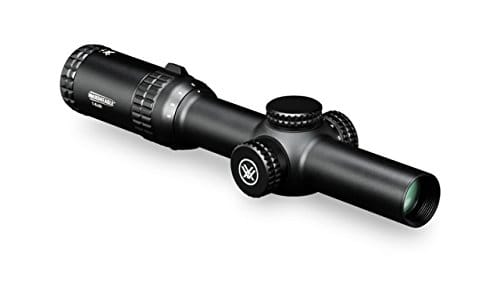 The Burris MTAC 1-4×24 Illuminated Scope is a few bucks cheaper and handles just as well. Quickly engage close objects or take precision aim out for 600 yards.
If you're really serious about competition shooting or if money isn't a consideration for you, then check out the Vortex Razor HD Gen II 1-6×24 Rifle Scope.
Precision Long Range Scopes
If long range precision shooting is what you are going to be using your new rifle and scope for, consider looking at scopes with greater magnification and a large objective to let in the most amount of light.
The SWFA SS 3-15×42 Tactical Rifle Scope is a good option thanks to its great light transmitting ability and adjustable magnification.
If you want a model with a fixed magnification, check out the SWFA SS 20×42 Rifle Scope.
If you're in the market for the best, and once again, money is no object, check out the Nightforce Optics 5.5-22×56 NXS Rifle Scope.
Hunting Rifles
Choosing a hunting scope will depend on what type of hunting you do. A small game hunter who takes quick shots will do best with a low level magnification scope, like the Vortex Optics Viper HS 2.5-10×44 Rifle Scope.
If you are making shots out to 300 yards while hunting, you will want a more powerful scope. The Nikon ProStaff 5 BDC Rifle Scope is a good option to start extending your range.

---
Wrapping Up
I hope you learned some things with this crash course on scopes. I also hope you have figured out what kind of scope you need, the features you need, a good budget, and even saw some great choices as you shopped through some links.
For more useful articles check these ones out:
Happy scope hunting!
Related Reads: