The Leupold Company, also known as Leupold and Stevens, was founded in 1907 by the German immigrant Markus Friedrich Leupold and his brother-in-law, Adam Voelpel. For over 100 years, the company has been run by five generations of the family. Now, located in Beaverton, Oregon, the Leopold company maintains a tradition of excellence with their full line of optical instruments.
This world-leading scope manufacturer has a huge consumer base and ranks among the best in the optics industry. Their team of engineers, expert designers and best in class scientists deliver some of the world's most popular scopes. If you're a serious hunter who is just as serious about the scope you attach to your rifle, you've just found a terrific option. With pristine optics, rugged durability and accuracy, Leupold rifle scopes deliver.
Time and again, Leupold has been a brand that excels in everything they produce. Their fully multi-coated optics and compact, spotless lens coatings are made with extreme cutting-edge technology. Leupold rifle scopes are built to last and will be with you every step of the way on your next hunting adventure.
Although Leupold scopes are priced in the middle ground category, they are certainly not middle ground quality. Hunters have peace of mind knowing that when they purchase a rifle scope made by Leupold, they are not paying a fortune. And yet, they still get the same remarkable quality made instrument as they would from a higher-priced scope.
By choosing Leupold, you'll get your money's worth and then some. With incomparable mechanical performance, crystal clear glass and rugged durability — all in a lightweight model, you're in good hands with a Leupold rifle scope.
Leupold's pristine reputation of quality optics has grown considerably over the years, especially in the last 10 years. If their rifle scopes are good enough for the United States Marines, they're good enough for you. Please see below as we review two of Leupold's top rifle scope models.
Get Deals on Guns and Tactical Gear
Join 70,000 Readers For Our Weekly Discounts
---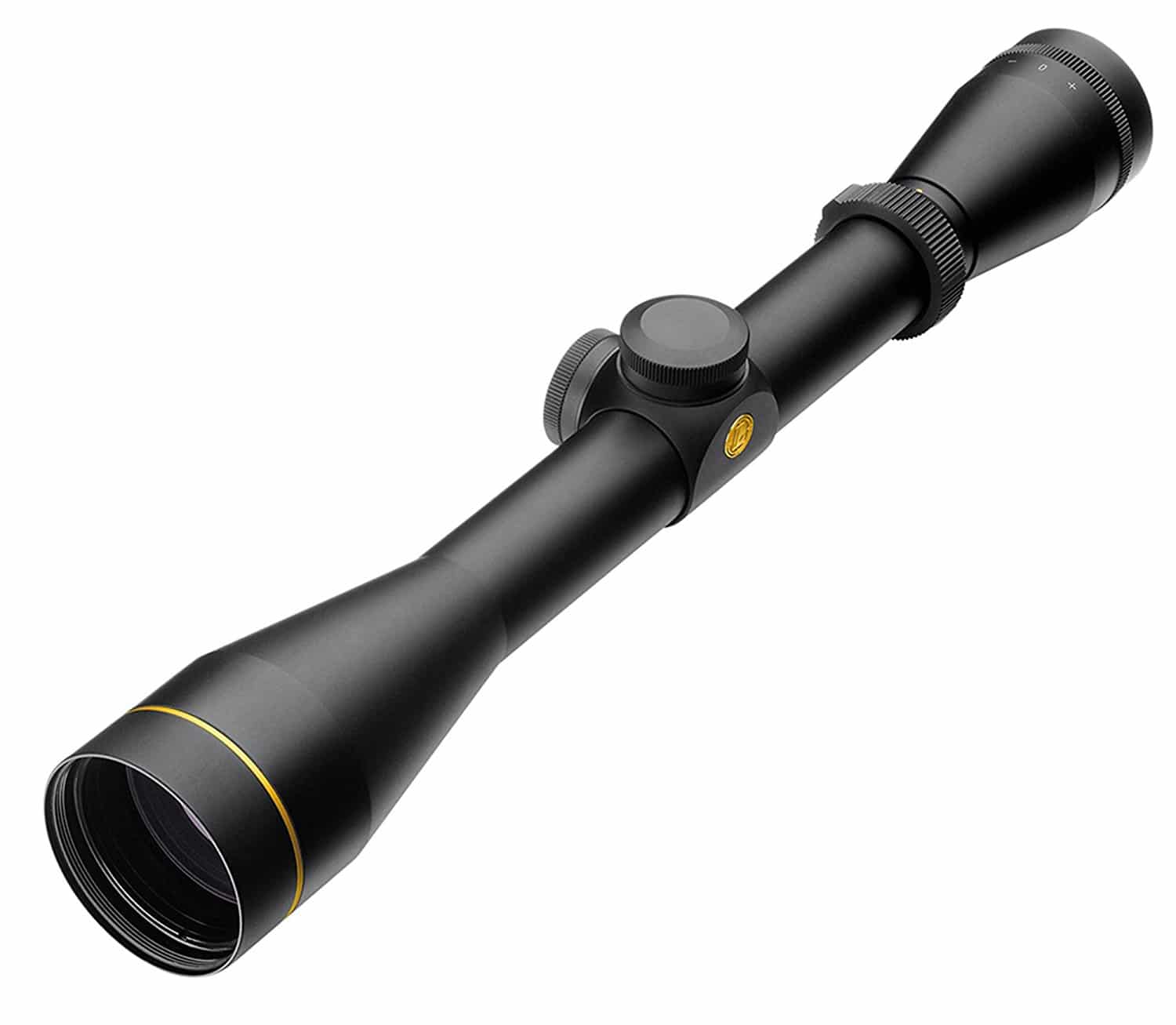 Designed for medium range shooting, the VX-2 3-9×40 rifle scope delivers exceptional features and a top-notch performance that serious hunters and shooters demand. With finger-adjustable click windage and elevation dials, to crystal clear lenses and superior brightness in low-light conditions, this scope is sure to be a crowd pleaser. Fully weatherproofed and extremely rugged, it's no wonder this rifle scope is favored over other optics.
Equipped with the Leupold Quantum Optical System with index matched lenses to boost light transmission, the rough and tough design is maintained by the use of DiamondCoat protective lens coatings. Additionally, the VX-2 is completely waterproof, fogproof and protected by an argon and krypton gas combination.
In addition, the VX-2's reticle is extremely popular in the Leupold VX line. With hundreds of positive reviews on the company's website, you can see for yourself how pleased both hunters and shooters are with the VX-2's capabilities. This mid-entry rifle scope runs below $300 online and is truly a bang for your buck.
Features/Specifications: Leupold VX-2 3-9×40 Rifle Scope
One-inch main tube
Duplex reticle and second focal plane; thin crosshairs
Eco-friendly lead-free elements designed to maximize light transmission
52 MOA windage and elevation
1/4 MOA per click impact point correction
Fast focus eyepiece
Capped turret dials
6061-T6 Aluminum housing
Fully multicoated
DiamondCoat protective lens coating
Actual magnification: 3.2 – 8.8x
Objective lens diameter: 40 mm
Eye relief: 4.2 – 3.7 inches
Waterproof and fogproof
Check latest price on Amazon
Backed by Leupold's full lifetime warranty
---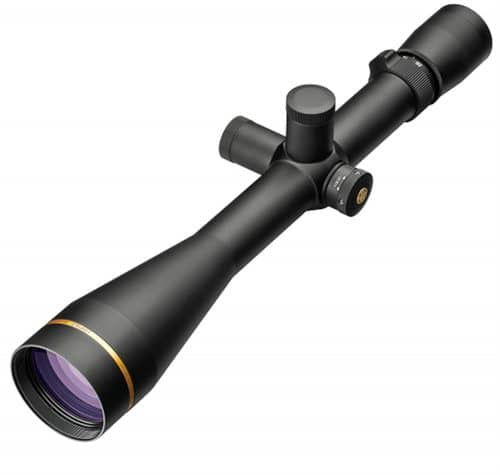 The Leupold VX-3 is a fully-redesigned long range rifle scope and is already presumed to be a favorite among shooters and hunters. Created with the modern hunter in mind, this scope will provide you with years of reliability. Featuring the Quantum Optical System with Xtended Twilight lens technology, the VX-3 6.5-20×50 specifically targets the color spectrum when you need it the most.
Since deer season is just around the corner, perhaps you want to use a MP-15 sport? This modern sporting rifle is becoming more and more popular. Both versatile and lightweight, it's an ideal choice for the Leupold VX-3 6.5-20x50mm rifle scope.
? TIP: If you are using a riflescope with a firearm, you'll also need a mounting base and rings. For proper installation, visit a professional gunsmith…
The VX-3 6.5-20x50mm scope features a European style 30mm main-tube to provide a broader surface area for the rings to grasp, as well as reinforced windage and elevation correction. Leupold's elixir blend of argon and krypton gases convey greater resistance to thermal shock than traditional nitrogen purging.
The VX-3 rifle scope lenses are equipped with DiamondCoat 2  lens coatings to provide unbeatable scratch resistance. In addition, the lenses are edge shaded to improve your resolution by limiting glare. As well as providing low-light performance, accuracy, durability and ruggedness, the Leupold VX-3 is also waterproof, fogproof, shockproof and purged with second generation krypton and argon gas.
This Leupold rifle scope boasts a fast-focus eyepiece for speedy adjustments for the times when a split second may mean the difference between punching your tag and calling it a day.
The precision twin spring erector has cryogenically treated adjustments to provide the utmost precision and 30 percent more holding force to ensure reliability.
Whether you're hunting a roe deer from a ladder stand or simply stalking a sheep, this Leupold rifle scope will be steady by your side. Recognized as one of the best scopes in the hunting industry, the Leupold VX-3 also includes a 24k gold-plated ring and medallion and comes with a full lifetime guarantee.
Features/Specifications: Leupold VX-3 6.5-20×50 Riflescope
Index matched lens system offers pristine levels of clarity, contrast and brightness
1/4 MOA click windage and elevation adjustments
Available with the Leupold ballistic aiming system for accurate long-range shooting
Focus parallax for ranges from 75 yards and beyond
Tactile power indicator also features built-in range estimation functions
Lockable, fast-focus eyepiece
Objective lens diameter: 2.3 inches
Eye relief: 3.7 inches
Waterproof, fogproof and shockproof
Check latest price on Amazon
Backed by Leupold's full lifetime warranty
---
Final Verdict: VX-2 3-9×40 / VX-3 6.5-20×50
It's fair to say that Leupold's industry reputation ensures both the VX-2 3-9×40 model and the newly redesigned VX-3 6.5-20×50 are excellent choices for any hunter or shooter. Although the price is average for the VX-2, it certainly offers a lot of value for the price. And with its rugged features, this rifle scope will give you years of exceptional service.
The VX-3 model is brighter and clearer than its predecessor, plus it's sure to be a favorite. Whether for the target shooter, hunter or police sniper, the VX-3 6.5-20×50 is truly an outstanding rifle scope. The choice is up to you, but you can rest assured that with a name like Leupold, you're guaranteed an extremely durable, trustworthy and remarkable rifle scope.