If you enjoy camping, you probably know that sitting in a comfortable chair at the end of the day is a good thing. For some, it's a necessity. With today's technology, backpacking chairs are much lighter and compact in size as compared to normal chairs. This review will explore the various types of backpacking chairs for hiking and camping in the woods.
SAFEST NEWSLETTER - WE WILL NEVER SELL YOUR EMAIL
GET GREAT

GUNS AND AMMO

DEALS!
SENT ONCE A WEEK - NO SPAM - NO SELLING YOUR EMAIL
---
Why Use Backpacking Chairs?
When you're on a camping or hiking trip, portability is key. Backpacking chairs are just that — portable. They're also foldable, compact and lightweight. You can also carry one in your bag for easy transport and storage.
The best part? You'll take up minimal space in your bag! A foldable backpack/backpacking chair allows you to relax after an exhausting day of any outdoor activity. Because sitting in a chair is always better than leaning up or down against rocks.
Without a doubt, backpacking chairs are a must-have for outdoor enthusiasts. In addition, these chairs are strong and durable, enough to withstand strong winds and sudden impact.
---
Factors To Consider  
Before you purchase the best backpacking chair for your needs, consider the following factors.
Comfort
Weight and Size
Armrest
Price
These attributes are very important depending on where you'll go and for how long you'll stay. Comfort and weight/size are usually at the top of outdoor adventurer's lists. No matter where you travel!
---
The Helinox ingenuine ground chair is designed for many outdoor activities. Although the chair can be expensive, it features a really lightweight, comfortable, and packable structure that fits easily in all kinds of packs — even the largest ones.
Set up for this chair is not a problem. Simply take the parts out and you're good to go. The material is ventilated, lightweight and provides additional comfort at the back of the chair. The Helinox Ground is usually the top choice for backpackers because it folds into a smaller version.
Compared to other models, the Helinox Ground is lower and has a taller back that allows you to lean back nicely allowing for a wider and relaxed sitting position. The frame is made of aluminum material, hence it's strong, lightweight and super comfortable.
In relation to Helinox Chair One, both seats are incredibly comfortable. The Helinox Ground tends to be more of a Lazy Boy, whereas the Chair One version sits higher.
Features
Polyester Ripstop 300D
Lightweight folding camp or backpacking chair
Sets up quickly and easily
Single-shock-corded pole structure
Breathable mesh on back and sides
Storage sack with daisy chain included
Best use: Backpacking, camping, hiking
6 inches high
8 inches wide
Weight: 1 pound, 6.6 ounces
Accommodates up to 265 pounds
Check the best price on Amazon!
---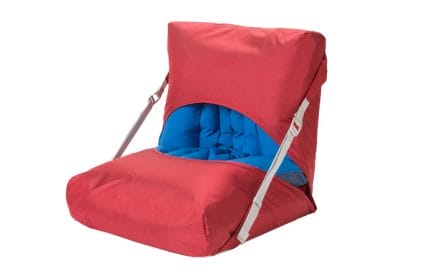 The Big Agnes may sound like a heavyweight, but it couldn't be more the opposite. It's extremely lightweight and portable. Therefore, this backpacking chair is just right for outdoor activities and perfect to set up at a campsite.  
As far as sizing choices, the Big Agnes comes in two different sizes. Choose from models ranging between 25 inches and 20 inches. The Big Easy Chair Kit comes in two different sizes, including 25-inch and 20-inch models. Your color choices are blue and a handsome red, and the 25- inch chair is compatible with a Big Agnes sleeping pad.
Features include heavy-duty fabrics made of polyester, along with fiberglass breaks. The Big Agnes is reliable, rugged and a breeze to take care of — whether it be spills or muddy dirt. Assembly is not a problem as both chairs feature straps with buckles on each side.
The Big Agnes is a smart choice, as the seat transforms your sleeping cushion into a camp chair. Pads are sold separately, but overall it's an ideal backpacking chair!
Features
Converts your sleep pad into a camp chair
Storage sack included
Easily works with air pads and self-inflating pads
Weight: 14 ounces (20-inch model); 1 pound 3.5 ounces (25-inch model)
Best Use: Backpacking, hiking, trekking, camping
Pads sold separately
Super comfortable
Check the best price on Amazon!
---
The ALPS Mountaineering King Kong Chair holds true to its name. It's large in size as well as durable and made to last. The King Kong is constructed of a high quality 600 D strong polyester fabric that will definitely last for years to come.
The fabric is super comfortable against your skin and strong enough to support even the heaviest of weights. In addition, its powder-coated steel frame offers great strength with a compact foldable design to ensure its stability.
However, the King Kong is quite heavy and not really suitable for backpacking while traveling outdoors such as hiking or camping. Nevertheless, if you're transporting it with your car to your destination, there are no worries.
A shoulder carry bag is included for easy transport and storage of this foldable chair. It's simple to unfold and fold quickly, and you can store your magazines or drinks in the mesh pocket. Convenience at its best!
Features
Adjustable Armrests
Cup holder and side pockets on each arm
Back mesh pocket
Sturdy powder-coated steel frame and 600D polyester fabric
Each adjustable armrest comes with a cup holder and side pocket for maximum storage
Includes convenient shoulder carry bag for easy transportation
Dimensions: 38″ W x 20″ D x 38″ H
Weight: 12.5 pounds
Weight capacity: 800 pounds
Amazon's choice!
---
The Coleman Oversized Quad Chair is obviously a large chair. It's incredibly roomy and comfortable, even for larger sized users. It conveniently comes with storage pockets for lots of accessories and beverages.
The Coleman Oversized chair also features a carry bag, which is included upon purchase. It also folds up to a compact shape to fit inside most car trunks or the included bag quite easily. In addition, the Coleman chair doesn't sag too low to the ground — which is always a solid perk!
Furthermore, the seat is fully cushioned, which makes it very comfortable to sit in for long periods of time. Another great quality of this chair is that it provides great back support for and is a much better alternative than sitting against rocks!
Lastly, the Coleman Oversized Quad Chair is equipped with an armrest with built-in coolers that can hold up to four cans of beverages. In my opinion, this chair is one of the best to sit in for watching soccer or baseball games.
Features
Built-in cooler in the armrest
Mesh cup holder
Oversized chair
Cushioned seat
Extra-large camping chair provides ample space for lounging
Oversized seat and large feet offer exceptional stability
Seat Drain system empties collected water from the seat
CellPort water-resistant cell phone sleeve to store phones
Steel frame supports up to 600 pounds and provides long-lasting use
Check the latest price on Amazon!
---
Final Thoughts
It's wise to purchase your own backpacking chair when partaking in any outdoor activities. Backpacking chairs provide much needed back support and comfort — what you need at the end of a long day! There are many types available on today's market, so make sure you choose one suited to your preference.
Lastly, a bit of advice for newbies …  make sure your seat isn't set back too much because it will not be comfortable if you change positions. Also, the frame needs to be fairly large to increase stability. In addition, portability is vital when looking for a backpacking chair.
And lastly, try to get a chair that is constructed of aluminum as well as one that isn't too difficult to put together. Good luck and happy camping!
Related Reads: