A shooting chronograph is a tool that measures the speed at which your bullets leave the barrel of your gun. This is something that is known as muzzle velocity, and it is a very important factor in determining which bullet cartridges will give their best performance at any given distance based on their weight and speed.
In a nutshell, a heavy bullet traveling at a slower speed is going to begin falling to the ground much sooner than a lighter bullet traveling at a faster speed headed for the same target. A shooting chronograph can measure this difference.
Another major upside to shooting chronographs is the fact that they are also able to give you a wealth of other information. More specifically, information that can help you not only measure your muzzle velocity, but also increase your reload speed significantly.
So, if you're excited to start going through your ammo safe and testing every cartridge, let's take a look at our picks for the 5 best shooting chronographs on the market.
Oh, and stick around after the reviews because we will be giving you a few extra pointers to help get you started off on the right foot.
Get Great Guns and Ammo Deals!
---

Kicking off our review, we have an entry-level chronograph to show you. Not only is this the most affordable chronograph on our list, but it also gives a lot of the higher-end chronographs a run for their money. We are talking about the Competition Electronics ProChrono Digital Chronograph, of course.
First, let's talk about the features you are going to find on this bad boy. Besides providing you with the basic velocity and shot sting data information such as average velocity, standard deviation, and extreme spread, the ProChrono also can store up to 9 shot strings.
Each of these shot strings can hold 99 shots in power down memory. When you are done viewing info for a single shot or an entire string, simply delete it with the press of a button and you are good to fill up that bit of memory again.
The sensors onboard the ProChrono are compatible and play well with a wide variety of loads and light conditions. We have found that it performs best in a full light setting, however.
There are multiple accessories that you can purchase to give your chronograph a little more functionality.
Don't like the way your screen looks? Buy the Bluetooth adapter and view detailed shot information right from your phone.
Shooting at an indoor range with poor light? We recommend grabbing the Indoor Light System.
If you are just beginning to measure things like muzzle velocity and build up reload speeds but don't have a lot of money to invest, you can't go wrong with the Competition Electronics ProChrono Digital Chronograph.
Pros:
Perfect for entry-level users
Full set of basic features
Can store up to 9 shot strings
Cons:
Bulky base with narrow shooting window
The front-facing onboard display is poorly designed
Drains battery life quickly
---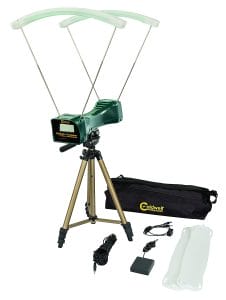 Caldwell has made, and kept, a name for themselves in the in the shooting industry for years. They are known for solid, reliable shooting equipment. And their Ballistic Precision Chronograph Premium Kit carries their name well.
Containing a 48 MHz processor, this chronograph packs some serious power in terms of accuracy. Couple that with the fact that every model is calibrated right there at the factory before being shipped out, and you are dealing with precision in the range of a plus or negative of only about .25% at maximum.
The large LCD screen displays readouts in crystal clear clarity with the option to interface with your cell phone via a 15' audio jack cable to give you the ability to receive your information somewhat remotely.
Extra-wide sunscreens are included with this kit and we must admit that they are a nice touch that a lot of the lower-end shooting chronographs don't have. Usually, when you buy a lower-end chronograph, you are given sunscreens that really do little to no good and eventually just end up being replaced.
The sunscreens on this chronograph are good enough at providing the right amount of shade in full sun settings that they really do deserve the extra praise.
One of the best features on this chronograph is the free app that you can download directly to your Android or iPhone. With this app, you are able to hook up your chronograph to your cell phone through the audio jack, as we mentioned previously.
Once connected you will be able to see shot information such as muzzle velocity, logs, notes, weather conditions, and a few other features that are all designed to take your experience to the next level. What's more is that you can then even export all your data through SMS text messaging or send it to yourself via email so you can review them at your leisure.
All in all, if you want a shooting chronograph that is a bit slimmer than the rest, has a wide shooting window, and won't break the bank, consider buying the Caldwell Ballistic Precision Chronograph Premium Kit.
Pros:
Slim design
Wide shooting window
Packed full of useful features
High-quality sunscreens
Cons:
The LCD screen is a bit lacking
No Bluetooth capabilities
---
The MagnetoSpeed Sporter Chronograph is a bit different than the other chronographs we have decided to review in this article. The main difference being that this is what is known as a barrel-mount chronograph.
Instead of sitting this chronograph a short distance in front of you and shooting through its window, it mounts right to the barrel of your rifle. That alone makes this probably one of the best shooting chronographs out there right now for getting highly accurate muzzle velocity readings because it is up close, and it isn't affected greatly by wind or high light conditions.
It fits easily on barrels ranging from ½ inch to 1 inch in diameter. But it can also accommodate muzzle brakes or flash hiders no larger than 2.7 inches in length.
To use the chronograph, you simply insert the provided rubber V spacers into the bayonet sensor base, position it below your barrel according to the instructions included, tighten the Cordura strap and the thumb nut, and you are good to go.
When the unit is powered on you will be able to cycle between only basic data such as recent shot velocity and other minor statistics. The full data capabilities of this chronograph open up when you download the XFR app to your Android or iPhone. With the app installed, more features such as FPS, Standard Deviation, and extreme spread become available to you.
We will tell you, there is a little bit of a learning curve when it comes to using the Sporter. For starters, the display is external, and the one that comes with the kit only features one button. This means that in order to cycle through your data, you have to do so with single clicks. It takes a little time to get used to this but can be learned with some time and patience.
Overall, if you are in the market for a shooting chronograph that doesn't rely on having a surface to place it on, and reads more accurately than most traditional shooting chronographs, we highly recommend the Magnetospeed Sporter Chronograph. Toss one in your range bag today!
Pros:
Extremely accurate
External display with app functionality
Compact and lightweight
Cons:
Needs to be readjusted often
Very basic functionality
Can be difficult to learn how to use the display settings
---
Things You Need To Consider Before Buying A Shooting Chronograph
Before you sprint over to Amazon quick and in a hurry to buy your first shooting chronograph, there are a few things we believe that you need to take into consideration. This isn't a huge comprehensive list, but it does cover three of the most common factors to consider before buying yourself a new piece of tech.
Accuracy
The most important factor to consider before buying a shooting chronograph is the level of accuracy it provides. Finding your true bullet velocity and Standard Deviation is wholly reliant on this ability. After all, that is basically the sole purpose of this tool.
Most decent shooting chronographs will already be calibrated before you ever open the box, so you will probably never have to calibrate one yourself right out of the box. But it is also important to be aware that you can have two different chronographs and one may be more accurate than the other.
This is usually only a 1%-2% difference though. When it comes to any kind of measuring tool, even when talking about chronographs that are typically 99% accurate, this can be a huge difference.
Do a little research and choose a shooting chronograph that is known for a high level of accuracy. Or you could just choose one from our list as they are all 99.5% or more accurate.
Easy To Set Up
The second important factor to consider is how user-friendly the chronograph is to get all set up and in working order. If there are multiple pieces that need to be assembled, make sure that the machine comes packed with instructions.
After all, you are dealing with a piece of technological equipment that relies on all its parts to be in top-notch working order if it is going to be of any use to you at all.
In general, setting up a shooting chronograph is a piece of cake and usually doesn't require much more than some basic assembly of the rods, and maybe a couple of sun shields.
Be careful not to drop anything on the skyscreens or the onboard display and you should be just fine.
Size
This one is overlooked quite frequently when people are buying their first shooting chronograph. But it is also a rather important factor.
The size of your shooting chronograph is important because, well, if you are not the best at aiming you can easily hit your new piece of equipment with a bullet. At that point, you will no longer need to worry about bullet velocity, because you have no way to measure it.
We recommend buying a shooting chronograph that has a wider than normal window if you feel there may be any risk of you even grazing it. It only takes one bullet to destroy a chronograph so choose one that you feel most comfortable shooting through.
In conclusion, when it comes to shooting chronographs, size does matter.
---
Final Thoughts
Shooting chronographs can really help you improve the performance you get out of your bullet cartridges, in addition to helping you build up quicker reload speeds. We truly believe that any shooter worth their weight in gunpowder will find that a good shooting chronograph is almost an essential piece of equipment to have on hand out on the range.
But like all good things, if you are going to reap the benefits, you really need to be aware of what constitutes a good quality shooting chronograph, and what simply doesn't hit the mark. And believe us, you get what you pay for when it comes to shooting chronographs, so you need to choose wisely if you want to truly get your money's worth.
In this review, we looked at our picks for the 3 best shooting chronographs for 2018 and gave you a few extra pointers to help get you started on your search. As with all the other equipment that we review here at Gun News Daily, we hope that you will use the information we give you to narrow down your search, but at the end of the day, you need to choose and be comfortable with the tool that works best for you.
If you own or have used a shooting chronograph that we didn't mention in our review, please feel free to drop us a line in the comments section below. We'd love to hear about it, and who knows, maybe it will end up in one of our future reviews.
Until next time, happy shooting!
Related Reads: