Laser sights on a pistol not only look really cool, but they also can help take some of the load off your shooting because they are much easier to get set up and properly sighted in than an iron sight.
The accuracy that you can get from using a laser sight is also something that you may be hard-pressed to get out of a more traditional sight.
Of course, there are some pros and cons to using a laser sight, and not all of the pistol laser sights out there right now are made with the same attention to detail or quality.
To help you make the best decision, as we do regularly for all other types of hunting or shooting gear, we have created a list of our favorite laser sights. We will be discussing each one of these, what makes them really shine, and a quick list of their individual pros and cons.
But remember to stick around after you read the reviews, because we also will be dropping some tidbits of advice such as what to look for in a laser sight, and teaching you the difference between red and green lasers.
Combining all the knowledge I'm about to give you in this review, you will be more than well-equipped to make a decision about which pistol laser sight will work best for you.
SAFEST NEWSLETTER - WE WILL NEVER SELL YOUR EMAIL
GET GREAT

GUNS AND AMMO

DEALS!
SENT ONCE A WEEK - NO SPAM - NO SELLING YOUR EMAIL
[table "143" not found /]
---

If you are a beginner, you will probably want to start off with an entry-level laser sight. Starting at entry-level will allow you to get a good feel for what you like without needing to make a large investment.
The Ade Advanced Optics Rail Mounted Laser Sight is the perfect entry-level option. It is easy to install, doesn't come with too many distracting features, and it will fit pretty much any standard handgun or rifle that has Weaver or Picatinny rails. It's as simple as sliding the sight across the rails and into place.
The housing is made from solid steel and aircraft-grade aluminum that is lightweight enough to not weigh you down while remaining durable enough to forgive several drops and bumps from novice shooters.
It features not only a 5mW red laser sight but also a 200-lumen flashlight that may come in handy. I am not a big fan of the flashlight on this model as it isn't quite as bright as I'd like it to be. Other than that, the flashlight works perfectly fine, and considering how inexpensive this sight is, it can easily be overlooked.
There are 3 different target acquisition modes on this laser sight; flashlight, laser, and flashlight and laser together. These modes can be activated with an easy to use toggle switch.
Pros:
Great for entry level shooters
Flashlight/Laser sight combo
Solid construction
Cons:
The flashlight is not as bright as advertised
---
2. 

Streamlight TLR-4

(Best Tactical Flashlight/Laser Combination)

The Streamlight TLR-4 is an ultra-lightweight rail-mounted light that fits compact, sub-compact, and most regular size handguns that have Picatinny or Weaver rails on them.
Before we get into anything too technical on this laser sight, it is important to know that the Streamlight TLR-4 is primarily a tactical flashlight for your gun. That is it's first job, and pretty much the concept that it was created.
However, because of that focus on lighting as its primary directive, it is extremely well built and is one of the brighter sights out there today in its price range. Featuring C4 LED technology and a 640-660nm red laser, it is capable of shining as bright as 125 lumens.
The housing is made of an impact-resistant engineering polymer, and a durable anodized aluminum facecap. And the lens on the flashlight is made from a Borofloat glass that is rated for handling high temperatures. The overall durability of this compact pistol laser sight is on point.
When it's time to activate your tactical light, there is an ambidextrous momentary/steady power switch, and a 3 position mode selector switch. With the 3 mode selector switch, you can easily set your light to display laser only, LED illumination only, or even both laser and LED at the same time.
The battery life is amazing if you use the laser only. The only time you will start to see a dramatic drain on the battery is when you are running the LED with or without the laser. In general, you will get roughly 11 hours of battery life with the laser only, and around 1-2 hours if using the LED.
If you like this laser sight but would prefer a green laser, you should check out the Streamlight TLR-2 if money isn't an issue.
Pros:
640-660nm red laser
Amazing battery life
Impact-resistant construction
Cons:
The laser is built into the bottom of the casing. The position could be better.
---
3. 

Viridian C5L

(Best For Compact Or Sub-Compact Pistols)
Getting tired of your red laser sight? Need something that is easier to see during in daylight? Maybe you have a sub-compact pistol that you have been hard-pressed to find a smaller laser sight for?
Well, the Viridian C5L is what you are looking for.
They say big things come in small packages, and the Viridian C5L is no exception. It is tiny, built from lightweight aluminum, and boasts some decent technical specs.
Onboard you will find easy-to-use ambidextrous activation buttons that surprisingly do not add any extra bulk to the tiny housing.
Where things really get cool with this laser sight, is with the ECR Instant-On technology. This feature allows you to program your laser sight to instantly turn on the moment it is drawn from your holster, and turn off automatically when it is placed back into your holster. This is a really great feature to have as it gives you the ability to instantly react in crucial moments where your muscle memory may not be quick enough.
Battery life on this laser sight comes in at about 4 hours with constant use and 7 hours in strobe light mode. It takes a CR2 battery to power it.
Pros:
Lightweight
Ambidextrous controls
Strobe light mode
Cons:
Buttons can be a little hard to find naturally and press
---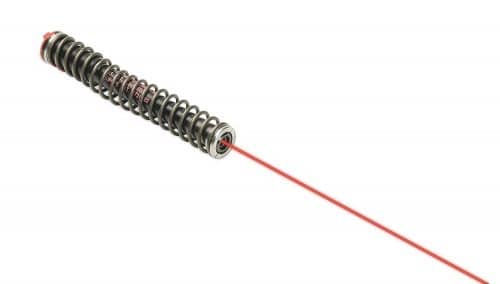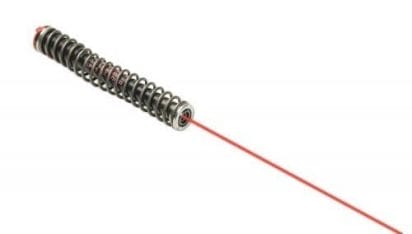 If you are a proud Glock owner, you may already be familiar with this laser sight. For those of you who aren't, allow me to introduce you to the LaserMax Guide Rod Laser.
This is a laser sight built specifically to be used in Glock 17, 22, 31, and 37 pistols. Basically, this little beauty is going to replace the factory installed spring guide assembly with a 635NM red laser sight.
The housing on this particular laser sight is phenomenal. It is constructed from a variety of materials that really lend to its ruggedness, including aircraft-grade aluminum and genuine Wolff springs.
The activate the laser, there are ambidextrous on/off buttons on either side of the housing. Aside from the basic power function, you can also set the laser to pulse to give you superior visibility and make identifying your target faster.
The battery life on this sight is the only thing that we feel could hold up a little better. On average, you will probably get about an hour on a fully charged battery if using it moderately. Of course, in return for the short battery life, you also get a much stronger light from the laser, so we will call this a trade-off instead of a downside.
Overall, this is probably one of my favorite laser sights for my Glock 17.
Pros:
635NM red laser
Extremely rugged
Pulse mode
Cons:
Battery drains really quickly
---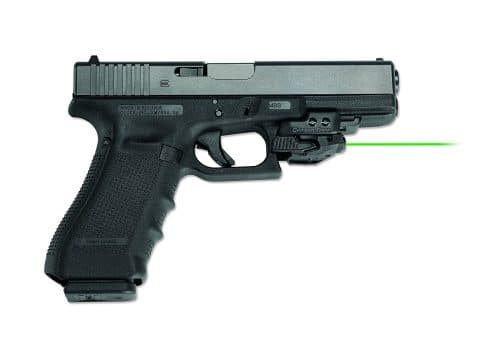 If you own a pistol that is equipped with a Picatinny M1913 rail or a Weaver accessory rail, you need to check out the Crimson Trace CMR-206 Rail Master.
Made with Crimson Trace's trademarked Secure-Lock Technology, the CMR-206 is prepared to withstand heavy recoil and handling. The entire Railmaster series of pistol laser sights are built around this same system. Once secure to your pistol, this laser will not budge for anything.
Controlling the laser sight is as quick and easy as tapping one of the control tabs found on either side. This ambidextrous design allows for smooth and instant activation of your laser sight.
To help save your battery life, the CMR-206 features a 5-minute auto shut-off. This comes in rather useful in the event that you activate your laser sight by accident.
The laser onboard this sight is a 5mW output red laser that will run for just over 4 hours on a single 1/3N Lithium battery.
While this laser is sighted at 50′, it is also fully user-adjustable for windage and elevation.
Pros:
Great at handling heavy recoil
5-minute auto-shutoff feature
Good battery life
Cons:
Hard to find holsters that work with this laser sight
---
What To Consider Before Buying A Laser Sight For Your Pistol
If you want to get the most bang for your buck, there are a couple of things you should consider. Before buying that new .9mm a fancy new laser to attach to it, look over the advice below. After all, the more you know, the better equipped you are to make the best choice.
Red Or Green?
If you're an avid shooter or have spent much time at a firing range, there's a good chance that you may have noticed by now that laser sights for firearms generally come in one of two colors; red or green.
Both of them have their own advantages and disadvantages. Knowing a little bit about what each of them has to offer will be beneficial in your search for the best pistol laser sight for your own firearm.
Let's take just a quick look at what makes them different from one another.
Red
Red lasers are what you will most commonly see out at the firing range. They are usually more affordable than green lasers, but they are also a little harder to see. Red lasers consume less energy so they are a great option if you are looking for something that doesn't drain batteries quickly.
Green
Green lasers are usually more expensive than red lasers, making them something you scarcely see around novice shooters. They are brighter than red lasers, making them hard to beat when it comes to shooting with laser sights in daylight. This means that you also can generally expect that you will get a little more range from a green laser than from a red laser.
Weight
Weight is a relatively large contributing factor in choosing the perfect laser sight for your pistol. Most handguns are already not exactly 'lightweight', so any extra weight you add to it is going to be noticeable.
You have to be able to keep your gun steady as you fire, compensate for the weight transfer that comes with recoil, and your gun shouldn't be a struggle to hold without your elbows or wrists shaking.
This piece of equipment is going to be attached to, most commonly, the barrel of your gun so choose wisely. Whatever laser sight you choose to go with, it will need to have just enough weight to keep it stabilized, but remain light enough to make handling of your handgun cumbersome.
Take your time. Think about how heavy your gun is already, and how much recoil you currently have to compensate for. The more weight you add, the more you increase both of those things.
---
Final Thoughts
Choosing the perfect pistol laser sight relies on a solid combination of personal preference and well-rounded technical specs. You want to buy something that is durable, lightweight, can be adjusted for wind and elevation, and is bright enough to keep your shots on point every single time.
By using the advice and reviews in this article to help you make a final decision, we are confident you will find the perfect laser sight for your pistol. In case you own a rimfire rifle, you might want to look at our guide to the best rimfire scope out there.
If you own a laser sight that didn't make it on this list, leave a comment below and tell us all about it, and why it deserves its own review. We love to learn about and play around with new gear all the time, so don't be shy.
Til next time, happy sighting and hunting, and may your marks always be precise.
Related Reads: